Abstract
Transition of young people from Child and Adolescent Mental Health Services (CAMHS) to Adult Mental Health Services (AMHS) is a complex process. Transition rates are heterogeneously reported, with wide definitions and ranges. Few data are available regarding predictive factors of a successful transition. We explored factors associated with transition in a cohort of former inpatients of a Children and Adolescents Intensive Treatment Ward (CAITW). Socio-demographic and clinical features of patients previously admitted to CAITW were matched to AMHS data for those patients having reached age requirements. We built multiple logistic regression models to identify factors associated with transfer to AMHS (either inpatient or outpatient) and with successful retention in treatment (RIT) at six (short RIT), 12 (intermediate RIT) and 24 months after transfer (long RIT). From a cohort of 322 inpatients, 126 reached the age threshold for transfer to AMHS in the study period. The transfer rate was 50%. Two years after transition-age boundary, CAMHS-AMHS continuity of care was found in 40% and disengagement in 6% of cases. Longer and multiple hospitalizations, atypical antipsychotics prescription and a diagnosis of psychotic disorders were factors associated with short and intermediate RIT. A positive psychiatric family history was negatively associated with successful short and intermediate RIT. Diagnosis of psychosis and learning-supported school attendance were associated with long RIT. Young adults with a history of psychiatric inpatient admission as children or adolescents have a relatively high rate of transition to AMHS. A diagnosis of psychosis seems to be the strongest predictor for transition in these patients. Further research should focus on patients' schooling needs and on children of parents with mental health problems to enhance family and educational system engagement.
Access options
Buy single article
Instant access to the full article PDF.
US$ 39.95
Tax calculation will be finalised during checkout.
Subscribe to journal
Immediate online access to all issues from 2019. Subscription will auto renew annually.
US$ 159
Tax calculation will be finalised during checkout.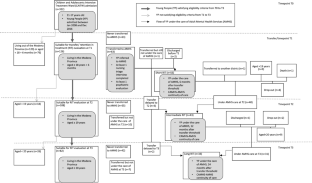 Data availability
The data that support the findings of this study are available on request from the corresponding author.
Code availability
The statistic and data science software STATA Ver 14.3 was used for data analysis.
References
1.

Polanczyk GV, Salum GA, Sugaya LS, Caye A, Rohde LA (2015) Annual research review: a meta-analysis of the worldwide prevalence of mental disorders in children and adolescents. J Child Psychol Psychiatry 56:345–365

2.

Rodgers A, Ezzati M, Vander Hoorn S, Lopez AD, Lin RB et al (2004) Distribution of major health risks: findings from the Global Burden of Disease study. PLoS Med 1:e27

3.

Farmer P, Dyer J (2016) The five year forward view for mental health: a report from the independent mental health taskforce to the NHS in England. http://tinyurl.com/gvc4or3. Accessed 28/11/2018

4.

Frigerio A, Rucci P, Goodman R, Ammaniti M, Carlet O et al (2009) Prevalence and correlates of mental disorders among adolescents in Italy: the PrISMA study. Eur Child Adolesc Psychiatry 18:217–226

5.

Nardocci F (2008) Lo sviluppo dei servizi di NPIA: dagli interventi riabilitativi e di inclusione sociale per la disabilità alla salute mentale infantile e adolescenziale. www.psychiatryonline.it/node/3591. Accessed 12/11/2018

6.

Copeland W, Shanahan L, Costello EJ, Angold A (2011) Cumulative prevalence of psychiatric disorders by young adulthood: a prospective cohort analysis from the Great Smoky Mountains Study. J Am Acad Child Adolesc Psychiatry 50:252–261

7.

Offord DR, Boyle MH, Racine Y (1989) Ontario Child Health Study: correlates of disorder. J Am Acad Child Adolesc Psychiatry 28:856–860

8.

Kessler RC, Wang PS (2008) The descriptive epidemiology of commonly occurring mental disorders in the United States. Annu Rev Public Health 29:115–129

9.

Copeland WE, Adair CE, Smetanin P, Stiff D, Briante C et al (2013) Diagnostic transitions from childhood to adolescence to early adulthood. J Child Psychol Psychiatry 54:791–799

10.

Brieger P, Blöink R, Sommer S, Marneros A (2001) A catch-up study of former child and adolescent psychiatric inpatients: psychiatric status in adulthood. Psychopathology 34:43–49

11.

Signorini G, Singh SP, Marsanic VB, Dielman G, Tuomainen H et al (2018) The interface between child/adolescent and adult mental health services: results from a European 28-country survey. Eur Child Adolescent Psychiatry 27:501–511

12.

Reale L, Bonati M (2015) Mental disorders and transition to adult mental health services: a scoping review. Eur Psychiatry 30:932–942

13.

Pottick KJ, Bilder S, Vander Stoep A, Warner LA, Alvarez MF (2008) US patterns of mental health service utilization for transition-age youth and young adults. J Behav Health Serv Res 35:373–389

14.

Loos S, Walia N, Becker T, Puschner B (2018) Lost in transition? Professional perspectives on transitional mental health services for young people in Germany: a qualitative study. BMC Health Services Res 18:649

15.

Ormel J, Raven D, van Oort F, Hartman CA, Reijneveld SA et al (2015) Mental health in Dutch adolescents: a TRAILS report on prevalence, severity, age of onset, continuity and co-morbidity of DSM disorders. Psychol Med 45:345–360

16.

American Academy of P, American Academy of Family P, American College of Physicians-American Society of Internal M (2002) A consensus statement on health care transitions for young adults with special health care needs. Pediatrics 110:1304–1306

17.

Singh SP, Paul M, Ford T, Kramer T, Weaver T (2008) Transitions of care from Child and Adolescent Mental Health Services to Adult Mental Health Services (TRACK Study): a study of protocols in Greater London. BMC Health Services Res 8:135

18.

Forbes A, While A, Ullman R, Lewis S, Mathes L, Griffiths P. (2002) A multi-method review to identify components of practice which may promote continuity in the transition from child to adult care for young people with chronic illness or disability. NCCSDO

19.

McDonagh JE, Kelly DA (2003) Transitioning care of the pediatric recipient to adult caregivers. Pediatr Clin North Am 50(1561–83):xi–xii

20.

Singh SP, Anderson B, Liabo K, Ganeshamoorthy T, committee g (2016) Supporting young people in their transition to adults' services: summary of NICE guidance. BMJ 353:i2225

21.

Carbonez F, Al Husni Al Keilani M, Kornreich C, Delvenne V (2018) Transition from child and adolescent to adult mental health care. Revue Medi Bruxelles 39:35–40

22.

Paul M, Ford T, Kramer T, Islam Z, Harley K, Singh SP (2013) Transfers and transitions between child and adult mental health services. Br J Psychiatry Suppl 54:s36-40

23.

Stagi P, Galeotti S, Mimmi S, Starace F, Castagnini AC (2015) Continuity of care from child and adolescent to adult mental health services: evidence from a regional survey in Northern Italy. Eur Child Adolesc Psychiatry 28:1431–1446

24.

Fuchs M, Kemmler G, Steiner H, Marksteiner J, Haring C et al (2016) Child and adolescent psychiatry patients coming of age: a retrospective longitudinal study of inpatient treatment in Tyrol. BMC Psychiatry 16:225

25.

Nguyen T, Embrett MG, Barr NG, Mulvale GM, Vania DK et al (2017) Preventing youth from falling through the cracks between child/adolescent and adult mental health services: a systematic review of models of care. Community Ment Health J 53:375–382

26.

Appleton R, Connel C, Fairclough E, Tuomainen H, Singh SP (2019) Outcomes of young people who reach the transition boundary of child and adolescent mental health service: a systematic review. Eur Child Adolesc Psychiatry 30:439–452

27.

Tuomainen H, Schulze U, Warwick J, Paul M, Dieleman GC et al (2018) Managing the link and strengthening transition from child to adult mental health Care in Europe (MILESTONE): background, rationale and methodology. BMC Psychiatry 18:167

28.

Munoz-Solomando A, Townley M, Williams R (2010) Improving transitions for young people who move from child and adolescent mental health services to mental health services for adults: lessons from research and young people's and practitioners' experiences. Current opinion in psychiatry 23:311–317

29.

Singh SP, Paul M, Ford T, Kramer T, Weaver T et al (2010) Process, outcome and experience of transition from child to adult mental healthcare: multiperspective study. Br J Psychiatry 197:305–312

30.

Lamb C, Murphy M (2013) The divide between child and adult mental health services: points for debate. Br J Psychiatry Suppl 54:s41–s44

31.

McNamara N, McNicholas F, Ford T, Paul M, Gavin B et al (2014) Transition from child and adolescent to adult mental health services in the Republic of Ireland: an investigation of process and operational practice. Early Interv Psychiatry 8:291–297

32.

Hosmer DW (2001) Model-building strategies and methods for logistic regression in "Applied Logistic Regression." Wiley, New York

33.

Paul M, Street C, Wheeler N, Singh SP (2015) Transition to adult services for young people with mental health needs: a systematic review. Clin Child Psychol Psychiatry 20:436–457

34.

Islam Z, Ford T, Kramer T, Paul M, Parsons H et al (2016) Mind how you cross the gap! Outcomes for young people who failed to make the transition from child to adult services: the TRACK study. BJPsych bulletin 40:142–148

35.

Broad KL, Sandhu VK, Sunderji N, Charach A (2017) Youth experiences of transition from child mental health services to adult mental health services: a qualitative thematic synthesis. BMC Psychiatry 17:380

36.

Tungaraza TE, Ahmed W, Chira C, Turner E, Mayaki S et al (2017) Prescribing pattern of clozapine and other antipsychotics for patients with first-episode psychosis: a cross-sectional survey of early intervention teams. Ther Adv Psychopharmacol 7:103–111

37.

Warnez S, Alessi-Severini S (2014) Clozapine: a review of clinical practice guidelines and prescribing trends. BMC Psychiatry 14:102

38.

Weissman MM, Wickramaratne P, Gameroff MJ, Warner V, Pilowsky D et al (2016) Offspring of depressed parents: 30 years later. Am J Psychiatry 173:1024–1032

39.

Hearle J, Plant K, Jenner L, Barkla J, McGrath J (1999) A survey of contact with offspring and assistance with child care among parents with psychotic disorders. Psychiatr Serv 50:1354–1356

40.

Gullbra F, Smith-Sivertsen T, Rortveit G, Anderssen N, Hafting M (2014) To give the invisible child priority: children as next of kin in general practice. Scand J Prim Health Care 32:17–23

41.

Wahl P, Bruland D, Bauer U, Okan O, Lenz A (2017) What are the family needs when a parent has mental health problems? Evidence from a systematic literature review. J Child Adolesc Psychiatr Nurs 30:54–66

42.

Cleverley K, Rowland E, Bennett K, Jeffs L, Gore D (2020) Identifying core components and indicators of successful transitions from child to adult mental health services: a scoping review. Eur Child Adolesc Psychiatry 29:107–121
Acknowledgements
The authors wish to thank the anonymous reviewers whose comments and helpful suggestions have contributed greatly in improving the original manuscript.
Funding
The authors received no financial support for the research, authorship, and/or publication of this article.
Ethics declarations
Conflict of interests
All the authors certify that they have no affiliations with or involvement in any organization or entity with any financial interest (such as honoraria; educational grants; participation in speakers' bureaus; membership, employment, consultancies, stock ownership, or other equity interest; expert testimony or patent licensing arrangements), or non-financial interest (such as personal or professional relationships, affiliations, knowledge or beliefs) in the subject matter or materials discussed in this manuscript. The authors declare that they have no conflict of interest.
Ethics approval
The study was approved by the Research Ethics Committee of the University of Modena and Reggio Emilia, Italy (identification protocol number: 2023/C.E. dated 29/05/2017).
Consent to participate
The study used anonymized already available routine clinical data and administrative indicators, all treatment was delivered and all data was collected with valid informed consent of the patients or their guardians.
Consent for publication
This study analyzes anonymized routine clinical and administrative data already collected. It reports aggregated results for which no consent for publication has been requested, according to the Research Ethics Committee approval obtained, which waives the need to obtain consent for publication for all patients not assisted and/or not traceable at the moment of data collection and analysis.
About this article
Cite this article
Pontoni, G., Di Pietro, E., Neri, T. et al. Factors associated with the transition of adolescent inpatients from an intensive residential ward to adult mental health services. Eur Child Adolesc Psychiatry (2021). https://doi.org/10.1007/s00787-020-01717-y
Received:

Accepted:

Published:
Keywords
Adult mental health services

Child and adolescent mental health services

Community mental health

Transition