Abstract
Understanding different cardiometabolic safety profiles of antipsychotics helps avoid unintended outcomes among young patients. We conducted a population-based study to compare cardiometabolic risk among different antipsychotics in children, adolescents and young adults. From Taiwan's National Health Insurance Database, 2001–2013, we identified two patient cohorts aged 5–18 (children and adolescents) and 19–30 (young adults), diagnosed with psychiatric disorders and newly receiving antipsychotics, including haloperidol and sulpiride, and second generation antipsychotics (SGA, including olanzapine, quetiapine, risperidone, amisulpride, aripiprazole, paliperidone, and ziprasidone). Risperidone users were considered the reference group. We analyzed electronic medical records from seven hospitals in Taiwan and confirmed findings with validation analyses of identical design. Primary outcomes were composite cardiometabolic events, including type 2 diabetes mellitus, hypertension, dyslipidemia, and major adverse cardiovascular events. Multivariable Cox proportional hazards regression models compared cardiometabolic risk among antipsychotics. Among 29,030 patients aged 5–18 and 50,359 patients aged 19–30 years, we found 1200 cardiometabolic event cases during the total follow-up time of 37,420 person-years with an incidence of 32.1 per 1000 person-years. Compared to risperidone, olanzapine was associated with a significantly higher risk of cardiometabolic events in young adults (adjusted hazard ratio, 1.57; 95% CIs 1.13–2.18) but not in children and adolescents (1.85; 0.79–4.32). Specifically, we found young adult patients receiving haloperidol (1.52; 1.06–2.20) or olanzapine (1.75; 1.18–2.61) had higher risk of hypertension compared with risperidone users. Results from validation analyses concurred with main analyses. Antipsychotics' various risk profiles for cardiometabolic events merit consideration when selecting appropriate regimes. Due to cardiometabolic risk, we suggest clinicians may consider to select alternative antipsychotics to olanzapine in children, adolescents and young adults.
This is a preview of subscription content, log in to check access.
Access options
Buy single article
Instant access to the full article PDF.
US$ 39.95
Price includes VAT for USA
Subscribe to journal
Immediate online access to all issues from 2019. Subscription will auto renew annually.
US$ 199
This is the net price. Taxes to be calculated in checkout.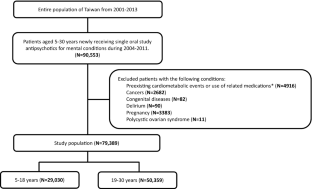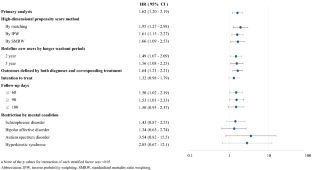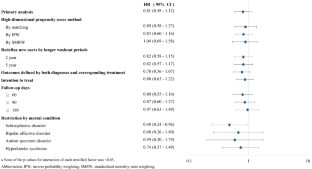 References
1.

De Hert M et al (2012) Metabolic and cardiovascular adverse effects associated with antipsychotic drugs. Nat Rev Endocrinol 8(2):114–126

2.

Hsu YC et al (2013) Trends, correlates, and disease patterns of antipsychotic use among children and adolescents in Taiwan. Soc Psychiatry Psychiatr Epidemiol 48(12):1889–1896

3.

Christian RB et al (2015) Use of antipsychotic medications in pediatric and young adult populations: future research needs. J Psychiatr Pract 21(1):26–36

4.

Galling B et al (2016) Type 2 diabetes mellitus in youth exposed to antipsychotics: a systematic review and meta-analysis. JAMA Psychiatry 73(3):247–259

5.

Douglas IJ, Smeeth L (2008) Exposure to antipsychotics and risk of stroke: self controlled case series study. BMJ 337:a1227

6.

Correll CU et al (2009) Cardiometabolic risk of second-generation antipsychotic medications during first-time use in children and adolescents. JAMA 302(16):1765–1773

7.

Arango C et al (2014) Second-generation antipsychotic use in children and adolescents: a six-month prospective cohort study in drug-naïve patients. J Am Acad Child Adolesc Psychiatry 53(11):1179–1190.e4

8.

Rubin DM et al (2015) RIsk for incident diabetes mellitus following initiation of second-generation antipsychotics among medicaid-enrolled youths. JAMA Pediatr 169(4):e150285

9.

Harrison JN, Cluxton-Keller F, Gross D (2012) Antipsychotic medication prescribing trends in children and adolescents. J Pediatr Health Care 26(2):139–145

10.

Lai EC et al (2013) Effectiveness of sulpiride in adult patients with schizophrenia. Schizophr Bull 39(3):673–683

11.

Cheng CL et al (2011) Validation of the National Health Insurance Research Database with ischemic stroke cases in Taiwan. Pharmacoepidemiol Drug Saf 20(3):236–242

12.

Cheng CL et al (2014) Validation of acute myocardial infarction cases in the national health insurance research database in Taiwan. J Epidemiol 24(6):500–507

13.

Shao SC, Kao CY, Yang YH et al (2019) The Chang Gung Research Database—a multi-institutional electronic medical records database for real-world epidemiological studies in Taiwan. Pharmacoepidemiol Drug Saf 28(5):593–600

14.

Liao SC et al (2012) Low prevalence of major depressive disorder in Taiwanese adults: possible explanations and implications. Psychol Med 42(6):1227–1237

15.

Bobo WV et al (2013) Antipsychotics and the risk of type 2 diabetes mellitus in children and youth. JAMA Psychiatry 70(10):1067–1075

16.

Cheng CA et al (2016) Risk analysis of carotid stent from a population-based database in Taiwan. Medicine (Baltimore) 95(35):e4747

17.

Leucht S et al (2014) Dose equivalents for second-generation antipsychotics: the minimum effective dose method. Schizophr Bull 40(2):314–326

18.

Lai EC et al (2016) Comparative risk of oral ulcerations among antipsychotics users—population-based retrospective cohort study. Pharmacoepidemiol Drug Saf 25(2):123–132

19.

Schneeweiss S et al (2009) High-dimensional propensity score adjustment in studies of treatment effects using health care claims data. Epidemiology (Cambridge, Mass.) 20(4):512

20.

Guertin JR, Rahme E, LeLorier J (2016) Performance of the high-dimensional propensity score in adjusting for unmeasured confounders. Eur J Clin Pharmacol 72(12):1497–1505

21.

Austin PC (2011) Optimal caliper widths for propensity-score matching when estimating differences in means and differences in proportions in observational studies. Pharm Stat 10(2):150–161

22.

Brookhart MA et al (2013) Propensity score methods for confounding control in nonexperimental research. Circ Cardiovasc Qual Outcomes 6(5):604–611

23.

Liao CH et al (2011) Schizophrenia patients at higher risk of diabetes, hypertension and hyperlipidemia: a population-based study. Schizophr Res 126(1–3):110–116

24.

Sohn M et al (2015) Atypical antipsychotic initiation and the risk of type II diabetes in children and adolescents. Pharmacoepidemiol Drug Saf 24(6):583–591

25.

Burcu M et al (2017) Concomitant use of atypical antipsychotics with other psychotropic medication classes and the risk of type 2 diabetes mellitus. J Am Acad Child Adolesc Psychiatry 56(8):642–651

26.

O'Connor AD, Rusyniak DE, Bruno A (2005) Cerebrovascular and cardiovascular complications of alcohol and sympathomimetic drug abuse. Med Clin N Am 89(6):1343–1358

27.

Wang J, Sampson S (2014) Sulpiride versus placebo for schizophrenia. Cochrane Database Syst Rev (4):Cd007811

28.

Sikich L et al (2008) Double-blind comparison of first- and second-generation antipsychotics in early-onset schizophrenia and schizo-affective disorder: findings from the treatment of early-onset schizophrenia spectrum disorders (TEOSS) study. Am J Psychiatry 165(11):1420–1431

29.

Henderson DC et al (2015) Pathophysiological mechanisms of increased cardiometabolic risk in people with schizophrenia and other severe mental illnesses. Lancet Psychiatry 2(5):452–464

30.

Gray JA, Roth BL (2007) The pipeline and future of drug development in schizophrenia. Mol Psychiatry 12(10):904–922

31.

McIntyre RS, Jerrell JM (2008) Metabolic and cardiovascular adverse events associated with antipsychotic treatment in children and adolescents. Arch Pediatr Adolesc Med 162(10):929–935

32.

De Brito GH, Couture R (2010) Blockade of tachykinin NK3 receptor reverses hypertension through a dopaminergic mechanism in the ventral tegmental area of spontaneously hypertensive rats. Br J Pharmacol 161(8):1868–1884

33.

Orsolini L et al (2016) An update of safety of clinically used atypical antipsychotics. Expert Opin Drug Saf 15(10):1329–1347

34.

Roix JJ et al (2012) Effect of the antipsychotic agent amisulpride on glucose lowering and insulin secretion. Diabetes Obes Metab 14(4):329–334

35.

Omi T et al (2016) Paliperidone induced hypoglycemia by increasing insulin secretion. Case Rep Psychiatry 2016:1805414

36.

Álamo C, López-Muñoz F (2013) The pharmacological role and clinical applications of antipsychotics' active metabolites: paliperidone versus risperidone. Clin Exp Pharmacol 3:117

37.

Sung SF et al (2016) Validation of algorithms to identify stroke risk factors in patients with acute ischemic stroke, transient ischemic attack, or intracerebral hemorrhage in an administrative claims database. Int J Cardiol 215:277–282
Acknowledgements
We acknowledge the advice from members of the study group.
Funding
This study received a grant from the Ministry of Science and Technology of Taiwan (106-2320-B-006-025-MY2), which had no role in design, analysis, interpretation, reporting of results or the decision to develop this manuscript.
Ethics declarations
Conflict of interest
The authors declare no competing interests relevant to this article.
Ethical standards
The authors assert that all procedures contributing to this work comply with the ethical standards of the relevant national and institutional committees on human experimentation and with the Helsinki Declaration of 1975, as revised in 2000. This study was approved by the Institutional Review Boards of National Cheng Kung University (HREC-E-105-236-2) and Chang Gung Medical Foundation (201801493B0).
Electronic supplementary material
Below is the link to the electronic supplementary material.
About this article
Cite this article
Chung, Y., Shao, S., Chi, M. et al. Comparative cardiometabolic risk of antipsychotics in children, adolescents and young adults. Eur Child Adolesc Psychiatry (2020). https://doi.org/10.1007/s00787-020-01560-1
Received:

Accepted:

Published:
Keywords
Cardiometabolic risk

Antipsychotics

Children

Adolescents

Comparative risk