Abstract
Objectives
To evaluate the effect of electric current application on the resin composite-tooth bond strength and hybrid layer of three adhesive systems light-cured by two light-curing units (LCUs).
Materials and methods
Human molar teeth were distributed into 12 groups (n=6). Three adhesive systems were used: two-step etch-and-rinse (SB2; Adper Single Bond 2, 3M ESPE); two-step self-etch (CSE; Clearfil SE Bond, Kuraray); and one-step self-etch (SBU; Single Bond Universal, 3M ESPE) applied with (50μA) and without (control; conventional application) electric current, and light-cured with different LCUs. Resin composite blocks (Filtek Z350XT, 3M ESPE) were produced and cut into sticks (~1mm2) for microtensile bond strength (μTBS). Fracture patterns were analyzed on stereomicroscope and classified as cohesive-dentin, cohesive-resin, adhesive, or mixed. Specimens were prepared for scanning electron microscope observation. The hybrid layer analysis was carried out using a confocal laser scanning microscopy (n=2). Data were submitted to three-way ANOVA followed by Tukey's post hoc test (α=0.05).
Results
The electric current increased the μTBS for all adhesive systems light-cured with single-emission peak and multiple-emission peak LCUs. Both LCUs presented similar μTBS values. CSE applied under electric current showed the highest μTBS mean values. The adhesive failure pattern was more frequently observed in all groups. The electric current formed long resin tags for all adhesive systems.
Conclusions
The adhesive systems applied under electric current increased the bond strength using single-emission peak and multiple-emission peak LCUs.
Clinical relevance
Electric current at 50μA applied throughout the dentin is a safe mode and results in better impregnation of the adhesive systems.
Access options
Buy single article
Instant access to the full article PDF.
US$ 39.95
Tax calculation will be finalised during checkout.
Subscribe to journal
Immediate online access to all issues from 2019. Subscription will auto renew annually.
US$ 79
Tax calculation will be finalised during checkout.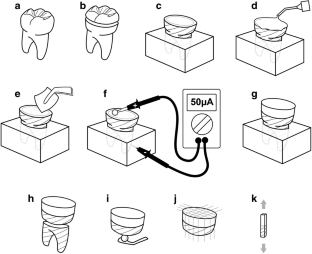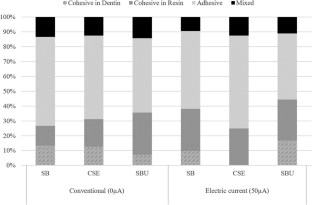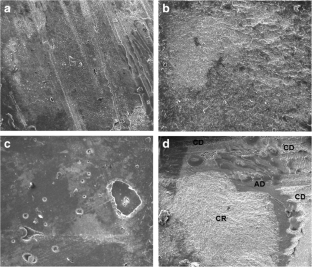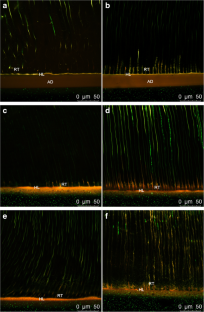 References
1.

Nakabayashi N, Nakamura M, Yasuda N (1991) Hybrid layer as a dentin-bonding mechanism. J Esthet Dent 3:133–138

2.

Miranda MEDSNG, Silva EMD, Oliveira MF, Simmer FS, Santos GBD, Amaral CM (2020) Resin-dentin bond stability of etch-and-rinse adhesive systems with different concentrations of MMP inhibitor GM1489. J Appl Oral Sci. 28:e20190499

3.

Kim Y, Kim S, Jeong T, Son SA, Kim J (2017) Effects of additional acid etching on the dentin bond strengths of one-step self-etch adhesives applied to primary teeth. J Esthet Restor Dent 29:110–117

4.

Ermis RB, Ugurlu M, Ahmed MH, Van Meerbeek B (2019) Universal adhesives benefit from an extra hydrophobic adhesive layer when light cured beforehand. J Adhes Dent. 21(2):179–188

5.

Ito S, Tay FR, Hashimoto M, Yoshiyama M, Saito T, Brackett WW, Waller JL, Pashley DH (2005 Summer) Effects of multiple coatings of two all-in-one adhesives on dentin bonding. J Adhes Dent. 7(2):133–141

6.

Castellan CS, Bedran-Russo AK, Antunes A, Pereira PN (2013) Effect of dentin biomodification using naturally derived collagen cross-linkers: one-year bond strength study. Int J Dent 918010

7.

Zhang Y, Jiang A (2020) The influence of Er:YAG laser treatment on the shear bond strength of enamel and dentin: a systematic review and meta-analysis. Quintessence Int. 51(1):8–16

8.

Guarda MB, Di Nizo PT, Abuna GF, Catelan A, Sinhoreti MAC, Vitti RP (2020) Effect of electric current-assisted application of adhesives on their bond strength and quality. J Adhes Dent. 22(4):393–398

9.

Pasquantonio G, Breschi L, Petrone A (2003) A method and device for preparing the hard structures of teeth for the application of dental restorative materials. US Patent

10.

Pasquantonio G, Tay FR, Mazzoni A, Suppa P, Ruggeri A Jr, Falconi M, Di Lenarda R, Breschi L (2007) Electric device improves bonds of simplified etch-and-rinse adhesives. Dent Mater 23:513–518

11.

Breschi M, Fabiani D, Sandrolini L, Colonna M, Sisti L, Vannini M, Mazzoni A, Ruggeri A, Pashley DH, Breschi L (2012) Electrical properties of resin monomers used in restorative dentistry. Dent Mater 28:1024–1031

12.

Mazzoni A, Visintini E, Vita F, Pasquantonio G, Saboia VP, Ruggeri A Jr, Di Lenarda R, Dorigo E, Breschi L (2009) ElectroBond improves immediate dentin microtensile bond strength of two etch-and-rinse adhesives. J Adhes Dent 11:27–33

13.

Visintini E, Mazzoni A, Vita F, Pasquantonio G, Cadenaro M, Di Lenarda R, Breschi L (2008) Effects of thermocycling and use of ElectroBond on microtensile strength and nanoleakage using commercial one-step self-etch adhesives. Eur J Oral Sci. 116(6):564–570

14.

Stein S, Gente M (2013) Construction and in vitro test of a new electrode for dentin resistance measurement. Biomed Tech (Berl). 58(5):469–474

15.

Krizaj D, Jan J, Valencic V (2004) Modeling AC current conduction through a human tooth. Bioelectromagnetics 25:185–195

16.

Arrais CA, Pontes FM, Santos LP, Leite ER, Giannini M (2007) Degree of conversion of adhesive systems light-cured by LED and halogen light. Braz Dent J. 18(1):54–59

17.

Chen Y, Yao C, Huang C, Wang Y (2019) The effect of monowave and polywave light-polymerization units on the adhesion of resin cements to zirconia. J Prosthet Dent 121:549.e1-549.e7

18.

Soares CJ, Rodrigues MP, Oliveira LRS, Braga SSL, Barcelos LM, Silva GRD, Giannini M, Price RB (2017) An evaluation of the light output from 22 contemporary light curing units. Braz Dent J 28:362–371

19.

Segreto DR, Naufel FS, Brandt WC, Guiraldo RD, Correr-Sobrinho L, Sinhoreti MA (2016) Influence of photoinitiator and light-curing source on bond strength of experimental resin cements to dentin. Braz Dent J. 27(1):83–89

20.

Kurt A, Altintas SH, Kiziltas MV, Tekkeli SE, Guler EM, Kocyigit A, Usumez A (2018) Evaluation of residual monomer release and toxicity of self-adhesive resin cements. Dent Mater J. 37(1):40–48

21.

Wegehaupt FJ, Lunghi N, Belibasakis GN, Attin T (2016) Influence of light-curing distance on degree of conversion and cytotoxicity of etch-and-rinse and self-etch adhesives. BMC Oral Health. 17(1):12

22.

Pethig R (1987) Dielectric properties of body tissues. Clin Phys Physiol Meas (Suppl A):5–12

23.

Jastrzebska M, Kocot A (2004) Ionic diffusion and space charge polarization in structural characterization of biological tissues. Eur Phys J E Soft Matter 14:137–142

24.

Hanabusa M, Mine A, Kuboki T, Momoi Y, Van Ende A, Van Meerbeek B, De Munck J (2012) Bonding effectiveness of a new 'multi-mode' adhesive to enamel and dentine. J Dent. 40:475–584

25.

André CB, Nima G, Sebold M, Giannini M, Price RB (2018) Stability of the light output, oral cavity tip accessibility in posterior region and emission spectrum of light-curing units. Oper Dent. 43:398–407

26.

Price RB, Labrie D, Rueggeberg FA, Sullivan B, Kostylev I, Fahey J (2014) Correlation between the beam profile from a curing light and the microhardness of four resins. Dent Mater. 30(12):1345–1357

27.

Conte G, Panetta M, Mancini M, Fabianelli A, Brotzu A, Sorge R, Cianconi L (2017) Curing effectiveness of single-peak and multi-peak led light curing units on tpo-containing resin composites with different chromatic characteristics. Oral Implantol (Rome). 10(2):140–150

28.

Carrilho E, Cardoso M, Marques Ferreira M, Marto CM, Paula A, Coelho AS (2019) 10-MDP based dental adhesives: adhesive interface characterization and adhesive stability-a systematic review. Materials (Basel). 12(5):790

29.

Giannini M, Makishi P, Ayres AP, Vermelho PM, Fronza BM, Nikaido T, Tagami J (2015) Self-etch adhesive systems: a literature review. Braz Dent J. 26(1):3–10
Funding
The work was supported by the School of Dentistry, University of Taubate and Piracicaba Dental School, University of Campinas.
Ethics declarations
Ethics approval and consent to participate
This article does not contain any studies with human participants or animals performed by any of the authors. All procedures performed involving human waste were in accordance with the ethical standards of the institutional and/or national research committee and with the 1964 Helsinki declaration and its later amendments or comparable ethical standards.
Informed consent
For this type of study, formal consent is not required.
Conflict of interest
The authors declare no competing interests.
Additional information
Publisher's note
Springer Nature remains neutral with regard to jurisdictional claims in published maps and institutional affiliations.
About this article
Cite this article
Maciel, C.M., da Rosa Rinhel, M.F., Abuna, G.F. et al. Resin composite adhesion to dentin using different curing lights and adhesive systems applied under electric current. Clin Oral Invest (2021). https://doi.org/10.1007/s00784-021-03824-9
Received:

Accepted:

Published:
Keywords
Bond strength

Dentin

Electrical current

Resin composite

Hybrid layer