Abstract
Objectives
The current study was carried out to (1) evaluate premixed bioceramic (BC) and mineral trioxide aggregate (MTA) sealing properties in a laboratory and (2) compare the performance of these two materials in repairing an immediate iatrogenic furcal perforation of primary molars both clinically and radiographically.
Materials and methods
In vitro sections including eighty mandibular second primary molars were sorted into 4 equal groups: (1) an intact furcation area group, (2) an artificial perforation group (unrepaired), (3) an artificial perforation group repaired with MTA, and (4) an artificial perforation group repaired with premixed BC. The dye extraction method was used to assess the sealing ability of the material. Clinically, the study was designed as an equivalent parallel randomized controlled trial. Seventy-six mandibular second primary molars with immediate furcal perforation were sealed with MTA and premixed BC. Teeth were evaluated clinically and radiographically at 3, 6, and 12 months.
Results
Although the difference was statistically insignificant (p = 0.058), the premixed BC group had better sealing ability than the MTA group [mean difference = 0.020; 95% CI (−0.001, 0.040)]. Clinically and radiographically, the two materials had an equivalent success rate in the first 3 months [ARR = 0.05; 95% CI (−0.07, 0.17)] but inequivalent success rates at 6 and 12 months with premixed BC performing better than MTA.
Conclusions
The present findings confirm that premixed BC is a promising material that can be used to repair a furcal perforation of primary molars. Premixed BC has better sealing properties and better performance at the clinical and radiographic levels than MTA.
Clinical relevance
(1) Accidental furcal perforation in primary molars is one of the worst problems that results in diminishing the lifetime expectancy of primary teeth if not properly treated. Though new BC repair materials have been introduced to enhance healing and tissue inductive properties, there is an obvious shortage in clinical trials covering this area. The present study is a premier study that assesses a recently introduced premixed BC material in the furcal perforation of primary teeth and compares its outcomes with those of the widely used MTA.
Trial registration
ClinicalTrials.gov PRS reference #NCT04137861
Access options
Buy single article
Instant access to the full article PDF.
US$ 39.95
Tax calculation will be finalised during checkout.
Subscribe to journal
Immediate online access to all issues from 2019. Subscription will auto renew annually.
US$ 79
Tax calculation will be finalised during checkout.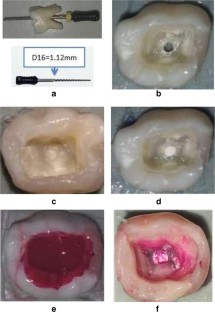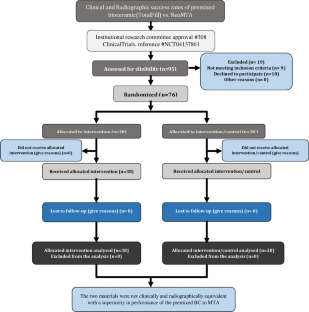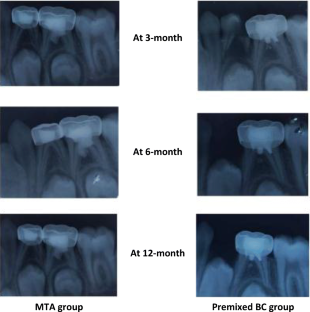 References
1.

Elheeny AAH (2019) Allium sativum extract as an irrigant in pulpectomy of primary molars: a 12-month short-term evaluation. Clin Exp Dent Res 5(4):420–426

2.

Marques NC, Lourenco Neto N, Oliveira TM (2016) Immediate and mediate furcal perforation treatment in primary molars: 24-month follow-up. Eur Arch Paediatr Dent 17(6):489–494

3.

Eghbal MJ, Fazlyab M, Asgary S (2014) Repair of an extensive furcation perforation with CEM cement: a case study. Iran Endod J 9(1):79–82

4.

Mente J, Leo M, Panagidis D, Saure D, Pfefferle T (2014) Treatment outcome of mineral trioxide aggregate: repair of root perforations-long-term results. J Endod 40(6):790–796

5.

Chopra A, Sivaraman K (2018) Management of furcal perforation with advanced furcation defect by a minimally invasive tunnel technique. Contemp Clin Dent 9(4):670–673

6.

Tsesis I, Fuss Z (2006) Diagnosis and treatment of accidental root perforations. Endod Top 13(1):95–107

7.

Kakani AK, Veeramachaneni C, Majeti C, Tummala M, Khiyani L (2015) A review on perforation repair materials. J Clin Diagn Res 9(9):ZE09–ZE13

8.

Debelian G, Trope M (2016) The use of premixed bioceramic materials in endodontics. Giornale italiano di endodonzia 30(2):70–80

9.

Parirokh M, Torabinejad M (2010) Mineral trioxide aggregate: a comprehensive literature review--part I: chemical, physical, and antibacterial properties. J Endod 36(1):16–27

10.

Torabinejad M, Parirokh M (2010) Mineral trioxide aggregate: a comprehensive literature review--part II: leakage and biocompatibility investigations. J Endod 36(2):190–202

11.

Morotomi T, Washio A, Kitamura C (2019) Current and future options for dental pulp therapy. Jpn Dent Sci Rev 55(1):5–11

12.

Parirokh M, Torabinejad M, Dummer PMH (2018) Mineral trioxide aggregate and other bioactive endodontic cements: an updated overview - part I: vital pulp therapy. Int Endod J 51(2):177–205

13.

Roberts HW, Toth JM, Berzins DW, Charlton DG (2008) Mineral trioxide aggregate material use in endodontic treatment: a review of the literature. Dent Mater 24(2):149–164

14.

Zhang H, Shen Y, Ruse ND, Haapasalo M (2009) Antibacterial activity of endodontic sealers by modified direct contact test against Enterococcus faecalis. J Endod 35(7):1051–1055

15.

Trope M, Debelian G (2014) Bioceramic technology in endodontics. Inside dentistry:53–57

16.

Islam I, Chng HK, Yap AUJ (2006) Comparison of the physical and mechanical properties of MTA and Portland cement. J Endod 32(3):193–197

17.

De-Deus G, Canabarro A, Alves GG, Marins JR, Linhares AB, Granjeiro JM (2012) Cytocompatibility of the ready-to-use bioceramic putty repair cement iRoot BP Plus with primary human osteoblasts. Int Endod J 45(6):508–513

18.

Mukhtar-Fayyad D (2011) Cytocompatibility of new bioceramic-based materials on human fibroblast cells (MRC-5). Oral Surg Oral Med Oral Pathol Oral Radiol Endod 112(6):e137–e142

19.

Willershausen I, Wolf T, Kasaj A, Weyer V, Willershausen B, Marroquin BB (2013) Influence of a bioceramic root end material and mineral trioxide aggregates on fibroblasts and osteoblasts. Arch Oral Biol 58(9):1232–1237

20.

Chen I, Karabucak B, Wang C, Wang HG, Koyama E, Kohli MR, Nah HD, Kim S (2015) Healing after root-end microsurgery by using mineral trioxide aggregate and a new calcium silicate-based bioceramic material as root-end filling materials in dogs. J Endod 41(3):389–399

21.

Torabinejad M, Parirokh M, Dummer PMH (2018) Mineral trioxide aggregate and other bioactive endodontic cements: an updated overview - part II: other clinical applications and complications. Int Endod J 51(3):284–317

22.

Siboni F, Taddei P, Prati C, Gandolfi MG (2017) Properties of NeoMTA Plus and MTA Plus cements for endodontics. Int Endod J 50(Suppl 2):e83–e94

23.

Schembri M, Peplow G, Camilleri J (2010) Analyses of heavy metals in mineral trioxide aggregate and Portland cement. J Endod 36(7):1210–1215

24.

Katge FA, Shivasharan PR, Patil D (2016) Sealing ability of mineral trioxide aggregate Plus and Biodentine for repair of furcal perforation in primary molars: an in vitro study. Contemp Clin Dent 7(4):487–492

25.

Reddy NV, Srujana P, Daneswari V, Konyala HR, Mareddy AR, Mohammad N (2019) Sealing ability of MTA vs Portland cement in the repair of furcal perforations of primary molars: a dye extraction leakage model-an in vitro study. Int J Clin Pediatr Dent 12(2):83–87

26.

Elheeny AAH (2020) Articaine efficacy and safety in young children below the age of four years: an equivalent parallel randomized control trial. Int J Paediatr Dent 30(5):547–555

27.

Winters J, Cameron AC, Widmer RP: Pulp therapy for primary and immature permanent teeth. In: Handbook of Pediatric Dentistry. edn.: Elsevier; 2013: 103–122

28.

Dhar V, Marghalani AA, Crystal YO, Kumar A, Ritwik P, Tulunoglu O, Graham L (2017) Use of vital pulp therapies in primary teeth with deep caries lesions. Pediatr Dent 39(5):146–159

29.

Raghavendra SS, Jadhav GR, Gathani KM, Kotadia P (2017) Bioceramics in endodontics - a review. J Istanb Univ Fac Dent 51(3 Suppl 1):S128–S137

30.

Haapasalo M, Parhar M, Huang X, Wei X, Lin J, Shen Y (2015) Clinical use of bioceramic materials. Endod Top 32(1):97–117

31.

Hamad HA, Tordik PA, McClanahan SB (2006) Furcation perforation repair comparing gray and white MTA: a dye extraction study. J Endod 32(4):337–340

32.

Hashem AAR, Hassanien EE (2008) ProRoot MTA, MTA-Angelus and IRM used to repair large furcation perforations: sealability study. J Endod 34(1):59–61

33.

Torabinejad M, Watson TF, Pitt Ford TR (1993) Sealing ability of a mineral trioxide aggregate when used as a root end filling material. J Endod 19(12):591–595

34.

Camps J, Pashley D (2003) Reliability of the dye penetration studies. J Endod 29(9):592–594

35.

Duarte MA, Demarchi AC, Yamashita JC, Kuga MC, Fraga Sde C (2003) pH and calcium ion release of 2 root-end filling materials. Oral Surg Oral Med Oral Pathol Oral Radiol Endod 95(3):345–347

36.

Jeevani E, Jayaprakash T, Bolla N, Vemuri S, Sunil CR, Kalluru RS: "Evaluation of sealing ability of MM-MTA, Endosequence, and biodentine as furcation repair materials: UV spectrophotometric analysis". J Conserv Dent 2014, 17(4):340–343

37.

Krupp C, Bargholz C, Brusehaber M, Hulsmann M (2013) Treatment outcome after repair of root perforations with mineral trioxide aggregate: a retrospective evaluation of 90 teeth. J Endod 39(11):1364–1368

38.

Mente J, Hage N, Pfefferle T, Koch MJ, Geletneky B, Dreyhaupt J, Martin N, Staehle HJ (2010) Treatment outcome of mineral trioxide aggregate: repair of root perforations. J Endod 36(2):208–213

39.

Deepthi V, Mallikarjun E, Nagesh B, Mandava P (2018) Effect of acidic pH on microhardness and microstructure of theraCal LC, endosequence, mineral trioxide aggregate, and biodentine when used as root repair material. Journal of conservative dentistry: JCD 21(4):408

40.

Gorni FG, Andreano A, Ambrogi F, Brambilla E, Gagliani M (2016) Patient and clinical characteristics associated with primary healing of iatrogenic perforations after root canal treatment: results of a long-term Italian study. J Endod 42(2):211–215
Ethics declarations
Ethics approval and consent to participate
All procedures performed in studies involving human participants were in accordance with the ethical standards of the institutional and/or national research committee and with the 1964 Helsinki declaration and its later amendments or comparable ethical standards.
Informed consent
Informed consent was obtained from all individual participants included in the study.
Conflict of interest
The authors declare no competing interests.
Additional information
Publisher's note
Springer Nature remains neutral with regard to jurisdictional claims in published maps and institutional affiliations.
Supplementary information
About this article
Cite this article
Abdelmotelb, M.A., Gomaa, Y.F., Khattab, N.M.A. et al. Premixed bioceramics versus mineral trioxide aggregate in furcal perforation repair of primary molars: in vitro and in vivo study. Clin Oral Invest (2021). https://doi.org/10.1007/s00784-021-03800-3
Received:

Accepted:

Published:
Keywords
Child

Mineral trioxide aggregate

Repair

Bioceramic material

Perforation