Abstract
Objectives
This study aimed to estimate the dental age (DA) using the London Atlas, Willems, and Nolla methods and to compare their accuracies.
Methods
The DA was estimated using the aforementioned methods on panoramic radiograms of a total of 919 Eastern Turkish patients aged 6–14 years, of whom 459 were female and 460 were male. The overestimation and underestimation values were determined in relation to the chronological age (CA) values. The paired t test was used to compare the mean DA and CA values. Multiple regression analysis was used to derive gender-specific formulations for the three methods.
Results
The most accurate method for estimating the DA was the Willems method (mean prediction error 0.80), followed by the London Atlas (mean prediction error 0.83) and Nolla (mean prediction error 0.89) methods. Statistically significant differences were found only between the Willems and Nolla methods.
Conclusion
All three methods can be used for DA estimations of Eastern Turkish children.
Clinical relevance
Willems was the most suitable method for this patient sample. However, the London Atlas method may be preferred due to its practicability and comparable accuracy.
Access options
Buy single article
Instant access to the full article PDF.
US$ 39.95
Tax calculation will be finalised during checkout.
Subscribe to journal
Immediate online access to all issues from 2019. Subscription will auto renew annually.
US$ 79
Tax calculation will be finalised during checkout.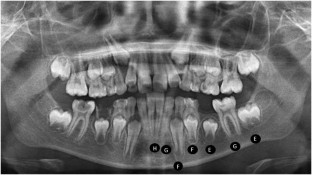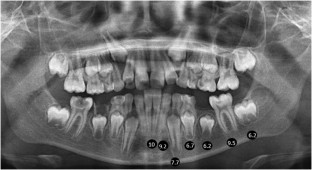 References
1.

Tomás LF, Mónico LS, Tomás I, Varela-Patiño P, Martin-Biedma B (2014) The accuracy of estimating chronological age from Demirjian and Nolla methods in a Portuguese and Spanish sample. BMC Oral Health 14:160

2.

Jayaraman J, Wong HM, King NM, Roberts GJ (2013) The French-Canadian data set of Demirjian for dental age estimation: a systematic review and meta-analysis. J Forensic Legal Med 20(5):373–381

3.

Cunha E, Baccino E, Martrille L, Ramsthaler F, Prieto J, Schuliar Y, Lynnerup N, Cattaneo C (2009) The problem of aging human remains and living individuals: a review. Forensic Sci Int 193:1–13

4.

de Cassia Silva Azevedo A, Michel-Crosato E, Haye Biazevic MG (2018) Radiographic evaluation of dental and cervical vertebral development for age estimation in a young Brazilian population. J Forensic Odontostomatol 2(36):31–39

5.

Ranasinghe S, Perera J, Taylor JA, Tennakoon A, Pallewatte A, Jayasinghe R (2019) Dental age estimation using radiographs: towards the best method for Sri Lankan children. Forensic Sci Int 298:64–70

6.

Garn SM, Lewis AB, Kerewsky RS (1965) Genetic, nutritional, and maturational correlates of dental development. J Dent Res 44:228–243

7.

Demirjian A, Goldstein H, Tanner JM (1973) A new system of dental age assessment. Hum Biol 45:211–227

8.

Koshy S, Tandon S (1998) Dental age assessment: the applicability of Demirjian's method in south Indian children. Forensic Sci Int 94:73–85

9.

Wittwer-Backofen U (2012) Age estimation using tooth cementum annulation. Methods Mol Biol 915:129–143

10.

Lamendin H, Baccino E, Humbert JF (1992) A simple technique for age estimation in adult coroses: the two criteria dental method. J Forensic Sci 37:1373–1379

11.

Moorrees CFA, Fanning EA, Hunt EE (1963) Age variation of formation stages for ten permanent teeth. J Dent Res 42:1490–1502

12.

Kvaal SI, Kolltveit KM, Thomsen IO, Solheim T (1995) Age estimation of adults from dental radiographs. Forensic Sci Int 74(3):175–185

13.

Haavikko K (1974) Tooth formation age estimated on a few selected teeth: a simple method for clinical use. Proc Finn Dent Soc 70(1):15–19

14.

Nolla CM (1960) The development of the permanent teeth. J Dent Child 27:254–266

15.

Willems VG, Van-Olmen A, Spiessens B, Carels C (2001) Dental age estimation in Belgian children: Demirjian's technique revisited. J Forensic Sci Int 46(4):893–895

16.

AlQahtani SJ, Hector MP, Liversidge HM (2014) Accuracy of dental age estimation charts: Schour and Massler, Ubelaker and the London atlas. Am J Phys Anthropol 154:70–78

17.

Mohammed RB, Sanghvi P, Perumalla KK, Srinivasaraju D, Srinivas J, Kalyan US, Rasool SM (2015) Accuracy of four dental age estimation methods in southern Indian children. J Clin Diagn Res 9(1):HC01–HC08

18.

Gelbrich B, Carl C, Gelbrich G (2019) Comparison of three methods to estimate dental age in children. Clin Oral Investig 24:2469–2475. https://doi.org/10.1007/s00784-019-03109-2

19.

Chaillet N, Nystrom M, Kataja M, Demirjian A (2004) Dental maturity curves in Finnish children: Demirjian's method revisited and polynomial functions for age estimation. J Forensic Sci 49(6):1324–1331

20.

Altan H, Altan A, Sozer OA (2017) Dental age estimation in southern Turkish children: comparison of Demirjian and Willems methods. Iran J Pediatr 27(6):e11726

21.

Cameriere R, Flores-Mir C, Mauricio F, Ferrante L (2007) Effects of nutrition on timing of mineralization in teeth in a Peruvian sample by the Cameriere and Demirjian methods. Ann Hum Biol 34(5):547–556

22.

Zhai Y, Park H, Han J, Wang H, Ji F, Tao J (2016) Dental age assessment in a northern Chinese population. J Forensic Legal Med 38:43–49

23.

Ye X, Jiang F, Sheng X, Huang H, Shen X (2014) Dental age assessment in 7-14-year-old Chinese children: comparison of Demirjian and Willems methods. Forensic Sci Int 244:36–41

24.

Wang J, Bai X, Wang M, Zhou Z, Bian X, Qiu C (2018) Applicability and accuracy of Demirjian and Willems methods in a population of Eastern Chinese subadults. Forensic Sci Int 292:90–96

25.

Kırzıoğlu Z, Ceyhan D (2012) Accuracy of different dental age estimation methods on Turkish children. Forensic Sci Int 216:61–67

26.

Hegde S, Patodia A, Dixit U (2017) A comparison of the validity of the Demirjian, Willems, Nolla and Häävikko methods in determination of chronological age of 5-15 year-old Indian children. J Forensic Legal Med 50:49–57

27.

Staaf V, Mörnstad H, Welander U (1991) Age estimation based on tooth development: a test of reliability and validity. Scand J Dent Res 99(4):281–286

28.

Rai B, Anand SC (2006) Tooth developments: an accuracy of age estimation of radiographic methods. World J Med Sci 1:130–132

29.

Nur B, Kusgoz A, Bayram M, Celikoglu M, Nur M, Kayipmaz S et al (2012) Validity of Demirjian and Nolla methods for dental age estimation for north-eastern Turkish children aged 5-16 years old. Med Oral Patol Oral Cir Bucal 17:e871–e877

30.

Maber M, Liversidge HM, Hector MP (2006) Accuracy of age estimation of radiographic methods using developing teeth. Forensic Sci Int 159(Suppl 1):S68–S73

31.

Ghafari R, Ghodousi A, Poordavar E (2019) Comparison of the accuracy of the London atlas and Smith method in dental age estimation in 5-15.99-year-old Iranians using the panoramic view. Int J Legal Med 133(1):189–195

32.

McCloe D, Marion I, da Fonseca MA, Colvard M, AlQahtani S (2018) Age estimation of Hispanic children using the London Atlas. Forensic Sci Int 288:332.e1–332.e6

33.

Nemsi H, Ben Daya M, Salem NH, Masmoudi F, Bouanène I, Maatouk F et al (2018) Applicability of Willems methods and Demirjian's four teeth method for dental age estimation: cross sectional study on Tunisian sub-adults. Forensic Sci Int 291:281.e1–281.e9

34.

Baghdadi ZD (2013) Dental maturity in Saudi children using the Demirjian ethod: a comparative study and new prediction models. ISRN Dent 2013:390314–390319. https://doi.org/10.1155/2013/390314
Acknowledgments
We thank Dr. Cumali Uri, Dr. Sıddık Keskin, Dr. Naci Murat, and Dr. Tamer Tüzüner for the comments and technical assistance in the statistical analysis.
Ethics declarations
Conflict of interest
All authors declare that they have no conflict of interest.
Ethical approval
All procedures performed in studies involving human participants were in accordance with the ethical standards of the institutional and/or national research committee and with the 1964 Helsinki Declaration and its later amendments or comparable ethical standards. The study was approved by the Bioethics Committee of the Medical University of A (approval number: 2019/02/01-02).
Informed consent
Informed consent was not needed due to the retrospective design of the study.
Additional information
Publisher's note
Springer Nature remains neutral with regard to jurisdictional claims in published maps and institutional affiliations.
About this article
Cite this article
Koç, A., Özlek, E. & Öner Talmaç, A.G. Accuracy of the London atlas, Willems, and Nolla methods for dental age estimation: a cross-sectional study on Eastern Turkish children. Clin Oral Invest (2021). https://doi.org/10.1007/s00784-021-03788-w
Received:

Accepted:

Published:
Keywords
Forensic dentistry

Panoramic radiography

Legal medicine

Dentistry

Quantitative evaluation

Forensic sciences