Abstract
Background and objectives
Treg and TH17 cells influence the inflammatory process in periodontal diseases and could also play in a similar pattern, an essential role in immune-inflammatory mechanisms involved in the destruction of the peri-implant tissues, peri-implantitis. Therefore, this study evaluated the levels of RORγT and FOXP3 gene expression in subjects with peri-implantitis and healthy peri-implant tissues.
Methods
A total of 35 subjects with implant-supported restorations in both diseased and healthy clinical conditions (n = 15 healthy; n = 20 peri-implantitis) were included in this study. Peri-implantitis was defined as probing depth > 5 mm, bleeding on probing and/or suppuration, and peri-implant bone loss >4 mm. Peri-implant tissue biopsies were collected for analysis of the mRNA, RORγT, and FOXP3 expression levels. The samples were submitted to total RNA extraction, treatment with DNAse, and cDNA synthesis. Subsequently, real-time PCR reaction was performed to evaluate the levels of RORγT and FOXP3 gene expression to the reference gene. These were analyzed by the non-parametric Mann-Whitney method with a level of significance of 5%.
Results
Higher gene expression levels of the transcription factors RORγT and FOXP3 were detected in the tissues affected by peri-implantitis when compared with healthy tissues (p < 0.05).
Conclusions
The present study demonstrated the possible existence of a hybrid TH17-Treg profile, based on the gene expression of transcription factors inducing differentiation of these cells. Further studies must be designed to gain a better understanding of the immunological mechanisms involved in the pathogenesis of peri-implantitis.
Clinical relevance
The levels of RORγT and FOXP3 transcription factors that were linked to cells with the FOXP3+RORγT+ phenotype could be used as a predictor of peri-implantitis progression.
This is a preview of subscription content, log in to check access.
Access options
Buy single article
Instant access to the full article PDF.
US$ 39.95
Price includes VAT for USA
Subscribe to journal
Immediate online access to all issues from 2019. Subscription will auto renew annually.
US$ 99
This is the net price. Taxes to be calculated in checkout.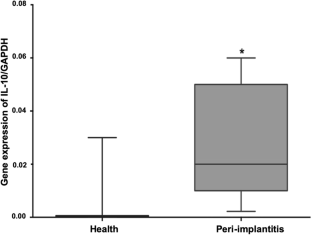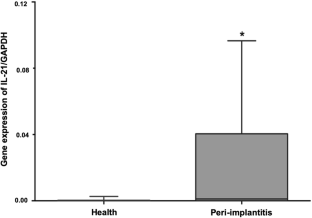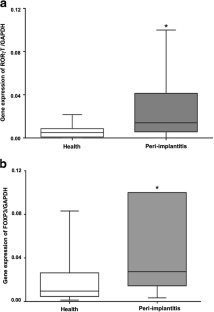 References
1.

Berglundh T, Armitage G, Araujo MG, Avila-Ortiz G, Blanco J, Camargo PM, Chen S, Cochran D, Derks J, Figuero E, Hämmerle CHF, Heitz-Mayfield LJA, Huynh-Ba G, Iacono V, Koo KT, Lambert F, McCauley L, Quirynen M, Renvert S, Salvi GE, Schwarz F, Tarnow D, Tomasi C, Wang HL, Zitzmann N (2018) Peri-implant diseases and conditions: consensus report of workgroup 4 of the 2017 World Workshop on the Classification of Periodontal and Peri-Implant Diseases and Conditions. J Periodontol 89(Suppl 1):S313–S318. https://doi.org/10.1002/JPER.17-0739

2.

Yucel-Lindberg T, Båge T (2013) Inflammatory mediators in the pathogenesis of periodontitis. Expert Rev Mol Med 15:e7

3.

Askar M (2014) T helper subsets & regulatory T cells: rethinking the paradigm in the clinical context of solid organ transplantation. Int J Immunogenet 41(3):185–194

4.

Korn T, Bettelli E, Oukka M, Kuchroo VK (2009) IL-17 and Th17 Cells. Annu Rev Immunol 27:485–517

5.

Cosmi L, Maggi L, Santarlasci V, Liotta F, Annunziato F (2014) T helper cells plasticity in inflammation. Cytometry A 85(1):36–42

6.

Fischer-Stabauer M, Boehner A, Eyerich S, Carbone T, Traidl-Hoffmann C, Schmidt-Weber CB, Cavani A, Ring J, Hein R, Eyerich K (2012) Differential in situ expression of IL-17 in skin diseases. Eur J Dermatol 22(6):781–784. https://doi.org/10.1684/ejd.2012.1854

7.

Mills KH, Dungan LS, Jones SA, Harris J (2013) The role of inflammasome-derived IL-1 in driving IL-17 responses. J Leukoc Biol 93(4):489–497. https://doi.org/10.1189/jlb.1012543

8.

Song J, Xi JY, Yu WB, Yan C, Luo SS, Zhou L, Zhu WH, Lu JH, Dong Q, Xiao BG, Zhao CB (2019) Inhibition of ROCK activity regulates the balance of Th1, Th17 and Treg cells in myasthenia gravis. Clin Immunol 203:142–153. https://doi.org/10.1016/j.clim.2019.05.006

9.

Cafferata EA, Jerez A, Vernal R, Monasterio G, Pandis N, Faggion CM Jr (2019) The therapeutic potential of regulatory T lymphocytes in periodontitis: a systematic review. J Periodontal Res 54(3):207–217. https://doi.org/10.1111/jre.12629

10.

Shibli JA, Ferrari DS, Siroma RS, Figueiredo LC, Faveri M, Feres M (2019) Microbiological and clinical effects of adjunctive systemic metronidazole and amoxicillin in the non-surgical treatment of peri-implantitis: 1 year follow-up. Braz Oral Res 33(suppl 1):e080. Published 2019 Sep 30. https://doi.org/10.1590/1807-3107bor-2019.vol33.0080

11.

Guerrero A, Griffiths GS, Nibali L, Suvan J, Moles DR, Laurell L, Tonetti MS (2005) Adjunctive benefits of systemic amoxicillin and metronidazole in non-surgical treatment of generalized aggressive periodontitis: a randomized placebo-controlled clinical trial. J Clin Periodontol 32(10):1096–1107. https://doi.org/10.1111/j.1600-051X.2005.00814.x

12.

Bastos MF, de Franco L, Garcia Tebar AC, Giro G, Shibli JA (2018) Expression levels of semaphorins 3A, 3B, 4A, and 4D on human peri-implantitis. Int J Oral Maxillofac Implants 33(3):565–570. https://doi.org/10.11607/jomi.6238

13.

Mardegan GP, Shibli JA, Roth LA, Faveri M, Giro G, Bastos MF (2017) Transforming growth factor-β, interleukin-17, and IL-23 gene expression profiles associated with human peri-implantitis. Clin Oral Implants Res 28(7):e10–e15. https://doi.org/10.1111/clr.12846

14.

Teixeira MKS, Lira-Junior R, Telles DM, Lourenço EJV, Figueredo CM (2017) Th17-related cytokines in mucositis: is there any difference between peri-implantitis and periodontitis patients? Clin Oral Implants Res 28(7):816–822. https://doi.org/10.1111/clr.12886

15.

Darabi E, Kadkhoda Z, Amirzargar A (2013) Comparison of the levels of tumor necrosis factor-α and interleukin-17 in gingival crevicular fluid of patients with peri-implantitis and a control group with healthy implants. Iran J Allergy Asthma Immunol 12(1):75–80

16.

Recker EN, Avila-Ortiz G, Fischer CL, Pagan-Rivera K, Brogden KA, Dawson DV, Elangovan S (2015) A cross-sectional assessment of biomarker levels around implants versus natural teeth in periodontal maintenance patients. J Periodontol 86(2):264–272. https://doi.org/10.1902/jop.2014.140354

17.

Chaudhry A, Rudra D, Treuting P, Samstein RM, Liang Y, Kas A, Rudensky AY (2009) CD4+ regulatory T cells control TH17 responses in a Stat3-dependent manner. Science. 326(5955):986–991

18.

Wehmeyer MM, Kshirsagar AV, Barros SP et al (2013) A randomized controlled trial of intensive periodontal therapy on metabolic and inflammatory markers in patients with ESRD: results of an exploratory study. Am J Kidney Dis 61(3):450–458. https://doi.org/10.1053/j.ajkd.2012.10.021

19.

Garlet GP, Martins W Jr, Ferreira BR, Milanezi CM, Silva JS (2003) Patterns of chemokines and chemokine receptors expression in different forms of human periodontal disease. J Periodontal Res 38(2):210–217. https://doi.org/10.1034/j.1600-0765.2003.02012.x

20.

Venza I, Visalli M, Cucinotta M, De Grazia G, Teti D, Venza M (2010) Proinflammatory gene expression at chronic periodontitis and peri-implantitis sites in patients with or without type 2 diabetes. J Periodontol 81(1):99–108. https://doi.org/10.1902/jop.2009.090358

21.

Severino VO, Napimoga MH, de Lima Pereira SA (2011) Expression of IL-6, IL-10, IL-17 and IL-8 in the peri-implant crevicular fluid of patients with peri-implantitis. Arch Oral Biol 56(8):823–828. https://doi.org/10.1016/j.archoralbio.2011.01.006

22.

de Araújo MF, Filho AF, da Silva GP et al (2014) Evaluation of peri-implant mucosa: clinical, histopathological and immunological aspects. Arch Oral Biol 59(5):470–478. https://doi.org/10.1016/j.archoralbio.2014.01.011

23.

Takahashi Y, Yamamoto M, Tabata Y (2005) Enhanced osteoinduction by controlled release of bone morphogenetic protein-2 from biodegradable sponge composed of gelatin and beta-tricalcium phosphate. Biomaterials 26(23):4856–4865. https://doi.org/10.1016/j.biomaterials.2005.01.012

24.

Beklen A, Hukkanen M, Richardson R, Konttinen YT (2008) Immunohistochemical localization of Toll-like receptors 1-10 in periodontitis. Oral Microbiol Immunol 23(5):425–431. https://doi.org/10.1111/j.1399-302X.2008.00448.x

25.

Takahashi N, Matsuda Y, Sato K et al (2016) Neuronal TRPV1 activation regulates alveolar bone resorption by suppressing osteoclastogenesis via CGRP. Sci Rep 6:29294. Published 2016 Jul 8. https://doi.org/10.1038/srep29294

26.

Koenen HJ, Smeets RL, Vink PM, van Rijssen E, Boots AM, Joosten I (2008) Human CD25highFoxp3pos regulatory T cells differentiate into IL-17-producing cells. Blood 112(6):2340–2352. https://doi.org/10.1182/blood-2008-01-133967

27.

Lochner M, Peduto L, Cherrier M, Sawa S, Langa F, Varona R, Riethmacher D, Si-Tahar M, di Santo JP, Eberl Ǵ (2008) In vivo equilibrium of proinflammatory IL-17+ and regulatory IL-10+ Foxp3+ RORgamma t+ T cells. J Exp Med 205(6):1381–1393. https://doi.org/10.1084/jem.20080034

28.

Voo KS, Wang YH, Santori FR, Boggiano C, Wang YH, Arima K, Bover L, Hanabuchi S, Khalili J, Marinova E, Zheng B, Littman DR, Liu YJ (2009) Identification of IL-17-producing FOXP3+ regulatory T cells in humans. Proc Natl Acad Sci U S A 106(12):4793–4798. https://doi.org/10.1073/pnas.0900408106

29.

Zhou M, Yang B, Ma R, Wu C (2008) Memory Th-17 cells specific for C. albicans are persistent in human peripheral blood. Immunol Lett 118(1):72–81. https://doi.org/10.1016/j.imlet.2008.03.004

30.

Osorio F, LeibundGut-Landmann S, Lochner M, Lahl K, Sparwasser T, Eberl G, Reis e Sousa C (2008) DC activated via dectin-1 convert Treg into IL-17 producers. Eur J Immunol 38(12):3274–3281. https://doi.org/10.1002/eji.200838950

31.

Okui T, Aoki Y, Ito H, Honda T, Yamazaki K (2012) The presence of IL-17+/FOXP3+ double-positive cells in periodontitis. J Dent Res 91(6):574–579. https://doi.org/10.1177/0022034512446341
Funding
Prof. Shibli receive grants from CNPq # 301527/2006-7, #504392/2010-7, and 311368/2019-0 and FAPESP # 2008/07154-5.
Ethics declarations
Conflict of interest
All authors declare that they have no conflict of interest.
Ethical approval
The experimental protocol was approved by the Research Ethics Committee of the University of Guarulhos (IRB #0007.0.132.000-10). All procedures performed in studies involving human participants were in accordance with the ethical standards of the institutional and/or national research committee and with the 1964 Helsinki declaration and its later amendments or comparable ethical standards.
Statement of informed consent
Informed consent was obtained from all individual participants included in the study.
Additional information
Publisher's note
Springer Nature remains neutral with regard to jurisdictional claims in published maps and institutional affiliations.
About this article
Cite this article
Giro, G., Tebar, A., Franco, L. et al. Treg and TH17 link to immune response in individuals with peri-implantitis: a preliminary report. Clin Oral Invest (2020). https://doi.org/10.1007/s00784-020-03435-w
Received:

Accepted:

Published:
Keywords
Peri-implantitis

Bone loss

Immunology

Dental implants

Treg and TH17 cells