Abstract
Objectives
The purpose of this study was to evaluate clinical efficacy of four different local hemostatics in patients taking oral antiplatelet therapy, after multiple dental extractions without discontinuing drugs.
Materials and methods
Study sample included 102 patients (mean age 64.1 ± 17.4 years) in treatment with oral antiplatelet agents needing multiple dental extractions. After surgery, the sockets were randomly sealing with suture alone (control group), hemostatic plug (HEM), advanced platelet-rich fibrin (A-PRF+), and leukocyte-platelet-rich fibrin (L-PRF). Primary outcomes were post-operative bleeding, wound healing index, and possible complications. Secondary outcomes were correlation between primary outcomes and patient's comorbidities and voluptuous habits. Descriptive statistics, bivariate comparisons, and logistic regression analysis were performed (p < 0.05).
Results
Both A-PRF+ and L-PRF showed a reduced bleeding risk when compared with suture alone (OR = 0.09, p = 0.001 for A-PRF+; OR = 0.09, p = 0.005 for L-PRF). Only L-PRF showed a reduced risk for incomplete wound healing when compared with the control site (OR = 0.43, p = 0.019). Patients affected by hypertension (OR 3.91, p = 0.015) and diabetes (OR 3.24, p = 0.026) had the highest bleeding risk. Smoking (OR 4.30, p = 0.016) and diabetes (OR 3.79, p = 0.007) interfered with healing process.
Conclusion
L-PRF and A-PRF represent a valid alternative to the traditional hemostatics, reducing post-surgical bleeding and promoting wound healing.
Clinical relevance
In patients taking antiplatelet drugs, different local hemostatics are useful to control potential post-operative bleeding and to favor wound healing. However, comorbidities and voluptuous habits may increase bleeding risk, interfering with healing process.
This is a preview of subscription content, log in to check access.
Access options
Buy single article
Instant access to the full article PDF.
US$ 39.95
Price includes VAT for USA
Subscribe to journal
Immediate online access to all issues from 2019. Subscription will auto renew annually.
US$ 99
This is the net price. Taxes to be calculated in checkout.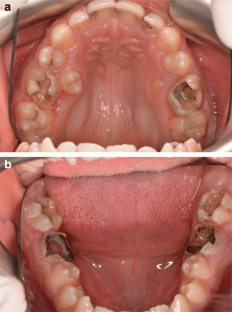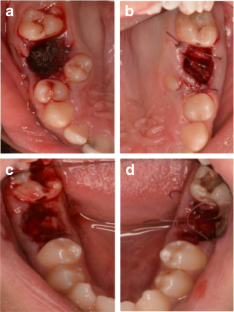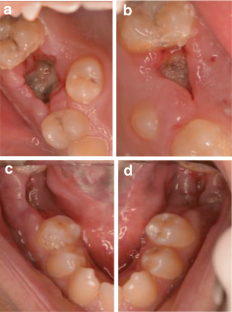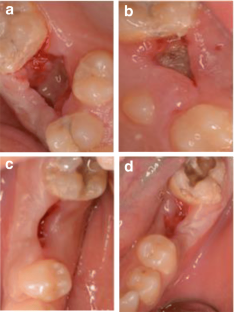 References
1.

Kämmerer PW, Frerich B, Liese J, Schiegnitz E, Al-Nawas B (2015) Oral surgery during therapy with anticoagulants-a systematic review. Clin Oral Investig. 19(2):171–180

2.

Hanken H, Gröbe A, Heiland M et al (2016) Postoperative bleeding risk for oral surgery under continued rivaroxaban anticoagulant therapy. Clin Oral Investig. 20(6):1279–1282

3.

Bajkin BV, Urosevic IM, Stankov KM, Petrovic BB, Bajkin IA (2015) Dental extractions and risk of bleeding in patients taking single and dual antiplatelet treatment. Br J Oral Maxillofac Surg. 53(1):39–43

4.

Dudek D, Kuliczkowski W, Kaczmarski J et al (2015) Response to dual antiplatelet therapy does not impact bleeding risks in patients undergoing oral surgery after acute coronary syndromes. Cardiology. 132(2):119–123

5.

Katzung BG. Basic and clinical pharmacology. Mc Graw-Hill Education. 2018, 14th edition.

6.

Bourantas CV, Garcia-Garcia HM, Farooq V, Maehara A, Xu K, Genereux P, Diletti R, Muramatsu T, Fahy M, Weisz G, Stone GW, Serruys PW (2013) Clinical and angiographic characteristics of patients likely to have vulnerable plaques: analysis from the PROSPECT study. JACC Cardiovasc Imaging. 6(12):1263–1272

7.

Wahl MJ (1998) Dental surgery in anticoagulated patients. Arch Intern Med. 158(15):1610–1616

8.

Napeñas JJ, Hong CH, Brennan MT, Furney SL, Fox PC, Lockhart PB (2009) The frequency of bleeding complications after invasive dental treatment in patients receiving single and dual antiplatelet therapy. J Am Dent Assoc. 140(6):690–695

9.

Nathwani S, Martin K (2016) Exodontia in dual antiplatelet therapy: the evidence. Br Dent J. 220(5):235–238

10.

Salam S, Yusuf H, Milosevic A (2007) Bleeding after dental extractions in patients taking warfarin. Br J Oral Maxillofac Surg. 45(6):463–466

11.

Miura K, Matsumura K, Nakamura Y, Kurokawa H, Kajiyama M, Takata Y (2000) Suppression of cardiac sympathetic nervous system during dental surgery in hypertensive patients. Hypertens Res. 23(3):207–212

12.

Knapp JF, Fiori T (1984) Oral hemorrhage associated with periodontal surgery and hypertensive crisis. J. Am Dent Assoc. 108(1):49–51

13.

Mozzati M, Gallesio G, di Romana S, Bergamasco L, Pol R (2014) Efficacy of plasma-rich Growth factor in the healing of postextraction sockets in patients affected by insulin-dependent diabetes mellitus. J Oral Maxillofac Surg. 72(3):456–462

14.

Vettori E, Costantinides F, Nicolin V, Rizzo R, Perinetti G, Maglione M, Di Lenarda R. Factors influencing the onset of intra- and post-operative complications following tooth exodontia: retrospective survey on 1701 patients. Antibiotics(Basel). 2019; 8(4): 264.

15.

Ockerman A, Miclotte I, Vanhaverbeke M et al (2019) Local haemostatic measures after tooth removal in patients on antithrombotic therapy: a systematic review. Clin Oral Investig. 23(4):1695–1708

16.

Sarkar S, Prashanth NT, Shobha ES, Rangan V, Nikhila G (2019) Efficacy of platelet rich fibrin versus chitosan as a hemostatic agent following dental extraction in patients on antiplatelet therapy. J Oral Biol Craniofac Res. 9(4):336–339

17.

Pippi R, Santoro M, Cafolla A (2017) The use of a chitosan-derived haemostatic agent for postextraction bleeding control in patients on antiplatelet treatment. Journal of Oral and Maxillofacial Surgery. 75(6):1118–1123

18.

Marenzi G, Riccitiello F, Tia M, di Lauro A, Sammartino G (2015) Influence of leukocyte- and platelet-rich fibrin (L-PRF) in the healing of simple postextraction sockets: a split-mouth study. Biomed Res Int. 2015:369273

19.

Gasparro R, Qorri E, Valletta A, Masucci M, Sammartino P, Amato A, Marenzi G (2018) Non-transfusional hemocomponents: from biology to the clinic—a literature review. Bioengineering (Basel). 5(2):27

20.

Miron RJ, Zucchelli G, Pikos MA, et al. Use of platelet-rich fibrin in regenerative dentistry: a systematic review. Clin Oral Investig. 2017;21(6):1913–1927.

21.

Fujioka-Kobayashi M, Miron RJ, Hernandez M, Kandalam U, Zhang Y, Choukroun J (2017) Optimized platelet-rich fibrin with the low-speed concept: growth factor release, biocompatibility, and cellular response. J Periodontol. 88(1):112–121

22.

Farina R, Trombelli L (2011 Sep) Wound healing of extraction sockets. Endodon Top. 25(1):16–43

23.

Boutron I, Altman DG, Moher D, Schulz KF, Ravaud P (2017) CONSORT statement for randomized trials of nonpharmacologic treatments: A 2017 update and a CONSORT extension for nonpharmacologic trial abstracts. Ann Intern Med 167(1):40–47

24.

Souto JC, Oliver A, Zuazu-Jausoro I, Vives A, Fontcuberta J (1996) Oral surgery in anticoagulated patients without reducing the dose of oral anticoagulant: a prospective randomized study. J Oral Maxillofac Surg 54(1):27–323

25.

Patrono C, Bachmann F, Baigent C et al (2004) Expert consensus document on the use of antiplatelet agents. The Task Force on the Use of Antiplatelet Agents in Patients with Atherosclerotic Cardiovascular Disease of the European Society of Cardiology. European Heart Journal. 25(2):166–181

26.

Li L, Zhang W, Yang Y, Zhao L, Zhou X, Zhang J (2019) Dental management of patient with dual antiplatelet therapy: a meta-analysis. Clin Oral Investig. 23(4):1615–1623

27.

Miclotte I, Vanhaverbeke M, Agbaje JO et al (2017) Pragmatic approach to manage new oral anticoagulants in patients undergoing dental extractions: a prospective case-control study. Clin Oral Investig. 21(7):2183–2188

28.

Sammartino G, Dohan Ehrenfest DM, Carile F, Tia M, Bucci P (2011) Prevention of hemorrhagic complications after dental extractions into open heart surgery patients under anticoagulant therapy: the use of leukocyte- and platelet-rich fibrin. J Oral Implantol. 37(6):681–690

29.

Morimoto Y, Niwa H, Minematsu K (2008) Hemostatic management of tooth extractions in patients on oral antithrombotic therapy. J Oral Maxillofac Surg. 66(1):51–57

30.

Sadeghi-Ghahrody M, Yousefi-Malekshah SH, Karimi-Sari H, Yazdanpanah H, Rezaee-Zavareh MS, Yavarahmadi M (2016) Bleeding after tooth extraction in patients taking aspirin and clopidogrel (Plavix®) compared with healthy controls. Br J Oral Maxillofac Surg. 54(5):568–572

31.

Halfpenny W, Fraser JS, Adlam DM (2001) Comparison of 2 hemostatic agents for the prevention of postextraction hemorrhage in patients on anticoagulants. Oral Surg Oral Med Oral Pathol Oral Radiol Endod. 92(3):257–259

32.

Giudice A, Esposito M, Bennardo F, Brancaccio Y, Buti J, Fortunato L (2019) Dental extractions for patients on oral antiplatelet: a within-person randomised controlled trial comparing haemostatic plugs, advanced-platelet-rich fibrin (A-PRF+) plugs, leukocyte- and platelet-rich fibrin (L-PRF) plugs and suturing alone. Int J Oral Implantol (New Malden). 12(1):77–87

33.

Dohan Ehrenfest DM, Pinto NR, Pereda A et al (2018) The impact of the centrifuge characteristics and centrifugation protocols on the cells, growth factors, and fibrin architecture of a leukocyte- and platelet-rich fibrin (L-PRF) clot and membrane. Platelets. 29(2):171–184

34.

Gasparro R, Sammartino G, Mariniello M, di Lauro AE, Spagnuolo G, Marenzi G (2020) Treatment of periodontal pockets at the distal aspect of mandibular second molar after surgical removal of impacted third molar and application of L-PRF: a split-mouth randomized clinical trial. Quintessence Int. 51(3):204–211

35.

Tang M, Yu C, Hu P, Wang C, Sheng J, Ma S (2018) Risk factors for bleeding after dental extractions in patients over 60 years of age who are taking antiplatelet drugs. Br J Oral Maxillofac Surg. 56(9):854–858

36.

Orcajo B, Muruzabal F, Isasmendi C et al (2011) The use of plasma rich in growth factor (PRGF-Endoret) in the treatment of a severe mal perforant ulcer in the foot of a person with diabetes. Diabetes Res Clin Pract. 93(2):e65–e67

37.

Silvestre FJ, Salvador-Martínez I, Bautista D, Silvestre-Rangil J (2011) Clinical study of hemodynamic changes during extraction in controlled hypertensive patients. Med Oral Patol Oral Cir Bucal. 16(3):e354–e358

38.

Meechan JG, Macgregor ID, Rogers SN, Hobson RS, Bate JP, Dennison M (1988) The effect of smoking on immediate post-extraction socket filling with blood and on the incidence of painful socket. The British Journal of Oral & Maxillofacial Surgery. 26(5):402–409

39.

Nusair YM, Younis MHA (2007) Prevalence, clinical picture, and risk factors of dry socket in a Jordanian dental teaching center. J Contemp Dent Pract. 8(3):53–63

40.

Al-Belasy FA (2004) The relationship of "shisha" (water pipe) smoking to postextraction dry socket. J Oral Maxillofac Surg. 62(1):10–14

41.

Mudali V, Mahomed O (2016) Incidence and predisposing factors for dry socket following extraction of permanent teeth at a regional hospital in Kwa-Zulu Natal. South African Dental 41. Journal. 71(4):166–169

42.

Cryer PE, Haymond MW, Santiago JV, Shah SD (1976) Norepinephrine and epinephrine release and adrenergic mediation of smoking-associated hemodynamic and metabolic events. N Engl J Med. 295(11):573–577
Ethics declarations
Conflict of interest
The authors declare that they have no conflict of interest.
Research involving human participants and/or animals
The ethical approval was obtained by the Ethical Review Board of Central Calabria (reference for the Magna Graecia University of Catanzaro, Catanzaro, Italy) on 21 September 2017 (Prot. No. 265 of 24 October 2017)
Informed consent
All patients enrolled for the study signed an informed consent.
Additional information
Publisher's note
Springer Nature remains neutral with regard to jurisdictional claims in published maps and institutional affiliations.
About this article
Cite this article
Brancaccio, Y., Antonelli, A., Barone, S. et al. Evaluation of local hemostatic efficacy after dental extractions in patients taking antiplatelet drugs: a randomized clinical trial. Clin Oral Invest (2020). https://doi.org/10.1007/s00784-020-03420-3
Received:

Accepted:

Published:
Keywords
Dental extractions

Antiplatelet therapy

L-PRF

A-PRF

Hemostatic agents

Wound healing