Abstract
Objectives
The separated root canal instruments may affect the quality of root canal filling, hence the success of endodontic treatment. The aim of this study was to evaluate the effects of separated file fragments of nickel-titanium rotary systems with different cross-section, taper and motion characteristics on the apical sealer penetration in oval-shaped root canals via confocal laser scanning microscope (CLSM).
Materials and methods
Distal roots of 60 mandibular molars with oval-shaped root canals were randomly divided into 4 groups as follows: group 1, FlexMaster Nickel Titanium Rotary File System (NTRFS) (separated instrument: 30/.06); group 2, ProTaper Next NTRFS (X3); group 3, ProTaper Universal NTRFS (F3); group 4, Revo-S NTRFS (AS30/.06). Root canals were filled with gutta-percha and AH plus labelled with 0.1% rhodamine B using a warm vertical compaction technique. Each specimen was horizontally sectioned at 1st, 3rd and 5th mm from apical foramen. Amount of maximum and average penetration depths, penetration percentage and sealer penetrated area were measured and analysed with one-way repeated measures of ANOVA and the Bonferroni post hoc tests. p < 0.05 was considered significant.
Results
The penetration depth, percentage and penetrated area of the sealer increased from apical to coronal in all systems. The maximum and average penetration depths and penetration areas were higher in FlexMaster and Revo-S groups at the 3rd mm (p < 0.05). At the 5th mm, the Revo-S group had a higher penetration percentage, when compared with ProTaper Next and ProTaper Universal groups (p < 0.05).
Conclusions
In the 1st mm, separated fragments of any system did not allow the penetration of the sealer, while it was observed that the files with constant taper showed more positive results in terms of sealer penetration at apical 3rd and 5th mm.
Clinical relevance
In the presence of a separated file, the taper of the file might significantly affect the amount of penetrated sealer into the dentinal tubules as compared with the cross-section and motion characteristics of the file.
This is a preview of subscription content, log in to check access.
Access options
Buy single article
Instant access to the full article PDF.
US$ 39.95
Price includes VAT for USA
Subscribe to journal
Immediate online access to all issues from 2019. Subscription will auto renew annually.
US$ 99
This is the net price. Taxes to be calculated in checkout.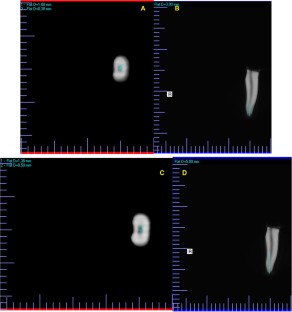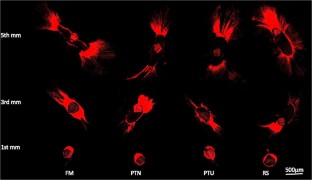 References
1.

Hülsmann M, Peters OA, Dummer PMH (2005) Mechanical preparation of root canals: shaping goals, techniques and means. Endod Top 10:30–76. https://doi.org/10.1111/j.1601-1546.2005.00152.x

2.

Parashos P, Messer HH (2006) Rotary NiTi instrument fracture and its consequences. J Endod 32:1031–1043. https://doi.org/10.1016/j.joen.2006.06.008

3.

Madarati AA, Hunter MJ, Dummer PM (2013) Management of intracanal separated instruments. J Endod 39:569–581. https://doi.org/10.1016/j.joen.2012.12.033

4.

Cheung GSP (2007) Instrument fracture: mechanisms, removal of fragments, and clinical outcomes. Endod Top 16:1–26. https://doi.org/10.1111/j.1601-1546.2009.00239.x

5.

Ward JR, Parashos P, Messer HH (2003) Evaluation of an ultrasonic technique to remove fractured rotary nickel-titanium endodontic instruments from root canals: clinical cases. J Endod 29:764–767. https://doi.org/10.1097/00004770-200311000-00018

6.

Vouzara T, Chares M, Lyroudia K (2018) Separated instrument in endodontics: frequency, treatment and prognosis. Balk J Dent Med 22:123–132. https://doi.org/10.2478/bjdm-2018-0022

7.

Nevares G, Cunha RS, Zuolo ML, da Silveira Bueno CE (2012) Success rates for removing or bypassing fractured instruments: a prospective clinical study. J Endod 38:442–444. https://doi.org/10.1016/j.joen.2011.12.009

8.

Souter NJ, Messer HH (2005) Complications associated with fractured file removal using an ultrasonic technique. J Endod 31:450–452. https://doi.org/10.1097/01.don.0000148148.98255.15

9.

Spili P, Parashos P, Messer HH (2005) The impact of instrument fracture on outcome of endodontic treatment. J Endod 31:845–850. https://doi.org/10.1097/01.don.0000164127.62864.7c

10.

Alapati SB, Brantley WA, Svec TA, Powers JM, Nusstein JM, Daehn GS (2005) SEM observations of nickel-titanium rotary endodontic instruments that fractured during clinical use. J Endod 31:40–43. https://doi.org/10.1097/01.DON.0000132301.87637.4A

11.

McGuigan MB, Louca C, Duncan HF (2013) Clinical decision making after endodontic instrument fracture. Br Dent J 214:395–400. https://doi.org/10.1038/sj.bdj.2013.379

12.

Wu J, Lei G, Yan M, Yu Y, Yu J, Zhang G (2011) Instrument separation analysis of multi-used ProTaper Universal rotary system during root canal therapy. J Endod 37:758–763. https://doi.org/10.1016/j.joen.2011.02.021

13.

Thomas MB, Locke M, Dummer PMH (2013) A survey of adoption of endodontic nickel-titanium rotary instrumentation part 2: community and hospital dental practitioners in Wales. Br Dent J 214:E7. https://doi.org/10.1038/sj.bdj.2013.109

14.

Patil TN, Saraf PA, Penukonda R, Vanaki SS, Kamatagi L (2017) A survey on nickel titanium rotary instruments and their usage techniques by endodontists in India. J Clin Diagn Res 11:ZC29–ZC35. https://doi.org/10.7860/JCDR/2017/23936.9852A

15.

Farid H, Khan FR, Rahman M (2013) ProTaper rotary instrument fracture during root canal preparation: a comparison between rotary and hybrid techniques. Oral Health Dent Manag 12:50–55

16.

Wolcott S, Wolcott J, Ishley D, Kennedy W, Johnson S, Minnich S, Meyers J (2006) Separation incidence of protaper rotary instruments: a large cohort clinical evaluation. J Endod 32:1139–1141. https://doi.org/10.1016/j.joen.2006.05.015

17.

Shen Y, Haapasalo M, Cheung GS, Peng B (2009) Defects in nickel-titanium instruments after clinical use. Part 1: relationship between observed imperfections and factors leading to such defects in a cohort study. J Endod 35:129–132. https://doi.org/10.1016/j.joen.2008.10.014

18.

Medha A, Patil S, Hoshing U, Bandekar S (2014) Evaluation of forces generated on three different rotary file systems in apical third of root canal using finite element analysis. J Clin Diagn Res 8:243–246. https://doi.org/10.7860/JCDR/2014/7919.3903

19.

Kyaw Moe MM, Ha JH, Jin MU, Kim YK, Kim SK (2018) Root canal shaping effect of instruments with offset mass of rotation in the mandibular first molar: a micro-computed tomographic study. J Endod 44:822–827. https://doi.org/10.1016/j.joen.2017.11.012

20.

Gagliardi J, Versiani MA, de Sousa-Neto MD, Plazas-Garzon A, Basrani B (2015) Evaluation of the shaping characteristics of ProTaper Gold, ProTaper NEXT, and ProTaper Universal in curved canals. J Endod 41:1718–1724. https://doi.org/10.1016/j.joen.2015.07.009

21.

Schneider SW (1971) A comparison of canal preparations in straight and curved root canals. Oral Surg Oral Med Oral Pathol 32:271–275

22.

De-Deus G, Reis C, Beznos D, de Abranches AM, Coutinho-Filho T, Paciornik S (2008) Limited ability of three commonly used thermoplasticized gutta-percha techniques in filling oval-shaped canals. J Endod 34:1401–1405. https://doi.org/10.1016/j.joen.2008.08.015

23.

Bolles JA, He J, Svoboda KK, Schneiderman E, Glickman GN (2013) Comparison of Vibringe, EndoActivator, and needle irrigation on sealer penetration in extracted human teeth. J Endod 39:708–711. https://doi.org/10.1016/j.joen.2013.01.006

24.

Heling I, Chandler NP (1996) The antimicrobial effect within dentinal tubules of four canal sealers. J Endod 22:257–259. https://doi.org/10.1016/S0099-2399(06)80144-5

25.

Siqueira JF, Favieri A, Gahyva SMM, Moraes SR, Lima KC, Lopes HP (2000) Antimicrobial activity and flow rate of newer and established root canal sealers. J Endod 26:274–277. https://doi.org/10.1097/00004770-200005000-00005

26.

Ruddle CJ, Machtou P, West JD (2013) The shaping movement: fifth-generation technology. Dent Today 32(94):96–99

27.

Haapasalo M, Shen Y (2013) Evolution of nickel–titanium instruments: from past to future. Endod Top 29:3–17. https://doi.org/10.1111/etp.12049

28.

Brkanić T, Stojšin I, Žviković VK (2012) Canal wall thickness after preparation with NiTi rotary files. Microsc Res Tech 75:253–257. https://doi.org/10.1002/jemt.21049

29.

Zhao D, Shen Y, Peng B, Haapasalo M (2014) Root canal preparation of mandibular molars with 3 nickel-titanium rotary instruments: a micro-computed tomographic study. J Endod 40:1860–1864. https://doi.org/10.1016/j.joen.2014.06.023

30.

Mjör IA, Smith MR, Ferrari M, Mannocci F (2001) The structure of dentine in the apical region of human teeth. Int Endod J 34:346–353. https://doi.org/10.1046/j.1365-2591.2001.00393.x

31.

Nogo-Živanović D, Kanjevac T, Bjelović L, Ristić V, Tanasković I (2019) The effect of final irrigation with MTAD, QMix, and EDTA on smear layer removal and mineral content of root canal dentin. Microsc Res Tech 82:923–930. https://doi.org/10.1002/jemt.23239

32.

Balguerie E, van der Sluis L, Vallaeys K, Gurgel-Georgelin M, Diemer F (2011) Sealer penetration and adaptation in the dentinal tubules: a scanning electron microscopic study. J Endod 37:1576–1579. https://doi.org/10.1016/j.joen.2011.07.005

33.

El Hachem R, Khalil I, Le Brun G, Pellen F, Le Jeune B, Daou M, El Osta N, Naaman A, Abboud M (2019) Dentinal tubule penetration of AH Plus, BC Sealer and a novel tricalcium silicate sealer: a confocal laser scanning microscopy study. Clin Oral Investig 23:1871–1876. https://doi.org/10.1007/s00784-018-2632-6

34.

Silva RV, Silveira FF, Horta MC, Duarte MA, Cavenago BC, Morais IG, Nunes E (2015) Filling effectiveness and dentinal penetration of endodontic sealers: a stereo and confocal laser scanning microscopy study. Braz Dent J 26:541–546. https://doi.org/10.1590/0103-6440201300138

35.

Schäfer E, Köster M, Bürklein S (2013) Percentage of gutta-percha-filled areas in canals instrumented with nickel-titanium systems and obturated with matching single cones. J Endod 39:924–928. https://doi.org/10.1016/j.joen.2013.04.001

36.

Dumani A, Yılmaz S, Yoldas O, Kuden C (2017) Evaluation of various filling techniques in distal canals of mandibular molars instrumented with different single-file nickel-titanium systems. Niger J Clin Pract 20:307–312. https://doi.org/10.4103/1119-3077.178920

37.

von Fraunhofer JA, Fagundes DK, McDonald NJ, Dumsha TC (2000) The effect of root canal preparation on microleakage within endodontically treated teeth: an in vitro study. Int Endod J 33:355–360. https://doi.org/10.1046/j.1365-2591.2000.00318.x

38.

Arias A, Singh R, Peters OA (2014) Torque and force induced by ProTaper Universal and ProTaper Next during shaping of large and small root canals in extracted teeth. J Endod 40:973–976. https://doi.org/10.1016/j.joen.2013.11.019

39.

Marinho ACS, Martinho FC, Gonçalves LM, Rabang HR, Gomes BP (2015) Does the Reciproc file remove root canal bacteria and endotoxins as effectively as multifile rotary systems. Int Endod J 48:542–548. https://doi.org/10.1111/iej.12346

40.

Machado MEL, Nabeshima CK, Caballero-Flores H, Elmadjian-Filho M, Duarte MAH, Odinola-Zapata R, Cai S (2017) Instrument design may influence bacterial reduction during root canal preparation. Braz Dent J 28:587–591. https://doi.org/10.1590/0103-6440201701506

41.

Macedo LMD, Silva-Sousa Y, Silva SRCD, Baratto SSP, Baratto-Filho F, Abi Rached-Júnior FJ (2017) Influence of root canal filling techniques on sealer penetration and bond strength to dentin. Braz Dent J 28:380–384. https://doi.org/10.1590/0103-6440201602460

42.

Kokkas A, Boutsioukis A, Vassiliadis L, Stavrianos CK (2004) The influence of the smear layer on dentinal tubule penetration depth by three different root canal sealers: an in vitro study. J Endod 30:100–102. https://doi.org/10.1097/00004770-200402000-00009

43.

Ozawa T, Taha N, Messer HH (2009) A comparison of techniques for obturating oval-shaped root canals. Dent Mater J 28:290–294. https://doi.org/10.4012/dmj.28.290

44.

Cujé J, Bargholz C, Hülsmann M (2010) The outcome of retained instrument removal in a specialist practice. Int Endod J 43:545–554. https://doi.org/10.1111/j.1365-2591.2009.01652.x

45.

Saunders JL, Eleazer PD, Zhang P, Michalek S (2004) Effect of a separated instrument on bacterial penetration of obturated root canals. J Endod 30:177–179. https://doi.org/10.1097/00004770-200403000-00012

46.

Viapiana R, Moinzadeh AT, Camilleri L, Wesselink PR, Tanomaru Filho M, Camilleri J (2016) Porosity and sealing ability of root fillings with gutta-percha and BioRoot RCS or AH Plus sealers. Evaluation by three ex vivo methods. Int Endod J 49:774–782. https://doi.org/10.1111/iej.12513

47.

Gu Y, Perinpanayagam H, Kum DJ, Yoo YJ, Jeong JS, Lim SM, Chang SW, Baek SH, Zhu Q, Kum KY (2017) Effect of different agitation techniques on the penetration of irrigant and sealer into dentinal tubules. Photomed Laser Surg 35:71–77. https://doi.org/10.1089/pho.2016.4125

48.

Thota MM, Sudha K, Malini DL, Madhavi SB (2017) Effect of different irrigating solutions on depth of penetration of sealer into dentinal tubules: a confocal microscopic study. Contemp Clin Dent 8:391–394. https://doi.org/10.4103/ccd.ccd_114_17
Funding
This study was supported by the University's Scientific Research Committee (grant no. THD-2018-17459).
Ethics declarations
Conflict of interest
The authors declare that they have no conflict of interest.
Ethical approval
All procedures performed in studies were in accordance with the ethical standards of the institutional and/or national research committee and with the 1964 Helsinki declaration and its later amendments or comparable ethical standards. The protocol of the present study was approved by the institutional research committee with the number GO: 18/747.
Informed consent
For this type of study, formal consent is not required.
Additional information
Publisher's note
Springer Nature remains neutral with regard to jurisdictional claims in published maps and institutional affiliations.
About this article
Cite this article
Eymirli, A., Uzunoğlu Özyürek, E. & Serper, A. Sealer penetration: effect of separated file's cross-section, taper and motion characteristics. Clin Oral Invest (2020). https://doi.org/10.1007/s00784-020-03404-3
Received:

Accepted:

Published:
Keywords
AH plus

Confocal laser scanning microscopy

Nickel-titanium rotary systems

Separated file

Tubule penetration