Abstract
Objectives
To present our experience treating patients who have undergone dental implantation under no change in their constant anticoagulant treatment.
Patients and methods
A retrospective study on patients who have undergone dental implantation. The study group consisted of patients under oral anticoagulants for at least 6 months before dental implantation. The control group was consisted of healthy patients with no oral anticoagulant treatment. Bleeding events were recorded and treated during the first 2 weeks postoperatively.
Results
A total of 193 patients were included in the study. Seventy-two of them who were under anticoagulants served as a study group and the rest (121 patients) served as a control group. Mean age: 65 years old in the study group and 59 years old in the control group. Gender: male to female ratio was higher in the study group and lower in the control group. Four patients in the study group and 7 patients in the control group presented postoperative bleeding and were treated successfully by additional local hemostasis methods.
Conclusion
With the limitation of this study, it can be concluded that patients under oral anticoagulant treatment can undergo dental implantation safely. Bleeding events are rare and can be controlled by local hemostasis.
Clinical relevance
Prior to dental implant insertion, patients under oral anticoagulants can continue their constant medical treatment. The procedure can be performed on outpatient basis under local hemostasis.
We're sorry, something doesn't seem to be working properly.
Please try refreshing the page. If that doesn't work, please contact support so we can address the problem.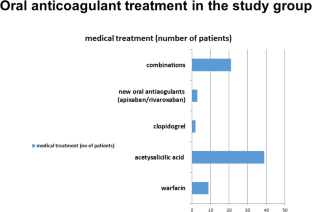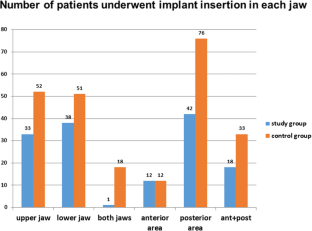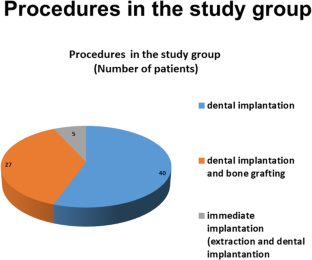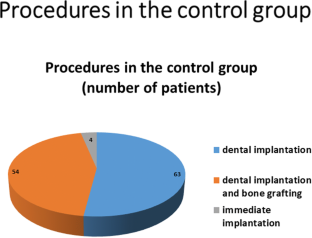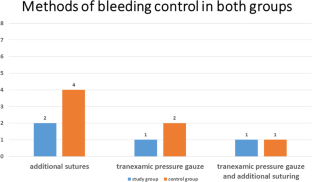 References
1.

Ghantous AE, Ferneini EM (2016) Aspirin, Plavix, and other antiplatelet medications: what the oral and maxillofacial surgeon needs to know. Oral Maxillofac Surg Clin North Am 28:497–506. https://doi.org/10.1016/j.coms.2016.06.003

2.

CDC (2018) Venous thromboembolism (blood clots) - data and statistics. cdcgov/ncbddd/dvt/datahtml Updated February 5, 2018

3.

Steuber T (2017) The role of direct oral anticoagulants in the management of venous thromboembolism. Am J Manag Care 23:S383–S390

4.

Douketis JD, Spyropoulos AC, Kaatz S, Becker RC, Caprini JA, Dunn AS, Garcia DA, Jacobson A, Jaffer AK, Kong DF, Schulman S, Turpie AG, Hasselblad V, Ortel TL (2015) Perioperative bridging anticoagulation in patients with trial fibrillation. N Engl J 373:823–833. https://doi.org/10.1056/NEJMoa1501035

5.

Ockerman A, Bornstein MM, Leung YY, Li SKY, Politics C, Jacob R (2020) Incidence of bleeding after minor oral surgery in patients on dual antiplatelet therapy: a systematic review and meta-analysis. Int J Oral Maxillofac Surg 49(1):90–98. https://doi.org/10.1016/j.ijom.2019.06.002

6.

Bensi C, Belli S, Paradiso D, Lumurno G (2018) Postoperative bleeding risk of direct oral anticoagulants after oral surgery procedures: a systematic review and meta-analysis. Int J Oral Maxillofac Surg 47(7):923–932. https://doi.org/10.1016/j.ijom.2018.03.016

7.

Madrid C, Sanz S (2009) What influence do anticoagulants have on oral implant therapy? Clin Oral Impl Res 20:96–106

8.

Czembirek C, Poeschl WP, Eder-Czembirek C, Fischer MB, Perisanidis C, Jesch P, Schicho K, Dong A, Seemann R (2014) Causes and timing of delayed bleeding after oral surgery. Clin Oral Invest 18:1655–1661. https://doi.org/10.1007/s00784-013-1133-x

9.

Murphy J, Twohig E, McWilliams SR (2010) Dentists' approach to patients on anti-platelet agents and warfarin: a survey of practice. J Ir Dent Assoc 56:28–31

10.

Mauprivez C, Khonsari CR, Razouk O, Goudut P, Lesculous P, Descroix V (2016) Management of dental extractions in patients undergoing anticoagulant oral direct treatment a pilot study. Oral Surg Oral Med Oral Pathol Oral Radiol 122:e146–e155

11.

Zeevi I et al (2017) Four year cross sectional study of bleeding risk in dental patients on direct oral anticoagulants. Quint Int 48:504–509

12.

Fits-Henry J (2011) The ASA classification and peri-operative risk. Ann R Coll Surg Engl 93:185–187

13.

Madura JA, Rookstool M, Wease G (1994) The management of patients on chronic Coumadin therapy undergoing subsequent surgical procedures. Am Surg 60:542–546

14.

Bacci B, Berengo M, Favero L, Zanon E (2011) Safety of dental implant surgery in patients undergoing anticoagulation therapy: a prospective case–control study. Clin Oral Impl Res 22:151–156

15.

Grines CL, Bonow RO, Casey DE (2007) Prevention of premature discontinuation of dual antiplatelet therapy in patients with coronary artery stents: a science advisory from the American Heart Association, American College of Cardiology, Society for Cardiovascular Angiography and Interventions, American College of Surgeons, and American Dental Association, with representation from the American College of Physicians. Circulation 115:813–818

16.

Cañigral A, Silvestre FJ, Cañigral G, Alós M, Garcia-Herraiz A, Plaza A (2010) Evaluation of bleeding risk and measurement methods in dental patients. Med Oral Patol Oral Cir Bucal 15:e863–e868

17.

Brennan MT, Wynn RL, Miller CS (2007) Aspirin and bleeding in dentistry: an update and recommendations. Oral Surg Oral Med Oral Pathol Oral Radiol Endod 104:316–323

18.

Oral Medicine and Oral Surgery Francophone Society, Management of patients under anti-platelet agents' treatment in odontostomatology. Available at: http://www.mbcb-journal.org/images/stories/recommendations/recommandations_antiplaquettaires_en.pdf. Accessed

19.

Levine GL, Bates ER, Bittl JA, Brindis RJ et al (2016) ACC/AHA Guideline Focused Update on Duration of Dual Antiplatelet Therapy in Patients With Coronary Artery Disease: A Report of the American College of Cardiology/American Heart Association Task Force on Clinical Practice Guidelines: An Update of the 2011 ACCF/AHA/SCAI Guideline for Percutaneous Coronary Intervention, 2011 ACCF/AHA Guideline for Coronary Artery Bypass Graft Surgery, 2012 ACC/AHA/ACP/AATS/PCNA/SCAI/STS Guideline for the Diagnosis and Management of Patients With Stable Ischemic Heart Disease, 2013 ACCF/AHA Guideline for the Management of ST-Elevation Myocardial Infarction, 2014 AHA/ACC Guideline for the Management of Patients With Non- ST-Elevation Acute Coronary Syndromes, and 2014 ACC/AHA Guideline on Perioperative Cardiovascular Evaluation and Management of Patients Undergoing Noncardiac Surgery. Circulation 134(10):e123–e155. https://doi.org/10.1161/CIR.0000000000000404

20.

Tomaselli GF, Mahaffey KW, Cuker A, et al. (2017) 2017 ACC expert consensus decision pathway on management of bleeding in patients on oral anticoagulants: a report of the American College of Cardiology Task Force on expert consensus decision pathways. J Am Coll Cardiol 2017; 1: Consensus for Management of Bleeding on Oral Anticoagulants

21.

Schreuder WH, Peacock ZS (2015) Antiplatelet therapy and exodontia. JADA 146:851–856

22.

Matocha DL (2000) Postsurgical complications. Emerg Med Clin North Am 18:549–564

23.

Napeñas JJ, Hong CH, Brennan MT, Furney SL, Fox PC, Lockhart PB (2009) The frequency of bleeding complications after invasive dental treatment in patients receiving single and dual antiplatelet therapy. J Am Dent Assoc 140:690–695

24.

Napenñas JJ, Oost FC, DeGroot A, Loven B, Hong CH, Brennan MT, Lockhart PB, van Diermen DE (2013) Review of postoperative bleeding risk in dental patients on antiplatelet therapy. Oral Surg Oral Med Oral Pathol Oral Radiol 115:491–499

25.

Krishnan B, Shenoy NA, Alexander M (2008) Exodontia and antiplatelet therapy. J Oral Maxillofac Surg 66:2063–2066
Ethics declarations
Conflict of interest
The authors declare that they have no conflict of interest.
Ethical approval
All procedures performed in studies involving human participants were in accordance with the ethical standards of the institutional and/or national research committee and with the 1964 Helsinki declaration and its later amendments or comparable ethical standards.
Informed consent
For this type of study, formal consent is not required—retrospective study.
Additional information
Publisher's note
Springer Nature remains neutral with regard to jurisdictional claims in published maps and institutional affiliations.
About this article
Cite this article
Manor, Y., Peleg, O., Mijiritsky, E. et al. A retrospective analysis of dental implantation under anticoagulant treatment. Clin Oral Invest 25, 1001–1009 (2021). https://doi.org/10.1007/s00784-020-03389-z
Received:

Accepted:

Published:

Issue Date:
Keywords
Dental implants

Oral surgery

Oral anticoagulants