Abstract
Objectives
The aim of this study was to evaluate the accuracy of cone beam computed tomography (CBCT), periapical radiograph, and intrasurgical linear measurements in the assessment of molars with furcation defects.
Materials and methods
This parallel, single-blinded, randomised controlled trial (RCT) consisted of 22 periodontitis patients who had molar with advanced furcation involvement (FI). All patients followed the same inclusion criteria and were treated following the same protocol, except for radiographic evaluation (CBCT vs. periapical). This study proposed and evaluated five parameters that represent the extent and severity of furcation defects in molars teeth, including CEJ-BD (clinical attachment loss), BL-H (depth), BL-V (height), RT (root trunk), and FW (width).
Results
There were no statistically significant differences between CBCT and intrasurgical linear measurements for any clinical parameter (p > 0.05). However, there were statistically significant differences in BL-V measurements (p < 0.05) between periapical and intrasurgical measurements in maxillary molars. Meanwhile, the sensitivity were 62.8% and 56.9% for CBCT and periapical, respectively.
Conclusions
Overall, when compared to the intrasurgical measurements, CBCT provided better diagnostic, sensitivity, and quantitative information on CAL, height, depth, and width of the furcation defects than periapical radiograph.
Clinical relevance
An accurate presurgical furcation diagnostic can guide the clinicians from the stage of diagnosis to definitive management so that unnecessary periodontal surgical interventions can be prevented.
Access options
Buy single article
Instant access to the full article PDF.
US$ 39.95
Tax calculation will be finalised during checkout.
Subscribe to journal
Immediate online access to all issues from 2019. Subscription will auto renew annually.
US$ 79
Tax calculation will be finalised during checkout.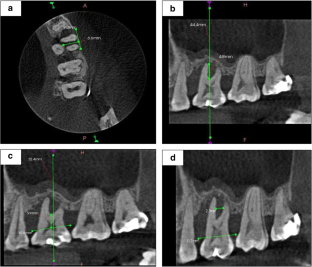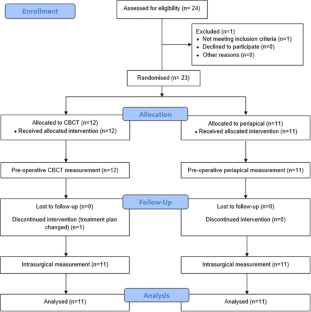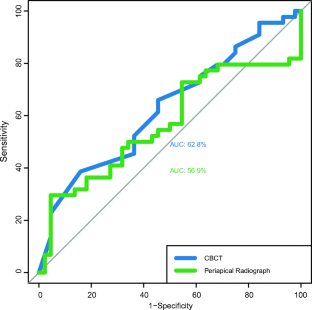 References
1.

American Academy of Periodontology (1992) Glossary of periodontal terms, 3rd edn. Illinois, Chicago

2.

Walter C, Kaner D, Berndt DC, Weiger R, Zitzmann NU (2009) Three-dimensional imaging as a pre-operative tool in decision making for furcation surgery. J Clin Periodontol 36:250–257

3.

Walter C, Schmidt JC, Dula K, Sculean A (2016) Cone beam computed tomography (CBCT) for diagnosis and treatment planning in periodontology: a systematic review. Quintessence Int (Berl) 47(1):25–37

4.

Qiao J, Wang S, Duan J, Zhang Y, Qiu Y, Sun C, Liu D (2014) The accuracy of cone-beam computed tomography in assessing maxillary molar furcation involvement. J Clin Periodontol 41:269–274

5.

Darby I, Sanelli M, Shan S, Silver J, Singh A, Soedjono M, Ngo L (2015) Comparison of clinical and cone beam computed tomography measurements to diagnose furcation involvement. Int J Dent Hyg 13(4):241–245

6.

Mol A (2004) Imaging methods in periodontology. Periodontol 34:34–48

7.

Cury PR, de Araújo NS, Bowie J, Sallum EA, Jeffcoat M (2004) The relationship between radiographic and clinical parameters in periodontal maintenance in class II furcation defects. Braz Oral Res 18(2):116–120

8.

Deas DE, Moritz AJ, Mealey BL, McDonnell HT, Powell CA (2006) Clinical reliability of the 'furcation arrow' as a diagnostic marker. J Periodontol 77(8):1436–1441

9.

Laky M, Majdalani S, Kapferer I, Frantal S, Gahleitner A, Moritz A, Ulm C Periodontal probing of dental furcations compared with diagnosis by low-dose computed tomography: a case series. J Periodontol 84(12):1740–1746

10.

Cimbaljevic MM, Spin-Neto RR, Miletic VJ, Jankovic SM, Aleksic ZM, Nikolic-Jakoba NS (2015) Clinical and CBCT-based diagnosis of furcation involvement in patients with severe periodontitis. Quintessence Int 46(10):863–870

11.

Yusof NAM, Noor E, Yusof MYPM (2020) The accuracy of linear measurements in cone beam computed tomography for assessing intrabony and furcation defects: a systematic review and meta-analysis. J Oral Res 8(6):527–539

12.

Walter C, Weiger R, Zitzmann NU (2010) Accuracy of three-dimensional imaging in assessing maxillary molar furcation involvement. J Clin Periodontol 37:436–441

13.

Pajnigara N, Kolte A, Kolte R, Pajnigara N, Lathiya V (2016) Diagnostic accuracy of cone beam computed tomography in identification and postoperative evaluation of furcation defects. J Indian Soc Periodontol 20(4):386–390

14.

Padmanabhan S, Dommy A, Guru SR, Joseph A (2017) Comparative evaluation of cone-beam computed tomography versus direct surgical measurements in the diagnosis of mandibular molar furcation involvement. Contemp Clin Dent 8(3):439–445

15.

Pahwa P, Lamba A, Grewal H, Faraz F, Tandon S, Yadav N (2014) Evaluation of two-dimensional and three-dimensional radiography with direct surgical assessment of periodontal osseous defects: a clinical study. Indian J Dent Res 25(6):783–787

16.

Parvez MF, Manjunath N, Kini R (2018) Comparative assesment of accuracy of IOPA and CBCT for maxillary molar furcation involvement: a clinical and radiological study. Int J Res Med Sci 6(5):1765–1769

17.

Tonetti MS, Greenwell H, Kornman KS (2018) Staging and grading of periodontitis: framework and proposal of a new classification and case definition. J Clin Periodontol 89(Suppl 1):S159–S172

18.

Hamp S, Nyman S, Lindhe J (1975) Periodontal treatment of multirooted teeth. Results after 5 years. J Clin Periodontol 2(3):126–135

19.

O'Leary TJ, Drake RB, Naylor JE (1972) The plaque control record. J Periodontol 43:38

20.

Ainamo J, Bay I (1975) Problems and proposals for recording gingivitis and plaque. Int Dent J 25(4):229–235

21.

Doig GS, Simpson F (2005) Randomization and allocation concealment: a practical guide for researchers. J Crit Care 20(2):187–191

22.

Koo TK, Li MY (2016) A guideline of selecting and reporting intraclass correlation coefficients for reliability research. J Chiropr Med 15(2):155–163

23.

Salineiro FCS, Gialain IO, Kobayashi-Velasco S, Pannuti CM, and Cavalcanti MGP (2017) Detection of furcation involvement using periapical radiography and 2 cone-beam computed tomography imaging protocols with and without a metallic post: an animal study. Imaging Sci. Dent., vol. 47, no. 1

24.

Mengel R, Candir M, Shiratori K, Flores-de-Jacoby L (2005) Digital volume tomography in the diagnosis of periodontal defects: an in vitro study on native pig and human mandibles. J Periodontol 76(5):665–673

25.

Feijo CV, de Lucena JGF, Kurita LM, da S Pereira SL (2012) Evaluation of cone beam computed tomography in the detection of horizontal periodontal bone defects: an in vivo study. Int J Periodontics Restorative Dent 32(5):e162–e168

26.

Scarfe WC, Azevedo B, Pinheiro LR, Priaminiarti M, Sales MAO (2017) The emerging role of maxillofacial radiology in the diagnosis and management of patients with complex periodontitis. Periodontology 2000 74(1):116–139

27.

Horwitz J, Machtei EE, Reitmeir P, Holle R, Kim TS, Eickholz P (2004) Radiographic parameters as prognostic indicators for healing of class II furcation defects. J Clin Periodontol 31(2):105–111

28.

Jenabian N, Haghanifar S, Maboudi A, Bijani A (2013) Clinical and radiographic evaluation of Bio-Gen with biocollagen compared with Bio-Gen with connective tissue in the treatment of class II furcation defects: a randomized clinical trial. J Appl Oral Sci 21(5):422–429

29.

De Faria VK, Evangelista KM, Rodrigues CD, Estrela C, De Sousa TO, Silva MAG (2012) Detection of periodontal bone loss using cone beam CT and intraoral radiography. Dentomaxillofac Radiol 41(1):64–69

30.

Tonetti MS, Christiansen AL, Cortellini P (2017) Vertical subclassification predicts survival of molars with class II furcation involvement during supportive periodontal care. J Clin Periodontol 44:1140–1144

31.

Nibali L, Sun C, Akcalı A, Yeh YC, Tu YK, Donos N (2018) The effect of horizontal and vertical furcation involvement on molar survival: a retrospective study J. Clin Periodontol 45:373–381

32.

Sedentexct (2012) Radiation protection 172: cone beam CT for dental and maxillofacial radiology—evidence-based guidelines off. Off. Publ. Eur. Communities
Funding
The work was supported by LESTARI Research Grant, Universiti Teknologi MARA, Malaysia (600-IRMI 5/3/LESTARI (011/2019)).
Ethics declarations
Conflict of interest
The authors declare that they have no conflict of interest.
Ethical approval
All procedures performed in this study were in accordance with the Ethical Committee of Universiti Teknologi MARA (REC/295/17) and registered with the Identification of Randomised Controlled Clinical Trials worldwide registry (ISRCTN89375372). This study was conducted following the ICH Good Clinical Practice Guidelines, Malaysia Good Clinical Practice Guidelines, and the Declaration of Helsinki.
Informed consent
Informed consent was obtained from all individual participants included in the study.
Additional information
Publisher's note
Springer Nature remains neutral with regard to jurisdictional claims in published maps and institutional affiliations.
About this article
Cite this article
Yusof, N.A.M., Noor, E., Reduwan, N.H. et al. Diagnostic accuracy of periapical radiograph, cone beam computed tomography, and intrasurgical linear measurement techniques for assessing furcation defects: a longitudinal randomised controlled trial. Clin Oral Invest 25, 923–932 (2021). https://doi.org/10.1007/s00784-020-03380-8
Received:

Accepted:

Published:

Issue Date:
Keywords
Accuracy

Cone beam computed tomography

Furcation defect

Periapical radiograph