Abstract
Objectives
Monocarboxylate transporters (MCT) 1, 2 and 4 play an important role in tumor metabolism. The amount of lactate transported by MCT's highly correlates with overall survival. Furthermore, glycolysis and hypoxia are possible causes for radiation resistance.
Materials and methods
An oral squamous cell carcinoma cell line (CAL27, ATCC) was analyzed in an in vitro cell assay. After incubation with two different inhibitors for MCT1 (AR-C122982/SR-13800 and AR-C155858/SR-13801, Tocris) or for MCT4 (simvastatin, Sigma-Aldrich and 2-cyano-3-(4-hydroxyphenyl)-2-propenoic acid (CHC), Tocris), cells were irradiated with six gray with a Gammacell 2000 (Nuklear Data). For analysis, cell counting assay, wound healing assay, MTT assay and clonogenic assay were applied.
Results
Cell counting assay showed significant lower results for simvastatin, CHC and for the highest concentrations of AR-C122982 and AR-C155858 (p < 0.03). Additionally, cell counts decreased significantly with irradiation after 72 hours (p < 0.05) only for AR-C122982, CHC and simvastatin. The clonogenic assay confirmed these results with substantially reduced growth when incubated with CHC, simvastatin and AR-C155858 (p < 0.002). Furthermore, MCT1 and 4 inhibition led to highly reduced migration (p < 0.05). There again, comparing the wound healing assay of irradiated to non-irradiated tests showed contrary results (controls: p < 0.001; AR-C155858: p > 0.05; AR-C122982: p > 0.32; CHC: p > 0.1; simvastatin p > 0.1). The MTT assay presented significant effects with MCT1 and 4 inhibition (simvastatin/AR-C122982/CHC: p < 0.007). Irradiated cells showed significantly lower expression after only 48 h compared to non-irradiated cells (simvastatin/AR-C122982/CHC: p < 0.02).
Conclusions
Inhibition of MCT, especially MCT4 may represent a possible tool to overcome radiation resistance in tumor cell lines.
Clinical relevance
MCT Inhibitors may be used as a possible therapeutic approach to sensitize OSCC to radiation.
This is a preview of subscription content, log in to check access.
Access options
Buy single article
Instant access to the full article PDF.
US$ 39.95
Price includes VAT for USA
Subscribe to journal
Immediate online access to all issues from 2019. Subscription will auto renew annually.
US$ 99
This is the net price. Taxes to be calculated in checkout.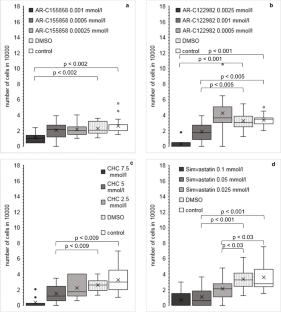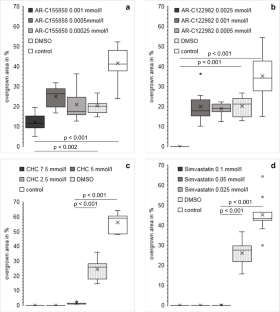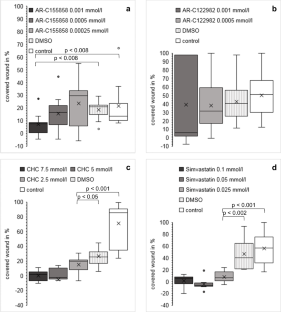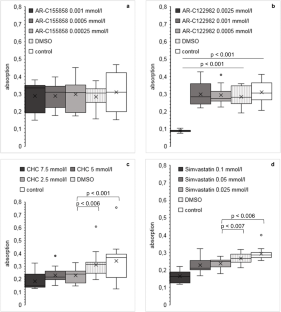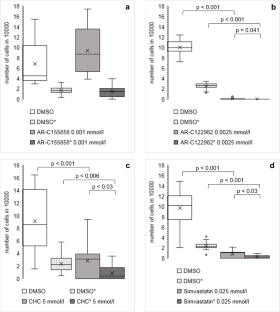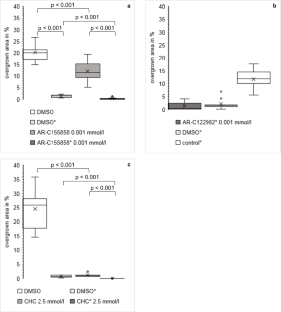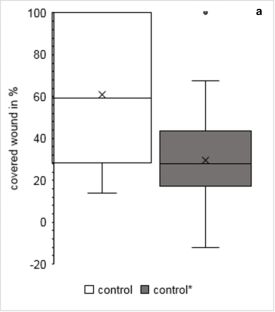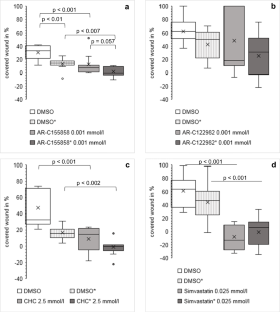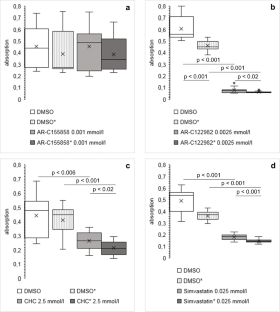 References
1.

Ferlay J, Shin HR, Bray F, Forman D, Mathers C, Parkin DM (2010) Estimates of worldwide burden of cancer in 2008: GLOBOCAN 2008. Int J Cancer 127(12):2893–2917

2.

Taghavi N (2015) Prognostic factors of survival rate in oral squamous cell carcinoma: clinical, histologic, genetic and molecular concepts

3.

Wolff KD, et al (2012) Diagnostik und Therapie des Mundhöhlenkarzinoms. AWMF Leitlinie (German treatment guidelines)

4.

Lefebvre JL, Coche-Dequeant B, Buisset E, Mirabel X, Van JT, Prevost B (1994) Management of early oral cavity cancer. Experience of Centre Oscar Lambret. Eur J Cancer B Oral Oncol 30(3):216–220

5.

Panje WR, Smith B, McCabe BF (1980) Epidermoid carcinoma of the floor of the mouth: surgical therapy vs combined therapy vs radiation therapy. Otolaryngol Head Neck Surg 88(6):714–720

6.

Vikram B, Strong EW, Shah JP, Spiro R (1984) Failure in the neck following multimodality treatment for advanced head and neck cancer. Head Neck Surg 6(3):724–729

7.

Bartelink H, Breur K, Hart G, Annyas B, van Slooten E, Snow G (1983) The value of postoperative radiotherapy as an adjuvant to radical neck dissection. Cancer 52(6):1008–1013

8.

Teoule R (1987) Radiation-induced DNA damage and its repair. Int J Radiat Biol Related Stud Phys Chem Med 51(4):573–589

9.

Brown JM (2000) Exploiting the hypoxic cancer cell: mechanisms and therapeutic strategies. Mol Med Today 6(4):157–162

10.

Doherty JR, Yang C, Scott KE, Cameron MD, Fallahi M, Li W, Hall MA, Amelio AL, Mishra JK, Li F, Tortosa M (2014) Blocking lactate export by inhibiting the Myc target MCT1 disables glycolysis and glutathione synthesis. Cancer Res 74(3):908–920

11.

Sattler UG, Meyer SS, Quennet V, Hoerner C, Knoerzer H, Fabian C, Mueller-Klieser W (2010) Glycolytic metabolism and tumour response to fractionated irradiation. Radiother Oncol 94(1):102–109

12.

Sanli T et al (2010) Ionizing radiation activates AMP-activated kinase (AMPK): a target for radiosensitization of human cancer cells. Int J Radiat Oncol Biol Phys 78.1:221–229

13.

Dancey JE (2006) Therapeutic targets: MTOR and related pathways. Cancer Biol Ther 5(9):1065–1073

14.

Oka K, Nakano T, Hoshi T (1996) Analysis of response to radiation therapy of patients with cervical adenocarcinoma compared with squamous cell carcinoma: MIB-1 and PC10 labeling indices. Cancer 77(11):2280–2285

15.

Kitaoka Y et al (2014) Effect of AMPK activation on monocarboxylate transporter (MCT) 1 and MCT4 in denervated muscle. J Physiol Sci 64(1):59–64

16.

Chenal J, Pellerin L (2007) Noradrenaline enhances the expression of the neuronal monocarboxylate transporter MCT2 by translational activation via stimulation of PI3K/Akt and the mTOR/S6K pathway. J Neurochem 102(2):389–397

17.

Warburg O, Wind F, Negelein E (1926) Ueber den stoffwechsel von tumoren im körper. Klin Wochenschr 5(19):829–832

18.

Heiden V, Matthew G, Cantley LC, Thompson CB (2009) Understanding the Warburg effect: the metabolic requirements of cell proliferation. science 324.5930:1029–1033

19.

Blatt S, Voelxen N, Sagheb K, Pabst AM, Walenta S, Schroeder T, Ziebart T (2016) Lactate as a predictive marker for tumor recurrence in patients with head and neck squamous cell carcinoma (HNSCC) post radiation: a prospective study over 15 years. Clin Oral Investig 20(8):2097–2104

20.

Voelxen NF, Blatt S, Knopf P, Henkel M, Appelhans C, Righesso LA, Mueller-Klieser W (2018) Comparative metabolic analysis in head and neck cancer and the normal gingiva. Clin Oral Investig 22(2):1033–1043

21.

Walenta S, Salameh A, Lyng H, Evensen JF, Mitze M, Rofstad EK, Mueller-Klieser W (1997) Correlation of high lactate levels in head and neck tumors with incidence of metastasis. Am J Pathol 150(2):409–415

22.

Walenta S, Voelxen NF, Mueller-Klieser W (2016) Lactate—an integrative mirror of cancer metabolism. Metabolism in Cancer (pp. 23–37). Springer, Cham

23.

Halestrap AP, Denton RM (1974) Specific inhibition of pyruvate transport in rat liver mitochondria and human erythrocytes by α-cyano-4-hydroxycinnamate. Biochem J 138(2):313–316

24.

Halestrap AP (2012) The monocarboxylate transporter family—structure and functional characterization. IUBMB Life 64(1):1–9

25.

Bonen A, Tonouchi M, Miskovic D, Heddle C, Heikkila JJ, Halestrap AP (2000) Isoform-specific regulation of the lactate transporters MCT1 and MCT4 by contractile activity. Am J Physiol-Endocrinol Metab 279(5):E1131–E1138

26.

Pilegaard H, Domino K, Noland T, Juel C, Hellsten Y, Halestrap AP, Bangsbo J (1999) Effect of high-intensity exercise training on lactate/H+ transport capacity in human skeletal muscle. Am J Physiol-Endocrinol Metab 276(2):E255–E261

27.

Sonveaux P, Végran F, Schroeder T, Wergin MC, Verrax J, Rabbani ZN, de Saedeleer CJ, Kennedy KM, Diepart C, Jordan BF, Kelley MJ, Gallez B, Wahl ML, Feron O, Dewhirst MW (2008) Targeting lactate-fueled respiration selectively kills hypoxic tumor cells in mice. J Clin Invest 118(12):3930–3942

28.

Suzuki A, Stern SA, Bozdagi O, Huntley GW, Walker RH, Magistretti PJ, Alberini CM (2011) Astrocyte-neuron lactate transport is required for long-term memory formation. Cell. 144(5):810–823

29.

Pellerin L, Halestrap AP, Pierre K (2005) Cellular and subcellular distribution of monocarboxylate transporters in cultured brain cells and in the adult brain. J Neurosci Res 79(1-2):55–64

30.

Philp NJ, Yoon H, Grollman EF (1998) Monocarboxylate transporter MCT1 is located in the apical membrane and MCT3 in the basal membrane of rat RPE. Am J Phys Regul Integr Comp Phys 274(6):R1824–R1828

31.

Dimmer KS, FRIEDRICH B, Florian LA, Deitmer JW, BRÖER S (2000) The low-affinity monocarboxylate transporter MCT4 is adapted to the export of lactate in highly glycolytic cells. Biochem J 350(1):219–227

32.

Bonen A, Miskovic D, Tonouchi M, Lemieux K, Wilson MC, Marette A, Halestrap AP (2000) Abundance and subcellular distribution of MCT1 and MCT4 in heart and fast-twitch skeletal muscles. Am J Physiol-Endocrinol Metab 278(6):E1067–E1077

33.

Zhu J, Wu YN, Zhang W, Zhang XM, Ding X, Li HQ, Geng M, Xie ZQ, Wu HM (2014) Monocarboxylate transporter 4 facilitates cell proliferation and migration and is associated with poor prognosis in oral squamous cell carcinoma patients. PLoS One 9(1):e87904

34.

Ohno A, Yorita K, Haruyama Y, Kondo K, Kato A, Ohtomo T, Kawaguchi M, Marutuska K, Chijiiwa K, Kataoka H (2014) Aberrant expression of monocarboxylate transporter 4 in tumour cells predicts an unfavourable outcome in patients with hepatocellular carcinoma. Liver Int 34(6):942–952

35.

Ullah MS, Davies AJ, Halestrap AP (2006) The plasma membrane lactate transporter MCT4, but not MCT1, is up-regulated by hypoxia through a HIF-1α-dependent mechanism. J Biol Chem 281(14):9030–9037

36.

Eastman A (1995) Survival factors, intracellular signal transduction, and the activation of endonucleases in apoptosis. In: Seminars in cancer biology (Vol. 6, No. 1, pp. 45–52). Academic Press

37.

Thews O, Gassner B, Kelleher DK, Schwerd G, Gekle M (2006) Impact of extracellular acidity on the activity of P-glycoprotein and the cytotoxicity of chemotherapeutic drugs. Neoplasia 8(2):143–152

38.

Gioanni J, Fischel JL, Lambert JC, Demard F, Mazeau C, Zanghellini E, Ettore F, Formento P, Chauvel P, Lalanne CM, Courdi A (1988) Two new human tumor cell lines derived from squamous cell carcinomas of the tongue: establishment, characterization and response to cytotoxic treatment. Eur J Cancer Clin Oncol 24(9):1445–1455

39.

Hanson DJ, Nakamura S, Amachi R, Hiasa M, Oda A, Tsuji D, Itoh K, Harada T, Horikawa K, Teramachi J, Miki H (2015) Effective impairment of myeloma cells and their progenitors by blockade of monocarboxylate transportation. Oncotarget. 6(32):33568–33586

40.

Halestrap AP (1975) The mitochondrial pyruvate carrier. Kinetics and specificity for substrates and inhibitors. Biochem J 148(1):85–96

41.

Kobayashi M, Otsuka Y, Itagaki S, Hirano T, Iseki K (2006) Inhibitory effects of statins on human monocarboxylate transporter 4. Int J Pharm 317(1):19–25

42.

Mehibel M, Ortiz-Martinez F, Voelxen N, Boyers A, Chadwick A, Telfer BA, Stratford IJ (2018) Statin-induced metabolic reprogramming in head and neck cancer: a biomarker for targeting monocarboxylate transporters. Sci Rep 8(1):16804

43.

Wu J, Hong Y, Wu T, Wang J, Chen X, Wang Z, Cheng B, Xia J (2018) Stromal-epithelial lactate shuttle induced by tumor-derived interleukin-1β promotes cell proliferation in oral squamous cell carcinoma. Int J Mol Med 41(2):687–696

44.

Kikutani Y, Kobayashi M, Konishi T, Sasaki S, Narumi K, Furugen A, Takahashi N, Iseki K (2016) Involvement of monocarboxylate transporter 4 expression in statin-induced cytotoxicity. J Pharm Sci 105(4):1544–1549

45.

Nielsen SF, Nordestgaard BG, Bojesen SE (2012) Statin use and reduced cancer-related mortality. N Engl J Med 367(19):1792–1802

46.

Ovens MJ, Manoharan C, Wilson MC, Murray CM, Halestrap AP (2010) The inhibition of monocarboxylate transporter 2 (MCT2) by AR-C155858 is modulated by the associated ancillary protein. Biochem J 431(2):217–225

47.

Polański R, Hodgkinson CL, Fusi A, Nonaka D, Priest L, Kelly P, Trapani F, Bishop PW, White A, Critchlow SE, Smith PD (2014) Activity of the monocarboxylate transporter 1 inhibitor AZD3965 in small cell lung cancer. Clin Cancer Res 20(4):926–937

48.

Le Floch R, Chiche J, Marchiq I, Naiken T, Ilc K, Murray CM, Critchlow SE, Roux D, Simon MP, Pouysségur J (2011) CD147 subunit of lactate/H+ symporters MCT1 and hypoxia-inducible MCT4 is critical for energetics and growth of glycolytic tumors. Proc Natl Acad Sci 108(40):16663–16668

49.

Nabeshima K, Iwasaki H, Koga K, Hojo H, Suzumiya J, Kikuchi M (2006) Emmprin (basigin/CD147): matrix metalloproteinase modulator and multifunctional cell recognition molecule that plays a critical role in cancer progression. Pathol Int 56(7):359–367

50.

Whitaker-Menezes D, Martinez-Outschoorn UE, Lin Z, Ertel A, Flomenberg N, Witkiewicz AK, Birbe R, Howell A, Pavlides S, Gandara R, Pestell RG, Sotgia F, Philp NJ, Lisanti MP (2011) Evidence for a stromal-epithelial "lactate shuttle" in human tumors: MCT4 is a marker of oxidative stress in cancer-associated fibroblasts. Cell Cycle 10:1772–1783

51.

Bola BM, Chadwick AL, Michopoulos F, Blount KG, Telfer BA, Williams KJ, Smith PD, Critchlow SE, Stratford IJ (2014) Inhibition of monocarboxylate transporter-1 (MCT1) by AZD3965 enhances radiosensitivity by reducing lactate transport. Mol Cancer Ther. molcanther-1091

52.

Baumann F, Leukel P, Doerfelt A, Beier CP, Dettmer K, Oefner PJ, Bosserhoff AK (2009) Lactate promotes glioma migration by TGF-β2–dependent regulation of matrix metalloproteinase-2. Neuro-oncology 11(4):368–380

53.

Wilson MC et al (2005) Basigin (CD147) is the target for organomercurial inhibition of monocarboxylate transporter isoforms 1 and 4: the ancillary protein for the insensitive MCT2 is EMBIGIN (gp70). J Biol Chem
Acknowledgments
The authors would like to thank the following persons and institutions for their support: Prof. Dr. Paul Taylor, Jutta Bühler, Ute Zerfaß, and Federico Marini (IMBEI).
Ethics declarations
Conflict of Interest
The authors declare that they have no conflict of interest. This research includes essential parts of the dissertation of Gregor Brandstetter.
Ethical approval
This article does not contain any studies with human participants or animals performed by any of the authors.
Informed consent
For this type of study, formal consent is not required.
Additional information
Publisher's note
Springer Nature remains neutral with regard to jurisdictional claims in published maps and institutional affiliations.
About this article
Cite this article
Brandstetter, G., Blatt, S., Goldschmitt, J. et al. Targeted sensitization of tumor cells for radiation through monocarboxylate transporters 1 and 4 inhibition in vitro. Clin Oral Invest (2020). https://doi.org/10.1007/s00784-020-03364-8
Received:

Accepted:

Published:
Keywords
Monocarboxylate transporter

radiation sensitization

MCT inhibition

tumor metabolism

lactate

radiation resistance