Abstract
Objectives
To evaluate the crestal bone response to a two-piece zirconia implant compared with a control titanium implant using periapical radiographs (PAs) and histometry.
Materials and methods
Thirty zirconia and 30 titanium implants were placed in healed posterior mandibles of five canines. Full-ceramic single-tooth restorations were cemented after 6 weeks of healing. Three observers measured the distance between the implant shoulder and the crestal bone (DIB) at placement, loading, and harvesting after 4 or 16 weeks in function. The influence of implant material and loading time on DIB as well as the inter-observer agreement were analyzed. Additionally, histometric distance between implant shoulder and most coronal bone-to-implant contact (IS-cBIC) was compared with DIB.
Results
Mean DIB values increased between 4 and 16 weeks of loading for both zirconia (from 1.66 to 2.25 mm; P < 0.0001) and titanium (from 1.81 to 1.95 mm; P = 0.06). Zirconia yielded mean IS-cBIC values of 2.18 mm and 2.48 mm (P < 0.001) and titanium 2.23 mm and 2.34 mm (P = 0.27) after 4 and 16 weeks, respectively. The raters reached an excellent intraclass correlation coefficient. PAs underestimated the bone loss on average by 0.39 mm.
Conclusions
Zirconia implants showed a greater increase of DIB during early healing and function than titanium.
Clinical relevance
Crestal peri-implant tissue dimensions may show more pronounced changes around two-piece zirconia implants during early healing. PAs may underestimate peri-implant bone loss.
Access options
Buy single article
Instant access to the full article PDF.
US$ 39.95
Tax calculation will be finalised during checkout.
Subscribe to journal
Immediate online access to all issues from 2019. Subscription will auto renew annually.
US$ 79
Tax calculation will be finalised during checkout.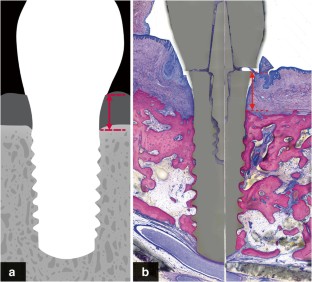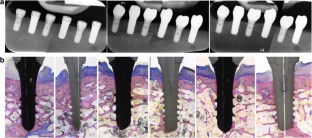 References
1.

Branemark PI et al (1969) Intra-osseous anchorage of dental prostheses. I. Experimental studies. Scand J Plast Reconstr Surg 3(2):81–100

2.

Schroeder A, Stich H, Straumann F, Sutter F (1978) The accumulation of osteocementum around a dental implant under physical loading. SSO Schweiz Monatsschr Zahnheilkd 88(10):1051–1058

3.

Buser D, Janner SF, Wittneben JG, Brägger U, Ramseier CA, Salvi GE (2012) 10-year survival and success rates of 511 titanium implants with a sandblasted and acid-etched surface: a retrospective study in 303 partially edentulous patients. Clin Implant Dent Relat Res 14(6):839–851

4.

Steinemann SG (1998) Titanium--the material of choice? Periodontol 17:7–21

5.

Fage SW, Muris J, Jakobsen SS, Thyssen JP (2016) Titanium: a review on exposure, release, penetration, allergy, epidemiology, and clinical reactivity. Contact Dermatitis 74(6):323–345

6.

Pettersson M, Kelk P, Belibasakis GN, Bylund D, Molin Thorén M, Johansson A (2017) Titanium ions form particles that activate and execute interleukin-1beta release from lipopolysaccharide-primed macrophages. J Periodontal Res 52(1):21–32

7.

Benic GI, Scherrer D, Sancho-Puchades M, Thoma DS, Hämmerle CH (2017) Spectrophotometric and visual evaluation of peri-implant soft tissue color. Clin Oral Implants Res 28(2):192–200

8.

Roehling S, Gahlert M, Janner S, Meng B, Woelfler H, Cochran DL (2019) Ligature-induced peri-implant bone loss around loaded zirconia and titanium implants. Int J Oral Maxillofac Implants 34(2):357–365

9.

Roehling S, Astasov-Frauenhoffer M, Hauser-Gerspach I, Braissant O, Woelfler H, Waltimo T, Kniha H, Gahlert M (2017) In vitro biofilm formation on titanium and zirconia implant surfaces. J Periodontol 88(3):298–307

10.

Derks J, Schaller D, Håkansson J, Wennström JL, Tomasi C, Berglundh T (2016) Effectiveness of implant therapy analyzed in a Swedish population: prevalence of peri-implantitis. J Dent Res 95(1):43–49

11.

Mombelli A, Muller N, Cionca N (2012) The epidemiology of peri-implantitis. Clin Oral Implants Res 23(Suppl 6):67–76

12.

Han HJ, Kim S, Han DH (2014) Multifactorial evaluation of implant failure: a 19-year retrospective study. Int J Oral Maxillofac Implants 29(2):303–310

13.

Nascimento CD, Pita MS, Fernandes FHNC, Pedrazzi V, de Albuquerque Junior RF, Ribeiro RF (2014) Bacterial adhesion on the titanium and zirconia abutment surfaces. Clin Oral Implants Res 25(3):337–343

14.

Salihoglu U, Boynuegri D, Engin D, Duman AN, Gokalp P, Balos K (2011) Bacterial adhesion and colonization differences between zirconium oxide and titanium alloys: an in vivo human study. Int J Oral Maxillofac Implants 26(1):101–107

15.

Akagawa Y, Ichikawa Y, Nikai H, Tsuru H (1993) Interface histology of unloaded and early loaded partially stabilized zirconia endosseous implant in initial bone healing. J Prosthet Dent 69(6):599–604

16.

Blaschke C, Volz U (2006) Soft and hard tissue response to zirconium dioxide dental implants--a clinical study in man. Neuro Endocrinol Lett 27(Suppl 1):69–72

17.

Janner SFM et al (2018) Bone response to functionally loaded, two-piece zirconia implants: a preclinical histometric study. Clin Oral Implants Res 29(3):277–289

18.

Grassi FR, Capogreco M, Consonni D, Bilardi G, Buti J, Kalemaj Z (2015) Immediate occlusal loading of one-piece zirconia implants: five-year radiographic and clinical evaluation. Int J Oral Maxillofac Implants 30(3):671–680

19.

Bormann KH, Gellrich NC, Kniha H, Schild S, Weingart D, Gahlert M (2018) A prospective clinical study to evaluate the performance of zirconium dioxide dental implants in single-tooth edentulous area: 3-year follow-up. BMC Oral Health 18(1):181

20.

Spies BC, Balmer M, Jung RE, Sailer I, Vach K, Kohal RJ (2019) All-ceramic single crowns supported by zirconia implants: 5-year results of a prospective multicenter study. Clin Oral Implants Res 30(5):466–475

21.

Pieralli S, Kohal RJ, Jung RE, Vach K, Spies BC (2017) Clinical outcomes of zirconia dental implants: a systematic review. J Dent Res 96(1):38–46

22.

Cochran DL, Obrecht M, Weber K, Dard M, Bosshardt D, Higginbottom FL, Wilson TG Jr, Jones AA (2014) Biologic width adjacent to loaded implants with machined and rough collars in the dog. Int J Periodontics Restorative Dent 34(6):773–779

23.

Ericsson I, Berglundh T, Marinello C, Liljenberg B, Lindhe J (1992) Long-standing plaque and gingivitis at implants and teeth in the dog. Clin Oral Implants Res 3(3):99–103

24.

Roccuzzo M et al (2018) Clinical outcomes of peri-implantitis treatment and supportive care: a systematic review. Clin Oral Implants Res 29(Suppl 16):331–350

25.

Buser D, Weber HP, Donath K, Fiorellini JP, Paquette DW, Williams RC (1992) Soft tissue reactions to non-submerged unloaded titanium implants in beagle dogs. J Periodontol 63(3):225–235

26.

Weber HP, Buser D, Fiorellini JP, Williams RC (1992) Radiographic evaluation of crestal bone levels adjacent to nonsubmerged titanium implants. Clin Oral Implants Res 3(4):181–188

27.

Cochran DL, Nummikoski PV, Higginbottom FL, Hermann JS, Makins SR, Buser D (1996) Evaluation of an endosseous titanium implant with a sandblasted and acid-etched surface in the canine mandible: radiographic results. Clin Oral Implants Res 7(3):240–252

28.

Hermann JS, Schoolfield JD, Nummikoski PV, Buser D, Schenk RK, Cochran DL (2001) Crestal bone changes around titanium implants: a methodologic study comparing linear radiographic with histometric measurements. Int J Oral Maxillofac Implants 16(4):475–485

29.

Sancho-Puchades M, Hammerle CH, Benic GI (2015) In vitro assessment of artifacts induced by titanium, titanium-zirconium and zirconium dioxide implants in cone-beam computed tomography. Clin Oral Implants Res 26(10):1222–1228

30.

Smeets R, Schöllchen M, Gauer T, Aarabi G, Assaf AT, Rendenbach C, Beck-Broichsitter B, Semmusch J, Sedlacik J, Heiland M, Fiehler J, Siemonsen S (2017) Artefacts in multimodal imaging of titanium, zirconium and binary titanium-zirconium alloy dental implants: an in vitro study. Dentomaxillofac Radiol 46(2):20160267

31.

Demirturk Kocasarac H, Ustaoglu G, Bayrak S, Katkar R, Geha H, Deahl ST 2nd, Mealey BL, Danaci M, Noujeim M (2019) Evaluation of artifacts generated by titanium, zirconium, and titanium-zirconium alloy dental implants on MRI, CT, and CBCT images: a phantom study. Oral Surg Oral Med Oral Pathol Oral Radiol 127(6):535–544

32.

Brägger U et al (1998) Evaluation of postsurgical crestal bone levels adjacent to non-submerged dental implants. Clin Oral Implants Res 9(4):218–224

33.

Cichetti DV (1994) Guidelines, criteria, and rules of thumb for evaluating normed and standardized assessment instruments in psychology. - PsycNET. Psychol Assess 6(4):284–290

34.

Chappuis V, Buser R, Brägger U, Bornstein MM, Salvi GE, Buser D (2013) Long-term outcomes of dental implants with a titanium plasma-sprayed surface: a 20-year prospective case series study in partially edentulous patients. Clin Implant Dent Relat Res 15(6):780–790

35.

Roehling S et al (2018) Performance and outcome of zirconia dental implants in clinical studies: a meta-analysis. Clin Oral Implants Res 29(Suppl 16):135–153

36.

Kniha K, Schlegel KA, Kniha H, Modabber A, Hölzle F, Kniha K (2018) Evaluation of peri-implant bone levels and soft tissue dimensions around zirconia implants-a three-year follow-up study. Int J Oral Maxillofac Surg 47(4):492–498

37.

Cionca N, Muller N, Mombelli A (2015) Two-piece zirconia implants supporting all-ceramic crowns: a prospective clinical study. Clin Oral Implants Res 26(4):413–418

38.

Roehling S, Woelfler H, Hicklin S, Kniha H, Gahlert M (2016) A retrospective clinical study with regard to survival and success rates of zirconia implants up to and after 7 years of loading. Clin Implant Dent Relat Res 18(3):545–558

39.

Jank S, Hochgatterer G (2016) Success rate of two-piece zirconia implants: a retrospective statistical analysis. Implant Dent 25(2):193–198

40.

Thoma DS, Benic GI, Muñoz F, Kohal R, Sanz Martin I, Cantalapiedra AG, Hämmerle CH, Jung RE (2015) Histological analysis of loaded zirconia and titanium dental implants: an experimental study in the dog mandible. J Clin Periodontol 42(10):967–975

41.

Jung RE, Grohmann P, Sailer I, Steinhart YN, Fehér A, Hämmerle C, Strub JR, Kohal R (2016) Evaluation of a one-piece ceramic implant used for single-tooth replacement and three-unit fixed partial dentures: a prospective cohort clinical trial. Clin Oral Implants Res 27(7):751–761

42.

Cochran DL, Nummikoski PV, Schoolfield JD, Jones AA, Oates TW (2009) A prospective multicenter 5-year radiographic evaluation of crestal bone levels over time in 596 dental implants placed in 192 patients. J Periodontol 80(5):725–733

43.

Lim HC, Jung RE, Hämmerle CHF, Kim MJ, Paeng KW, Jung UW, Thoma DS (2018) Tissue integration of zirconia and titanium implants with and without buccal dehiscence defects. J Periodontal Implant Sci 48(3):182–192

44.

Rodriguez AE, Monzavi M, Yokoyama CL, Nowzari H (2018) Zirconia dental implants: a clinical and radiographic evaluation. J Esthet Restor Dent 30(6):538–544

45.

Caulier H, Naert I, Kalk W, Jansen JA (1997) The relationship of some histologic parameters, radiographic evaluations, and Periotest measurements of oral implants: an experimental animal study. Int J Oral Maxillofac Implants 12(3):380–386

46.

Isidor F (1997) Clinical probing and radiographic assessment in relation to the histologic bone level at oral implants in monkeys. Clin Oral Implants Res 8(4):255–264

47.

Stokholm R, Spin-Neto R, Nyengaard JR, Isidor F (2016) Comparison of radiographic and histological assessment of peri-implant bone around oral implants. Clin Oral Implants Res 27(7):782–786
Acknowledgments
The authors gratefully acknowledge the support of Ms. Sonja Bustamante, Dr. Archie A. Jones, and Ms. Linda Torres, Department of Periodontics; and of the team at the Department of Laboratory Animals Resources, University of Texas Health Science Center at San Antonio. The accurate histologic preparation and analysis performed by Mr. David Reist, Ms. Silvia Owusu, and Ms. Margrit Rüfenacht at Robert K. Schenk Laboratory of Oral Histology, School of Dental Medicine, University of Bern; and Prof. Dr. S. Milz and his team at Anatomische Anstalt Munich are highly appreciated. The authors also thank Dr. G. Raeber and Dr. M. Obrecht (Institut Straumann AG) for providing expertise and support during the study and Ms. Jennifer Hockley for the language editing of the manuscript.
Funding
This study was funded with a research grant from the International Team for Implantology, Basel, Switzerland (ITI Grant No. 858_2012). The study materials were kindly provided by Institut Straumann AG, Basel.
Ethics declarations
Conflict of interest
The authors declare that they have no conflict of interest.
Ethical approval
All applicable international, national, and/or institutional guidelines for the care and use of animals were followed. The study was conducted in accordance with the ethical standards of current US federal regulations. The University of Texas Health Science Center at San Antonio Institutional Animal Care and Use Committee approved animal selection, management, and study protocol prior to the start of the experiment (IACUC; ID no. 13005x).
Informed consent
For this type of study, no consent other than the IACUC approval was required.
Additional information
Publisher's note
Springer Nature remains neutral with regard to jurisdictional claims in published maps and institutional affiliations.
About this article
Cite this article
Oeschger, C.E., Bosshardt, D.D., Roehling, S. et al. Crestal bone response to loaded zirconia and titanium implants: a radiographic and histometric analysis in canines. Clin Oral Invest 24, 3609–3617 (2020). https://doi.org/10.1007/s00784-020-03235-2
Received:

Accepted:

Published:

Issue Date:
Keywords
Crestal bone

Dental implants

Osseointegration

Radiographic analysis

Zirconia implants