Abstract
Objectives
This study investigated the ability of the fluorescence-aided identification technique (FIT) facilitated by a novel handpiece to simplify the removal of tooth-colored composite restorations with water-cooled rotating instruments.
Materials and methods
Five undergraduate students and five dentists (6–14 years of professional experience) were asked to remove dental restorations in vitro using both the conventional technique (CT) and the fluorescence-aided identification technique. The FIT method was performed on teeth restored in addition to the fluorescent composite resin with the non-fluorescent (FIT1) and fluorescent (FIT2) bonding agent. CEREC scans were superimposed and three-dimensionally analyzed with the software OraCheck 2.13 with respect to the cavity surface area still covered with composite resin and the volume of the needlessly removed sound hard tissue. Additionally, the removal procedure was timed.
Results
The FIT2 group showed the most promising results: the smallest cavity surface area covered by composite resin independent of the professional expertise, and for the dentist group, the smallest amount of removed sound hard tissue and the fastest removal.
Conclusions
Using the fiber optic of the handpiece for fluorescence excitation has been proven to be effective for performing the FIT, and therefore, to improve the removal of tooth-colored restorations.
Clinical relevance
This study is basic research to encourage the integration of fluorescence inducing light sources in dental treatment units by the manufacturers as a prerequisite for a simplified daily use of the FIT.
Access options
Buy single article
Instant access to the full article PDF.
US$ 39.95
Tax calculation will be finalised during checkout.
Subscribe to journal
Immediate online access to all issues from 2019. Subscription will auto renew annually.
US$ 79
Tax calculation will be finalised during checkout.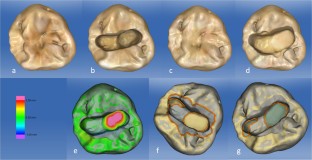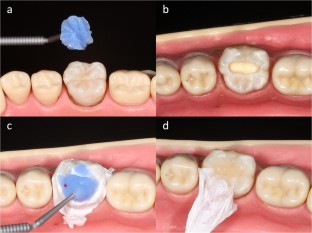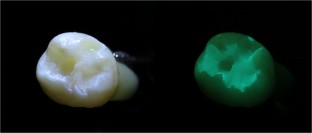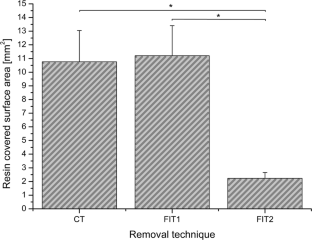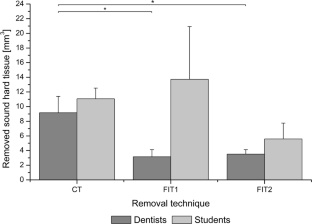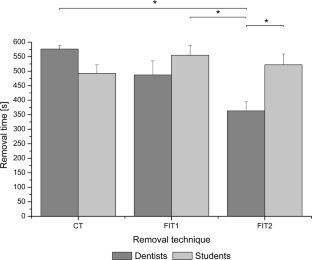 References
1.

Hunter AR, Treasure ET, Hunter AJ (1995) Increases in cavity volume associated with the removal of class 2 amalgam and composite restorations. Oper Dent 20(1):2–6

2.

Krejci I, Lieber CM, Lutz F (1995) Time required to remove totally bonded tooth-colored posterior restorations and related tooth substance loss. Dental materials : official publication of the Academy of Dental Materials 11(1):34–40. https://doi.org/10.1016/0109-5641(95)80006-9

3.

Szep S, Baum C, Alamouti C, Schmidt D, Gerhardt T, Heidemann D (2002) Removal of amalgam, glass-ionomer cement and compomer restorations: changes in cavity dimensions and duration of the procedure. Oper Dent 27(6):613–620

4.

Dörter C, Yildiz E, Erdemir U (2003) Effect of operators' skills on increase in cavity volume of restorations. Quintessence international (Berlin, Germany : 1985) 34(1):27–30

5.

Hood JA (1991) Biomechanics of the intact, prepared and restored tooth: some clinical implications. Int Dent J 41(1):25–32

6.

da Costa TR, Serrano AM, Atman AP, Loguercio AD, Reis A (2012) Durability of composite repair using different surface treatments. J Dent 40(6):513–521. https://doi.org/10.1016/j.jdent.2012.03.001

7.

Gordan VV, Mondragon E, Shen C (2002) Replacement of resin-based composite: evaluation of cavity design, cavity depth, and shade matching. Quintessence international (Berlin, Germany : 1985) 33(4):273–278

8.

Clark DH, Ruddick RF (1985) Post mortem detection of tooth coloured dental restorations by ultra violet radiation. Acta Med Leg Soc 35(1):278–284

9.

Carson DO, Orihara Y, Sorbie JL, Pounder DJ (1997) Detection of white restorative dental materials using an alternative light source. Forensic Sci Int 88(2):163–168

10.

Pretty IA, Smith PW, Edgar WM, Higham SM (2002) The use of quantitative light-induced fluorescence (QLF) to identify composite restorations in forensic examinations. J Forensic Sci 47(4):831–836

11.

Tani K, Watari F, Uo M, Morita M (2003) Discrimination between composite resin and teeth using fluorescence properties. Dent Mater J 22(4):569–580

12.

Lim YK, Lee YK (2007) Fluorescent emission of varied shades of resin composites. Dental materials : official publication of the Academy of Dental Materials 23(10):1262–1268. https://doi.org/10.1016/j.dental.2006.11.022

13.

Hermanson AS, Bush MA, Miller RG, Bush PJ (2008) Ultraviolet illumination as an adjunctive aid in dental inspection. J Forensic Sci 53(2):408–411. https://doi.org/10.1111/j.1556-4029.2008.00657.x

14.

Bush MA, Hermanson AS, Yetto RJ, Wieczkowski G Jr (2010) The use of ultraviolet LED illumination for composite resin removal: an in vitro study. Gen Dent 58(5):e214–e218

15.

Meller C, Klein C (2012) Fluorescence properties of commercial composite resin restorative materials in dentistry. Dent Mater J 31(6):916–923

16.

Meller C, Klein C (2015) Fluorescence of composite resins: a comparison among properties of commercial shades. Dent Mater J 34(6):754–765. https://doi.org/10.4012/dmj.2014-219

17.

Meller C, Connert T, Löst C, ElAyouti A (2017) Reliability of a Fluorescence-aided Identification Technique (FIT) for detecting tooth-colored restorations: an ex vivo comparative study. Clin Oral Investig 21(1):347–355. https://doi.org/10.1007/s00784-016-1797-0

18.

Dettwiler C, Meller C, Eggmann F, Saccardin F, Kuhl S, Filippi A, Krastl G, Weiger R, Connert T (2018) Evaluation of a fluorescence-aided identification technique (FIT) for removal of composite bonded trauma splints. Dent Traumatol 34(5):353–359. https://doi.org/10.1111/edt.12425

19.

Weiszfeld A (1985) Restaurations posterieures en resine composite photopolymerisable. Mise en forme directe par moulage des faces triturantes. Les Cahiers de prothese 13(49):117–128

20.

Hamilton JC (1986) Occlusal matrix for light cured composites US Patent 4571188

21.

Ishihara S (1917) Tests for colour blindness. Handaya Hongo Harukich, Tokyo

22.

Mjör IA, Reep RL, Kubilis PS, Mondragon BE (1998) Change in size of replaced amalgam restorations: a methodological study. Oper Dent 23(5):272–277

23.

Forgie AH, Pine CM, Pitts NB (2001) Restoration removal with and without the aid of magnification. J Oral Rehabil 28(4):309–313

24.

Bittar DG, Murakami C, Hesse D, Imparato JC, Mendes FM (2011) Efficacy of two methods for restorative materials' removal in primary teeth. J Contemp Dent Pract 12(5):372–378

25.

Zaruba M, Ender A, Mehl A (2014) New applications for three-dimensional follow-up and quality control using optical impression systems and OraCheck. Int J Comput Dent 17(1):53–64

26.

Mehl A, Gloger W, Kunzelmann KH, Hickel R (1997) A new optical 3-D device for the detection of wear. J Dent Res 76(11):1799–1807. https://doi.org/10.1177/00220345970760111201

27.

Hartkamp O, Peters F, Bothung H, Lohbauer U, Reich S (2017) Optical profilometry versus intraoral (handheld) scanning. Int J Comput Dent 20(2):165–176

28.

Mehl A, Koch R, Zaruba M, Ender A (2013) 3D monitoring and quality control using intraoral optical camera systems. Int J Comput Dent 16(1):23–36

29.

Ryakhovskiy AN, Kostyukova VV (2016) Comparative analysis of 3D data accuracy of single tooth and full dental arch captured by different intraoral and laboratory digital impression systems. Stomatologiia 95(4):65–70. https://doi.org/10.17116/stomat201695465-70

30.

Lee JJ, Jeong ID, Park JY, Jeon JH, Kim JH, Kim WC (2017) Accuracy of single-abutment digital cast obtained using intraoral and cast scanners. J Prosthet Dent 117(2):253–259. https://doi.org/10.1016/j.prosdent.2016.07.021

31.

Haddadi Y, Bahrami G, Isidor F (2018) Effect of software version on the accuracy of an intraoral scanning device. Int J Prosthodont 31(4):375–376. https://doi.org/10.11607/ijp.5781

32.

Eltahlah D, Lynch CD, Chadwick BL, Blum IR, Wilson NHF (2018) An update on the reasons for placement and replacement of direct restorations. J Dent 72:1–7. https://doi.org/10.1016/j.jdent.2018.03.001
Acknowledgments
We wish to express our sincere gratitude to the dental technician and hobby photographer, Klaus Engel (Dental laboratory Dentalteam Bast & Marquart GmbH), for his assistance in taking some of the pictures and video clips presented in this work.
Funding
The study was performed and funded by the Department of Conservative Dentistry, Periodontology and Endodontology, University Hospital Tübingen.
Ethics declarations
Conflict of interest
The authors declare that they have no conflicts of interest. C. Meller declares being the intellectual author of the idea that led to the development of the fluorescence-realizing experimental bonding agent used in this study. No royalties, research grant, or commercial association with the VOCO GmbH or other parties were involved
Ethical approval
This article does not contain any studies with human participants or animals performed by any of the authors.
Informed consent
For this type of study, formal consent is not required.
Additional information
Publisher's note
Springer Nature remains neutral with regard to jurisdictional claims in published maps and institutional affiliations.
About this article
Cite this article
Klein, C., Babai, A., von Ohle, C. et al. Minimally invasive removal of tooth-colored restorations: evaluation of a novel handpiece using the fluorescence-aided identification technique (FIT). Clin Oral Invest 24, 2735–2743 (2020). https://doi.org/10.1007/s00784-019-03135-0
Received:

Accepted:

Published:

Issue Date:
Keywords
Composite restoration

Removal

Fluorescence-aided identification technique

Intraoral scanner