Abstract
Objectives
Guanylate-binding protein 6 (GBP6) is a member of the guanylate-binding protein family, and its role in cancer has not yet been reported. We aimed to investigate the clinical significance of GBP6 in oral squamous cell carcinoma (OSCC).
Materials and methods
Next-generation sequencing was applied for analyzing differential gene expression profiling between corresponding tumor adjacent normal (CTAN) and tumor tissue from two paired OSCC patients. Real-time PCRs (RT-PCRs) were used to investigate the gene expression level of GBP6 of CTAN and tumor tissue samples from 14 TSCC patients. Immunohistochemistry was used to investigate the protein expression level of GBP6 in tumor tissues and paired CTAN tissues from 488 OSCC patients, including 183 buccal mucosa squamous cell carcinoma (BMSCC), 245 tongue squamous cell carcinoma (TSCC), and 60 lip squamous cell carcinoma (LSCC) patients.
Results
Compared with CTAN tissues of OSCC patients, GBP6 is identified as a downregulated gene using the NGS platform, which was confirmed in 14 OSCC patients by RT-PCR. Moreover, protein expression level of GBP6 in tumor tissues was lower than that in CTAN tissues and the low GBP6 expression was correlated with poor cell differentiation/lymph node metastasis in TSCC patients. In addition, TSCC patients with low expression levels of GBP6 had poor disease-specific survival rate.
Conclusion
The low expression of GBP6 was associated with tumorigenesis and poor prognosis in OSCC patients, especially in TSCC patients.
Clinical relevance
GBP6 may serve as a novel favorable diagnostic and prognostic biomarker in TSCC patients.
This is a preview of subscription content, log in to check access.
Access options
Buy single article
Instant access to the full article PDF.
US$ 39.95
Tax calculation will be finalised during checkout.
Subscribe to journal
Immediate online access to all issues from 2019. Subscription will auto renew annually.
US$ 79
Tax calculation will be finalised during checkout.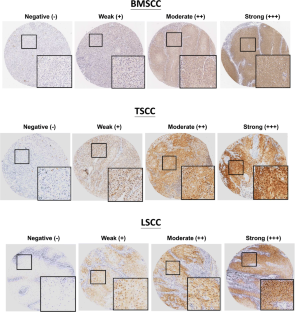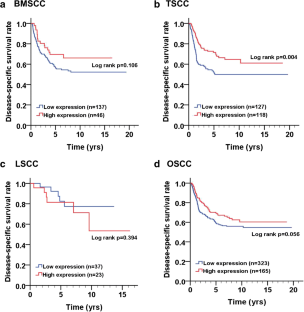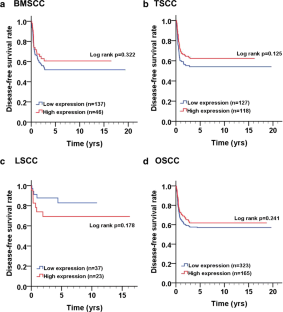 Abbreviations
BMSCC :

Buccal mucosal squamous cell carcinoma

CTAN :

Corresponding tumor adjacent normal

DFS :

Disease-free survival

DSS :

Disease-specific survival

IFN :

Interferon

IHC :

Immunohistochemistry

LCM :

Laser capture microdissection

LSCC :

Lip squamous cell carcinoma

OSCC:

Oral squamous cell carcinoma

TSCC :

Tongue squamous cell carcinoma

NGS :

Next-generation sequencing

TMA :

Tissue microarray
References
1.

Seta R, Mascitti M, Campagna R, Sartini D, Fumarola S, Santarelli A, Giuliani M, Cecati M, Muzio LL, Emanuelli M (2019) Overexpression of nicotinamide N-methyltransferase in HSC-2 OSCC cell line: effect on apoptosis and cell proliferation. Clin Oral Investig 23:829–838

2.

Maji S, Samal SK, Pattanaik L, Panda S, Quinn BA, Das SK, Sarkar D, Pellecchia M, Fisher PB, Dash R (2015) Mcl-1 is an important therapeutic target for oral squamous cell carcinomas. Oncotarget 6:16623–16637

3.

Jadhav KB, Gupta N (2013) Clinicopathological prognostic implicators of oral squamous cell carcinoma: need to understand and revise. N Am J Med Sci 5:671–679

4.

Curado MP, Hashibe M (2009) Recent changes in the epidemiology of head and neck cancer. Curr Opin Oncol 21:194–200

5.

Vestal DJ, Jeyaratnam JA (2011) The guanylate-binding proteins: emerging insights into the biochemical properties and functions of this family of large interferon-induced guanosine triphosphatase. J Interferon Cytokine Res 31:89–97

6.

Ji C, Du S, Li P, Zhu Q, Yang X, Long C, Yu J, Shao F, Xiao J (2019) Structural mechanism for guanylate-binding proteins (GBPs) targeting by the Shigella E3 ligase IpaH9.8. PLoS Pathog 15:e1007876

7.

Praefcke GJK (2018) Regulation of innate immune functions by guanylate-binding proteins. Int J Med Microbiol 308:237–245

8.

Britzen-Laurent N, Herrmann C, Naschberger E, Croner RS, Sturzl M (2016) Pathophysiological role of guanylate-binding proteins in gastrointestinal diseases. World J Gastroenterol 22:6434–6443

9.

Budtz-Jorgensen E (1981) Oral mucosal lesions associated with the wearing of removable dentures. J Oral Pathol 10:65–80

10.

Vincent S, Marty L, Fort P (1993) S26 ribosomal protein RNA: an invariant control for gene regulation experiments in eucaryotic cells and tissues. Nucleic Acids Res 21:1498

11.

Fu TY, Hsieh IC, Cheng JT, Tsai MH, Hou YY, Lee JH, Liou HH, Huang SF, Chen HC, Yen LM, Tseng HH, Ger LP (2015) Association of OCT4, SOX2, and NANOG expression with oral squamous cell carcinoma progression. J Oral Pathol Med

12.

Chen HC, Tseng YK, Shu CW, Weng TJ, Liou HH, Yen LM, Hsieh IC, Wang CC, Wu PC, Shiue YL, Fu TY, Tsai KW, Ger LP, Liu PF (2019) Differential clinical significance of COL5A1 and COL5A2 in tongue squamous cell carcinoma. J Oral Pathol Med 48:468–476

13.

Piro AS, Hernandez D, Luoma S, Feeley EM, Finethy R, Yirga A, Frickel EM, Lesser CF, Coers J (2017) Detection of cytosolic Shigella flexneri via a C-terminal triple-arginine motif of GBP1 inhibits actin-based motility. MBio 8

14.

Braun E, Hotter D, Koepke L, Zech F, Gross R, Sparrer KMJ, Muller JA, Pfaller CK, Heusinger E, Wombacher R, Sutter K, Dittmer U, Winkler M, Simmons G, Jakobsen MR, Conzelmann KK, Pohlmann S, Munch J, Fackler OT, Kirchhoff F, Sauter D (2019) Guanylate-binding proteins 2 and 5 exert broad antiviral activity by inhibiting furin-mediated processing of viral envelope proteins. Cell Rep 27:2092–2104 e10

15.

Britzen-Laurent N, Lipnik K, Ocker M, Naschberger E, Schellerer VS, Croner RS, Vieth M, Waldner M, Steinberg P, Hohenadl C, Sturzl M (2013) GBP-1 acts as a tumor suppressor in colorectal cancer cells. Carcinogenesis 34:153–162

16.

Friedman K, Brodsky AS, Lu S, Wood S, Gill AJ, Lombardo K, Yang D, Resnick MB (2016) Medullary carcinoma of the colon: a distinct morphology reveals a distinctive immunoregulatory microenvironment. Mod Pathol 29:528–541

17.

Godoy P, Cadenas C, Hellwig B, Marchan R, Stewart J, Reif R, Lohr M, Gehrmann M, Rahnenfuhrer J, Schmidt M, Hengstler JG (2014) Interferon-inducible guanylate binding protein (GBP2) is associated with better prognosis in breast cancer and indicates an efficient T cell response. Breast Cancer 21:491–499

18.

Lipnik K, Naschberger E, Gonin-Laurent N, Kodajova P, Petznek H, Rungaldier S, Astigiano S, Ferrini S, Sturzl M, Hohenadl C (2010) Interferon gamma-induced human guanylate binding protein 1 inhibits mammary tumor growth in mice. Mol Med 16:177–187

19.

Yu CJ, Chang KP, Chang YJ, Hsu CW, Liang Y, Yu JS, Chi LM, Chang YS, Wu CC (2011) Identification of guanylate-binding protein 1 as a potential oral cancer marker involved in cell invasion using omics-based analysis. J Proteome Res 10:3778–3788

20.

Guimaraes DP, Oliveira IM, de Moraes E, Paiva GR, Souza DM, Barnas C, Olmedo DB, Pinto CE, Faria PA, De Moura Gallo CV, Small IA, Ferreira CG, Hainaut P (2009) Interferon-inducible guanylate binding protein (GBP)-2: a novel p53-regulated tumor marker in esophageal squamous cell carcinomas. Int J Cancer 124:272–279

21.

Fellenberg F, Hartmann TB, Dummer R, Usener D, Schadendorf D, Eichmuller S (2004) GBP-5 splicing variants: new guanylate-binding proteins with tumor-associated expression and antigenicity. J Invest Dermatol 122:1510–1517

22.

Persano L, Moserle L, Esposito G, Bronte V, Barbieri V, Iafrate M, Gardiman MP, Larghero P, Pfeffer U, Naschberger E, Sturzl M, Indraccolo S, Amadori A (2009) Interferon-alpha counteracts the angiogenic switch and reduces tumor cell proliferation in a spontaneous model of prostatic cancer. Carcinogenesis 30:851–860

23.

Guenzi E, Topolt K, Cornali E, Lubeseder-Martellato C, Jorg A, Matzen K, Zietz C, Kremmer E, Nappi F, Schwemmle M, Hohenadl C, Barillari G, Tschachler E, Monini P, Ensoli B, Sturzl M (2001) The helical domain of GBP-1 mediates the inhibition of endothelial cell proliferation by inflammatory cytokines. EMBO J 20:5568–5577

24.

Walker K, Boyd NH, Anderson JC, Willey CD, Hjelmeland AB (2018) Kinomic profiling of glioblastoma cells reveals PLCG1 as a target in restricted glucose. Biomark Res 6:22

25.

Mustafa DAM, Pedrosa R, Smid M, van der Weiden M, de Weerd V, Nigg AL, Berrevoets C, Zeneyedpour L, Priego N, Valiente M, Luider TM, Debets R, Martens JWM, Foekens JA, Sieuwerts AM, Kros JM (2018) T lymphocytes facilitate brain metastasis of breast cancer by inducing guanylate-binding protein 1 expression. Acta Neuropathol 135:581–599

26.

Li L, Ma G, Jing C, Liu Z (2015) Guanylate-binding protein 1 (GBP1) promotes lymph node metastasis in human esophageal squamous cell carcinoma. Discov Med 20:369–378

27.

Fukumoto M, Amanuma T, Kuwahara Y, Shimura T, Suzuki M, Mori S, Kumamoto H, Saito Y, Ohkubo Y, Duan Z, Sano K, Oguchi T, Kainuma K, Usami S, Kinoshita K, Lee I, Fukumoto M (2014) Guanine nucleotide-binding protein 1 is one of the key molecules contributing to cancer cell radioresistance. Cancer Sci 105:1351–1359

28.

De Donato M, Mariani M, Petrella L, Martinelli E, Zannoni GF, Vellone V, Ferrandina G, Shahabi S, Scambia G, Ferlini C (2012) Class III beta-tubulin and the cytoskeletal gateway for drug resistance in ovarian cancer. J Cell Physiol 227:1034–1041

29.

Quintero M, Adamoski D, Reis LMD, Ascencao CFR, Oliveira KRS, Goncalves KA, Dias MM, Carazzolle MF, Dias SMG (2017) Guanylate-binding protein-1 is a potential new therapeutic target for triple-negative breast cancer. BMC Cancer 17:727

30.

Li M, Mukasa A, Inda MM, Zhang J, Chin L, Cavenee W, Furnari F (2011) Guanylate binding protein 1 is a novel effector of EGFR-driven invasion in glioblastoma. J Exp Med 208:2657–2673

31.

Zhang J, Zhang Y, Wu W, Wang F, Liu X, Shui G, Nie C (2017) Guanylate-binding protein 2 regulates Drp1-mediated mitochondrial fission to suppress breast cancer cell invasion. Cell Death Dis 8:e3151

32.

Wang Q, Wang X, Liang Q, Wang S, Xiwen L, Pan F, Chen H, Li D (2018) Distinct prognostic value of mRNA expression of guanylate-binding protein genes in skin cutaneous melanoma. Oncol Lett 15:7914–7922

33.

Naschberger E, Croner RS, Merkel S, Dimmler A, Tripal P, Amann KU, Kremmer E, Brueckl WM, Papadopoulos T, Hohenadl C, Hohenberger W, Sturzl M (2008) Angiostatic immune reaction in colorectal carcinoma: impact on survival and perspectives for antiangiogenic therapy. Int J Cancer 123:2120–2129

34.

Anand R, Dhingra C, Prasad S, Menon I (2014) Betel nut chewing and its deleterious effects on oral cavity. J Cancer Res Ther 10:499–505

35.

Wu K, Wei J, Liu Z, Yu B, Yang X, Zhang C, Abdelrehem A, Zhang C, Li S (2019) Can pattern and depth of invasion predict lymph node relapse and prognosis in tongue squamous cell carcinoma. BMC Cancer 19:714

36.

Han AY, Kuan EC, Mallen-St Clair J, Alonso JE, Arshi A, St John MA (2016) Epidemiology of squamous cell carcinoma of the lip in the United States: a population-based cohort analysis. JAMA Otolaryngol Head Neck Surg 142:1216–1223

37.

Gu T, Yu D, Fan Y, Wu Y, Yao YL, Xu L, Yao YG (2019) Molecular identification and antiviral function of the guanylate-binding protein (GBP) genes in the Chinese tree shrew (Tupaia belangeri chinesis). Dev Comp Immunol 96:27–36

38.

Capaldo CT, Beeman N, Hilgarth RS, Nava P, Louis NA, Naschberger E, Sturzl M, Parkos CA, Nusrat A (2012) IFN-gamma and TNF-alpha-induced GBP-1 inhibits epithelial cell proliferation through suppression of beta-catenin/TCF signaling. Mucosal Immunol 5:681–690

39.

Unterer B, Wiesmann V, Gunasekaran M, Sticht H, Tenkerian C, Behrens J, Leone M, Engel FB, Britzen-Laurent N, Naschberger E, Wittenberg T, Sturzl M (2018) IFN-gamma-response mediator GBP-1 represses human cell proliferation by inhibiting the Hippo signaling transcription factor TEAD. Biochem J 475:2955–2967

40.

Alspach E, Lussier DM, Schreiber RD (2019) Interferon gamma and its important roles in promoting and inhibiting spontaneous and therapeutic cancer immunity. Cold Spring Harb Perspect Biol 11

41.

Whitmore SE, Lamont RJ (2014) Oral bacteria and cancer. PLoS Pathog 10:e1003933

42.

Liu PF, Chang HW, Cheng JS, Lee HP, Yen CY, Tsai WL, Cheng JT, Li YJ, Huang WC, Lee CH, Ger LP, Shu CW (2018) Map1lc3b and Sqstm1 modulated autophagy for tumorigenesis and prognosis in certain subsites of oral squamous cell carcinoma. J Clin Med 7

43.

Liu PF, Kang BH, Wu YM, Sun JH, Yen LM, Fu TY, Lin YC, Liou HH, Lin YS, Sie HC, Hsieh IC, Tseng YK, Shu CW, Hsieh YD, Ger LP (2017) Vimentin is a potential prognostic factor for tongue squamous cell carcinoma among five epithelial-mesenchymal transition-related proteins. PLoS One 12:e0178581

44.

Fu TY, Wu CN, Sie HC, Cheng JT, Lin YS, Liou HH, Tseng YK, Shu CW, Tsai KW, Yen LM, Tseng HW, Tseng CJ, Ger LP, Liu PF (2016) Subsite-specific association of DEAD box RNA helicase DDX60 with the development and prognosis of oral squamous cell carcinoma. Oncotarget 7:85097–85108
Funding
This work was supported by grants from the Kaohsiung Veterans General Hospital (VGHKS107-174 and VGHKS108-178), the Ministry of Science and Technology (MOST 106-2320-B-075B-002-MY2 and MOST 108-2320-B-075B-003) and the Yen Tjing Ling Medical Foundation (CI-107-13).
Ethics declarations
Conflict of interest
The authors declare that they have no conflict of interest.
Ethical approval
All procedures performed in studies involving human participants were in accordance with the ethical standards of the Institutional Review Board (IRB) at the Kaohsiung Veterans General Hospital (KVGH, IRB number: VGHKS11-CT12-13) and with the 1964 Helsinki declaration and its later amendments or comparable ethical standards.
Informed consent
Informed consent was obtained from the parents of all individual participants included in the study.
Additional information
Publisher's note
Springer Nature remains neutral with regard to jurisdictional claims in published maps and institutional affiliations.
Electronic supplementary material
About this article
Cite this article
Liu, PF., Chen, HC., Shu, CW. et al. Guanylate-binding protein 6 is a novel biomarker for tumorigenesis and prognosis in tongue squamous cell carcinoma . Clin Oral Invest 24, 2673–2682 (2020). https://doi.org/10.1007/s00784-019-03129-y
Received:

Accepted:

Published:

Issue Date:
Keywords
Oral squamous cell carcinoma

Guanylate-binding protein 6

Tumorigenesis

Prognosis