Abstract
Objective
Since MRI using dedicated imaging sequences has recently shown promising results in direct visualization of the inferior alveolar nerve (IAN) and the lingual nerve (LN) with high spatial resolution, the aim of this study was to generate suitable standard specifications to reliably depict the IAN and LN in MRI and to delineate the anatomy and its variants of these nerves in healthy subjects.
Methods
Thirty healthy volunteers were examined on a 3-T scanner (Elition, Philips Healthcare, Best, the Netherlands). The sequence protocol consisted of 3D STIR, 3D DESS, and 3D T1 FFE "black bone" sequences.
Results
The study reconfirmed a good feasibility of direct visualization of proximal and peripheral portions of the IAN and of the proximal course of the LN. The STIR sequence showed the highest apparent signal to noise ratio (aSNR) and best apparent nerve-muscle contrast to noise ratio (aNMCNR) for IAN and for the LN. The applied MRI sequences allowed to differentiate the tissue composition of the neurovascular bundle inside the mandibular canal.
Conclusion
Dedicated MRI sequence protocols proved effectively to detect the IAN and LN and their course in healthy volunteers. The tissue composition of the mandibular neurovascular bundle was conclusively distinguishable as was the varying topography inside multiple bony channels.
Clinical relevance
The presented data on the precise and valid visualization of the IAN and LN have clinical implications in respect to local anesthesia prior to dental treatments in the mandible but also regarding surgical procedures and implant insertion in the molar region.
This is a preview of subscription content, log in to check access.
Access options
Buy single article
Instant access to the full article PDF.
US$ 39.95
Tax calculation will be finalised during checkout.
Subscribe to journal
Immediate online access to all issues from 2019. Subscription will auto renew annually.
US$ 99
Tax calculation will be finalised during checkout.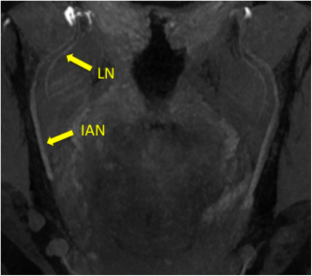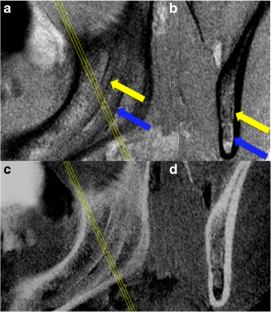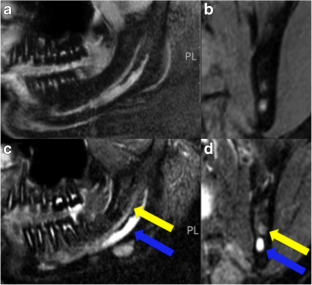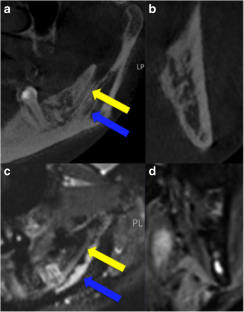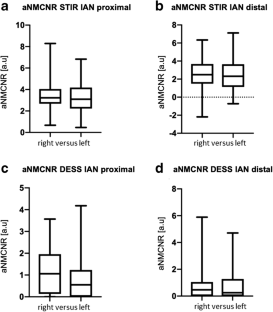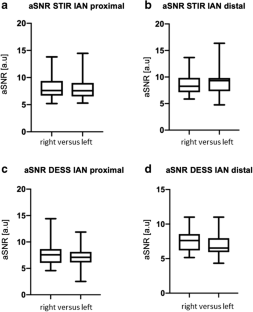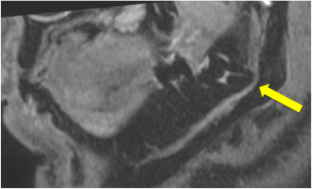 Abbreviations
aNMCNR:

Apparent nerve-muscle contrast to noise ratio

aSNR:

Apparent signal to noise ratio

CBCT:

Cone beam computed tomography

CI:

Confidence interval

CT:

Computed tomography

CNR:

Contrast to noise ratio

DESS:

Double-echo steady state

IAN:

Inferior alveolar nerve

LN:

Lingual nerve

MRI:

Magnetic resonance imaging

ROI:

Region of interest

SD:

Standard deviation

SI:

Signal intensity

STIR:

Short tau inversion recovery
References
1.

Bataineh AB (2001) Sensory nerve impairment following mandibular third molar surgery. J Oral Maxillofac Surg 59:1012–1017; discussion 1017. https://doi.org/10.1053/joms.2001.25827

2.

Klazen Y, Van der Cruyssen F, Vranckx M, Van Vlierberghe M, Politis C, Renton T, Jacobs R (2018) Iatrogenic trigeminal post-traumatic neuropathy: a retrospective two-year cohort study. Int J Oral Maxillofac Surg 47:789–793. https://doi.org/10.1016/j.ijom.2018.02.004

3.

Hillerup S, Jensen R (2006) Nerve injury caused by mandibular block analgesia. Int J Oral Maxillofac Surg 35:437–443. https://doi.org/10.1016/j.ijom.2005.10.004

4.

Sunderland S (1951) A classification of peripheral nerve injuries producing loss of function. Brain 74

5.

Blackburn CW (1990) A method of assessment in cases of lingual nerve injury. Br J Oral Maxillofac Surg 28:238–245

6.

van der Glas HW, van der Rijt EE, van der Bilt A, Koole R, Vriens JP (2007) Testing of iatrogenic lingual nerve injury using a novel psychophysical method and oral reflexes. Int J Oral Maxillofac Surg 36:545–549. https://doi.org/10.1016/j.ijom.2006.12.009

7.

Zuniga JR, Meyer RA, Gregg JM, Miloro M, Davis LF (1998) The accuracy of clinical neurosensory testing for nerve injury diagnosis. J Oral Maxillofac Surg 56:2–8

8.

Bagheri SC, Meyer RA, Cho SH, Thoppay J, Khan HA, Steed MB (2012) Microsurgical repair of the inferior alveolar nerve: success rate and factors that adversely affect outcome. J Oral Maxillofac Surg 70:1978–1990. https://doi.org/10.1016/j.joms.2011.08.030

9.

Susarla SM, Kaban LB, Donoff RB, Dodson TB (2007) Does early repair of lingual nerve injuries improve functional sensory recovery? J Oral Maxillofac Surg 65:1070–1076. https://doi.org/10.1016/j.joms.2006.10.010

10.

Erakat MS, Chuang SK, Shanti RM, Ziccardi VB (2013) Interval between injury and lingual nerve repair as a prognostic factor for success using type I collagen conduit. J Oral Maxillofac Surg 71:833–838. https://doi.org/10.1016/j.joms.2011.11.026

11.

Albuquerque AFM, Soares ECS, de Barros Silva PG, de Lima BB, Carvalho FSR, Ribeiro TR, de Sa CD, Costa FWG (2019) Clinical investigation of gustatory and neurosensory alterations following mandibular third molar surgery: an observational prospective study. Clin Oral Investig 23:2941–2949. https://doi.org/10.1007/s00784-018-02798-5

12.

Politis C, Ramirez XB, Sun Y, Lambrichts I, Heath N, Agbaje JO (2013) Visibility of mandibular canal on panoramic radiograph after bilateral sagittal split osteotomy (BSSO). Surg Radiol Anat 35:233–240. https://doi.org/10.1007/s00276-012-1026-8

13.

Dessouky R, Xi Y, Zuniga J, Chhabra A (2018) Role of MR neurography for the diagnosis of peripheral trigeminal nerve injuries in patients with prior molar tooth extraction. AJNR Am J Neuroradiol 39:162–169. https://doi.org/10.3174/ajnr.A5438

14.

Cassetta M, Pranno N, Pompa V, Barchetti F, Pompa G (2014) High resolution 3-T MR imaging in the evaluation of the trigeminal nerve course. Eur Rev Med Pharmacol Sci 18:257–264

15.

Probst M, Richter V, Weitz J, Kirschke JS, Ganter C, Troeltzsch M, Nittka M, Cornelius CP, Zimmer C, Probst FA (2017) Magnetic resonance imaging of the inferior alveolar nerve with special regard to metal artifact reduction. J Craniomaxillofac Surg 45:558–569. https://doi.org/10.1016/j.jcms.2017.01.009

16.

Klupp E, Cervantes B, Sollmann N, Treibel F, Weidlich D, Baum T, Rummeny EJ, Zimmer C, Kirschke JS, Karampinos DC (2018) Improved brachial plexus visualization using an adiabatic iMSDE-prepared STIR 3D TSE. Clin Neuroradiol:1–8. https://doi.org/10.1007/s00062-018-0706-0

17.

Baumer P, Dombert T, Staub F, Kaestel T, Bartsch AJ, Heiland S, Bendszus M, Pham M (2011) Ulnar neuropathy at the elbow: MR neurography--nerve T2 signal increase and caliber. Radiology 260:199–206. https://doi.org/10.1148/radiol.11102357

18.

Agbaje JO, de Casteele EV, Salem AS, Anumendem D, Lambrichts I, Politis C (2017) Tracking of the inferior alveolar nerve: its implication in surgical planning. Clin Oral Investig 21:2213–2220. https://doi.org/10.1007/s00784-016-2014-x

19.

Assaf AT, Zrnc TA, Remus CC, Schonfeld M, Habermann CR, Riecke B, Friedrich RE, Fiehler J, Heiland M, Sedlacik J (2014) Evaluation of four different optimized magnetic-resonance-imaging sequences for visualization of dental and maxillo-mandibular structures at 3 T. J Craniomaxillofac Surg 42:1356–1363. https://doi.org/10.1016/j.jcms.2014.03.026

20.

Zuniga JR, Mistry C, Tikhonov I, Dessouky R, Chhabra A (2018) Magnetic resonance neurography of traumatic and nontraumatic peripheral trigeminal neuropathies. J Oral Maxillofac Surg 76:725–736. https://doi.org/10.1016/j.joms.2017.11.007

21.

Lin MH, Mau LP, Cochran DL, Shieh YS, Huang PH, Huang RY (2014) Risk assessment of inferior alveolar nerve injury for immediate implant placement in the posterior mandible: a virtual implant placement study. J Dent 42:263–270. https://doi.org/10.1016/j.jdent.2013.12.014

22.

de Oliveira-Santos C, Souza PH, de Azambuja B-CS, Stinkens L, Moyaert K, Rubira-Bullen IR, Jacobs R (2012) Assessment of variations of the mandibular canal through cone beam computed tomography. Clin Oral Investig 16:387–393. https://doi.org/10.1007/s00784-011-0544-9
Ethics declarations
Conflict of Interest
The authors declare that they have no conflict of interest.
Ethical approval
The institutional ethics committee approved the study design.
Informed consent
Informed consent was obtained from all individual participants included in the study.
Additional information
Publisher's note
Springer Nature remains neutral with regard to jurisdictional claims in published maps and institutional affiliations.
This study was conducted at the Department of Diagnostic and Interventional Neuroradiology, Klinikum rechts der Isar, Technische Universität München, Medical School Munich, Germany
About this article
Cite this article
Burian, E., Probst, F.A., Weidlich, D. et al. MRI of the inferior alveolar nerve and lingual nerve—anatomical variation and morphometric benchmark values of nerve diameters in healthy subjects. Clin Oral Invest 24, 2625–2634 (2020). https://doi.org/10.1007/s00784-019-03120-7
Received:

Accepted:

Published:

Issue Date:
Keywords
MRI

Inferior alveolar nerve

Lingual nerve

Imaging

Preoperative diagnostics