Abstract
Objectives
To evaluate the postoperative sensitivity of restorations with self-adhesive resin composite (SAC) (Vertise Flow (VER)/Kerr) compared with conventional resin composite with self-etching adhesive (Filtek Z250 (Z250)/3M ESPE; Clearfil SE Bond (CSEB)/Kuraray).
Materials and methods
A randomized, controlled, double-blind, split-mouth, two-arm clinical trial was conducted. Twenty-seven volunteers with third molars indicated for extraction received two deep class I restorations, one with each material. Postoperative sensitivity was measured at 24 h and 15 or 30 days after the restorative procedures using a visual analog scale (VAS). When present, information on the characteristics of the pain was also collected. The data were submitted to the McNemar test (α = 0.05).
Results
Regardless of the time intervals, the postoperative sensitivity was observed in 52% and 48% of the CSEB and VERT groups, respectively (p = 1.000). When the evaluation periods were analyzed, the 15-day evaluation presented the highest occurrence of pain, but of mild intensity, in both groups. All patients with sensitivity reported that the pain was localized and of short duration.
Conclusion
Self-adhesive resin composite Vertise Flow and conventional resin composite with a self-etching bonding agent promoted similar response regarding postoperative sensitivity in deep class I cavities. When postoperative sensitivity was present, mild pain was observed, especially after 15 days of the restorative procedure, which decreased over time.
Clinical relevance
Postoperative sensitivity to self-adhesive resin composite (SAC) restorations in deep cavities was comparable with that of conventional restorations with a self-etching bonding agent.
Access options
Buy single article
Instant access to the full article PDF.
US$ 39.95
Tax calculation will be finalised during checkout.
Subscribe to journal
Immediate online access to all issues from 2019. Subscription will auto renew annually.
US$ 79
Tax calculation will be finalised during checkout.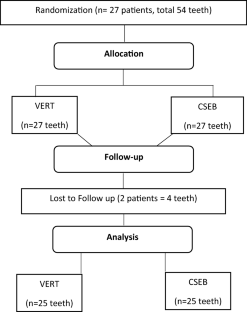 References
1.

Ferracane JL (2011) Resin composite state of the art. Dent Mater 27:29–23

2.

Miyazaki M, Tsujimoto A, Tsubota K, Takamizawa T, Kurokawa H, Platt JA (2014) Important compositional characteristics in the clinical use of adhesive systems. J Oral Sci 56:1–9

3.

Rahimian-imam S, Ramazani N, Fayazi MR (2015) Marginal microleakage of conventional fissure sealants and self-adhering flowable composite as fissure sealant in permanent teeth. J Dent (Tehran) 12:430–435

4.

Radovic I (2008) Self-adhesive resin cements: a literature review. J Adhes Dent 10:251–258

5.

Maas MS, Alania Y, Natale LC, Rodrigues MC, Watts DC, Braga RR (2017) Trends in restorative composites research: what is in the future? Braz Oral Res 31:e55

6.

Shafiei F, Saadat M (2016) Micromorphology and bond strength evaluation of adhesive interface of a self-adhering flowable composite resin-dentin: effect of surface treatment. Microsc Res Tech 79:403–407

7.

Sachdeva P, Goswami M, Singh D (2016) Comparative evaluation of shear bond strength and nanoleakage of conventional and self-adhering flowable composites to primary teeth dentin. Contemp Clin Dent 7:32631

8.

Celik EU, Kucukyilmaz E, Savas S (2015) Effect of different surface pre-treatment methods on the microleakage of two different self-adhesive composites in class V cavities. Eur J Paediatr Dent 16:33–38

9.

Sabbagh J, Dagher S, El Osta N, Souhaid P (2017) Randomized clinical trial of a self-adhering flowable composite for class I restorations: 2-year results. Int J Dent 2017:5041529

10.

Berkowitz GS et al (2009) Postoperative hypersensitivity in class I resin-based composite restorations in general practice: interim results. Compend Contin Educ Dent 30:356–363

11.

Davidovic L, Radovic I, Krunic J (2014) Prevention of postoperative sensitivity in composite restorations. Serbian Dent J 61:84–92

12.

Oz FD, Kutuk ZB, Ozturk C, Soleimani R, Gurgan S (2019) An 18-month clinical evaluation of three different universal adhesives used with a universal flowable composite resin in the restoration of non-carious cervical lesions. Clin Oral Investig 23:1443–1452

13.

Porto ICCM (2012) Post-operative sensitivity in direct resin composite restorations: clinical practice guidelines. IJRD 1:1–12 Available from: http://jrdindia.org/ver2/app/upload/review1.pdf

14.

Uneromi M et al (2001) Composite resin restoration and postoperative sensitivity: clinical follow-up in an undergraduate program. J Dent 29:7–13

15.

Casselli DSM, Martins LRM (2006) Postoperative sensitivity in class I composite resin restorations in vivo. J Adhes Dent 8:53–58

16.

Reis A, Loguercio AD, Schroeder M, Luque-Martinez I, Masterson D, Maia LC (2015) Does the adhesive strategy influence the post-operative sensitivity in adult patients with posterior resin composite restorations? A systematic review and metaanalysis. Dent Mater 31:1052–1067

17.

Yousaf A, Aman N, Manzoor MA, Shah JÁ, Dilrasheed (2014) Postoperative sensitivity of self etch versus total etch adhesive. J Coll Physicians Surg Pak 24:383–386

18.

Moosavi H, Maleknejad F, Sharifi M, Ahrari F (2015) A randomized clinical trial of the effect of low-level laser therapy before composite placement on postoperative sensitivity in class V restorations. Lasers Med Sci 30:1245–1249

19.

Vichi A, Margvelashvili M, Goracci C, Papacchini F, Ferrari M (2013) Bonding and sealing ability of a new self-adhering flowable composite resin in class I restorations. Clin Oral Investig 17:1497–1506

20.

Wei YJ, Silikas N, Zhang ZT, Watts DC (2011) Hygroscopic dimensional changes of self-adhering and new resin-matrix composites during water sorption/desorption cycles. Dent Mater 27:259–266

21.

Çelik EU, Aka B, Yilmaz F (2015) Six-month clinical evaluation of a self-adhesive flowable composite in noncarious cervical lesions. J Adhes Dent 17:361–368

22.

Kucukyilmaz E, Savas S (2015) Evaluation of different fissure sealant materials and flowable composites used as pit-and-fissure sealants: a 24-month clinical trial. Pediatric Dentistry. Pediatr Dent 37:468–473

23.

Pinna R, Bortone A, Sotgiu G, Dore S, Usai P, Milia E (2015) Clinical evaluation of the efficacy of one self-adhesive composite in dental hypersensitivity. Clin Oral Investig 19:1663–1672

24.

Saba K, Maxood A, Abdullah S, Riaz A, Din SU (2018) Comparison of frequency of post operative sensitivity in amalgam restorations using copal varnish and dentin adhesive liner. J Ayub Med Coll Abbottabad 30:163–166

25.

Hirani RT, Batra R, Kapoor S (2018) Comparative evaluation of postoperative sensitivity in bulk fill restoratives: a randomized controlled trial. J Int Soc Prev Community Dent 8:534–539

26.

Mjor IA (2009) Dentin permeability: the basis for understanding pulp reactions and adhesive technology. Braz Dent 20:316

27.

Hickey D, Sharif O, Janjua F, Brunton PA (2016) Bulk dentine replacement versus incrementally placed resin composite: a randomized controlled clinical trial. J Dent 46:1822

28.

Skovlund E, Breivik H (2016) Analysis of pain-intensity measurements. Scand J Pain 13:123124

29.

Wang L, Magalhães AC, Francisconi-dos-Rios LF, Calabria MP, Araújo DFG, Buzalaf MAR, Pereira JC (2016) Treatment of dentin hypersensitivity using nano-hydroxyapatite pastes: a randomized three-month clinical trial. Oper Dent 41:93–101

30.

Ravishankar P, Viswanath V, Archana D, Keerthi V, Dhanapal S, Lavanya Priya KP (2018) The effect of three desensitizing agents on dentin hypersensitivity: a randomized, split-mouth clinical trial. Indian J Dent Res 29:51–55

31.

Yaylali IE, Kurnaz S, Tunca YM (2018) Maintaining apical patency does not increase postoperative pain in molars with necrotic pulp and apical periodontitis: a randomized controlled trial. J Endod 44:335–340
Ethics declarations
Conflict of interest
The authors declare that they have no conflict of interest.
Ethical approval
All procedures performed in studies involving human participants were in accordance with the ethical standards of the institutional and/or national research committee and with the 1964 Helsinki declaration and its later amendments or comparable ethical standards.
Informed consent
Informed consent was obtained from all individual participants included in the study.
Additional information
Publisher's note
Springer Nature remains neutral with regard to jurisdictional claims in published maps and institutional affiliations.
Electronic supplementary material
About this article
Cite this article
de Oliveira, N.G., Lima, A.S.L.C., da Silveira, M.T. et al. Evaluation of postoperative sensitivity in restorations with self-adhesive resin: a randomized split-mouth design controlled study. Clin Oral Invest 24, 1829–1835 (2020). https://doi.org/10.1007/s00784-019-03046-0
Received:

Accepted:

Published:

Issue Date:
Keywords
Postoperative sensitivity

Randomized clinical trial

Self-adhering composite

Visual analog scale