Abstract
Objective
Compositional modifications may alter the biological and physicochemical characteristics of calcium silicate-based sealers (CSBS) and, ultimately, their bioactivity. The main objective of this study was to evaluate the biological properties of three CSBS: EndoSequence BC Sealer, Ceraseal, and Endoseal mineral trioxide aggregate.
Materials and methods
Human periodontal ligament stem cells (hPDLSCs) were exposed to several eluates of CSBS. The ion release profile and pH were determined, and metabolic activity and cell migration were assessed using the MTT and wound healing assays. hPDLSCs were cultured in direct contact with the surface of each material, and cell morphology and attachment were analyzed by scanning electron microscopy (SEM). Bioactivity potential was assessed by RT-qPCR and mineralization assays. Statistical differences between biomaterials were assessed using one- or two-way ANOVA (α < 0.05).
Results
All materials showed an alkaline pH, although Endoseal exhibited a significantly higher pH compared with the other CSBS (p < 0.05). Ceraseal released significantly more Ca2+ (p < 0.05) than EndoSequence BC Sealer and Endoseal. Interestingly, Endoseal induced a significant reduction in cell viability and cell migration compared with the control (p < 0.001). Moreover, SEM showed abundant cells adhering to EndoSequence BC Sealer and Ceraseal surfaces, whereas very few round cells were detected on the surface of Endoseal. Finally, Ceraseal and EndoSequence induced ALP, CAP, and CEMP-1 expression and a significantly higher mineralization capacity than Endoseal (***p < 0.001).
Conclusions
The eluates from EndoSequence BC Sealer and Ceraseal displayed higher cell viability, cell attachment, cell migration rates, and ion release rates than Endoseal. Ceraseal and EndoSequence BC Sealer exhibited significantly more gene expression and mineralization capacity than Endoseal.
Clinical relevance
The results obtained in the present work suggest that EndoSequence BC Sealer and Ceraseal possess biological properties that make them suitable materials for root canal treatment.
Access options
Buy single article
Instant access to the full article PDF.
US$ 39.95
Tax calculation will be finalised during checkout.
Subscribe to journal
Immediate online access to all issues from 2019. Subscription will auto renew annually.
US$ 79
Tax calculation will be finalised during checkout.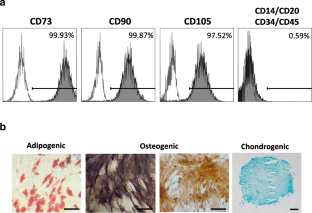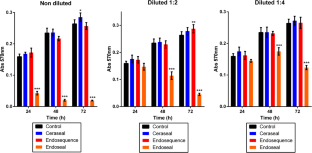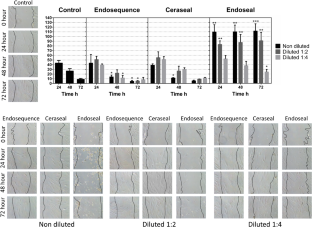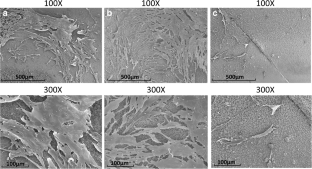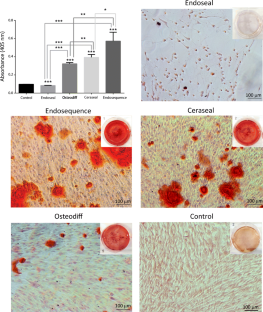 Funding
This work was supported by the Spanish Network of Cell Therapy (TerCel), RETICS subprograms of the I+D+I 2013-2016 Spanish National Plan, and project "RD16/0011/0001" funded by the Instituto de Salud Carlos III to JMM and co-funded by the European Regional Development Fund.
Ethics declarations
Conflict of interest
Baek Myong-Hyun has a commercial interest in one of the tested products. The other authors declare that they have no conflict of interest.
Ethical approval
All procedures performed in studies involving human participants were in accordance with the ethical standards of the institutional and/or national research committee and with the 1964 Helsinki Declaration and its later amendments or comparable ethical standards. The study protocol was approved by the Clinical Research Ethics Committee of the University of Murcia (procedure number: 1528/2017). Likewise, permission was obtained from the Health Department authorities to use the information contained in the CDHs, previously anonymized by one of the investigators belonging to the medical staff of the Health Department in order to protect patient confidentiality. All the information was processed in abidance with the confidentiality regulations defined under Act 15/1999 referred to personal data protection.
Informed consent
Informed consent was obtained from the parents of all individual participants included in the study.
Additional information
Publisher's note
Springer Nature remains neutral with regard to jurisdictional claims in published maps and institutional affiliations.
About this article
Cite this article
López-García, S., Myong-Hyun, B., Lozano, A. et al. Cytocompatibility, bioactivity potential, and ion release of three premixed calcium silicate-based sealers. Clin Oral Invest 24, 1749–1759 (2020). https://doi.org/10.1007/s00784-019-03036-2
Received:

Accepted:

Published:

Issue Date:
Keywords
Bioactivity

Cytotoxicity

Calcium silicate-based sealers

Human periodontal ligament stem cells

Mineralization capacity