Abstract
Objective
The aim of this study was to evaluate the effect of teriparatide therapy on mandibular fracture healing in rats with medication-related osteonecrosis of the jaw (MRONJ).
Materials and methods
To induce MRONJ, a total of 120 rats received intravenous zoledronate 0.06 mg/kg once a week for 6 weeks and their right mandibular first molar was extracted. Eighty of 94 rats with MRONJ were randomly selected and underwent unilateral mandibular osteotomy to replicate a fracture. After surgery, the rats were randomly assigned to T (teriparatide-treated) and C (control) groups. Group T (n = 40) received subcutaneous injection of 2 μg/kg/day teriparatide and group C (n = 40) received the same volume of normal saline until sacrifice. Four and 8 weeks after surgery, 20 rats in each group were sacrificed. Fracture healing was scored using a histological grading system (1 to 10).
Results
In group C, at 4 weeks and 8 weeks post-fracture, fibrous and cartilaginous tissues and scant bone formation at the fracture site and lacunae without osteocyte in adjacent mandibular bone were seen. In group T, substantial amounts of new trabecular bone rimmed by osteoblasts and some areas of remodeled mature bone were seen. After 8 weeks, extensive replacement of trabecular bone with mature bone occurred. Except between C4 and C8 groups, the healing score was significantly different between all subgroups.
Conclusion
Teriparatide therapy successfully improved mandibular fracture healing in rats with MRONJ. However, this study was limited by the use of an animal model whose anatomy, physiology, and drug metabolism might be different from humans.
Clinical relevance
The present study showed that teriparatide therapy may be used adjunctive to surgery in the treatment of mandibular fractures in MRONJ patients.
This is a preview of subscription content, log in to check access.
Access options
Buy single article
Instant access to the full article PDF.
US$ 39.95
Price includes VAT for USA
Subscribe to journal
Immediate online access to all issues from 2019. Subscription will auto renew annually.
US$ 99
This is the net price. Taxes to be calculated in checkout.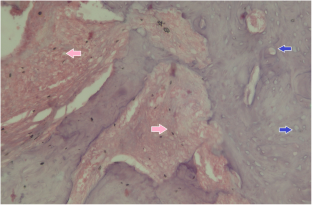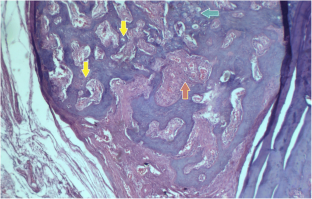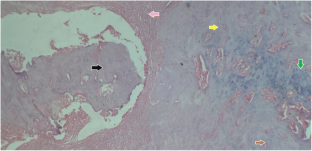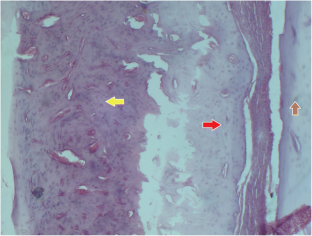 References
1.

Lewiecki EM (2011) Safety of long-term bisphosphonate therapy for the management of osteoporosis. Drugs 71:791–814

2.

Maahs MP, Azambuja AA, Campos MM, Salum FG, Cherubini K (2011) Association between bisphosphonates and jaw osteonecrosis: a study in Wistar rats. Head Neck 33:199–207

3.

Wongchuensoontorn C, Liebehenschel N, Wagner K, Fakler O, Gutwald R, Schmelzeisen R, Sauerbier S (2009) Pathological fractures in patients caused by bisphosphonate-related osteonecrosis of the jaws: report of 3 cases. J Oral Maxillofac Surg 67:1311–1316

4.

Ruggiero SL, Dodson TB, Fantasia J, Goodday R, Aghaloo T, Mehrotra B, O'Ryan F (2014) American Association of Oral and Maxillofacial Surgeons. American Association of Oral and Maxillofacial Surgeons position paper on medication-related osteonecrosis of the jaw--2014 update. J Oral Maxillofac Surg 72:1938–1956

5.

Jowett A, Abdullakutty A, Bailey M (2015) Pathological fracture of the coronoid process secondary to medication-related osteonecrosis of the jaw (MRONJ). Int J Surg Case Rep 10:162–165

6.

Barba-Recreo P, Del Castillo Pardo de Vera JL, García-Arranz M, Yébenes L, Burgueño M (2014) Zoledronic acid - related osteonecrosis of the jaws. Experimental model with dental extractions in rats. J Craniomaxillofac Surg 42:744–750

7.

Dayisoylu EH, Üngör C, Tosun E, Ersöz S, Kadioglu Duman M, Taskesen F, Senel FÇ (2014) Does an alkaline environment prevent the development of bisphosphonate-related osteonecrosis of the jaw? An experimental study in rats. Oral Surg Oral Med Oral Pathol Oral Radiol 117:329–334

8.

Rozental TD, Vazquez MA, Chacko AT, Ayogu N, Bouxsein ML (2009) Comparison of radiographic fracture healing in the distal radius for patients on and off bisphosphonate therapy. J Hand Surg Am 34:595–602

9.

Edwards BJ, Bunta AD, Lane J, Odvina C, Rao DS, Raisch DW, McKoy JM, Omar I, Belknap SM, Garg V, Hahr AJ, Samaras AT, Fisher MJ, West DP, Langman CB, Stern PH (2013) Bisphosphonates and nonhealing femoral fractures: analysis of the FDA Adverse Event Reporting System (FAERS) and international safety efforts: a systematic review from the Research on Adverse Drug Events And Reports (RADAR) project. J Bone Joint Surg Am 95:297–307

10.

Meganck JA, Begun DL, McElderry JD, Swick A, Kozloff KM, Goldstein SA, Morris MD, Marini JC, Caird MS (2013) Fracture healing with alendronate treatment in the Brtl/+ mouse model of osteogenesis imperfecta. Bone 56:204–212

11.

Munns CF, Rauch F, Zeitlin L, Fassier F, Glorieux FH (2004) Delayed osteotomy but not fracture healing in pediatric osteogenesis imperfecta patients receiving pamidronate. J Bone Miner Res 19:1779–1786

12.

Li C, Mori S, Li J, Kaji Y, Akiyama T, Kawanishi J, Norimatsu H (2001) Long-term effect of incadronate disodium (YM-175) on fracture healing of femoral shaft in growing rats. J Bone Miner Res 16:429–436

13.

Tu PH, Liu ZH, Lee ST, Chen JF (2012) Treatment of repeated and multiple new-onset osteoporotic vertebral compression fractures with teriparatide. J Clin Neurosci 19:532–535

14.

Kuroshima S, Entezami P, McCauley LK, Yamashita J (2014) Early effects of parathyroid hormone on bisphosphonate/steroid-associated compromised osseous wound healing. Osteoporos Int 25:1141–1150

15.

Yao M, Shimo T, Ono Y, Obata K, Yoshioka N, Sasaki A (2016) Successful treatment of osteonecrosis-induced fractured mandible with teriparatide therapy: a case report. Int J Surg Case Rep 21:151–153

16.

Bukata SV, Puzas JE (2010) Orthopedic uses of teriparatide. Curr Osteoporos Rep 8:28–33

17.

Zandi M, Shokri A, Mousavi M, Rajaei S, Mohammad Gholi Mezerji N (2018) Does zoledronate therapy make mandibular bone susceptible to fracture? A radiographical and biomechanical study in rats. Injury 49:1746–1749. https://doi.org/10.1016/j.injury.2018.07.006

18.

Zandi M, Dehghan A, Malekzadeh H, Janbaz P, Ghadermazi K, Amini P (2016) Introducing a protocol to create bisphosphonate-related osteonecrosis of the jaw in rat animal model. J Craniomaxillofac Surg 44:261–268

19.

Perry AC, Prpa B, Rouse MS, Piper KE, Hanssen AD, Steckelberg JM, Patel R (2003) Levofloxacin and trovafloxacin inhibition of experimental fracture-healing. Clin Orthop Relat Res 414:95–100

20.

Curi MM, Cossolin GSI, Koga DH, Araújo SR, Feher O, dos Santos MO, Zardetto C (2007) Treatment of avascular osteonecrosis of the mandible in cancer patients with a history of bisphosphonate therapy by combining bone resection and autologous platelet-rich plasma: report of 3 cases. J Oral Maxillofac Surg 65:349–355

21.

Vescovi P, Merigo E, Meleti M, Fornaini C, Nammour S, Manfredi M (2007) Nd:YAG laser biostimulation of bisphosphonate-associated necrosis of the jawbone with and without surgical treatment. Br J Oral Maxillofac Surg 45:628–632

22.

McLeod NM, Patel V, Kusanale A, Rogers SN, Brennan PA (2011) Bisphosphonate osteonecrosis of the jaw: a literature review of UK policies versus international policies on the management of bisphosphonate osteonecrosis of the jaw. Br J Oral Maxillofac Surg 49:335–342

23.

Lee CY, David T, Nishime M (2007) Use of platelet-rich plasma in the management of oral biphosphonate-associated osteonecrosis of the jaw: a report of 2 cases. J Oral Implantol 33:371–382

24.

Collinge C, Favela J (2016) Use of teriparatide in osteoporotic fracture patients. Injury 47(Suppl 1):S36–S38

25.

Komatsubara S, Mori S, Mashiba T, Nonaka K, Seki A, Akiyama T, Miyamoto K, Cao Y, Manabe T, Norimatsu H (2005) Human parathyroid hormone (1–34) accelerates the fracture healing process of woven to lamellar bone replacement and new cortical shell formation in rat femora. Bone 36:678–687

26.

Mognetti B, Marino S, Barberis A, Martin AS, Bala Y, Di Carlo F, Boivin G, Barbos MP (2011) Experimental stimulation of bone healing with teriparatide: histomorphometric and microhardness analysis in a mouse model of closed fracture. Calcif Tissue Int 89:163–171

27.

Pietrogrande L, Raimondo E (2013) Teriparatide in the treatment of non-unions: scientific and clinical evidences. Injury 44(Suppl 1):S54–S57

28.

Kim Y, Tanaka C, Tada H, Kanoe H, Shirai T (2015) Radiographic features of teriparatide-induced healing of femoral fractures. Bone Rep 3:11–14

29.

Kim KM, Park W, Oh SY, Kim HJ, Nam W, Lim SK (2014) Distinctive role of 6-month teriparatide treatment on intractable bisphosphonate-related osteonecrosis of the jaw. Osteoporos Int 25:1625–1632

30.

Kwon YD, Lee DW, Choi BJ, Lee JW, Kim DY (2012) Short-term TRPD therapy as an adjunctive modality for bisphosphonate related osteonecrosis of the jaws. Osteoporos Int 23:2721–2725

31.

Kakehashi H, Ando T, Minamizato T, Nakatani Y, Kawasaki T, Ikeda H (2015) Administration of teriparatide improves the symptoms of advanced bisphosphonate-related osteonecrosis of the jaw: preliminary findings. Int J Oral Maxillofac Surg 44:1558–1564

32.

Russell RG, Xia Z, Dunford JE, Oppermann U, Kwaasi A, Hulley PA, Kavanagh KL, Triffitt JT, Lundy MW, Phipps RJ, Barnett BL, Coxon FP, Rogers MJ, Watts NB, Ebetino FH (2007) Bisphosphonates: an update on mechanisms of action and how these relate to clinical efficacy. Ann N Y Acad Sci 1117:209–257

33.

Corrado A, Neve A, Maruotti N, Gaudio A, Marucci A, Cantatore FP (2010) Dose-dependent metabolic effect of zoledronate on primary human osteoblastic cell cultures. Clin Exp Rheumatol 28:873–879

34.

Nakajima A, Shimoji N, Shiomi K, Shimizu S, Moriya H, Einhorn TA, Yamazaki M (2002) Mechanisms for the enhancement of fracture healing in rats treated with intermittent low-dose human parathyroid hormone (1-34). J Bone Miner Res 17:2038–2047

35.

Eli Lilly and Co. (2002) United States Package Insert: Forteo [teriparatide (rDNA origin) injection]. Indianapolis, IN

36.

Khosla S, Burr D, Cauley J, Dempster DW, Ebeling PR, Felsenberg D, Gagel RF, Gilsanz V, Guise T, Koka S, McCauley LK, McGowan J, McKee MD, Mohla S, Pendrys DG, Raisz LG, Ruggiero SL, Shafer DM, Shum L, Silverman SL, Van Poznak CH, Watts N, Woo SB, Shane E, American Society for Bone and Mineral Research (2007) Bisphosphonate-associated osteonecrosis of the jaw: report of a task force of the American Society for Bone and Mineral Research. J Bone Miner Res 22:1479–1491

37.

Caldroney S, Ghazali N, Dyalram D, Lubek JE (2017) Surgical resection and vascularized bone reconstruction in advanced stage medication-related osteonecrosis of the jaw. Int J Oral Maxillofac Surg 46:871–876

38.

Landesberg R, Cozin M, Cremers S, Woo V, Kousteni S, Sinha S, Garrett-Sinha L, Raghavan S (2008) Inhibition of oral mucosal cell wound healing by bisphosphonates. J Oral Maxillofac Surg 66:839–847

39.

Zandi M, Dehghan A, Janbaz P, Malekzadeh H, Amini P (2017) The starting point for bisphosphonate-related osteonecrosis of the jaw: alveolar bone or oral mucosa? A randomized, controlled experimental study. J Craniomaxillofac Surg 45:157–161

40.

Vahle JL, Sato M, Long GG, Young JK, Francis PC, Engelhardt JA (2002) Skeletal changes in rats given daily subcutaneous injections of recombinant human parathyroid hormone (1-34) for 2 years and relevance to human safety. Toxicol Pathol 30:312–321

41.

Andrews EB, Gilsenan AW, Midkiff K, Sherrill B, Wu Y, Mann BH, Masica D (2012) The US postmarketing surveillance study of adult osteosarcoma and teriparatide: study design and findings from the first 7 years. J Bone Miner Res 27:2429–2437

42.

Tashjian AH Jr, Gagel RF (2006) Teriparatide [human PTH(1-34)]: 2.5 years of experience on the use and safety of the drug for the treatment of osteoporosis. J Bone Miner Res 21:354–365
Acknowledgements
This study has been adapted from a doctoral thesis at Hamadan University of Medical Sciences.
Funding
The study was funded by the vice-chancellor for Research and Technology, Hamadan University of Medical Sciences (no. 9507134134).
Ethics declarations
Conflict of interest
The authors declare that they have no conflict of interest.
Ethical approval
All applicable international, national, and/or institutional guidelines for the care and use of animals were followed.
Informed consent
For this type of study, formal consent is not required.
Additional information
Publisher's note
Springer Nature remains neutral with regard to jurisdictional claims in published maps and institutional affiliations.
About this article
Cite this article
Zandi, M., Dehghan, A., Amini, P. et al. Evaluation of the effect of teriparatide therapy on mandibular fracture healing in rats with medication-related osteonecrosis of the jaw. Clin Oral Invest 23, 3987–3993 (2019). https://doi.org/10.1007/s00784-019-02830-2
Received:

Accepted:

Published:

Issue Date:
Keywords
Teriparatide

Mandibular fracture

Osteonecrosis

Healing

Rat