Abstract
Objectives
This retrospective study evaluated the visibility, location, and morphology of the primary maxillary ostium (PMO), as well as the presence and number of accessory maxillary ostia (AMO) in the maxillary sinus using cone beam computed tomography (CBCT).
Materials and methods
CBCT scans with a large field of view with both maxillary sinuses entirely visible, acquired from February 2016 to February 2018, were initially screened. Patients were included if there was no history of surgical intervention/trauma in the sinus region. Two observers evaluated the CBCTs for PMO and AMOs independently. PMO and AMOs were evaluated in axial, coronal, and sagittal CBCT views. In case of disagreement, a third observer served as a referee. The findings were correlated with age, gender, condition of the sinus mucosa, and status of the dentition to assess for potential influencing factors.
Results
A total of 184 patients (368 maxillary sinuses) were included. PMO was present and patent in 346 (94.0%) of the 368 analyzed sinuses. Most of the PMOs were located above the attachment of and in the middle third of the inferior turbinate (76.1%) and exhibited a slit shape (71.1%). An AMO was present in 167 (45.5%) of the 368 analyzed sinuses, and 66 (17.9%) sinuses had multiple AMOs. Gender and sinus mucosa morphology were found to be influencing factors for the patency of the PMO. Furthermore, gender seems to be influencing the presence of an AMO.
Conclusions
Most of the analyzed maxillary sinus cavities in the present population had a patent PMO. Being male and having morphological changes of the sinus mucosa were factors associated with a reduced prevalence of a patent PMO.
Clinical relevance
A maxillary sinus with pathological findings of the mucosa seems to have a reduced prevalence of patent PMOs. Therefore, clinicians should take care to assess any clinical and radiographical sign indicating a potential maxillary sinusitis prior to surgical interventions in this region, especially in cases with planned sinus floor elevation.
This is a preview of subscription content, log in to check access.
Access options
Buy single article
Instant access to the full article PDF.
US$ 39.95
Price includes VAT for USA
Subscribe to journal
Immediate online access to all issues from 2019. Subscription will auto renew annually.
US$ 99
This is the net price. Taxes to be calculated in checkout.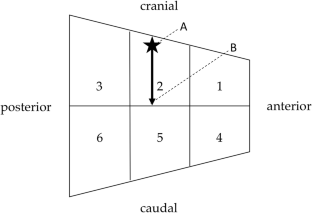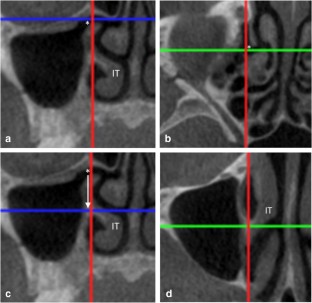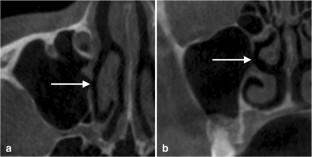 References
1.

Wallace SS, Tarnow DP, Froum SJ, Cho S-C, Zadeh HH, Stoupel J, Del Fabbro M, Testori T (2012) Maxillary sinus elevation by lateral window approach: evolution of technology and technique. J Evid Based Dent Pract 12:161–171

2.

Hauman C, Chandler N, Tong D (2002) Endodontic implications of the maxillary sinus: a review. Int Endod J 35:127–141

3.

Hasegawa T, Tachibana A, Takeda D, Iwata E, Arimoto S, Sakakibara A, Akashi M, Komori T (2016) Risk factors associated with oroantral perforation during surgical removal of maxillary third molar teeth. Oral Maxillofac Surg 20:369–375

4.

Ali IK, Sansare K, Karjodkar FR, Vanga K, Salve P, Pawar AM (2017) Cone-beam computed tomography analysis of accessory maxillary ostium and Haller cells: prevalence and clinical significance. Imaging Sci Dent 47:33–37

5.

Harris D, Horner K, Gröndahl K, Jacobs R, Helmrot E, Benic GI, Bornstein MM, Dawood A, Quirynen M (2012) E.A.O. Guidelines for the use of diagnostic imaging in implant dentistry 2011. A consensus workshop organized by the European Association for Osseointegration at the Medical University of Warsaw. Clin Oral Implants Res 23:1243–1253

6.

Rege IC, Sousa TO, Leles CR, Mendonça EF (2012) Occurrence of maxillary sinus abnormalities detected by cone beam CT in asymptomatic patients. BMC Oral Health 12:30

7.

Timmenga NM, Raghoebar GM, Liem RS, Van Weissenbruch R, Manson WL, Vissink A (2003) Effects of maxillary sinus floor elevation surgery on maxillary sinus physiology. Eur J Oral Sci 111:189–197

8.

Chirilă L, Rotaru C, Filipov I, Săndulescu M (2016) Management of acute maxillary sinusitis after sinus bone grafting procedures with simultaneous dental implants placement–a retrospective study. BMC Infect Dis 16(Suppl 1):94

9.

Kumar H, Choudhry R, Kakar S (2001) Accessory maxillary ostia: topography and clinical application. J Anat Soc India 50:3–5

10.

Sarna A, Hayman LA, Laine FJ, Taber KH (2002) Coronal imaging of the osteomeatal unit: anatomy of 24 variants. J Comput Assist Tomogr 26:153–157

11.

Laine F, Smoker W (1992) The ostiomeatal unit and endoscopic surgery: anatomy, variations, and imaging findings in inflammatory diseases. AJR Am J Roentgenol 159:849–857

12.

Joe JK, Ho SY, Yanagisawa E (2000) Documentation of variations in sinonasal anatomy by intraoperative nasal endoscopy. Laryngoscope 110:229–235

13.

Jones N (2002) CT of the paranasal sinuses: a review of the correlation with clinical, surgical and histopathological findings. Clin Otolaryngol Allied Sci 27:11–17

14.

Prasanna L, Mamatha H (2010) The location of maxillary sinus ostium and its clinical application. Indian J Otolaryngol Head Neck Surg 62:335–337

15.

Bornstein MM, Horner K, Jacobs R (2017) Use of cone beam computed tomography in implant dentistry: current concepts, indications and limitations for clinical practice and research. Periodontol 2000 73:51–72

16.

Schneider AC, Brägger U, Sendi P, Caversaccio MD, Buser D, Bornstein MM (2013) Characteristics and dimensions of the sinus membrane in patients referred for single-implant treatment in the posterior maxilla: a cone beam computed tomographic analysis. Int J Oral Maxillofac Implants 28:587–596

17.

Soikkonen K, Ainamo A (1995) Radiographic maxillary sinus findings in the elderly. Oral Surg Oral Med Oral Pathol Oral Radiol Endod 80:487–491

18.

Yeung AWK, Tanaka R, Khong PL, von Arx T, Bornstein MM (2018) Frequency, location, and association with dental pathology of mucous retention cysts in the maxillary sinus. A radiographic study using cone beam computed tomography (CBCT). Clin Oral Investig 22:1175–1183

19.

Bornstein MM, Yeung AWK, Tanaka R, von Arx T, Jacobs R, Khong PL (2018) Evaluation of health or pathology of bilateral maxillary sinuses in patients referred for cone beam computed tomography using a low-dose protocol. Int J Periodontics Restorative Dent 38:699–710

20.

Landis JR, Koch GG (1977) The measurement of observer agreement for categorical data. Biometrics 33:159–174

21.

Shanbhag S, Karnik P, Shirke P, Shanbhag V (2014) Cone-beam computed tomographic analysis of sinus membrane thickness, ostium patency, and residual ridge heights in the posterior maxilla: implications for sinus floor elevation. Clin Oral Implants Res 25:755–760

22.

Dobele I, Kise L, Apse P, Kragis G, Bigestans A (2013) Radiographic assessment of findings in the maxillary sinus using cone-beam computed tomography. Stomatologija 15:119–122

23.

Carmeli G, Artzi Z, Kozlovsky A, Segev Y, Landsberg R (2011) Antral computerized tomography pre-operative evaluation: relationship between mucosal thickening and maxillary sinus function. Clin Oral Implants Res 22:78–82

24.

Souza AD, Rajagopal KV, Ankolekar VH, Souza ASD, Kotian SR (2016) Anatomy of maxillary sinus and its ostium: a radiological study using computed tomography. CHRISMED J Health Res 3:37–40

25.

May M, Sobol SM, Korzec K (1990) The location of the maxillary os and its importance to the endoscopic sinus surgeon. Laryngoscope 100:1037–1042

26.

Singhal MD, Singhal D (2013) Maxillary sinus ostium - morphology and its clinical relevance. CIBTech J Surg 2:26–29

27.

Van Alyea OE (1936) The ostium maxillare: anatomic study of its surgical accessibility. Arch Otolaryngol 24:553–569

28.

Brook I (2009) Sinusitis. Periodontol 2000(49):126–139

29.

Manor Y, Mardinger O, Bietlitum I, Nashef A, Nissan J, Chaushu G (2010) Late signs and symptoms of maxillary sinusitis after sinus augmentation. Oral Surg Oral Med Oral Pathol Oral Radiol Endod 110:e1–e4

30.

Doud Galli SK, Lebowitz RA, Giacchi RJ, Glickman R, Jacobs JB (2001) Chronic sinusitis complicating sinus lift surgery. Am J Rhinol 15:181–186

31.

Mahajan A, Mahajan A, Gupta K, Verma P, Lalit M (2017) Anatomical variations of accessory maxillary sinus ostium: an endoscopic study. Int J Anat Res 5:3484–3490

32.

Singhal M, Singhal D (2014) Anatomy of accessory maxillary sinus ostium with clinical application. Int J Med Sci Public Health 3:327–329

33.

Vogiatzi T, Kloukos D, Scarfe WC, Bornstein MM (2014) Incidence of anatomical variations and disease of the maxillary sinuses as identified by cone beam computed tomography: a systematic review. Int J Oral Maxillofac Implants 29:1301–1314

34.

Pauwels R, Zhang G, Theodorakou C, Walker A, Bosmans H, Jacobs R, Bogaerts R, Horner K (2014) Effective radiation dose and eye lens dose in dental cone beam CT: effect of field of view and angle of rotation. Br J Radiol 87(1042):20130654

35.

Seals K, Lee E, Cagnon C, Al-Hakim R, Kee S (2016) Radiation-induced cataractogenesis: a critical literature review for the interventional radiologist. Cardiovasc Intervent Radiol 39:151–160

36.

Jaju PP, Jaju SP (2015) Cone-beam computed tomography: time to move from ALARA to ALADA. Imaging Sci Dent 45:263–265

37.

Brugger OE, Bornstein MM, Kuchler U, Janner SF, Chappuis V, Buser D (2015) Implant therapy in a surgical specialty clinic: an analysis of patients, indications, surgical procedures, risk factors, and early failures. Int J Oral Maxillofac Implants 30:151–160
Acknowledgments
The authors are grateful to Ms. Kar Yan Li, Centralised Research Lab, Faculty of Dentistry, The University of Hong Kong, for her valuable assistance regarding the statistical analysis.
Funding
This study has been funded by departmental funds only. No external funding has been received.
Ethics declarations
Conflict of interest
The authors declare that they have no conflict of interest.
Ethical approval
All procedures performed were in accordance with the ethical standards of the institutional and/or national research committee and with the Declaration of Helsinki (2013). The study protocol was submitted to and approved by the local institutional review board (IRB) of the University of Hong Kong/Hospital Authority Hong Kong West Cluster (approval number UW 18-227).
Informed consent
For this type of study (retrospective study) formal consent is not required.
Additional information
Publisher's note
Springer Nature remains neutral with regard to jurisdictional claims in published maps and institutional affiliations.
About this article
Cite this article
Yeung, A.W.K., Colsoul, N., Montalvao, C. et al. Visibility, location, and morphology of the primary maxillary sinus ostium and presence of accessory ostia: a retrospective analysis using cone beam computed tomography (CBCT). Clin Oral Invest 23, 3977–3986 (2019). https://doi.org/10.1007/s00784-019-02829-9
Received:

Accepted:

Published:

Issue Date:
Keywords
Maxillary sinus

Ostium

Cone beam computed tomography

Visibility

Location

Patency