Abstract
Objectives
Medication-related osteonecrosis of the jaws (MRONJ) is a serious condition whose risk factors remain unclear. The aim of this study is to investigate the role of oral health and of dental treatment in the development of MRONJ.
Materials and methods
A case-control study was conducted in Brisbane, Australia. Hospital records were used to identify incident cases of MRONJ between January 2010 and March 2017. Cases were individually matched to up to 3 controls according to age, sex, primary disease, and type of antiresorptive therapy. Demographic data, medical histories and public dental records were collected. Associations between oral health, dental treatment, and MRONJ were investigated using conditional logistic regression.
Results
Overall, 44 cases were identified and matched to 115 controls (total sample = 159). Only one-third of patients received a dental examination in the year prior to commencing antiresorptive therapy (27% of cases and 34% of controls). After adjusting for potentially confounding variables, non-surgical dental treatment (OR = 6.3; 95% CI = 2.1, 19.1; p < 0.001) and dental extractions (OR = 8.0; 95% CI = 3.0, 21.0, p < 0.001) were significantly associated with development of MRONJ.
Conclusions
Current levels of preventative dental care are insufficient to eliminate the need for dental treatment and extractions during antiresorptive therapy, and the consequent increase in risk of MRONJ.
Clinical relevance
Optimizing the health of the oral cavity and ongoing preventative dental care must be a priority for patients prior to the initiation of antiresorptive medications.
This is a preview of subscription content, log in to check access.
Access options
Buy single article
Instant access to the full article PDF.
US$ 39.95
Price includes VAT for USA
Subscribe to journal
Immediate online access to all issues from 2019. Subscription will auto renew annually.
US$ 99
This is the net price. Taxes to be calculated in checkout.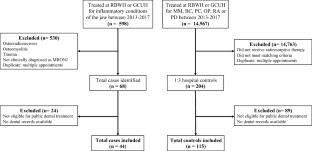 References
1.

Ruggiero SL, Dodson TB, Fantasia J, Goodday R, Aghaloo T, Mehrotra B, O'Ryan F (2014) American Association of Oral and Maxillofacial Surgeons position paper on medication-related osteonecrosis of the jaw—2014 update. J Oral Maxillofac Surg 72(10):1938–1956

2.

Yoneda T, Hagino H, Sugimoto T, Ohta H, Takahashi S, Soen S, Taguchi A, Toyosawa S, Nagata T, Urade M (2010) Bisphosphonate-related osteonecrosis of the jaw: position paper from the allied task force committee of Japanese society for bone and mineral research, Japan osteoporosis society, Japanese society of periodontology, Japanese society for oral and maxillofacial radiology, and Japanese society of oral and maxillofacial surgeons. J Bone Miner Metab 28(4):365–383

3.

Niibe K, Ouchi T, Iwasaki R, Nakagawa T, Horie N (2015) Osteonecrosis of the jaw in patients with dental prostheses being treated with bisphosphonates or denosumab. J Prosthodont Res 59(1):3–5

4.

Sedghizadeh PP, Kumar SK, Gorur A, Schaudinn C, Shuler CF, Costerton JW (2008) Identification of microbial biofilms in osteonecrosis of the jaws secondary to bisphosphonate therapy. J Oral Maxillofac Surg 66(4):767–775

5.

McGowan K, McGowan T, Ivanovski S (2018) Risk factors for medication-related osteonecrosis of the jaws: a systematic review. Oral Dis 24(4):527–536

6.

Vahtsevanos K, Kyrgidis A, Verrou E, Katodritou E, Triaridis S, Andreadis CG, Boukovinas I, Koloutsos GE, Teleioudis Z, Kitikidou K (2009) Longitudinal cohort study of risk factors in cancer patients of bisphosphonate-related osteonecrosis of the jaw. J Clin Oncol 27(32):5356–5362

7.

Jadu F, Lee L, Pharoah M, Reece D, Wang L (2007) A retrospective study assessing the incidence, risk factors and comorbidities of pamidronate-related necrosis of the jaws in multiple myeloma patients. Ann Oncol 18(12):2015–2019

8.

Hoff AO, Toth BB, Altundag K, Johnson MM, Warneke CL, Hu M, Nooka A, Sayegh G, Guarneri V, Desrouleaux K (2008) Frequency and risk factors associated with osteonecrosis of the jaw in cancer patients treated with intravenous bisphosphonates. J Bone Miner Res 23(6):826–836

9.

Hasegawa T, Kawakita A, Ueda N, Funahara R, Tachibana A, Kobayashi M, Kondou E, Takeda D, Kojima Y, Sato S (2017) A multicenter retrospective study of the risk factors associated with medication-related osteonecrosis of the jaw after tooth extraction in patients receiving oral bisphosphonate therapy: can primary wound closure and a drug holiday really prevent MRONJ? Osteoporos Int 28(8):2465–2473

10.

Tsao C, Darby I, Ebeling PR, Walsh K, O'Brien-Simpson N, Reynolds E, Borromeo G (2013) Oral health risk factors for bisphosphonate-associated jaw osteonecrosis. J Oral Maxillofac Surg Surg 71(8):1360–1366

11.

Barasch A, Cunha-Cruz J, Curro F, Hujoel P, Sung A, Vena D, Voinea-Griffin A, Group CC (2011) Risk factors for osteonecrosis of the jaws: a case-control study from the CONDOR dental PBRN. J Dent Res 90(4):439–444

12.

Estilo CL, Van Poznak CH, Wiliams T, Bohle GC, Lwin PT, Zhou Q, Riedel ER, Carlson DL, Schoder H, Farooki A (2008) Osteonecrosis of the maxilla and mandible in patients with advanced cancer treated with bisphosphonate therapy. Oncologist 13(8):911–920

13.

Matsui A, Kurihara J, Morishima H, Suzuki H, Sato S, Yamauchi K, Takahashi T (2015) Medication related osteonecrosis of the jaw (MRONJ): a retrospective survey of a series of patients treated according to the AAOMS guidelines. J Oral Maxillofac Surg Med Pathol 27(6):757–763

14.

Von Elm E, Altman DG, Egger M, Pocock SJ, Gøtzsche PC, Vandenbroucke JP, Initiative S (2007) The Strengthening the Reporting of Observational Studies in Epidemiology (STROBE) statement: guidelines for reporting observational studies. Prev Med 45(4):247–251

15.

Ripamonti C, Maniezzo M, Campa T, Fagnoni E, Brunelli C, Saibene G, Bareggi C, Ascani L, Cislaghi E (2008) Decreased occurrence of osteonecrosis of the jaw after implementation of dental preventive measures in solid tumour patients with bone metastases treated with bisphosphonates. The experience of the National Cancer Institute of Milan. Ann Oncol 20(1):137–145

16.

Australian Bureau of Statistics [ABS], Census of population and housing: Socio-economic indexes for areas (SEIFA), Australia, 2016. Canberra: Australian Bureau of Statistic, 2018. [Updated 2018 March 27; cited 2018 July 30]. Available from: http://www.abs.gov.au/ausstats/abs@.nsf/mf/2033.0.55.001

17.

Dimopoulos M, Kastritis E, Bamia C, Melakopoulos I, Gika D, Roussou M, Migkou M, Eleftherakis-Papaiakovou E, Christoulas D, Terpos E (2008) Reduction of osteonecrosis of the jaw (ONJ) after implementation of preventive measures in patients with multiple myeloma treated with zoledronic acid. Ann Oncol 20(1):117–120

18.

Mücke T, Deppe H, Hein J, Wolff KD, Mitchell DA, Kesting MR, Retz M, Gschwend JE, Thalgott M (2016) Prevention of bisphosphonate-related osteonecrosis of the jaws in patients with prostate cancer treated with zoledronic acid – a prospective study over 6 years. J Craniomaxillofac Surg 44(10):1689–1693

19.

Khan AA, Morrison A, Hanley DA, Felsenberg D, McCauley LK, O'Ryan F, Reid IR, Ruggiero SL, Taguchi A, Tetradis S (2015) Diagnosis and management of osteonecrosis of the jaw: a systematic review and international consensus. J Bone Miner Res 30(1):3–23

20.

Sambrook PN, Chen JS, Simpson JM, March LM (2010) Impact of adverse news media on prescriptions for osteoporosis: effect on fractures and mortality. Med J Aust 193(3):154–156

21.

Chan BH, Yee R, Puvanendran R, Ang S (2018) Medication-related osteonecrosis of the jaw in osteoporotic patients: prevention and management. Singap Med J 59(2):70–75

22.

Toh CL, Dutton A (2018) Comment on: medication-related osteonecrosis of the jaw in osteoporotic patients: prevention and management. Singap Med J 59(5):287
Ethics declarations
Conflict of interest
K McGowan has received a speaker honorarium from Eli Lilly. RS Ware declares that he has no conflict of interest. C Acton declares that she has no conflict of interest. S Ivanovski declares that he has no conflict of interest. NW Johnson declares that he has no conflict of interest.
Ethical approval
All procedures performed in studies involving human participants were in accordance with the ethical standards of the institutional and/or national research committee and with the 1964 Helsinki declaration and its later amendments or comparable ethical standards.
Informed consent
For this type of study, formal consent is not required.
Additional information
Publisher's note
Springer Nature remains neutral with regard to jurisdictional claims in published maps and institutional affiliations.
Electronic supplementary material
About this article
Cite this article
McGowan, K., Ware, R.S., Acton, C. et al. Both non-surgical dental treatment and extractions increase the risk of medication-related osteonecrosis of the jaw: case-control study. Clin Oral Invest 23, 3967–3975 (2019). https://doi.org/10.1007/s00784-019-02828-w
Received:

Accepted:

Published:

Issue Date:
Keywords
Risk assessment

Bone density conservation agents

Cancer

Osteoporosis

Dental procedure

Preventative dentistry