Abstract
Objectives
The aim of the present in vitro study was to determine the ability of Diagnocam to detect caries at an early stage and to compare it with digital radiography.
Materials and methods
One hundred twenty proximal surfaces composed equally of sound and decayed surfaces were evaluated by assessing images captured with Diagnocam (Kavo, Biberach, Germany) and digital radiography (DR). All images were assessed twice by two calibrated dentists with a minimum interval of 2 weeks between examinations. The results were compared with μCT scans.
Results
Inter-rater reliability showed nearly perfect agreement; a high intra-rater reliability was calculated. Spearman's rank correlation coefficients showed a strong correlation of Diagnocam and μCT (0.82). DR and μCT achieved a slightly lower correlation (0.73). The surfaces were categorized into sound surfaces, enamel lesions, and dentin lesions to determine intraclass correlation coefficients (ICCs), sensitivity and specificity. ICCs between μCT and DR ranged from 0.20 to 0.63. ICCs between Diagnocam and DR were higher in all categories and ranged from 0.56 to 0.83. Sensitivity, specificity, and accuracy of Diagnocam achieved mostly higher values than DR. In detecting enamel lesions, sensitivity was 0.36 for DR and 0.59 for the DC. The areas under the receiver operating characteristic (ROC) curves of Diagnocam were larger than those of DR in all categories.
Conclusions
Diagnocam is more capable of detecting initial proximal lesions than DR and also has a higher sensitivity for dentin lesions. However, caries progression in dentin cannot be reliably determined with Diagnocam.
Clinical relevance
Diagnocam may be suitable as a supplement to X-ray diagnostics in clinical use.
This is a preview of subscription content, log in to check access.
Access options
Buy single article
Instant access to the full article PDF.
US$ 39.95
Price includes VAT for USA
Subscribe to journal
Immediate online access to all issues from 2019. Subscription will auto renew annually.
US$ 99
This is the net price. Taxes to be calculated in checkout.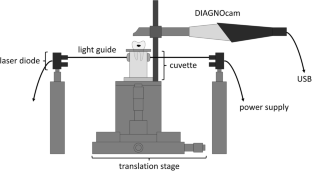 Notes
1.

Carivu corresponds to the Diagnocam distributed in Europe but uses a different software.
References
1.

Poorterman JH, Aartman IH, Kalsbeek H (1999) Underestimation of the prevalence of approximal caries and inadequate restorations in a clinical epidemiological study. Community Dent Oral Epidemiol 27(5):331–337

2.

Poorterman JH, Aartman IH, Kieft JA, Kalsbeek H (2002) Klinische onderschatting van de prevalentie van approximale dentinelaesies en inadequate restauraties (Clinical underestimation of the prevalence of approximal dentin lesions and inadequate restorations). Ned Tijdschr Tandheelkd 109(2):47–50

3.

Schwendicke F, Tzschoppe M, Paris S (2015) Radiographic caries detection: a systematic review and meta-analysis. J Dent 43(8):924–933. https://doi.org/10.1016/j.jdent.2015.02.009

4.

Buhler C, Ngaotheppitak P, Fried D (2005) Imaging of occlusal dental caries (decay) with near-IR light at 1310-nm. Opt Express 13(2):573–582

5.

Jones R, Huynh G, Jones G, Fried D (2003) Near-infrared transillumination at 1310-nm for the imaging of early dental decay. Opt Express 11(18):2259–2265

6.

Darling CL, Huynh GD, Fried D (2006) Light scattering properties of natural and artificially demineralized dental enamel at 1310 nm. J Biomed Opt 11(3):34023. https://doi.org/10.1117/1.2204603

7.

Fried D, Glena RE, Featherstone JD, Seka W (1995) Nature of light scattering in dental enamel and dentin at visible and near-infrared wavelengths. Appl Opt 34(7):1278–1285. https://doi.org/10.1364/AO.34.001278

8.

Abdelaziz M, Krejci I (2015) DIAGNOcam--a near infrared digital imaging transillumination (NIDIT) technology. Int J Esthet Dent 10(1):158–165

9.

Söchtig F, Hickel R, Kühnisch J (2014) Caries detection and diagnostics with near-infrared light transillumination: clinical experiences. Quintessence Int 45(6):531–538. https://doi.org/10.3290/j.qi.a31533

10.

Abdelaziz M, Krejci I, Perneger T, Feilzer A, Vazquez L (2018) Near infrared transillumination compared with radiography to detect and monitor proximal caries: a clinical retrospective study. J Dent 70:40–45. https://doi.org/10.1016/j.jdent.2017.12.008

11.

Kühnisch J, Söchtig F, Pitchika V, Laubender R, Neuhaus KW, Lussi A, Hickel R (2016) In vivo validation of near-infrared light transillumination for interproximal dentin caries detection. Clin Oral Investig 20(4):821–829. https://doi.org/10.1007/s00784-015-1559-4

12.

Baltacioglu IH, Orhan K (2017) Comparison of diagnostic methods for early interproximal caries detection with near-infrared light transillumination: an in vivo study. BMC Oral Health 17(1):130. https://doi.org/10.1186/s12903-017-0421-2

13.

Berg SC, Stahl JM, Lien W, Slack CM, Vandewalle KS (2018) A clinical study comparing digital radiography and near-infrared transillumination in caries detection. J Esthet Restor Dent 30(1):39–44. https://doi.org/10.1111/jerd.12346

14.

Ozkan G, Guzel KGU (2017) Clinical evaluation of near-infrared light transillumination in approximal dentin caries detection. Lasers Med Sci 32(6):1417–1422. https://doi.org/10.1007/s10103-017-2265-z

15.

Simon JC, Lucas SA, Staninec M, Tom H, Chan KH, Darling CL, Cozin MJ, Lee RC, Fried D (2016) Near-IR transillumination and reflectance imaging at 1,300 nm and 1,500-1,700 nm for in vivo caries detection. Lasers Surg Med 48(9):828–836. https://doi.org/10.1002/lsm.22549

16.

Abogazalah N, Eckert GJ, Ando M (2017) In vitro performance of near infrared light transillumination at 780-nm and digital radiography for detection of non-cavitated approximal caries. J Dent 63:44–50. https://doi.org/10.1016/j.jdent.2017.05.018

17.

Banting D, Eggertsson H, Ekstrand K, Zandoná AF, Ismail A, Longbottom C, Pitts N, Reich E, Ricketts D, Selwitz R (2005) Rationale and evidence for the international caries detection and assessment system (ICDAS II). Ann Arbor 1001:48109–41078

18.

Marthaler TM (1966) A standardized system of recording dental conditions. Helv Odontol Acta 10(1):1–18

19.

Lederer A, Kunzelmann KH, Hickel R, Litzenburger F (2018) Transillumination and HDR imaging for proximal caries detection. J Dent Res 22034518759957:844–849. https://doi.org/10.1177/0022034518759957

20.

Riechert F, Bastian G, Lemmer U (2009) Laser speckle reduction via colloidal-dispersion-filled projection screens. Appl Opt 48(19):3742–3749. https://doi.org/10.1364/AO.48.003742

21.

Schindelin J, Arganda-Carreras I, Frise E, Kaynig V, Longair M, Pietzsch T, Preibisch S, Rueden C, Saalfeld S, Schmid B, Tinevez J-Y, White DJ, Hartenstein V, Eliceiri K, Tomancak P, Cardona A (2012) Fiji: an open-source platform for biological-image analysis. Nat Methods 9(7):676–682 https://www.nature.com/articles/nmeth.2019#supplementary-information. Accessed 21 Jan 2019

22.

Kunzelmann KH (2012) ImageJ I/O utilities. http://www.kunzelmann.de/6_software-imagej-import-export-utilities.html. Accessed 8 August 2018

23.

Landis JR, Koch GG (1977) The measurement of observer agreement for categorical data. Biometrics 33(1):159–174

24.

Matsuda YHT, Seki K, Araki K, Okano T (2002) Comparison between RVG UI sensor and Kodak InSight film for detection of incipient proximal caries. Oral Radiol 18(2):41–47

25.

Shahmoradi M, Swain MV (2017) Micro-CT analysis of naturally arrested brown spot enamel lesions. J Dent 56:105–111. https://doi.org/10.1016/j.jdent.2016.11.007

26.

Ozkan G, Kanli A, Baseren NM, Arslan U, Tatar I (2015) Validation of micro-computed tomography for occlusal caries detection: an in vitro study. Braz Oral Res 29(1):S1806-83242015000100309. https://doi.org/10.1590/1807-3107BOR-2015.vol29.0132

27.

Soviero VM, Leal SC, Silva RC, Azevedo RB (2012) Validity of MicroCT for in vitro detection of proximal carious lesions in primary molars. J Dent 40(1):35–40. https://doi.org/10.1016/j.jdent.2011.09.002

28.

Haiter-Neto F, dos Anjos Pontual A, Frydenberg M, Wenzel A (2008) Detection of non-cavitated approximal caries lesions in digital images from seven solid-state receptors with particular focus on task-specific enhancement filters. An ex vivo study in human teeth. Clin Oral Investig 12(3):217–223. https://doi.org/10.1007/s00784-007-0173-5

29.

Wenzel A, Hintze H (1999) The choice of gold standard for evaluating tests for caries diagnosis. Dentomaxillofac Radiol 28(3):132–136. https://doi.org/10.1259/dmfr.28.3.10740465

30.

Khan EA, Tyndall DA, Caplan D (2004) Extraoral imaging for proximal caries detection: bitewings vs scanogram. Oral Surg Oral Med Oral Pathol Oral Radiol Endod 98(6):730–737. https://doi.org/10.1016/S107921040400544X

31.

Espelid I, Tveit AB (1984) Radiographic diagnosis of mineral loss in approximal enamel. Caries Res 18(2):141–148

32.

Kienle A, Michels R, Hibst R (2006) Magnification--a new look at a long-known optical property of dentin. J Dent Res 85(10):955–959. https://doi.org/10.1177/154405910608501017

33.

Moritz A, Beer F (2006) Orale Lasertherapie. Quintessenz-Verlag, Berlin
Funding
The work was supported by the Department of Conservative Dentistry and Periodontology of the University Hospital of the LMU Munich.
Ethics declarations
Conflict of interest
The authors declare that they have no conflict of interest.
Ethical approval
This article does not contain any studies with human participants or animals performed by any of the authors. All experimental procedures were approved by the Ethics Committee of the Faculty of Medicine of the Ludwig Maximilians University in Munich, Germany (488-15 UE).
Informed consent
For this type of study, formal consent is not required.
Additional information
Publisher's note
Springer Nature remains neutral with regard to jurisdictional claims in published maps and institutional affiliations.
About this article
Cite this article
Lederer, A., Kunzelmann, K., Heck, K. et al. In vitro validation of near-infrared transillumination at 780 nm for the detection of caries on proximal surfaces. Clin Oral Invest 23, 3933–3940 (2019). https://doi.org/10.1007/s00784-019-02824-0
Received:

Accepted:

Published:

Issue Date:
Keywords
Transillumination

Near-infrared light

Proximal caries

Caries detection

X-ray microtomography

In vitro