Abstract
Objective
Due to an increased focus on erosive tooth wear (ETW), the European Federation of Conservative Dentistry (EFCD) considered ETW as a relevant topic for generating this consensus report.
Materials and methods
This report is based on a compilation of the scientific literature, an expert conference, and the approval by the General Assembly of EFCD.
Results
ETW is a chemical-mechanical process resulting in a cumulative loss of hard dental tissue not caused by bacteria, and it is characterized by loss of the natural surface morphology and contour of the teeth. A suitable index for classification of ETW is the basic erosive wear examination (BEWE). Regarding the etiology, patient-related factors include the pre-disposition to erosion, reflux, vomiting, drinking and eating habits, as well as medications and dietary supplements. Nutritional factors relate to the composition of foods and beverages, e.g., with low pH and high buffer capacity (major risk factors), and calcium concentration (major protective factor). Occupational factors are exposition of workers to acidic liquids or vapors. Preventive management of ETW aims at reducing or stopping the progression of the lesions. Restorative management aims at reducing symptoms of pain and dentine hypersensitivity, or to restore esthetic and function, but it should only be used in conjunction with preventive strategies.
Conclusions
Effective management of ETW includes screening for early signs of ETW and evaluating all etiological factors.
Clinical Relevance
ETW is a clinical condition, which calls for the increased attention of the dental community and is a challenge for the cooperation with other medical specialities.
Access options
Buy single article
Instant access to the full article PDF.
USD 39.95
Price includes VAT (USA)
Tax calculation will be finalised during checkout.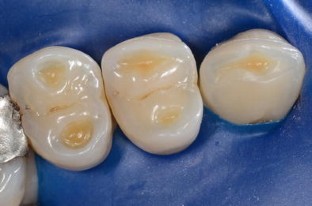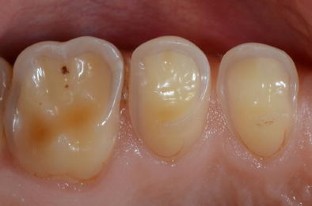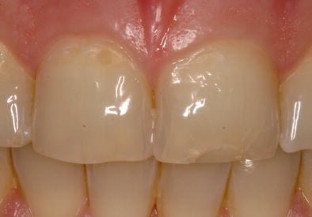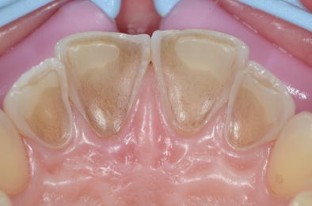 References
1.

Weyant RJ, Tracy SL, Anselmo TT, Beltrán-Aguilar ED, Donly KJ, Frese WA, Hujoel PP, Iafolla T, Kohn W, Kumar J, Levy SM, Tinanoff N, Wright JT, Zero D, Aravamudhan K, Frantsve-Hawley J, Meyer DM, American Dental Association Council on Scientific Affairs Expert Panel on Topical Fluoride Caries Preventive Agents (2013) Topical fluoride for caries prevention: executive summary of the updated clinical recommendations and supporting systematic review. J Am Dent Assoc 144:1279–1291

2.

Jaeggi T, Lussi A (2014) Prevalence, incidence and distribution of erosion. In: Lussi A, Ganss C (eds) Erosive tooth wear—from diagnosis to therapy, Monographs in Oral Science vol 25. Karger, Basel, pp 55–73. doi: 10.1159/000360973

3.

Bartlett D, Lussi A, West N, Bouchard P, Sanz M, Bourgeois D (2013) Prevalence of tooth wear on buccal and lingual surfaces and possible risk factors in young European adults. J Dent 41:1007–1013. doi:10.1016/j.jdent.2013.08.018

4.

Lussi A, Ganss C (eds) (2014) Erosive tooth wear—from diagnosis to therapy, 2nd edn, vol 25. Karger, Basel

5.

Smith BG, Knight JK (1984) An index for measuring the wear of teeth. Br Dent J 156:435–438

6.

Bartlett D, Ganss C, Lussi A (2008) Basic Erosive Wear Examination (BEWE): a new scoring system for scientific and clinical needs. Clin Oral Investig 12(Suppl 1):S65–S68. doi:10.1007/s00784-007-0181-5

7.

Salas MM, Nascimento GG, Vargas-Ferreira F, Tarquinio SB, Huysmans MC, Demarco FF (2015) Diet influenced tooth erosion prevalence in children and adolescents: results of a meta-analysis and meta-regression. J Dent. doi:10.1016/j.jdent.2015.05.012
Acknowledgments
The consensus conference was funded by EFCD and the Department of Preventive, Restorative, and Pediatric Dentistry, University of Bern, Switzerland.
Additional information
All authors contributed equally to this work. Names merely appear in alphabetical order.
About this article
Cite this article
Carvalho, T.S., Colon, P., Ganss, C. et al. Consensus report of the European Federation of Conservative Dentistry: erosive tooth wear—diagnosis and management. Clin Oral Invest 19, 1557–1561 (2015). https://doi.org/10.1007/s00784-015-1511-7
Received:

Accepted:

Published:

Issue Date:
Keywords
Dental erosion

Diagnosis

Etiology

Preventive measures

Restorative therapy