Abstract
With the rapid development of modern medical technology and imaging technology, neuromyelitis optica has attracted more and more attention of medical workers. However, this central nervous disease, which affects the optic nerve and spinal cord, still afflicts many people. And the recurrence rate of this disease is very high, so that many patients become disabled, it is difficult to fundamentally cure. In this paper, according to the imaging characteristics and clinical manifestations of neuromyelitis optica, we collected experimental samples and related data of neuromyelitis optica patients in the Department of Neurology of our hospital. We selected 60 patients who were diagnosed as the research object of this paper, analyzed the relevant situation of brain lesions of neuromyelitis optica, and discussed their age, gender, first symptom, and shadow imaging features and clinical manifestations. This article hopes to analyze the imaging features and clinical manifestations of neuromyelitis optica brain lesions, use clinical features with differentiating evidence to guide clinical diagnosis, and effectively reduce the probability of clinical misdiagnosis. In addition, 20 patients were randomly followed up to understand their remaining symptoms and recurrence. The results of autoantibodies associated with other autoimmune diseases are more likely to be associated with other autoimmune diseases. Brain, skin, subcutaneous, and brain injuries can be areas with multiple sclerosis characteristics different from myositis. Patients with neuromyelitis optica do not have the special phenomenon of lesions perpendicular to the lateral ventricle. The medulla oblongata, pontine, and paraventricular involvement were the most common imaging features, and were also found in the fourth ventricle, around the aqueduct, basal ganglia, and corpus callosum.
Access options
Buy single article
Instant access to the full article PDF.
US$ 39.95
Tax calculation will be finalised during checkout.
Subscribe to journal
Immediate online access to all issues from 2019. Subscription will auto renew annually.
US$ 79
Tax calculation will be finalised during checkout.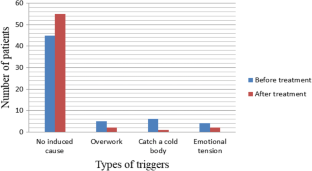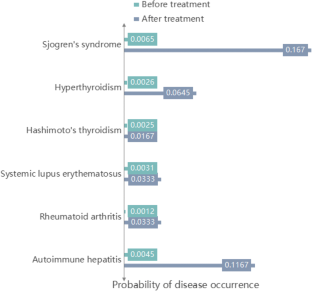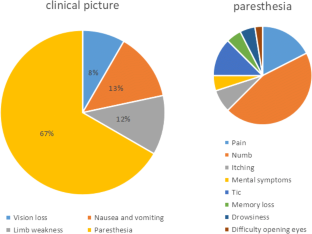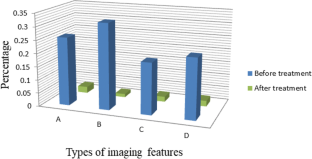 References
1.

Gakhal MS, Marcotte GV (2015) Hereditary angioedema: imaging manifestations and clinical management. Emerg Radiol 22(1):83–90

2.

Rajapakse S (2017) Weeratunga, Praveen, Sivayoganathan, Sriharan, Fernando, Sumadhya Deepika. Clinical manifestations of scrub typhus. Trans R Soc Trop Med Hyg 111(2):43–54

3.

Ntali G, Grossman A, Karavitaki N (2015) Clinical and biochemical manifestations of Cushing's. Pituitary 18(2):181–187

4.

Fang H, Gao L, Wang Y, Jin Y, Lv Y, Yao Z, Zhang J (2018) Clinical and imaging features of granular cell tumor of the neurohypophysis. Medicine 97(9):e9745

5.

Wang Y, Wang J (2015) Clinical and imaging features in different inner border-zone infarct patterns. Int J Neurosci 125(3):208–212

6.

Huimiao L, Dong C, Zhang Y-Z, Tian Y-Y, Chen H-X, Zhang S, Li N, Gu P (2017) Clinical and imaging features of spinal cord type of neuro Beh?et disease. Medicine 96(40):e7958

7.

Edwards K, Tsai S-H, Kothari A (2018) Clinical and imaging features of abdominal wall endometriomas. Australasian Journal of Ultrasound in Medicine 21(1):24–28

8.

Shaaban AM, Rezvani M, Haroun RR, Kennedy AM, Elsayes KM, Olpin JD, Salama ME, Foster BR, Menias CO (2017) Gestational trophoblastic disease: clinical and imaging features. RadioGraphics 37(2):681–700

9.

Aydın H, Yologlu Z, Sargın H, Metin MR (2015) Parry-Romberg syndrome. Physical, clinical, and imaging features. Neurosciences 20(4):368–371

10.

Saat R, Laulajainen-Hongisto AH, Mahmood G, Lempinen LJ, Aarnisalo AA, Markkola AT, Jero JP (2015) MR Imaging features of acute mastoiditis and their clinical relevance. Am J Neuroradiol 36(2):361–367

11.

Ramsawak L, Whittam D, Till D, Poitelea M, Howlett DC (2016) Isolated thrombosis of the vein of Labbe – Clinical and imaging features. Journal of Acute Medicine 6(3):73–75

12.

Gul M, Katz J, Chaudhry AA, Hannah-Shmouni F, Skarulis M, Cochran CS (2016) Rheumatologic and imaging manifestations of thyroid acropachy. Arthritis & Rheumatology 68(7):1636–1636

13.

Fan Z, Xu F, Li C, Yao L (2020) Application of KPCA and AdaBoost algorithm in classification of functional magnetic resonance imaging of Alzheimer's disease. Neural Comput & Applic 32:5329–5338

14.

Morilla I (2020) A deep learning approach to evaluate intestinal fibrosis in magnetic resonance imaging models. Neural Comput & Applic 32:14865–14874

15.

Bollemeijer JG, Wieringa WG, Missotten Tom OAR, Ina M, ten Dam-van Loon Ninette H, Aniki R, Los Leonoor I (2016) Clinical manifestations and outcome of syphilitic uveitis. Investigative Opthalmology & Visual Science 57(2):404–411

16.

Wong VK, Lubner MG, Menias CO, Mellnick VM, Kennedy TA, Bhalla S, Pickhardt PJ (2017) Clinical and imaging features of noncutaneous melanoma. Am J Roentgenol 208(5):942–959

17.

Acharya UR, Meiburger KM, Koh JEW, Hagiwara Y, Oh SL, Leong SS, Ciaccio EJ, Wong JHD, Shah MNM, Molinari F, Ng KH (2020) Automated detection of chronic kidney disease using higher-order features and elongated quinary patterns from B-mode ultrasound images. Neural Comput & Applic 32:11163–11172

18.

Yong HS, Ha KG (2016) Clinical manifestations of laryngopharyngeal reflux. Journal of Neurogastroenterology and Motility 22(3):351–352

19.

Yang I, Ung N, Chung LK, Nagasawa DT, Thill K, Park J, Tenn S (2015) Clinical manifestations of central neurocytoma. Neurosurg Clin N Am 26(1):5–10

20.

Escalon JG, Lynch DA (2018) Imaging features of sarcoidosis. QJM: An International Journal of Medicine 111(9):649–651

21.

Pawha PS, Chokshi FH (2016) Imaging of spinal manifestations of hematological disorders. Hematology/Oncology Clinics of North America 30(4):921–944

22.

Hora R (2016) Kapoor, Payal, Thind, Kirandeep Kaur, Mishra, Prakash Chandra.Cerebral malaria – clinical manifestations and pathogenesis. Metab Brain Dis 31(2):225–237

23.

Lamberti A, Miracco C, Scaramuzzino F, Cinotti E, Rubegni P, Fimiani M (2018) Rare clinical manifestations of leukemia cutis. J Cutan Pathol 45(10):799–801

24.

Wang X, Li X, Chen X, Cao C (2020) Diagnosis model of pancreatic cancer based on fusion of distribution estimation algorithm and genetic algorithm. Neural Comput & Applic 32:5425–5434

25.

Lawal M, Omobayo H, Lawal K (2018) Epilepsy: pathophysiology, clinical manifestations and treatment options. Br J Neurosci Nurs 14(2):58–72
Ethics declarations
Competing interests
There are no potential competing interests in our paper. And all authors have seen the manuscript and approved to submit to your journal. We confirm that the content of the manuscript has not been published or submitted for publication elsewhere.
Additional information
Publisher's note
Springer Nature remains neutral with regard to jurisdictional claims in published maps and institutional affiliations.
About this article
Cite this article
Li, J., Guo, J. & Zhao, X. Imaging features and clinical manifestations of neuromyelitis optica. Pers Ubiquit Comput (2021). https://doi.org/10.1007/s00779-021-01534-3
Received:

Accepted:

Published:
Keywords
Neuromyelitis optica

Brain lesions

Imaging features

Clinical manifestations

Detection of anti AQP4 antibody