Abstract
Blockchain technology can solve current interoperability challenges in health information systems and provide the technical standard which ensures a secure sharing of electronic health data between individuals, healthcare providers, medical care institutions, and medical experts. In healthcare management, IoMT devices can deliver real-time sensory data from patients to be analyzed and processed. In IoMT devices within a range of product areas, the confidentiality of patients' health data transmission and privacy is still a big problem. In this paper, the Multi-Modal Secure Data Dissemination Framework (MMSDDF) has been proposed based on blockchain in IoMT for secure patient data access and control. To meet the optimized security and privacy requirements of healthcare data management in IoMT devices, the proposed framework is effectively employed. Blockchain's key has been used to a healthcare application network where the patient's health data can create warnings that are significant to authenticated healthcare providers securely. The simulation outcomes show that the suggested MMSDDF method achieves a high accuracy ratio of 95.8%, a prediction ratio of 92.3%, less delay of 0.48 s, latency range of 0.5, and response time of 1.5% to other existing methods.
Access options
Buy single article
Instant access to the full article PDF.
US$ 39.95
Tax calculation will be finalised during checkout.
Subscribe to journal
Immediate online access to all issues from 2019. Subscription will auto renew annually.
US$ 79
Tax calculation will be finalised during checkout.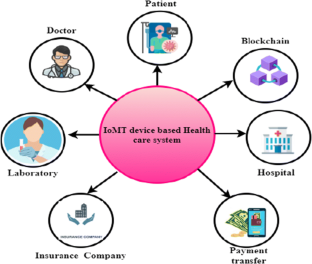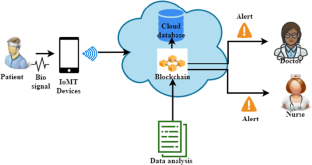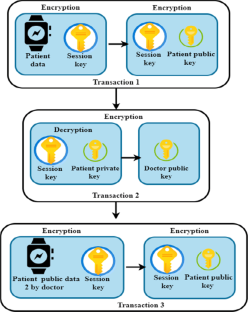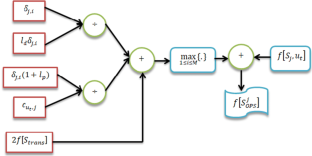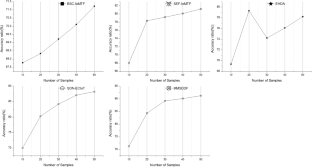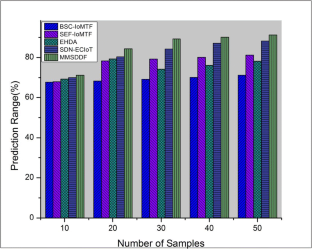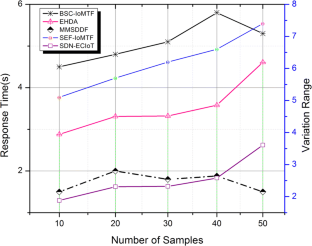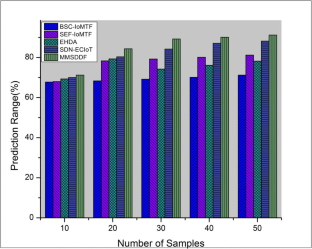 References
1.

Girardi F, De Gennaro G, Colizzi L, Convertini N (2020) Improving the Healthcare Effectiveness: The Possible Role of EHR, IoMT, and Blockchain. Electronics 9(6):884

2.

Manogaran G, Rawal BS, Saravanan V, Kumar PM, Martínez OS, Crespo RG, Montenegro-Marin CE, Krishnamoorthy S (2020) Blockchain based integrated security measure for reliable service delegation in 6G communication environment. Comput Commun 161:248–256

3.

Singh P, Singh N (2020) Blockchain With IoT and AI: A Review of Agriculture and Healthcare. Int J Appl Evol Comput (IJAEC) 11(4):13–27

4.

Manogaran G, Chilamkurti N, Hsu CH (2018) Emerging trends, issues, and challenges in Internet of Medical Things and wireless networks. Pers Ubiquit Comput 22(5-6):879–882

5.

Jamil F, Ahmad S, Iqbal N, Kim DH (2020) Towards a Remote Monitoring of Patient Vital Signs Based on IoT-Based Blockchain Integrity Management Platforms in Smart Hospitals. Sensors 20(8):2195

6.

Hakak S, Khan WZ, Gilkar GA, Assiri B, Alazab M, Bhattacharya S, Reddy GT (2020) Recent advances in Blockchain Technology: A survey on Applications and Challenges. arXiv preprint arXiv:2009.05718

7.

Xiong Z, Zhang Y, Luong NC, Niyato D, Wang P, Guizani N (2020) The best of both worlds: A general architecture for data management in blockchain-enabled Internet-of-Things. IEEE Netw 34(1):166–173

8.

Muthu B, Sivaparthipan CB, Manogaran G, Sundarasekar R, Kadry S, Shanthini A, Dasel A (2020) IOT based wearable sensor for diseases prediction and symptom analysis in healthcare sector. Peer-to-peer Netw Appl 1–12

9.

Sekaran R, Patan R, Raveendran A, Al-Turjman F, Ramachandran M, Mostarda L (2020) Survival Study on Blockchain Based 6G-Enabled Mobile Edge Computation for IoT Automation. IEEE Access 8:143453–143463

10.

Kurdi H, Alsalamah S, Alatawi A, Alfaraj S, Altoaimy L, Ahmed SH (2019) Healthybroker: A trustworthy blockchain-based multi-cloud broker for patient-centered ehealth services. Electronics 8(6):602

11.

Satamraju KP (2020) Proof of Concept of Scalable Integration of Internet of Things and Blockchain in Healthcare. Sensors 20(5):1389

12.

Al-Turjman F, Zahmatkesh H, Mostarda L (2019) Quantifying uncertainty in internet of medical things and big-data services using intelligence and deep learning. IEEE Access 7:115749–115759

13.

Singh S, Sharma PK, Yoon B, Shojafar M, Cho GH, Ra IH (2020) Convergence of blockchain and artificial intelligence in IoT network for the sustainable smart city. Sustain Cities Soc 63:102364

14.

Jing Z, Gu C, Li Y, Zhang M, Xu G, Jolfaei A, Shi P, Tan C, Zheng X (2020) Security analysis of indistinguishable obfuscation for internet of medical things applications. Comput Commun 161:202–211

15.

Abou-Nassar EM, Iliyasu AM, El-Kafrawy PM, Song OY, Bashir AK, Abd El-Latif AA (2020) DITrust Chain: Towards Blockchain-Based Trust Models for Sustainable Healthcare IoT Systems. IEEE Access 8:111223–111238

16.

Shi S, He D, Li L, Kumar N, Khan MK, Choo KKR (2020) Applications of blockchain in ensuring the security and privacy of electronic health record systems: A survey. Comput Secur 101966

17.

Yánez W, Mahmud R, Bahsoon R, Zhang Y, Buyya R (2020) Data Allocation Mechanism for Internet-of-Things Systems With Blockchain. IEEE Internet Things J 7(4):3509–3522

18.

Le Nguyen B, Lydia EL, Elhoseny M, Pustokhina I, Pustokhin DA, Selim MM et al (2020) Privacy Preserving Blockchain Technique to Achieve Secure and Reliable Sharing of IoT Data. CMC Comput Mater Continua 65(1):87–107

19.

Biswas S, Sharif K, Li F, Mohanty S (2020) Blockchain for e-health-care systems: Easier said than done. Computer 53(7):57–67

20.

Thota C, Sundarasekar R, Manogaran G, Varatharajan R, Priyan MK (2018) Centralized fog computing security platform for IoT and cloud in healthcare system. In Fog computing: Breakthroughs in research and practice. IGI global, pp 365–378

21.

Saba T, Haseeb K, Ahmed I, Rehman A (2020) Secure and energy-efficient framework using Internet of Medical Things for e-healthcare. J Infect Public Health 13(10):1567–1575

22.

Li J, Cai J, Khan F, Rehman AU, Balasubramaniam V, Sun J, Venu P (2020) A Secured Framework for SDN-Based Edge Computing in IoT-Enabled Healthcare System. IEEE Access 8:135479–135490

23.

Sharma A, Tomar R, Chilamkurti N, Kim BG (2020) Blockchain Based Smart Contracts for internet of Medical Things in e-Healthcare. Electronics 9(10):1609

24.

Ullah A, Said G, Sher M, Ning H (2020) Fog-assisted secure healthcare data aggregation scheme in IoT-enabled WSN. Peer-to-Peer Netw Appl 13(1):163–174

25.

Qureshi KN, Ahmad A, Piccialli F, Casolla G, Jeon G (2020) Nature-inspired algorithm-based secure data dissemination framework for smart city networks. Neural Comput & Applic:1–20

26.

Chapman E, Haby MM, Toma TS, de Bortoli MC, Illanes E, Oliveros MJ, Barreto JOM (2020) Knowledge translation strategies for dissemination with a focus on healthcare recipients: an overview of systematic reviews. Implement Sci 15(1):1–14

27.

Zhang M, Chen Y, Susilo W (2020) PPO-CPQ: a privacy-preserving optimization of clinical pathway query for e-healthcare systems. IEEE Internet Things J 7(10):10660–10672
Acknowledgments
This research was supported by Researchers Supporting Project number (RSP-2020/250), King Saud University, Riyadh, Saudi Arabia.
Conflict of interest
The authors declare that they have no conflict of interest.
Additional information
Publisher's note
Springer Nature remains neutral with regard to jurisdictional claims in published maps and institutional affiliations.
About this article
Cite this article
Arul, R., Al-Otaibi, Y.D., Alnumay, W.S. et al. Multi-modal secure healthcare data dissemination framework using blockchain in IoMT. Pers Ubiquit Comput (2021). https://doi.org/10.1007/s00779-021-01527-2
Received:

Accepted:

Published:
Keywords
Blockchain key

Healthcare systems

Internet of medical things (IoMT) devices

Multi-Modal Secure Data Dissemination Framework (MMSDDF)