Abstract
With the increased residents' income, people's willingness to travel is also increased. The trend of tourism popularisation is becoming more and more apparent. Especially during the public holiday period, the number of tourists has increased sharply, resulting in a surge in the number of tourists in some cultural heritage zones and even congested, which has raised concerns from all sectors of society. The tourists' dissatisfaction caused by tourism crowding needs to be solved urgently. In this paper, we proposed a mobile game TouristGo which not only incentivise the tourists to visit by following the least crowded path but also collect visitors' location data to better manage the tourist flow within the cultural heritage zones. In addition, through the process, the tourist could gain a better understanding of the knowledge of the cultural heritage zones.
Access options
Buy single article
Instant access to the full article PDF.
US$ 39.95
Tax calculation will be finalised during checkout.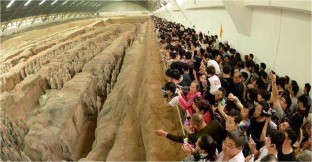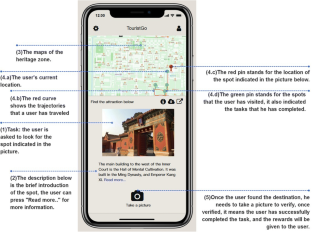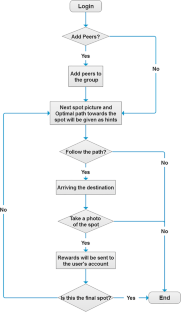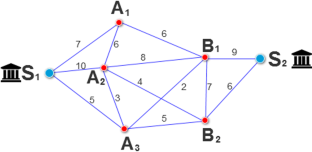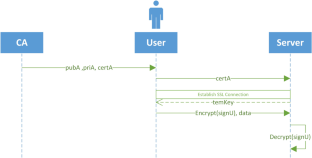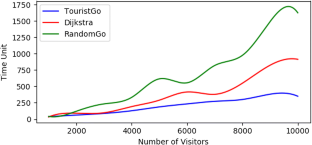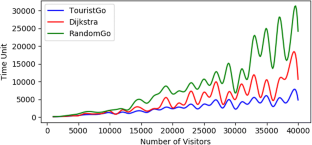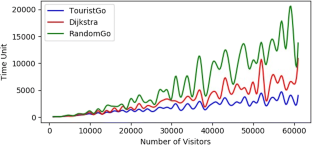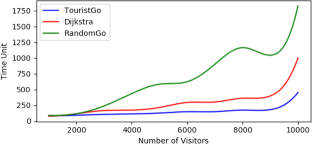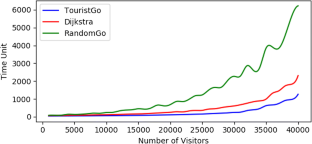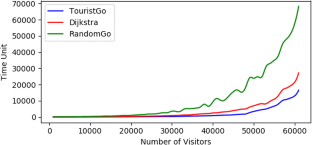 References
1.

Manning RE, Valliere WA Coping in outdoor recreation: causes and consequences of crowding and conflict among community residents. J Leis Res 33:410–426

2.

Manning RE (2011) Studies in outdoor recreation: search and research for satisfaction, 3rd edn. Oregon State University Press, Corvallis, pp 412–468

3.

Whisman SA, Hollenhorst SJ (1998) A path model of whitewater boating satisfaction on the cheat river of west Virginia. Environ Manag 22(1):109–117

4.

Martinez-Carter K. Securing tickets for Machu Picchu, BBC, August 24, 2012, bbc.com

5.

Historic sanctuary of Machu Picchu, UNESCO. Accessed October 19, 2017, whc.unesco.org

6.

Leadbeater C. Will new limits on visiting Machu Picchu save Peru's most famous Inca citadel?, Telegraph, June 21, 2017, telegraph.co.uk

7.

Vecchio R. The master plan: Machu Picchu reconceptualized, Peruvian Times, April 22, 2015, peruviantimes.com

8.

Deterding S, Sicart M, Nacke L, OHara K, Dixon D (2011) Gamification using game- design elements in non-gaming contexts. In: Proceedings of the CHI 11 extended abstracts on human factors in computing systems, CHI EA 11, pp 24252428

9.

Robinson K, Burns R (2006) Proceedings of the 2006 Northeastern Recreation Research Symposium. U.S. Forest Service, Northern Research Station, New York, p 23

10.

Tseng YP, Kyle GT, Shafer CS, Graefe AR, Bradle TA, Schuett MA (2009) Exploring the crowding satisfaction relationship in recreational boating. Environ Manag 43(3):496–507

11.

Heberlein TA, Shelby B (2007) Carrying capacity, values, and the satisfaction model: a reply to Greist. J Leis Res 29(2):142–148

12.

Shelby B, Bregenzer NS, Johnson R Displacement and product shift: empirical evidence from Oregon rivers. Leis Sci 20:274–288

13.

Hammitt WE, Patterson ME (1991) Coping behaviour to avoid visitor encounters: its relationship to wildland privacy. J Leis Res 23(3):225–237

14.

Deterding S, Dixon D, Khaled R, Nacke L (2011) From game design elements to gamefulness: defining gamification. In: Proceedings of the international academic MindTrek conference: envisioning future media environments, MindTrek 11, pp 915

15.

Gamification wiki. https://badgeville.com/wiki/Gamification. Accessed April 2019

16.

Ueyama Y, Tamai M, Arakawa Y, Yasumoto K (2014) Gamification-based incentive mechanism for participatory sensing. In: Proceedings of the IEEE international conference on pervasive computing and communications workshops (PERCOM Workshops), p 98103

17.

Michael DR, Chen SL (2005) Serious games: games that educate, train, and inform. Muska & Lipman/Premier-Trade, New York

18.

Ratan R, Ritterfeld U (2009) Classifying serious games. In: Ritterfeld U, Cody M, Vorderer P (eds) Serious games: mechanisms and effects. Routledge, New York, p 1024

19.

Sliney A, Murphy D (2008) Jdoc: a serious game for medical learning. In: Proceedings of the international conference on advances in computerhuman interaction, p 131136

20.

Aiolli F, Ciman M, Donini M, Gaggi O (2014) Climbtheworld: real-time stairstep counting to increase physical activity. In: Proceedings of the international conference on mobile and ubiquitous systems: computing, networking and services, London, UK, December 25, 2014, pp 218227

21.

Deponti D, Maggiorini D, Palazzi CE (2009) DroidGlove: an android-based application for wrist rehabilitation. In: Proceedings of the 2009 international conference on ultra modern telecommunications and workshops

22.

Gaggi O, Ciman M (2016) The use of games to help children eyes testing. Multimed Tools Appl 75(6):34533478. https://doi.org/10.1007/s11042-014-2444-x

23.

Rego P, Moreira PM, Reis LP (2010) Serious games for rehabilitation: a survey and a clas- sication towards a taxonomy. In: Proceedings of the Iberian conference on information systems and technologies, pp 16

24.

Coenen T, Mostmans L, Naessens K (2013) Museus: case study of a pervasive cultural heritage serious game. J Comput Cult Herit 6(2):8:18:19

25.

Wang X, Qi Y, Wang Z et al (2019) Design and implementation of SecPod: a framework for virtualization-based security systems. IEEE Trans Depend Secure Comput 16(1):44–57

26.

Zhang J, Wei W, Poap D, Woniak M, Komider L, Damaevcius R (2019) A neuro-heuristic approach for recognition of lung diseases from X-ray images Author links open overlay panel. Expert Syst Appl 126(15):218–232

27.

Qi S, Zheng Y, Li M, Liu Y, Qiu J (2016) Scalable industry data access control in RFID-enabled supply chain. IEEE/ACM Trans Netw 24(6):3551–3564 3.376

28.

Qi S, Zheng Y, Li M, Lu L, Liu Y (2016) Secure and private RFID-enabled third-party supply chain systems. IEEE Trans Comput 65(11):3413–3426 2.916

29.

Qi S, Zheng Y Crypt-DAC: cryptographically enforced dynamic access control in the Cloud. IEEE Trans Depend Secure Comput

30.

Xu Q, Wang L, Hei XH, Shen P, Shi W, Shan L (2014) GI/Geom/1 queue based on communication model for mesh networks. Int J Commun Syst 27(11):3013–3029

31.

Wei W, Yong Q (2011) Information potential fields navigation in wireless Ad-Hoc sensor networks. Sensors 11(5):4794–4807

32.

Wei W, Fan X, Song H, Fan X, Yang J (1939) Imperfect information dynamic stackelberg game based resource allocation using hidden markov for cloud computing. IEEE Trans Serv Comput 11(1):78–89

33.

Wei W, Liu S, Li W, Dingzhu D Fractal intelligent privacy protection in online social network using attribute-based encryption schemes. IEEE Trans Comput Soc Syst 5(3):736–747

34.

Wei W, Xia X, Marcin W, Fan X, Damaeviius R, Li Y Multi-sink distributed power control algorithm for cyber-physical-systems in coal mine tunnels. Comput Netw

35.

McIntyre G (1993) Sustainable tourism development: guide for local planners. World Tourism Organization, Madrid

36.

Microsoft Research (2017) Path guide: a new approach to indoor navigation. https://www.microsoft.com/en-us/research/blog/path-guide-new-approach-indoor- navigation/

37.

Xi M, Qi Y, Wu K, Zhao J, Li M (2011) Using potential to guide mobile nodes in wireless sensor networks. Ad Hoc Sensor Wirel Netw 12(3-4):229–251

38.

Zheng P, Qi Y, Zhou Y, Chen P, Zhan J, Lyu MR-T (2014) An automatic framework for detecting and characterizing the performance degradation of software systems. IEEE Trans Reliabil 63(4):927–943

39.

Wang P, Qi Y, Xue L (2014) Power-aware pptimization for heterogeneous multi-tier clusters. J Parallel Distrib Comput 74(1):2005–2015

40.

Qiao Y-n, Yong Q, Di H (2011) Tensor Field Model for higher-order information retrieval. J Syst Softw DEC 84(12):2303–2313

41.

Song H, Li W, Shen P, Vasilakos A Gradient-driven parking navigation using a continuous information potential field based on wireless sensor network. Inf Sci 408(C):100–114

42.

Zhang J, Song H, Wan Y (2018) Big data analytics enabled by feature extraction based on partial independence. Neurocomputing 288:3–10

43.

Johnson AK, Dawson CP (2004) An exploratory study of the complexities of coping behaviour in Adirondack wilderness. Leis Sci 26(3):281–293

44.

Anderson DH, Brown PJ (1984) The displacement process in recreation. J Leis Res 1(16):61–73

45.

Evans SL (2000) Analysis of Whitewater BoatersEncounter Norms and Perceptions of Crowd- ing on Utahs Westwater Canyon. University of Wyoming, Laramie

46.

Leary EC (2005) Crowding expectation, perception and use distribution of front country visitors to the Grand Staircase-Escalante National Monument. Utah State University, Logan

47.

Luo Y (2006) Difference between perception of recreation use impact and its effect on visitor overall satisfaction under different use level. Econ Geogr 23(4):698701

48.

Bowes SM (1997) Watercraft characteristics, preferences, experiences, expectations and perceptions of crowding on the Upper Delaware Scenic and Recreational River. State of University of New York, New York

49.

Gramann JH (1980) Social psychological applications to the structural modeling of crowding in outdoor recreation. The University of Illinois, Chicago

50.

Wang W (2012) Research of the impact of crowding perception on coping behaviours and tourists loyalty in the situation of the beach resorts. Shaanxi Normal University, Xian

51.

Weaver CL (2010) A case study of the White Salmon River in Washington. West Virginia University, Morgantown, pp 105–168

52.

Vaske JJ, Donelly MP, Petruzzi JP (1996) Country of origin, encounter norms, and crowding in a frontcountry setting. Leis Sci 18(2):161–176

53.

Li J (2004) The effects of store physical environment on perceived crowding and shopping behaviour. Auburn University, Auburn

54.

Tarrant MA (1999) Variability of the perceived crowding scale: a research note. Leis Sci 21(2):159–164

55.

Schmidt DE, Keating JP (1979) Human crowding and personal control: an integration of the research. Psychol Bull 86(4):680–700

56.

Fengjun C (1995) Study on the tourist environmental bearing capacity: one of the criterion for sustainable tourism development. Econ Geogr 15(1):105–109

57.

Zhu M (2012) Operating strategy based on free access to scenic: a case study of Nanjing Xuanwu Lake. J Nanjing Radio TV Univ 69(4):65–69

58.

Shelby B (1980) Crowding models for backcountry recreation. Land Econ 56(1):43–55

59.

Gartner WC (1996) Tourism development: principles, processes, and policies. New York, NY, Van Rostrand Reinhold

60.

Hof M, Lime DW (1997) Visitor experience and resource protection framework in the national park system: pationale, current status,and future direction. In: McCool SF, Cole DN (eds) Proceedings Limits of Acceptable Change and Related Planning Pro- cesses:Progressand Future Directions (pp. 2936). General Technical Report INT-371. Og- den, UT: USDA Forest Service, Intermountain Research Station

61.

Leung Y, Marion JL (2000) Recreation impacts and management in wilderness: a state- of-knowledge review. In: Cole DN, McCool S, Borrie WT, OLoughlin J (eds) Wilder- ness Science in a Time of Change: Vol. 5. Wilderness Ecosystems, Threats, and Manage- ment. Ogden, USDA Forest Service, Rocky Mountain Research Station., p 2348

62.

Dou H, Qi Y, Wei W, Song H (2016) A two-time-scale load balancing frame- work for minimizing electricity bills of Internet Data Centers. Pers Ubiquit Comput 20(5):681–693

63.

Chen P, Qi Y, Li X, Hou D, Lyu MR-T ARF-Predictor: effective prediction of aging-related failure using entropy. IEEE Trans Depend Secure Comput

64.

Gmez RY, Caballero DC, Sevillano J-L (2014) Heuristic evaluation on mobile interfaces: a new checklist. Sci World J 2014, Article ID 434326, 19 pages
Funding
This research is supported by the National Key R&D Program of China under Grant No. 2016YFB1000604, No. 2018YFB0203901, and No. 2018YFB1402700. This work is also supported by the Key Research and Development Program of Shaanxi Province under Grant No. 2018ZDXM-GY-036.
Additional information
Publisher's note
Springer Nature remains neutral with regard to jurisdictional claims in published maps and institutional affiliations.
About this article
Cite this article
Lu, Y., Yuan, F., Lin, J. et al. TouristGo: a location-based mobile game to improve tourist experience by visiting path optimisation. Pers Ubiquit Comput 24, 405–418 (2020). https://doi.org/10.1007/s00779-019-01327-9
Received:

Accepted:

Published:

Issue Date:
Keywords
Tourist management

Cultural heritage

Gamification

Incentive mechanism

Environment