Abstract
Synthesis of ecdysone, the key hormone that signals the termination of larval growth and the initiation of metamorphosis in insects, is carried out in the prothoracic gland by an array of iron-containing cytochrome P450s, encoded by the halloween genes. Interference, either with iron-sulfur cluster biogenesis in the prothoracic gland or with the ferredoxins that supply electrons for steroidogenesis, causes a block in ecdysone synthesis and developmental arrest in the third instar larval stage. Here we show that mutants in Drosophila mitoferrin (dmfrn), the gene encoding a mitochondrial carrier protein implicated in mitochondrial iron import, fail to grow and initiate metamorphosis under dietary iron depletion or when ferritin function is partially compromised. In mutant dmfrn larvae reared under iron replete conditions, the expression of halloween genes is increased and 20-hydroxyecdysone (20E), the active form of ecdysone, is synthesized. In contrast, addition of an iron chelator to the diet of mutant dmfrn larvae disrupts 20E synthesis. Dietary addition of 20E has little effect on the growth defects, but enables approximately one-third of the iron-deprived dmfrn larvae to successfully turn into pupae and, in a smaller percentage, into adults. This partial rescue is not observed with dietary supply of ecdysone's precursor 7-dehydrocholesterol, a precursor in the ecdysone biosynthetic pathway. The findings reported here support the notion that a physiological supply of mitochondrial iron for the synthesis of iron-sulfur clusters and heme is required in the prothoracic glands of insect larvae for steroidogenesis. Furthermore, mitochondrial iron is also essential for normal larval growth.
Access options
Buy single article
Instant access to the full article PDF.
US$ 39.95
Tax calculation will be finalised during checkout.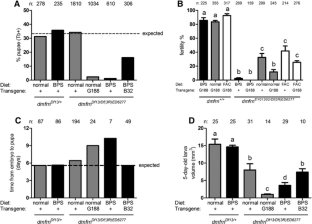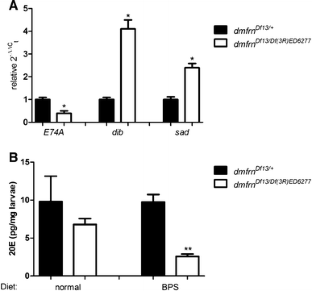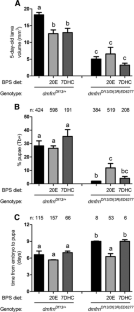 Abbreviations
7DHC:

7-dehydrocholesterol

20E:

20-hydroxyecdysone

BPS:

Bathophenanthroline disulfonate

dfh :

Drosophila frataxin

dib :

disembodied

dmfrn :

Drosophila mitoferrin

E74A :

Ecdysone-induced protein 74EF

FAC:

Ferric ammonium citrate

Fer1HCH :

Ferritin 1 heavy chain homolog

GFP:

Green fluorescent protein

Gp93 :

Glycoprotein 93

Hsc20 :

Heat shock protein cognate 2

MRS3/4:

Yeast mitoferrins

RNAi:

RNA interference

Rp49 :

Ribosomal protein L32

sad :

shadow

Tb :

Tubby
References
1.

Sheftel AD, Mason AB, Ponka P (2012) Biochim Biophys Acta 1820:161–187

2.

Crichton RR (2001) Inorganic biochemistry of iron metabolism: from molecular mechanisms to clinical consequences, 2nd edn. Wiley, Chichester

3.

Lane DJ, Merlot AM, Huang ML, Bae DH, Jansson PJ, Sahni S, Kalinowski DS, Richardson DR (2015) Biochim Biophys Acta 1853:1130–1144

4.

Lill R, Dutkiewicz R, Freibert SA, Heidenreich T, Mascarenhas J, Netz DJ, Paul VD, Pierik AJ, Richter N, Stümpfig M, Srinivasan V, Stehling O, Mühlenhoff U (2015) Eur J Cell Biol 94:280–291

5.

Brazzolotto X, Pierrel F, Pelosi L (2014) Biochem J 460:79–89

6.

Foury F, Roganti T (2002) J Biol Chem 277:24475–24483

7.

Li L, Kaplan J (2004) J Biol Chem 279:33653–33661

8.

Muhlenhoff U, Stadler JA, Richhardt N, Seubert A, Eickhorst T, Schweyen RJ, Lill R, Wiesenberger G (2003) J Biol Chem 278:40612–40620

9.

Zhang Y, Lyver ER, Knight SA, Lesuisse E, Dancis A (2005) J Biol Chem 280:19794–19807

10.

Shaw GC, Cope JJ, Li L, Corson K, Hersey C, Ackermann GE, Gwynn B, Lambert AJ, Wingert RA, Traver D, Trede NS, Barut BA, Zhou Y, Minet E, Donovan A, Brownlie A, Balzan R, Weiss MJ, Peters LL, Kaplan J, Zon LI, Paw BH (2006) Nature 440:96–100

11.

Troadec MB, Warner D, Wallace J, Thomas K, Spangrude GJ, Phillips J, Khalimonchuk O, Paw BH, Ward DM, Kaplan J (2011) Blood 117:5494–5502

12.

Ren Y, Yang S, Tan G, Ye W, Liu D, Qian X, Ding Z, Zhong Y, Zhang J, Jiang D, Zhao Y, Lu J (2012) PLoS ONE 7:e29666

13.

Paradkar PN, Zumbrennen KB, Paw BH, Ward DM, Kaplan J (2009) Mol Cell Biol 29:1007–1016

14.

Kunji ER (2004) FEBS Lett 564:239–244

15.

Froschauer EM, Schweyen RJ, Wiesenberger G (2009) Biochim Biophys Acta 1788:1044–1050

16.

Metzendorf C, Wu W, Lind MI (2009) Biochem J 421:463–471

17.

Metzendorf C, Lind MI (2010) BMC Dev Biol 10:68

18.

Navarro JA, Botella JA, Metzendorf C, Lind MI, Schneuwly S (2015) Free Radic Biol Med 85:71–82

19.

Massie HR, Aiello VR, Williams TR (1985) Mech Ageing Dev 29:215–220

20.

Palandri A, L'Hote D, Cohen-Tannoudji J, Tricoire H, Monnier V (2015) Hum Mol Genet 24:2615–2626

21.

Anderson PR, Kirby K, Hilliker AJ, Phillips JP (2005) Hum Mol Genet 14:3397–3405

22.

Llorens JV, Navarro JA, Martínez-Sebastián MJ, Baylies MK, Schneuwly S, Botella JA, Moltó MD (2007) FASEB J 21:333–344

23.

Uhrigshardt H, Rouault TA, Missirlis F (2013) J Biol Inorg Chem 18:441–449

24.

Sekeris CE, Karlson P (1964) Arch Biochem Biophys 105:483–487

25.

Ashburner M (1975) Sov J Dev Biol 5:97–107

26.

Thummel CS (1995) Cell 83:871–877

27.

Ono H (2014) Dev Biol 391:32–42

28.

Mirth CK, Tang HY, Makohon-Moore SC, Salhadar S, Gokhale RH, Warner RD, Koyama T, Riddiford LM, Shingleton AW (2014) Proc Natl Acad Sci USA 111:7018–7023

29.

Sarraf-Zadeh L, Christen S, Sauer U, Cognigni P, Miguel-Aliaga I, Stocker H, Kohler K, Hafen E (2013) Dev Biol 381:97–106

30.

Gundner AL, Hahn I, Sendscheid O, Aberle H, Hoch M (2014) PLoS ONE 9:e97332

31.

Koyama T, Rodrigues MA, Athanasiadis A, Shingleton AW, Mirth CK (2014) Elife 3:e03091

32.

Jaszczak JS, Wolpe JB, Dao AQ, Halme A (2015) Genetics 200:1219–1228

33.

Ohhara Y, Shimada-Niwa Y, Niwa R, Kayashima Y, Hayashi Y, Akagi K, Ueda H, Yamakawa-Kobayashi K, Kobayashi S (2015) Proc Natl Acad Sci USA 112:1452–1457

34.

Moeller ME, Danielsen ET, Herder R, O'Connor MB, Rewitz KF (2013) Development 140:4730–4739

35.

Parvy JP, Wang P, Garrido D, Maria A, Blais C, Poidevin M, Montagne J (2014) Development 141:3955–3965

36.

Warren JT, Petryk A, Marques G, Jarcho M, Parvy JP, Dauphin-Villemant C, O'Connor MB, Gilbert LI (2002) Proc Natl Acad Sci USA 99:11043–11048

37.

Rewitz KF, Rybczynski R, Warren JT, Gilbert LI (2006) Biochem Soc Trans 34:1256–1260

38.

Danielsen ET, Moeller ME, Dorry E, Komura-Kawa T, Fujimoto Y, Troelsen JT, Herder R, O'Connor MB, Niwa R, Rewitz KF (2014) PLoS Genet 10:e1004343

39.

Chung H, Sztal T, Pasricha S, Sridhar M, Batterham P, Daborn PJ (2009) Proc Natl Acad Sci USA 106:5731–5736

40.

Yoshiyama T, Namiki T, Mita K, Kataoka H, Niwa R (2006) Development 133:2565–2574

41.

Lang M, Murat S, Clark AG, Couppil G, Blais C, Matzkin LM, Guittard E, Yoshiyama-Yanagawa T, Kataoka H, Niwa R, Lafont R, Dauphin-Villemant C, Orgogozo V (2012) Science 337:1658–1661

42.

Sandoval H, Yao CK, Chen K, Jaiswal M, Donti T, Lin YQ, Bayat V, Xiong B, Zhang K, David G, Charng WL, Yamamoto S, Duraine L, Graham BH, Bellen HJ (2014) eLife 3:e03558

43.

Niwa YS, Niwa R (2014) Genes Genet Syst 89:27–34

44.

Di Cara F, King-Jones K (2013) Curr Top Dev Biol 105:1–36

45.

Ou Q, King-Jones K (2013) Curr Top Dev Biol 103:35–71

46.

Hill RJ, Billas IM, Bonneton F, Graham LD, Lawrence MC (2013) Annu Rev Entomol 58:251–271

47.

Yamanaka N, Rewitz KF, O'Connor MB (2013) Annu Rev Entomol 58:497–516

48.

Tennessen JM, Thummel CS (2011) Curr Biol 21:R750–757

49.

Nijhout HF, Riddiford LM, Mirth C, Shingleton AW, Suzuki Y, Callier V (2014) Dev Biol 3:113–134

50.

Missirlis F, Kosmidis S, Brody T, Mavrakis M, Holmberg S, Odenwald WF, Skoulakis EM, Rouault TA (2007) Genetics 177:89–100

51.

Gonzalez-Morales N, Mendoza-Ortiz MA, Blowes LM, Missirlis F, Riesgo-Escovar JR (2015) PLoS ONE 10:e0133499

52.

Gutierrez L, Zubow K, Nield J, Gambis A, Mollereau B, Lazaro FJ, Missirlis F (2013) Metallomics 5:997–1005

53.

Ryder E, Ashburner M, Bautista-Llacer R, Drummond J, Webster J, Johnson G, Morley T, Chan YS, Blows F, Coulson D, Reuter G, Baisch H, Apelt C, Kauk A, Rudolph T, Kube M, Klimm M, Nickel C, Szidonya J, Maroy P, Pal M, Rasmuson-Lestander A, Ekstrom K, Stocker H, Hugentobler C, Hafen E, Gubb D, Pflugfelder G, Dorner C, Mechler B, Schenkel H, Marhold J, Serras F, Corominas M, Punset A, Roote J, Russell S (2007) Genetics 177:615–629

54.

Morin X, Daneman R, Zavortink M, Chia W (2001) Proc Natl Acad Sci USA 98:15050–15055

55.

Missirlis F, Holmberg S, Georgieva T, Dunkov BC, Rouault TA, Law JH (2006) Proc Natl Acad Sci USA 103:5893–5898

56.

Mehta A, Deshpande A, Bettedi L, Missirlis F (2009) Biochimie 91:1331–1334

57.

Huang X, Suyama K, Buchanan J, Zhu AJ, Scott MP (2005) Development 132:5115–5124

58.

Colombani J, Bianchini L, Layalle S, Pondeville E, Dauphin-Villemant C, Antoniewski C, Carré C, Noselli S, Léopold P (2005) Science 310:667–670

59.

Froschauer EM, Rietzschel N, Hassler MR, Binder M, Schweyen RJ, Lill R, Mühlenhoff U, Wiesenberger G (2013) Biochem J 455:57–65

60.

Da-Re C, Franzolin E, Biscontin A, Piazzesi A, Pacchioni B, Gagliani MC, Mazzotta G, Tacchetti C, Zordan M, Zeviani M, Bernardi P, Bianchi V, De Pitta C, Costa R (2014) J Biol Chem 289:7448–7459

61.

Thummel CS, Burtis KC, Hogness DS (1990) Cell 61:101–111
Acknowledgments
This work was supported from the Carl Trygger's foundation (#CTS12:281 and #KF14:4), the Swedish Research Council (#621-2011-5155) to M.I.L. and from the Consejo Nacional de Ciencia y Tecnología of Mexico (#179835) to F.M.
Ethics declarations
Conflict of interest
The authors declare no competing financial interests.
About this article
Cite this article
Llorens, J.V., Metzendorf, C., Missirlis, F. et al. Mitochondrial iron supply is required for the developmental pulse of ecdysone biosynthesis that initiates metamorphosis in Drosophila melanogaster . J Biol Inorg Chem 20, 1229–1238 (2015). https://doi.org/10.1007/s00775-015-1302-2
Received:

Accepted:

Published:

Issue Date:
Keywords
Development

Insect

Mitochondria

Mitoferrin

Cholesterol