Abstract
Introduction
Air particulate matter (PM) is an environmental exposure associated with oxidation and inflammation. Whether particulate matter is associated with risk of osteoporotic bone fracture is unclear. We investigated the association between exposure to PM and risk of bone fractures.
Materials and methods
We collected data of 44,602 participants living in three metropolitan cities in Republic of Korea from National Health Insurance Service database. We examined the association of 2 year averaged concentrations of PM and osteoporotic fracture over 4 years. Exposure to 2-year averaged air pollution [PM2.5 (< 2.5 μm in aerodynamic diameter), PM10 [< 10 μm in aerodynamic diameter], PM coarse (PM ranging from 2.5 μm to 10 μm)] concentrations were estimated from 2008 to 2009 in Air Korea data. The adjusted hazard ratios (aHRs) and 95% confidence intervals (CIs) for osteoporotic fractures were calculated using the multivariate Cox proportional hazards model.
Results
After adjusting for age, household income, and Charlson Comorbidity Index, PM 2.5 in one pollutant model increased the risk of osteoporotic fractures, compared to the first quartile group (4th quartile group aHR = 1.13, 95% CI 1.02–1.24). Also, PM 2.5 increased the risk of spine and non-spine fractures compared to the first quartile group (4th quartile group aHR = 1.17, 95% CI 1.00–1.38, aHR = 1.16, 95% CI 1.01–1.33). We found no association between PM10/PM coarse and osteoporotic fractures.
Conclusion
We found that PM2.5 is a risk factor for osteoporotic bone fractures.
This is a preview of subscription content, log in to check access.
Access options
Buy single article
Instant access to the full article PDF.
US$ 39.95
Price includes VAT for USA
Subscribe to journal
Immediate online access to all issues from 2019. Subscription will auto renew annually.
US$ 99
This is the net price. Taxes to be calculated in checkout.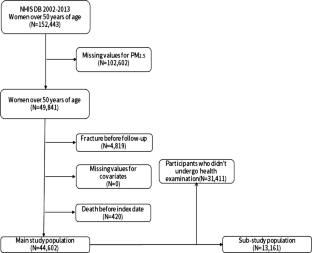 References
1.

Brown JS, Gordon T, Price O, Asgharian B (2013) Thoracic and respirable particle definitions for human health risk assessment. Part Fibre Toxicol 10:12. https://doi.org/10.1186/1743-8977-10-12

2.

Oftedal B, Brunekreef B, Nystad W, Madsen C, Walker SE, Nafstad P (2008) Residential outdoor air pollution and lung function in schoolchildren. Epidemiology 19:129–137. https://doi.org/10.1097/EDE.0b013e31815c0827

3.

Goldberg MS, Burnett RT, Bailar JC 3rd, Tamblyn R, Ernst P, Flegel K, Brook J, Bonvalot Y, Singh R, Valois MF, Vincent R (2001) Identification of persons with cardiorespiratory conditions who are at risk of dying from the acute effects of ambient air particles. Environ Health Perspect 109:487–494. https://doi.org/10.1289/ehp.01109s4487

4.

Pope CA, Coleman N, Pond ZA, Burnett RT (2019) Fine particulate air pollution and human mortality: 25+ years of cohort studies. Environ Res. 10:9–24. https://doi.org/10.1016/j.envres.2019.108924

5.

Ling SH, van Eeden SF (2009) Particulate matter air pollution exposure: role in the development and exacerbation of chronic obstructive pulmonary disease. Int J Chron Obstruct Pulmon Dis 4:233–243. https://doi.org/10.2147/copd.s5098

6.

Lee SH, Kim TS, Choi Y, Lorenzo J (2008) Osteoimmunology: cytokines and the skeletal system. BMB Rep 41:495–510. https://doi.org/10.5483/bmbrep.2008.41.7.495

7.

Lorenzo J, Horowitz M, Choi Y (2008) Osteoimmunology: interactions of the bone and immune system. Endocr Rev 29:403–440. https://doi.org/10.1210/er.2007-0038

8.

Moller P, Loft S (2010) Oxidative damage to DNA and lipids as biomarkers of exposure to air pollution. Environ Health Perspect 118:1126–1136. https://doi.org/10.1289/ehp.0901725

9.

Alvaer K, Meyer HE, Falch JA, Nafstad P, Sogaard AJ (2007) Outdoor air pollution and bone mineral density in elderly men - the Oslo Health Study. Osteoporos Int 18:1669–1674. https://doi.org/10.1007/s00198-007-0424-y

10.

Alver K, Meyer HE, Falch JA, Sogaard AJ (2010) Outdoor air pollution, bone density and self-reported forearm fracture: the Oslo health study. Osteoporos Int 21:1751–1760. https://doi.org/10.1007/s00198-009-1130-8

11.

Prada D, Zhong J, Colicino E, Zanobetti A, Schwartz J, Dagincourt N, Fang SC, Kloog I, Zmuda JM, Holick M, Herrera LA, Hou L, Dominici F, Bartali B, Baccarelli AA (2017) Association of air particulate pollution with bone loss over time and bone fracture risk: analysis of data from two independent studies. Lancet Planet Health 1:e337–e347. https://doi.org/10.1016/S2542-5196(17)30136-5

12.

Mazzucchelli R, Crespi Villarias N, Perez Fernandez E, Durban Reguera ML, Garcia-Vadillo A, Quiros FJ, Guzon O, Rodriguez Caravaca G, Gil de Miguel A (2018) Short-term association between outdoor air pollution and osteoporotic hip fracture. Osteoporos Int 29:2231–2241. https://doi.org/10.1007/s00198-018-4605-7

13.

Cheol Seong S, Kim YY, Khang YH, Heon Park J, Kang HJ, Lee H, Do CH, Song JS, Hyon Bang J, Ha S, Lee EJ, Ae Shin S (2017) Data resource profile: the national health information database of the national health insurance service in South Korea. Int J Epidemiol 46:799–800. https://doi.org/10.1093/ije/dyw253

14.

Lee J, Lee JS, Park SH, Shin SA, Kim K (2017) Cohort profile: The National Health Insurance Service-National Sample Cohort (NHIS-NSC). South Korea Int J Epidemiol 46:e15. https://doi.org/10.1093/ije/dyv319

15.

Park C, Ha YC, Jang S, Jang S, Yoon HK, Lee YK (2011) The incidence and residual lifetime risk of osteoporosis-related fractures in Korea. J Bone Miner Metab 29:744–751. https://doi.org/10.1007/s00774-011-0279-3

16.

Song SY, Kim Y, Park H, Kim YJ, Kang W, Kim EY (2017) Effect of parity on bone mineral density: A systematic review and meta-analysis. Bone 101:70–76. https://doi.org/10.1016/j.bone.2017.04.013

17.

Sundararajan V, Henderson T, Perry C, Muggivan A, Quan H, Ghali WA (2004) New ICD-10 version of the Charlson comorbidity index predicted in-hospital mortality. J Clin Epidemiol 57:1288–1294. https://doi.org/10.1016/j.jclinepi.2004.03.012

18.

Tourtier JP, Pierret C, Dutertre G, Ausset S (2011) Hip fracture in elderly patients: is mortality a fatality? Comment on the article entitled: "Epidemiology of osteoporosis-related fractures in France: a literature review". Joint Bone Spine 78:104–105. https://doi.org/10.1016/j.jbspin.2010.10.013

19.

Chang KH, Chang MY, Muo CH, Wu TN, Hwang BF, Chen CY, Lin TH, Kao CH (2015) Exposure to air pollution increases the risk of osteoporosis: a nationwide longitudinal study. Medicine (Baltimore) 94:e733. https://doi.org/10.1097/MD.0000000000000733

20.

Feizabad E, Hossein-Nezhad A, Maghbooli Z, Ramezani M, Hashemian R, Moattari S (2017) Impact of air pollution on vitamin D deficiency and bone health in adolescents. Arch Osteoporos 12:34. https://doi.org/10.1007/s11657-017-0323-6

21.

Hosseinpanah F, Pour SH, Heibatollahi M, Moghbel N, Asefzade S, Azizi F (2010) The effects of air pollution on vitamin D status in healthy women: a cross sectional study. BMC Public Health 10:519. https://doi.org/10.1186/1471-2458-10-519

22.

Wen XJ, Balluz LS, Shire JD, Mokdad AH, Kohl HW (2009) Association of self-reported leisure-time physical inactivity with particulate matter 2.5 air pollution. J Environ Health 72:40–44

23.

Gregg EW, Cauley JA, Seeley DG, Ensrud KE, Bauer DC (1998) Physical activity and osteoporotic fracture risk in older women. Study of osteoporotic fractures research group. Ann Intern Med 129:81–88. https://doi.org/10.7326/0003-4819-129-2-199807150-00002

24.

Dick CA, Singh P, Daniels M, Evansky P, Becker S, Gilmour MI (2003) Murine pulmonary inflammatory responses following instillation of size-fractionated ambient particulate matter. J Toxicol Environ Health A 66:2193–2207. https://doi.org/10.1080/716100636

25.

Thomson EM, Breznan D, Karthikeyan S, MacKinnon-Roy C, Charland JP, Dabek-Zlotorzynska E, Celo V, Kumarathasan P, Brook JR, Vincent R (2015) Cytotoxic and inflammatory potential of size-fractionated particulate matter collected repeatedly within a small urban area. Part Fibre Toxicol 12:24. https://doi.org/10.1186/s12989-015-0099-z
Acknowledgements
Kyuwoong Kim received a scholarship from the BK21plus education programme from the National Research Foundation of Korea.
Ethics declarations
Conflict of interest
All authors have no conflicts of interest.
Additional information
Publisher's Note
Springer Nature remains neutral with regard to jurisdictional claims in published maps and institutional affiliations.
Electronic supplementary material
Below is the link to the electronic supplementary material.
About this article
Cite this article
Sung, J.H., Kim, K., Cho, Y. et al. Association of air pollution with osteoporotic fracture risk among women over 50 years of age. J Bone Miner Metab (2020). https://doi.org/10.1007/s00774-020-01117-x
Received:

Accepted:

Published:
Keywords
Air particulate matter (PM)

Osteoporotic fracture

Long-term exposure

National Health Insurance Data (NHIS)