Abstract
Ballast water is fresh or seawater taken onboard to stabilize a ship. By traveling with the vessels, different species can be introduced into a new area with potentially high impact on health, economy, and environment. Some conventional treatments may reach their limit because of the high variability of water quality found worldwide: for example, UV treatments efficiency can be low for highly turbid water. Currently, 30% of ballast water treatment uses UV, while 45% use a chlorine generation process. Membrane filtration could be a promising alternative, or complementary treatment. An efficient ballast water management system is required to discharge treated water into the environment. The aim of this paper is to compare, from an economic perspective, ultrafiltration with UV treatments applied to fresh and seawater. This comparison takes into account the location of the treatment, and the specific challenges associated with each location. This modeling, based on feedback from various ship-owners, includes ballast water discharge flow, as well as ballast loading and discharge times. These operations stop the ship and increase its annual down time. Several scenarios of ballast water treatment were studied following the various condition: during ballast loading or ballast water discharge; on-board processing with batch treatment; barge-based processing with semi-continuous treatment, or with continuous treatment to ballast several ships per day; with or without UV post-treatment. The on-board ultrafiltration installation does not appear economically viable, whereas the barge-based installation is very competitive and retains better suspended matter and organisms.
This is a preview of subscription content, log in to check access.
Access options
Buy single article
Instant access to the full article PDF.
US$ 39.95
Price includes VAT for USA
Subscribe to journal
Immediate online access to all issues from 2019. Subscription will auto renew annually.
US$ 99
This is the net price. Taxes to be calculated in checkout.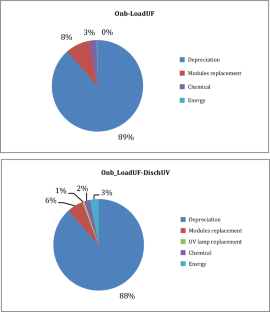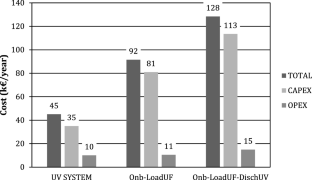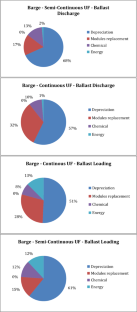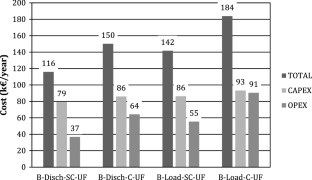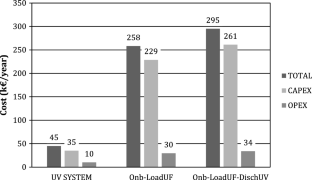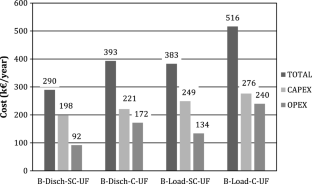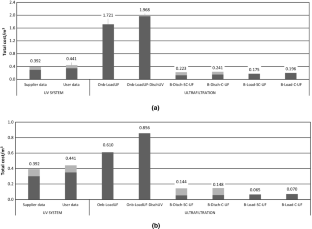 References
1.

Whall C, Cooper D, Archer K, Twigger L, Thurston N, Ockwell D, McIntyre A, Ritchie A (2002) Quantification of emissions from ships associated with ship movements between ports in the European Community. Report to the European Commission Entec, Northwich

2.

IMO (2004) International Convention for the control and management of ships' ballast water and sediments. BWM/CONF/36, I. M. Organization, ed. http://www.imo.org/

3.

IMO (2016) Global treaty to halt invasive aquatic species to enter into force in 2017. http://www.imo.org/

4.

IMO (2016) List of convention, other multilateral instruments and amendments in respect of which the organization performs depositary and other functions. IMO, ed. http://www.imo.org/

5.

California Legislative information (2015) AB 1312 Ballast water management. Assembly Bill No. 1312 Chap. 644. http://www.imo.org/

6.

Huff CB, Smith HF, Boring WD, Clarke NA (1965) Study of ultraviolet disinfection of water and factors in treatment efficiency. Public Health Rep 80:695–706

7.

MEPC (2013) Harmful Aquatic organisms in Ballast water—Port-based Mobile Ballast Water Treatment Facilities (BWTBOAT) as an Other Method of ballast water management for regional and coastal trading ships. IMO. MEPC 66/2/8. http://www.imo.org/

8.

MEPC (2013) Harmful Aquatic Organisms in Ballast water—suitability of port-based Mobile Ballast Water Treatment Facilities (BWTBoats) as a viable option for regional and coastal ships to comply with the BWM Convention. MEPC 66/INF.17. IMO. http://www.imo.org/

9.

Guilbaud J, Massé A, Wolff FC, Jaouen P (2012) Seawater pretreatment by dead-end micro and ultrafiltration in pressure-driven inside feed. Desalin Water Treat 51:1–7

10.

Guilbaud J, Massé A, Wolff FC, Jaouen P (2015) Porous membranes for ballast water treatment from microalgae-rich seawater. Mar Pollut Bull 101:612–617

11.

Guilbaud J, Wyart Y, Moulin P (2015) Microfiltration and ultrafiltration of Mediterranean seawater at semi-industrial scale: membrane comparison and sustainable conditions of filtration, Euromembrane 2015. RWTH University, Aachen

12.

Guilbaud J, Wyart Y, Moulin P (2018) Comparison of seawater and freshwater ultrafiltration on semi-industrial scale: ballast water treatment application. J Membr Sci Res 4:136–145

13.

Field RW, Pearce GK (2011) Critical, sustainable and threshold fluxes for membrane filtration with water industry applications. Adv Colloid Interface Sci 164:38–44

14.

Baars ET, Heijman SGJ, Bosklopper TGJ (2005) Red alert on transmembrane pressure (TMP). Desalination 179:125–130

15.

Masson D, Courtois O, Masson N, Stéphane G, Gregory R, Margat S (2000) Etude des eaux de ballast de navires faisant escale dans les ports français. Direction de l'Environnement et de l'Aménagement du littoral, Laboratoire de la Tremblade, IFREMER, La Tremblade

16.

Prange GJ, Pereira NN (2013) Ship ballast tank sediment reduction methods. Nav Eng J 125:127–134
Acknowledgements
The authors wish to thank the CMA-CGM, who acted as end user, for giving them access to specific data about the UV treatment, BIO-UV for the UV informations. The authors would like to acknowledge the teams of MediMeer—UMS 3301 University of Montpelier (France) and Wageningen Marine Research, (IMARES) Ballast water—land based test facility in Den Helder (the Netherland) for their assistance.
About this article
Cite this article
Guilbaud, J., Wyart, Y. & Moulin, P. Economic viability of treating ballast water of ships by ultrafiltration as a function of the process position. J Mar Sci Technol 24, 1197–1208 (2019). https://doi.org/10.1007/s00773-018-0618-3
Received:

Accepted:

Published:

Issue Date:
Keywords
Ballast water

Ultrafiltration

On-board processing

Barge-based processing

UV