Zusammenfassung
Hintergrund und Fragestellung
Über Diagnostik und Therapie von Venenaneurysmen wird in der Literatur nur anhand von Fallberichten oder kleinen Fallserien berichtet. Angaben zur Differenzierung von Ektasie zu Aneurysma und klare Empfehlungen zur Operationsindikation bei zufällig entdeckten symptomfreien Aneurysmen abhängig von der Konfiguration in der Bildgebung werden kaum gefunden.
Methoden
Sonomorphologische Charakterisierung und therapierelevante farbduplexsonographische und kontrastmittelsonographische Strömungsanalyse der eigenen Venenaneurysmafälle mit Verlaufskontrolle sowie Review der Literatur zwischen 1990 und 2012 zur Fragestellung einer Operationsindikation in Abhängigkeit von morphologischen Kriterien in der Bildgebung.
Ergebnisse
Die Farbduplexsonographie erlaubt mit Darstellung der Strömungsverhältnisse und bei hoher Ortsauflösung eine valide Aussage zum Charakter des Aneurysmas und der Gefahr thrombembolischer Komplikationen. Unter diesen Gesichtspunkten wird ausgehend von den eigenen sonographisch diagnostizierten 8 sakkulären und 13 spindelförmigen Poplitealvenenaneurysmen eine Therapiestrategie (Strömungsanalyse) dargestellt (Prävalenz in der Untergruppe 0,7 %), in der symptomatische wie auch symptomfreie sakkuläre Aneurysmen reseziert werden sollten. Bei spindelförmigen Aneurysmen ist ein konservatives Vorgehen gerechtfertigt (Verlaufskontrolle).
Diskussion und Schlußfolgerungen
Aufgrund sonomorphologischer Aneurysmacharakterisierung und farbduplexsonographischer sowie kontrastmittelsonographischer Strömungsanalyse können Kriterien zur Gefahr von thrombembolischen Komplikationen und der Operationsindikation gefunden werden.
Abstract
Background and aim
In the literature, the diagnosis and treatment of venous aneurysms is reported based only on case reports or small case series. Information to differentiate ectasia from aneurysms, and clear recommendations for surgical indications in asymptomatic, incidentally detected aneurysms based on imaging are rarely found.
Methods
Morphological characterization with sonography and flow analysis with treatment-relevant contrast agent and color duplex ultrasound were used. Concerning the indication for surgery, our own series of patients with venous aneurysm with follow-up and a review of the literature from 1990–2012, focusing on morphological imaging criteria, were included in the evaluation.
Results
Color duplex ultrasonography allows representation of flow conditions and at high spatial resolution, a valid statement about the character of the aneurysm and the risk of thromboembolic complications can be made. Based on the analysis of the ultrasound results, a treatment strategy (flow analysis) is presented (prevalence in the subgroup 0.7 %) for surgical resection of symptomatic and asymptomatic saccular aneurysms from our own series of 8 saccular and 13 fusiform popliteal venous aneurysms. For fusiform aneurysms, a conservative approach (follow-up) is justified.
Discussion and conclusion
Based on morphological characterization of aneurysms using sonography and blood flow analysis using color duplex and contrast agent-derived ultrasound, criteria for risk of thromboembolic complications and the indication for surgery can be described.
Access options
Buy single article
Instant access to the full article PDF.
US$ 39.95
Tax calculation will be finalised during checkout.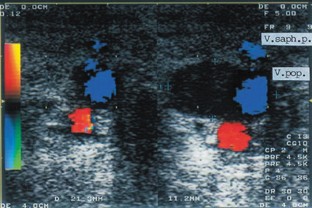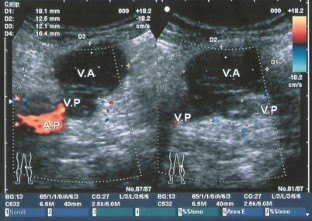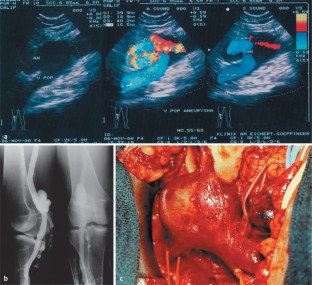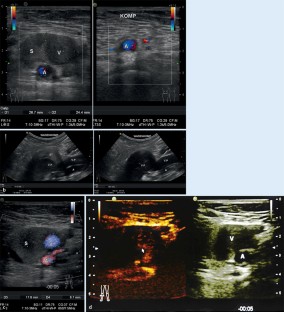 Literatur
1.

Brunner U, Hauser M (1997) Hemodynamic assessment of venous aneurysm of lower leg and therapeutic consequences. Zentralbl Chir 122(9):809–812

2.

Coffmann SW, Leon SM, Gupta SK (2000) Popliteal venous aneurysms: report of an unusual presentation and literature review. Ann Vasc Surg 14(3):286–290

3.

Franco G, Nguyen Khac G (1997) Aneurysmes veineux de la fosse poplitee: exploration ultrasonographique. Phlebologie 50:31–35

4.

Labropoulos N, Volteas S, Giannoukas A et al (1996) Asymptomatic popliteal vein aneurysms. Vasc Surg 30:453–458

5.

McDevitt DT, Lohr JM, Martin KD et al (1993) Bilateral popliteal vein aneurysms. Ann Vasc Surg 7(3):282–286

6.

Maleti O, Lugli M, collura M (1997) Anévrysmes veineaux poplités: expérience personelle. Phlebologie 50:53–59

7.

Pascarella L, Al-Tuwaijri M, Bergan JJ, Mekenas LM (2005) Lower extremity superficial venous aneurysms. Ann Vasc Surg 19(1):69–73

8.

Gillespie DL, Villavicencio JL, Gallagher C et al (1997) Presentation and management of venous aneurysms. J Vasc Surg 26(5):845–852

9.

Lev M, Saphir O (1952) Endophlebohypertrophy and phlebosclerosis: II. The external and common iliac veins. Am J Pathol 28(3):401–411

10.

Gabrielli R, Vitale S, Constanzo A, Carra A (2010) Our experience of popliteal vein aneurysm. Interact Cardiovasc Thorac Surg 11(6):835–837

11.

Gabrielli R, Rosati MS, Siani A, Irace L (2012) Management of symptomatic venous aneurysm. ScientificWorldJournal (epub 10.1100/2012/386478)

12.

Bergqvist D, Björck M, Ljungman C (2006) Popliteal venous aneurysm – a systematic review. World J Surg 30(3):273–279

13.

Falls G, Eslami MH (2010) Recurrence of a popliteal venous aneurysm. J Vasc Surg 51(2):458–459

14.

Friedman SG, Krishnasastry KV, Doscher W, Deckoff SL (1990) Primary venous aneurysms. Surgery 108(1):92–95

15.

Sigg P, Koella C, Stöbe C, Jeanneret C (2003) Popliteal venous aneurysm, a cause of pulmonary embolism. Vasa 32(4):221–224

16.

Schäberle W, Eisele R (2001) Das venöse Aneurysma tiefer Beinvenen – Wertigkeit der Duplexsonographie in Operationsindikation und Therapieplanung. Ultraschall Med 22(Suppl):60–61

17.

Schäberle W (2010) Ultraschall in der Gefäßdiagnostik. Springer, Heidelberg, S 210–211 und S 259–263

18.

Sessa C, Nicolini P, Perrin M et al (2000) Management of symptomatic and asymptomatic popliteal venous aneurysms: a retrospective analysis of 25 patients and review of the literature. J Vasc Surg 32(5):902–912

19.

Uematsu M, Okada M (1999) Primary venous aneurysms: case reports. Angiology 50(3):239–244

20.

Siani A, Accrocca F, Gabrielli R et al (2010). An isolated aneurysm of the thigh anterolateral branch of the saphenous vein in a young patient. Acta Phlebologica 11(1):27–29

21.

Gabrielli R, Rosati MS, Vitale S et al (2011) Pulmonary emboli due to venous aneurysm of extremities. Vasa 40(4):327–332

22.

Langeron P, Gosselin J, Marin J (1990) Aneurysm of the popliteal vein. J Mal Vasc 15(2):188–192

23.

Morrison J, Rubin DA, Tomaino MM (1996) Venous aneurysm of the distal forearm: MR imaging findings. AJR Am J Roentgenol 167(6):1552–1554
Einhaltung ethischer Richtlinien
Interessenkonflikt. W. Schäberle und L. Leyerer geben an, dass kein Interessenkonflikt besteht. Dieser Beitrag beinhaltet keine Studien an Menschen oder Tieren.
About this article
Cite this article
Schäberle, W., Leyerer, L. Venenaneurysma – Therapieentscheidung durch sonographische Diagnostik der Hämodynamik. Gefässchirurgie 18, 659–664 (2013). https://doi.org/10.1007/s00772-013-1243-4
Schlüsselwörter
Venenaneurysma, sakkulär

Venenaneurysma, spindelförmig

Duplexsonographie

Ultraschallkontrastmittel

Thrombembolie
Keywords
Venous aneurysm saccular

Venous aneurysm fusiform

Ultrasonography, Doppler, duplex

Contrast media

Thromboembolism