Zusammenfassung
Hintergrund
Das lokal fortgeschrittene Zervixkarzinom, das metastasierte Stadium und das Rezidiv sind große Herausforderungen für das Team eines onkologischen gynäkologischen Tumorzentrums. Oft besteht die optimale Behandlung in einer multimodalen Therapie. Die vorliegende Übersichtsarbeit basiert auf einer systematischen Literaturrecherche der aktuellen Datenlage.
Ergebnisse
Bei einem lokal fortgeschrittenen Zervixkarzinom besteht leitliniengerecht die Indikation zur Durchführung einer Radiochemotherapie. Eine Alternative ist die Durchführung einer neoadjuvanten Chemotherapie mit anschließender Operation. Ein solcher Ansatz sollte außerhalb von Studien nicht angewendet werden. Die Behandlung von lokalen Rezidiven ist abhängig von der vorherigen operativen bzw. strahlentherapeutischen Behandlung. Bei ausgewählten Patientinnen kann eine erneute Operation in kurativer Absicht angeboten werden. Im Fall einer histologisch nachgewiesenen Metastasierung ist die systemische medikamentöse Therapie die einzige Alternative. Die Chemotherapie kann in Form eine Mono- oder kombinierten Therapie durchgeführt werden. Zusammen mit der Immuntherapie kann eine Verbesserung des Gesamtüberlebens erreicht werden.
Schlussfolgerung
Die multimodale Therapie des fortgeschrittenen oder rezidivierten Zervixkarzinoms muss immer hochindividuell angepasst werden. Dennoch existiert eine über Jahre gewachsene Datenlage, welche diese individuellen Therapieentscheidungen leiten kann.
Abstract
Background
Locally advanced cervical cancer, metastasis, and relapse are major challenges for any team of an oncological gynecological tumor center. Optimal treatment is often based on multimodal therapy. A systematic review of the current literature is the basis for this article.
Results
In the case of locally advanced cervical cancer, the indication for performing chemoradiation and surgery in selected cases is in line with current guidelines. An alternative is neoadjuvant chemotherapy followed by surgery. Such an approach should not be used outside clinical trials. The treatment of local recurrences depends on the previous surgical or radiotherapy treatment. For selected patients, renewed surgery can be offered with curative intent. In the case of histologically proven metastasis, systemic drug therapy is the only alternative. Chemotherapy can be carried out in the form of a single or multiagent therapy. Together with immunotherapy, an improvement in overall survival can be achieved.
Conclusion
Multimodal treatment of advanced or recurrent cervical cancer must always be adapted to the individual patient. Data that have been obtained in recent years can used to guide individualized therapeutic decision-making.
This is a preview of subscription content, log in to check access.
Access options
Buy single article
Instant access to the full article PDF.
US$ 39.95
Price includes VAT for USA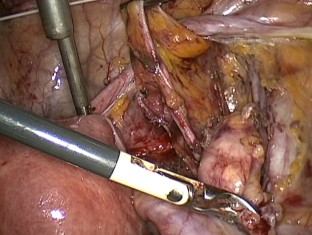 Literatur
1.

Abu-Rustum N, Yshar C et al (2020) National Comprehensive Cancer Network

2.

S3-Leitlinie Diagnostik, Therapie und Nachsorge der Patientin mit Zervixkarzinom, Langversion, 1.0, 2014, AWMF-Registernummer: 032/033OL, http://leitlinienprogramm-onkologie.de/Leitlinien.7.0.html, [Stand: 15.04.2020]

3.

Fulcher AS, O'Sullivan SG, Segreti EM, Kavanagh BD (1999) Recurrent cervical carcinoma: typical and atypical manifestations. Radiographics 19(Spec No):S103

4.

Patel CN, Nazir SA, Khan Z et al (2011) 18F-FDG PET/CT of cervical carcinoma. AJR Am J Roentgenol 196:1225

5.

Chung HH, Jo H, Kang WJ et al (2007) Clinical impact of integrated PET/CT on the management of suspected cervical cancer recurrence. Gynecol Oncol 104:529

6.

Pallardy A, Bodet-Milin C, Oudoux A et al (2010) Clinical and survival impact of FDG PET in patients with suspicion of recurrent cervical carcinoma. Eur J Nucl Med Mol Imaging 37:1270

7.

Lim MC, Lee HS, Seo SS et al (2010) Pathologic diagnosis and resection of suspicious thoracic metastases in patients with cervical cancer through thoracotomy or videoassisted thoracic surgery. Gynecol Oncol 116:478

8.

Rydzewska L, Tierney J, Vale CL, Symonds PR (2012) Neoadjuvant chemotherapy plus surgery versus surgery for cervical cancer. Cochrane Database Syst Rev. https://doi.org/10.1002/14651858.CD007406.pub3

9.

Osman M (2014) The role of neoadjuvant chemotherapy in the management of locally advanced cervix cancer: a systematic review. Oncol Rev 8(2):250

10.

Osman M (2016) Defining the role of neoadjuvant chemotherapy followed by surgery in locally advanced cancer cervix: a meta-analysis of phase III trials. J Obstet Gynaecol India 66(5):352–357

11.

Peng YH, Wang XX, Zhu JS, Gao L (2016) Neo-adjuvant chemotherapy plus surgery versus surgery alone for cervical cancer: meta-analysis of randomized controlled trials. J Obstet Gynaecol Res 42(2):128–135

12.

He D, Duan C, Chen J, Lai L, Chen J, Chen D (2015) The safety and efficacy of the preoperative neoadjuvant chemotherapy for patients with cervical cancer: a systematic review and meta analysis. Int J Clin Exp Med 8(9):14693–14700

13.

Junker P, Puppe J, Thangarajah F et al (2018) Neoadjuvant Therapy of Cervical Carcinoma with the Angiogenesis Inhibitor Bevacizumab: a Single-Centre Analysis. Geburtshilfe Frauenheilkd 78(8):768–774. https://doi.org/10.1055/a-0641-5588

14.

Friedlander M, Grogan M (2002) U.S. Preventative Services Task Force. Guidelines for the treatment of recurrent and metastatic cervical cancer. Oncologist 7:342

15.

Rutledge S, Carey MS, Prichard H et al (1994) Conservative surgery for recurrent or persistent carcinoma of the cervix following irradiation: is exenteration always necessary? Gynecol Oncol 52:353

16.

Maneo A, Landoni F, Cormio G et al (1999) Radical hysterectomy for recurrent or persistent cervical cancer following radiation therapy. Int J Gynecol Cancer 9:295

17.

Haasbeek CJ, Uitterhoeve AL, van der Velden J et al (2008) Long-term results of salvage radiotherapy for the treatment of recurrent cervical carcinoma after prior surgery. Radiother Oncol 89:197

18.

Hong JH, Tsai CS, Lai CH et al (2004) Recurrent squamous cell carcinoma of cervix after definitive radiotherapy. Int J Radiat Oncol Biol Phys 60:249

19.

Tewari KS, Sill MW, Long HJ 3rd et al (2014) Improved survival with bevacizumab in advanced cervical cancer. N Engl J Med 370:734

20.

Kitagawa R, Katsumata N, Shibata T et al (2015) Paclitaxel plus carboplatin versus paclitaxel plus cisplatin in metastatic or recurrent cervical cancer: the open-label randomized phase III trial JCOG0505. J Clin Oncol 33:2129

21.

Lorusso D, Petrelli F, Coinu A et al (2014) A systematic review comparing cisplatin and carboplatin plus paclitaxel-based chemotherapy for recurrent or metastatic cervical cancer. Gynecol Oncol 133:117

22.

Moore DH, Tian C, Monk BJ et al (2010) Prognostic factors for response to cisplatin-based chemotherapy in advanced cervical carcinoma: a Gynecologic Oncology Group Study. Gynecol Oncol 116:44

23.

Gadducci A, Tana R, Cosio S, Cionini L (2010) Treatment options in recurrent cervical cancer (Review). Oncol Lett 1:3
Ethics declarations
Interessenkonflikt
C. Scholz, S. Frangini und P. Mallmann geben an, dass kein Interessenkonflikt besteht.
Für diesen Beitrag wurden von den Autoren keine Studien an Menschen oder Tieren durchgeführt. Für die aufgeführten Studien gelten die jeweils dort angegebenen ethischen Richtlinien.
About this article
Cite this article
Scholz, C., Frangini, S. & Mallmann, P. Therapie des lokal fortgeschrittenen, rezidivierten oder metastasierten Zervixkarzinoms. Onkologe 26, 616–622 (2020). https://doi.org/10.1007/s00761-020-00795-6
Schlüsselwörter
Chemotherapie, adjuvante

Tumorrezidiv, lokales

Metastasierung

Neoadjuvante Therapie

Radiochemotherapie
Keywords
Chemotherapy, adjuvant

Neoplasm recurrence, local

Metastasis

Neoadjuvant therapy

Radiochemotherapy