Zusammenfassung
Hintergrund
Gemäß dem Beschluss des Gemeinsamen Bundesausschusses (G-BA) erfolgt die Früherkennungsuntersuchung auf Gebärmutterhalskrebs ab 2020 als organisiertes Vorsorgeprogramm mit Einladungsmodell. Dies bietet Chancen für eine sozial ausgewogenere Inanspruchnahme.
Material und Methode
Es erfolgte eine Auswertung der relevanten Literatur.
Ergebnisse
Das Programm der Zervixkarzinom-Vorsorge ab 2020 sieht vor, dass die Krankenkassen anspruchsberechtigte Frauen im Alter zwischen 20 und 65 Jahren alle 5 Jahre zur Untersuchung einladen. Diese Frauen können auch ohne Einladung zum Screening gehen. Eine Altersobergrenze für die Früherkennungsuntersuchung auf Gebärmutterhalskrebs besteht nicht. Im Alter von 20–34 Jahren erfolgt wie bisher eine jährliche zytologische Untersuchung (Pap-Abstrich). Neu ist, dass Frauen ab 35 Jahren alle 3 Jahre Anspruch auf ein kombiniertes Screening aus zytologischer Untersuchung und HPV-Test haben (Kotest). Der Test auf HPV (humanes Papillomvirus) detektiert CIN 3 (zervikale intraepitheliale Neoplasien Grad 3) besser als die Zytologie, sodass das Screeningintervall von jährlich auf 3‑jährlich verlängert wurde. Bei auffälligen Befunden kann laut Richtlinie für organisierte Krebsfrüherkennungsprogramme der Kotest wiederholt werden oder eine Abklärungskolposkopie erfolgen. Diese neue Leistung umfasst u. a. die Untersuchung mit Kolposkop, ggf. eine Biopsie und Kürettage sowie die Beratung der Versicherten.
Schlussfolgerung
Aufgrund der akkumulierten und in der S3-Leitlinie zur Prävention des Zervixkarzinoms bewerteten Evidenz wurde die Krebsvorsorge in Deutschland weiterentwickelt. Dazu gehört ein doppelter Paradigmenwechsel in der sekundären Prävention mit Einführung des molekularen Nachweises auf HPV und des organisierten Screenings.
Abstract
Background
In accordance with the decision of the Federal Joint Committee (G-BA), early screening for cervical cancer will be a part of an organized cancer screening program with an invitation model starting in 2020. This offers the opportunity for more socially balanced participation.
Materials and methods
The relevant literature was evaluated.
Results
Starting in 2020, the cervical cancer screening program provides that health insurance companies invite eligible women between the ages of 20 and 65 to be examined every 5 years. Eligible women can also go to the screening without an invitation. There is no age limit for screening for cervical cancer. In women who are 20–34 years old, an annual cytological examination (Pap smear) is performed as before. As of January 1, 2020, a new feature is that women aged 35 and over are entitled to a combined screening of cytological examination and HPV (human papillomavirus) test every 3 years (co-test). The HPV test enables better detection of CIN 3 (cervical intraepithelial neoplasia grade 3) compared to cytology, so that the screening interval has been extended from annually to triennially. According to the guideline for organized cancer screening programs, the co-test can be repeated or a clarification colposcopy can be carried out in case of abnormal findings. This new service includes, among other things, an examination with a colposcope, if necessary, a biopsy and a curettage, and the advice to the insured.
Conclusion
Based on the evidence accumulated and evaluated in the S3 guideline for the prevention of cervical cancer, cancer prevention in Germany has been developed further. These changes include a double paradigm shift in secondary prevention with the introduction of molecular detection of HPV and organized screening.
This is a preview of subscription content, log in to check access.
Access options
Buy single article
Instant access to the full article PDF.
US$ 39.95
Price includes VAT for USA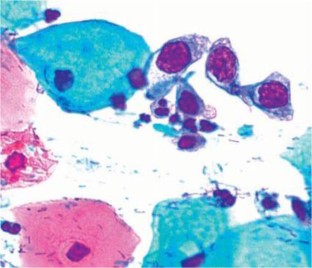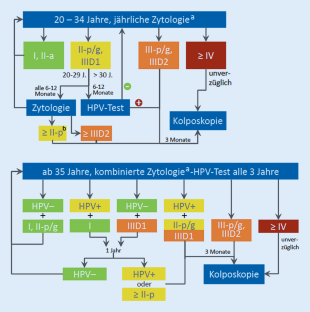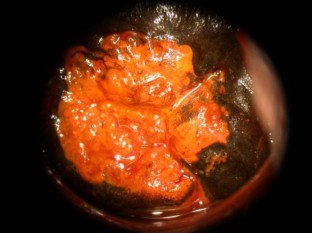 Literatur
1.

Arbyn M, Hillemanns P (2018) HPV assays validated for primary cervical cancer screening. www.HPVWorld.com. Zugegriffen: 05.04.2020

2.

Arbyn M, Snijders PJ, Meijer CJ et al (2015) Which high-risk HPV assays fulfil criteria for use in primary cervical cancer screening? Clin Microbiol Infect 21:817–826

3.

Bosch FX, Lorincz A, Munoz N et al (2002) The causal relation between human papillomavirus and cervical cancer. J Clin Pathol 55:244–265

4.

Dillner J, Rebolj M, Birembaut P et al (2008) Long term predictive values of cytology and human papillomavirus testing in cervical cancer screening: joint European cohort study. BMJ 337:a1754

5.

Gemeinsamer Bundesausschuss (2018) Beschluss des Gemeinsamen Bundesausschusses über eine Änderung der Krebsfrüherkennungs-Richtlinie und eine Änderung der Richtlinie für organisierte Krebsfrüherkennungsprogramme: Programm zur Früherkennung von Zervixkarzinomen. https://www.g-ba.de/downloads/39-261-3597/2018-11-22_oKFE-RL_Zervixkarzinom.pdf. Zugegriffen: 05.04.2020

6.

Gemeinsamer Bundesausschuss (2016) Methodenbewertung – Eckpunkte für zukünftiges Screening auf Gebärmutterhalskrebs geändert. https://www.g-ba.de/presse/pressemitteilungen/641. Zugegriffen: 05.04.2020

7.

Gemeinsamer Bundesausschuss (2018) Richtlinie für organisierte Krebsfrüherkennungsprogramme. https://www.g-ba.de/downloads/62-492-1844/oKFE-RL-2018-11-22-iK-2019-07-01_WZ.pdf. Zugegriffen: 05.04.2020

8.

Geyer S, Jaunzeme J, Hillemanns P (2015) Cervical cancer screening in Germany: group-specific participation rates in the state of Niedersachsen (Lower Saxony). A study with health insurance data. Arch Gynecol Obstet 291:623–629

9.

Iftner T, Eberle S, Iftner A et al (2010) Prevalence of low-risk and high-risk types of human papillomavirus and other risk factors for HPV infection in Germany within different age groups in women up to 30 years of age: an epidemiological observational study. J Med Virol 82:1928–1939

10.

Klug SJ, Hukelmann M, Hollwitz B et al (2007) Prevalence of human papillomavirus types in women screened by cytology in Germany. J Med Virol 79:616–625

11.

Leitlinienprogrpamm Onkologie (2017) S3-Leitlinie: Prävention des Zervixkarzinoms, Langversion 1.1. https://www.leitlinienprogramm-onkologie.de/fileadmin/user_upload/Downloads/Leitlinien/Zervixkarzinom_Praevention/LL_Pr%C3%A4vention_des_Zervixkarzinoms_Langversion_1.1.pdf. Zugegriffen: 05.04.2020

12.

Luyten A, Buttmann-Schweiger N, Luyten K et al (2014) Early detection of CIN 3 and cervical cancer during long-term follow-up using HPV/Pap smear co-testing and risk-adapted follow-up in a locally organised screening programme. International journal of cancer. Int J Cancer 135:1408–1416

13.

Mccredie MR, Sharples KJ, Paul C et al (2008) Natural history of cervical neoplasia and risk of invasive cancer in women with cervical intraepithelial neoplasia 3: a retrospective cohort study. Lancet Oncol 9:425–434

14.

Meijer CJ, Berkhof J, Castle PE et al (2009) Guidelines for human papillomavirus DNA test requirements for primary cervical cancer screening in women 30 years and older. Int J Cancer 124:516–520

15.

Petry KU, Menton S, Menton M et al (2003) Inclusion of HPV testing in routine cervical cancer screening for women above 29 years in Germany: results for 8466 patients. Br J Cancer 88:1570–1577

16.

Petry KU, Rinnau F, Bohmer G et al (2013) Annual Papanicolaou screening for 5 years among human papillomavirus-negative women. BMC Cancer 13:379

17.

Ronco G, Dillner J, Elfstrom KM et al (2014) Efficacy of HPV-based screening for prevention of invasive cervical cancer: follow-up of four European randomised controlled trials. Lancet 383:524–532

18.

Stoler MH, Castle PE, Solomon D et al (2007) The expanded use of HPV testing in gynecologic practice per ASCCP-guided management requires the use of well-validated assays. Am J Clin Pathol 127:335–337

19.

Tombola Group (2009) Biopsy and selective recall compared with immediate large loop excision in management of women with low grade abnormal cervical cytology referred for colposcopy: multicentre randomised controlled trial. BMJ 339:b2548

20.

Walboomers JM, Jacobs MV, Manos MM et al (1999) Human papillomavirus is a necessary cause of invasive cervical cancer worldwide. J Pathol 189:12–19
Ethics declarations
Interessenkonflikt
P. Hillemanns erhielt Vortragshonorare von Roche, MSD. T. Iftner gibt an, dass kein Interessenkonflikt besteht.
Für diesen Beitrag wurden von den Autoren keine Studien an Menschen oder Tieren durchgeführt. Für die aufgeführten Studien gelten die jeweils dort angegebenen ethischen Richtlinien.
About this article
Cite this article
Hillemanns, P., Iftner, T. Neue sekundäre Prävention des Zervixkarzinoms ab 2020. Onkologe 26, 591–597 (2020). https://doi.org/10.1007/s00761-020-00757-y
Schlüsselwörter
Präventive Gesundheitsleistungen

Humanes Papillomvirus 16

Diagnostische Screeningprogramme

Zervikale intraepitheliale Neoplasie

Gebärmutterhalskrebs
Keywords
Preventive health services

Human papilloma virus 16

Diagnostic screening programs

Cervical intraepithelial neoplasia

Uterine cervical neoplasms