Abstract
The study and evaluation of burnout in the context of parenthood have been of growing interest over the last years. The aim of this study is to develop and validate the Maternal Burnout Scale (MBS) to contribute knowledge of the assessment of parental burnout. Items were developed based on elements from an extensive literature review that defined the significant dimensions interesting to the parental context. These items were also examined by expert clinicians. The revised version was submitted for an exploratory testing on 673 French mothers (mean age 31.69 ± 5.52 years) having at least one child living at home (0–25 years); then, it was submitted for a confirmatory analysis of 1277 (mean age 32.67 ± 5.49 years) mothers having the same parental profile (child aged 0.1–24 years). The exploratory analysis suggests a three-factor structure that accounted for 51% of the variance: negative emotional-behavioral manifestations (25%), physical and emotional exhaustion (15%), and a sense of parental achievement (13%). The confirmatory analysis retained a bifactorial structure recognizing maternal burnout as a common factor as well as the three other factors. According to the established threshold scores, 6.6% (n = 84) of the mothers could experience clinical maternal burnout. Indeed, Maternal Burnout Scale (MBS) has shown good psychometric properties with a high internal consistency both for the general score and for subscales. Furthermore, the validity of the scale was also confirmed. The MBS appears to be an applicable and reliable tool to determine the presence and severity of burnout symptoms among mothers. As a conclusion, the prevalence of maternal burnout indicates the importance of studying this syndrome in order to establish measures of prevention and actions to be taken.
Access options
Buy single article
Instant access to the full article PDF.
US$ 39.95
Tax calculation will be finalised during checkout.
Subscribe to journal
Immediate online access to all issues from 2019. Subscription will auto renew annually.
US$ 79
Tax calculation will be finalised during checkout.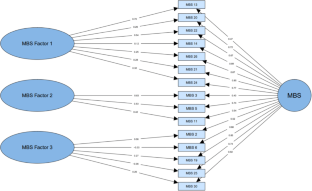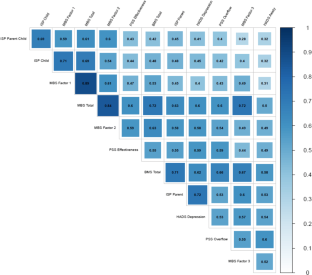 References
Abidin R (1990) Parenting stress index short form. Test manual. Pediactric Psychology Press, Chalottesville

Bandalos DL, Finney, SJ (2010) Factor analysis: exploratory and confirmatory. In Hancock GR, Mueller RO, Stapleton LM. The reviewer's guide to quantitative methods in the social sciences. Routledge, New York, pp 93–114

Beheshtipour N, Nasirpour P, Yektatalab S, Karimi M, Zare N (2016) The effect of educational-spiritual intervention on the burnout of the parents of school age children with cancer: a randomized controlled clinical trial. Int J Commun Based Nurse Midwifery 4(1):90–97

Bellinghausen L, Collange J, Botella M, Emery J-L, Albert É (2009) Validation factorielle de l'échelle française de stress perçu en milieu professionnel. Santé Publique 21(4):365–373

Brigas N, Lafraniere P, Abidin R (1996) Indice de stress parental: manuel Francophone en complément à l'édition américaine. Multi-health Systems Inc, Publications, Toronto

Brown T (2006) Confirmatory factor analysis for applied research. Guildford, New York

Browne M, Cudeck R (1993) Alternative ways of assessing model fit. In: Testing structural equation modeling. Sage, Newbury Park, CA, pp 136–162

Byrne B (1998) Structural equation modeling with LISREL, PRELIS, and SIMPLIS: basic concepts, applications, and programming. Lawrence Erlbaum, Mahwah

Cohen S, Kamarck T, Mermelstein R (1983) A global measure of perceived stress. J Health Soc Behav 24:385–396

Currie J (2004) Motherhood, stress and the exercise experience: freedom or constraint? Leis Stud 23(3):225–242. https://doi.org/10.1080/0261436042000251987

Demerouti E, Bakker AB, Nachreiner F, Schaufeli WB (2001) The job demands-resources model of burnout. J Appl Psychol 86(3):499

Demerouti E, Bakker AB, Vardakou I, Kantas A (2003) The convergent validity of two burnout instruments. Eur J Psychol Assess 19(1):12–23. https://doi.org/10.1027/1015-5759.19.1.12

Densten IL (2001) Re-thinking burnout. J Organ Behav 22(8):833–847. https://doi.org/10.1002/job.115

Duygun T, Sezgin N (2003) The effects of stress symptoms, coping styles and perceived social support on burnout level of mentally handicapped and healthy children's mothers. Türk Psukoloji Dergisi 18(52):37–52

Edelwich J, Brodsky A (1980) Burn-out: Stages of disillusionment in the helping professions (Vol. 1). Human Sciences Press, New York

Fabrigar LR, Wegener DT, MacCallum RC, Strahan EJ (1999) Evaluating the use of exploratory factor analysis in psychological research. Psychol Methods 4(3):272

Freudenberger HJ (1974) Staff burn-out. J Soc Issues 30(1):159–165. https://doi.org/10.1111/j.1540-4560.1974.tb00706.x

Gil-Monte PR (2011) CESQT Cuestionario para la evaluación del síndrome de quemarse por el trabajo: manual. TEA, Madrid

Goldman N (1989) Burnout and coping strategies in mothers of young children. Diss Abstr Int 50(11):5

Hair JF, Black WC, Babin BJ, Anderson RE (2014) Multivariate data analysis. Pearson Education Limited, Harlow

Hu L, Bentler P (1998) Fit indices in covariance structure modeling: sensitivity to underparameterized model misspecification. Psychol Methods 3(4):424–453

Hubert S, Aujoulat I (2018) Parental burnout: when exhausted mothers open up. Front Psychol 9:1021. https://doi.org/10.3389/fpsyg.2018.01021

IBM Corp. SPSS, I (2012) Released 2012. IBM SPSS Statistics for Windows

INSEE (2016) The life of women and men in Europe - childcare and housework. Retrieved from: insee.fr/fr/outil-interactif/3142332/bloc-3d.html?lang=fr

Jaramillo S, Moreno S, Rodríguez V (2016) Emotional burden in parents of children with trisomy 21. Descriptive study in a Colombian population. Universitas Psychologica 15(1):29–38. https://doi.org/10.11144/Javeriana.upsy15-1.ebpc

Kaplan R, Saccuzzo D (1997) Psychological testing: principles, applications, and issues. Brooks, Pacific Grove

Karadavut KI, Uneri SO (2011) Burnout, depression and anxiety levels in mothers of infants with brachial plexus injury and the effects of recovery on mothers' mental health. Eur J Obstet Gynecol Reprod Biol 157(1):43–47. https://doi.org/10.1016/j.ejogrb.2011.03.001

King DB, O'Rourke N, DeLongis A (2014) Social media recruitment and online data collection: a beginner's guide and best practices for accessing low-prevalence and hard-to-reach populations. Can Psychol/Psychologie Canadienne 55(4):240–249. https://doi.org/10.1037/a0038087

Lee RT, Ashforth BE (1990) On the meaning of Maslach's three dimensions of burnout. J Appl Psychol 75(6):743

Lee CT, Zhang G, Edwards MC (2012) Ordinary least squares estimation of parameters in exploratory factor analysis with ordinal data. Multivar Behav Res 47(2):314–339. https://doi.org/10.1080/00273171.2012.658340

Levy-Shiff R (1999) Fathers' cognitive appraisals, coping strategies, and support resources as correlates of adjustment to parenthood. J Fam Psychol 13(4):554

Lheureux F, Truchot D, Borteyrou X, Rascle N (2017) The Maslach Burnout Inventory–Human Services Survey (MBI-HSS): factor structure, wording effect and psychometric qualities of known problematic items. Le travail humain 80(2):161–186. https://doi.org/10.3917/th.802.0161

Lieberman DZ (2008) Evaluation of the stability and validity of participant samples recruited over the Internet. CyberPsychol Behav 11(6):743–745. https://doi.org/10.1089/cpb.2007.0254

Lindahl Norberg A (2007) Burnout in mothers and fathers of children surviving brain tumour. J Clin Psychol Med Settings 14(2):130–137

Lindström C, Aman J, Norberg AL (2011) Parental burnout in relation to sociodemographic, psychosocial and personality factors as well as disease duration and glycaemic control in children with type 1 diabetes mellitus. Acta Paediatr 100(7):1011–1017. https://doi.org/10.1111/j.1651-2227.2011.02198.x

Lorenzo-Seva U (2013) How to report the percentage of explained common variance in exploratory factor analysis. Department of Psychology, Tarragona

Lourel M, Gueguen N, Mouda F (2007) L'évaluation du burnout de Pines: adaptation et validation en version française de l'instrument Burnout Measure Short version (BMS-10). Prat Psychol 13(3):353–364. https://doi.org/10.1016/j.prps.2007.06.001

Malach-Pines A (2005) The burnout measure short version (BMS). Int J Stress Manag 12(1):78–88. https://doi.org/10.1037/1072-5245.12.1.78

Manor-Binyamini I, Abu-Ajaj O (2017) Ways of coping and mental burnout of Bedouin mothers compared to Bedouin fathers of children with ASD. Neuropsychiatry 7(1)

Mardia K (1975) Applications of some measures of multivariates kewness and kurtosis in testing normality and robustestness studies. J Indian Soc Probability and Statistics 36:115–128

Maslach C, Jackson SE (1981) The measurement of experienced burnout. J Organ Behav 2(2):99–113. https://doi.org/10.1002/job.4030020205

Mikolajczak M, Gross JJ, Roskam I (2019) Parental burnout: what is it and why does it matter? Clin Psychol Sci. https://doi.org/10.1177/2167702619858430

Mikolajczak M, Raes M-E, Avalosse H, Roskam I (2017) Exhausted parents: sociodemographic, child-related, parent-related, parenting and family-functioning correlates of parental burnout. J Child Fam Stud 1(13):1024–1062. https://doi.org/10.1007/s10826-017-0892-4

Pelsma D, Roland B, Tollefson N, Wigington H (1989) Parent burnout: validation of the Maslach Burnout Inventory with a sample of mothers. Meas Eval Couns Dev 22:81–87

Pronovost G (2007) Le temps dans tous ses états: temps de travail, temps de loisir et temps pour la famille à l'aube du XXIe siècle. Enjeux publics IRPP, 8. Retrieved from: http://bel.uqtr.ca/id/eprint/653

Razavi D, Delvaux N, Farvacques C, Robaye E (1989) Validation de la version française du HADS dans une population de patients cancéreux hospitalisés. Revue de Psychologie Appliquée 39:295–307

Rodriguez A, Reise S, Haviland M (2016) Applying bifactor statistical indices in the evaluation of psychological measures. J Pers Assess 98(3):223–237. https://doi.org/10.1080/00223891.2015.1089249

Roskam I, Raes M-E, Mikolajczak M (2017) Exhausted parents: development and preliminary validation of the parental burnout inventory. Front Psychol 8:163. https://doi.org/10.3389/fpsyg.2017.00163

Roskam I, Brianda ME, Mikolajczak M (2018) A step forward in the conceptualization and measurement of parental burnout: the Parental Burnout Assessment (PBA). Front Psychol 9:758. https://doi.org/10.3389/fpsyg.2018.00758

Sánchez-Rodríguez R, Perier S, Callahan S, Séjourné N (2019) Revue descriptive de la littérature relative au burnout parental. Psychol Can 60(2):77-89.https://doi.org/10.1037/cap0000168

Schaufeli, W. B., & Buunk, B. P. (2003). Burnout: an overview of 25 years of research and theorizing. The handbook of work and health psychology, 2, 282–424

Schumacker R, Lomax R (2004) A beginner's guide to structural equation modeling. Lawrence Erlbaum Associates, Mahwah

Séjourné N, Sánchez-Rodríguez R, Leboullenger A, Callahan S (2018) Maternal burnout: an exploratory study. J Reprod Infant Psychol 36(3):276-288. https://doi.org/10.1080/02646838.2018.1437896

Shirom A, Melamed S (2006) A comparison of the construct validity of two burnout measures in two groups of professionals. Int J Stress Manag 13(2):176–200. https://doi.org/10.1037/1072-5245.13.2.176

Stein G, Van den Akker O (1992) The retrospective diagnosis of postnatal depression by questionnaire. J Psychosom Res 36:67–75. https://doi.org/10.1016/0022-3999(92)90115-I

Timmerman ME, Lorenzo-Seva U (2011) Dimensionality assessment of ordered polytomous items with parallel analysis. Psychol Methods 16(2):209. https://doi.org/10.1037/a0023353

Truchot (2004) L'épuisement professionnel: concepts, modèles, interventions. Dunod, Paris

Van Bakel HJA, Van Engen ML, Peters P (2018) Validity of the parental burnout inventory among dutch employees. Front Psychol 9:697. https://doi.org/10.3389/fpsyg.2018.00697

Van Dam A (2016) Subgroup analysis in burnout: relations between fatigue, anxiety, and depression. Psychopathology 7:90. https://doi.org/10.3389/fpsyg.2016.00090

World Health Organization (1992) The ICD-10 classification of mental and behavioural disorders: clinical descriptions and diagnostic guidelines. World Health Organization, Geneva

Worthington RL, Whittaker TA (2006) Scale development research: a content analysis and recommendations for best practices. Couns Psychol 34(6):806–838

Zawieja P, Guarnieri F (2013) Épuisement professionnel: Approches innovantes et pluridisciplinaires. Armand Colin

Zigmond A, Snaith R (1983) The hospital anxiety and depression scale. Acta Psychiatrica Scand 67:361–370. https://doi.org/10.1111/j.1600-0447.1983.tb09716.x

Zumbo B, Gadermann A, Zeisser C (2007) Ordinal versions of coefficients alpha and theta for Likert Rating Scales. J Mod Appl Stat Methods 6(1):4. https://doi.org/10.22237/jmasm/1177992180
Ethics declarations
Conflict of interest
The authors declare that they have no conflict of interest.
Ethical approval
All procedures performed in studies involving human participants were in accordance with the ethical standards of the institutional research committee of Toulouse (CERNI) and with the 1964 Helsinki declaration and its later amendments or comparable ethical standards.
Informed consent
Informed consent was obtained from all individual participants included in the study.
Additional information
Publisher's note
Springer Nature remains neutral with regard to jurisdictional claims in published maps and institutional affiliations.
Appendix
Appendix
About this article
Cite this article
Sánchez-Rodríguez, R., Callahan, S. & Séjourné, N. Development and preliminary validation of the Maternal Burnout Scale (MBS) in a French sample of mothers: bifactorial structure, reliability, and validity. Arch Womens Ment Health 23, 573–583 (2020). https://doi.org/10.1007/s00737-019-00993-1
Received:

Accepted:

Published:

Issue Date:
Keywords
Maternal Burnout Scale

Parental burnout

Questionnaire validation

Bifactorial structure

Matrix polychorics