Abstract
Behavioral health problems affect at least 15% of mothers, but few studies have examined how different problems cluster together. Characterizing symptom profiles and their correlates early in the family life cycle can extend existing understanding beyond that provided by studies based on single problems. Mothers in the Fragile Families and Child Wellbeing study, a national birth cohort of racially diverse and mostly unmarried mothers (N = 4205), reported depression, anxiety, and substance dependence symptoms. Latent class analysis (LCA) identified mothers' symptom profiles in their children's third year. We explored associations between symptom profiles and demographics, reproductive health outcomes, functional limitations, and postpartum behavioral health. LCA identified five profiles: (1) Depression only (14.5% of sample), (2) Severe depression and anxiety (5.3%), (3) Anxiety only (2.2%), (4) Depression and substance use (1.4%), and (5) Currently symptom free (76.6%). Depressive symptoms were more moderate when co-occurring with substance dependence and more severe when co-occurring with anxiety. Postpartum depression, postpartum anxiety, and smoking during pregnancy were the most robust correlates of being symptomatic in year 3. Mothers in the "Severe depression and anxiety" group were more likely to be in that profile if they reported functional impairment and/or relationship dissolution. Mothers in the "Depression only" profile were more likely to have higher parity and/or functional impairment. A quarter of mothers of young children had significant behavioral health symptoms, with most reporting depression symptoms. Psychosocial and physical health factors in the pregnancy and postpartum periods were associated with future symptoms, warranting obstetrician and pediatrician attention.
This is a preview of subscription content, log in to check access.
Access options
Buy single article
Instant access to the full article PDF.
US$ 39.95
Price includes VAT for USA
Subscribe to journal
Immediate online access to all issues from 2019. Subscription will auto renew annually.
US$ 99
This is the net price. Taxes to be calculated in checkout.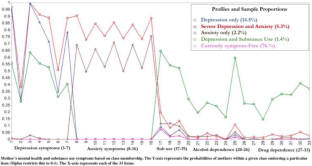 Data availability
The Data Archive at the Office of Population Research of Princeton University approved use of these publicly available and de-identified data and Johns Hopkins School of Public Health IRB determined this study to be exempt.
References
American College of Obstetricians and Gynecologists (2015) Committee opinion: screening for perinatal depression. Obstet Gynecol 125:1268–1271. https://doi.org/10.1097/01.AOG.0000465192.34779.dc

Ananth CV, Keyes KM, Wapner RJ (2013) Pre-eclampsia rates in the United States, 1980-2010: age-period-cohort analysis. BMJ. https://doi.org/10.1136/bmj.f6564

Andrews G, Peters L (1998) The psychometric properties of the composite international diagnostic interview. Soc Psychiatry Psychiatr Epidemiol 33:80–88. https://doi.org/10.1007/s001270050026

Breslau J, Cefalu M, Wong EC, Burnam MA, Hunter GP, Florez KR, Collins RL (2017) Racial/ethnic differences in perception of need for mental health treatment in a US national sample. Soc Psychiatry Psychiatr Epidemiol 52:929–937. https://doi.org/10.1007/s00127-017-1400-2

Brown HK, Qazilbash A, Rahim N, Dennis CL, Vigod SN (2018) Chronic medical conditions and perinatal mental illness: a systematic review and meta-analysis. Am J Epidemiol 87:2060–2068. https://doi.org/10.1093/aje/kwy080

Child Trends DataBank (2016) Births to unmarried women. https://www.childtrends.org/indicators/births-to-unmarried-women Accessed 7 June 2019

Collins LM, Lanza ST (2010) Latent class and latent transition analysis: with applications in the social, behavioral, and health sciences. John Wiley & Sons, Inc., Hoboken, NJ

Cox EQ, Sowa NA, Meltzer-Brody SE, Gaynes BN (2016) The perinatal depression treatment cascade. J Clin Psychiatry 77:1189–1200. https://doi.org/10.4088/JCP.15r10174

Cox JL, Holden M, Sagovsky R (1987) Detection of postnatal depression: development of the 10-item Edinburgh Postnatal Depression Scale. Br J Psychiatry 150:782–786. https://doi.org/10.1192/bjp.150.6.782

DeKlyen M, Brooks-Gunn J, McLanahan S, Knab J (2006) The mental health of married, cohabiting, and non-coresident parents with infants. Am J Public Health 96:1836–1841. https://doi.org/10.2105/AJPH.2004.049296

DeSisto CL, Kim SY, Sharma AJ (2014) Prevalence estimates of gestational diabetes mellitus in the United States, pregnancy risk assessment monitoring system (PRAMS), 2007–2010. Prev Chronic Dis. https://doi.org/10.5888/pcd11.130415

Doss BD, Rhoades GK, Stanley SM, Markman HJ (2009) The effect of the transition to parenthood on relationship quality: an eight-year prospective study. J Pers Soc Psychol 96:601–619. https://doi.org/10.1037/a0013969

Ettinger AK, Riley AW, Colantuoni E, Mendelson T (2018) Trajectories of early parenting practices among low-income ethnically diverse women. J Child Fam Stud 27:615–628. https://doi.org/10.1007/s10826-017-0895-1

Farr SL, Dietz PM, O'Hara MW et al (2014) Postpartum anxiety and comorbid depression in a population-based sample of women. J Women's Health 23:120–128. https://doi.org/10.1089/jwh.2013.4438

Frank RG, Glied SA (2006) Better but not well: mental health policy in the United States since 1950. The Johns Hopkins University Press, Baltimore, MD

Fuller E, Anderson B, Leddy M, Schulkin J (2013) Obstetrician-gynecologists' knowledge, attitudes and practices regarding major depressive disorder. J Psychosom Obstet Gynaecol 34:34–38. https://doi.org/10.3109/0167482X.2012.752811

Goodman JH, Chenausky KL, Freeman MP (2014) Anxiety disorders during pregnancy. J Clin Psychiatry 75:e1153–e1184. https://doi.org/10.4088/JCP.14r09035

Goodman SH, Rouse MH, Connell AM, Broth MR, Hall CM, Heyward D (2011) Maternal depression and child psychopathology: a meta-analytic review. Clin Child Fam Psychol Rev 14:1–27. https://doi.org/10.1007/s10567-010-0080-1

Grote N, Katon W, Lohr MJ (2013) Momcare: culturally relevant treatment services for perinatal depression. Arch Womens Ment Health 16:S4

Grote N, Katon W, Russo J et al (2015) Collaborative care for perinatal depression in socioeconomically disadvantages women: a randomized trial. Depress Anxiety 32:821–834. https://doi.org/10.1002/da.22405

Grote NK, Bridge JA, Gavin AR et al (2010) A meta-analysis of depression during pregnancy and the risk of preterm birth, low birth weight, and intrauterine growth restriction. Arch Gen Psychiatry 67:1012–1024. https://doi.org/10.1001/archgenpsychiatry.2010.111

Huang ZJ, Wong FY, Ronzio CR, Yu SM (2007) Depressive symptomatology and mental health help-seeking patterns of U.S.- and foreign-born mothers. Matern Child Health J 11:257–267. https://doi.org/10.1007/s10995-006-0168-x

Jung T, Wickrama KA (2008) An introduction to latent class growth analysis and growth mixture modeling. Soc Personal Psychol Compass 2:302–317. https://doi.org/10.1111/j.1751-9004.2007.00054.x

Kessler R, Berglund P, Demier O et al (2005) Lifetime prevalence and age-of-onset distributions of DSM-IV disorders in the National Comorbidity Survey Replication. Arch Gen Psychiatry 62:593–602. https://doi.org/10.1001/archpsyc.62.6.593

Kessler RC, Andrews G, Mroczek D, Ustun B, Wittchen HU (1998) The World Health Organization composite international diagnostic interview short-form (CIDI-SF). Int J Methods Psychiatr Res 7:171–185

Lander L, Howsare J, Byrne M (2013) The impact of substance use disorders on families and children: from theory to practice. Soc Work Public Health 28:194–205. https://doi.org/10.1080/19371918.2013.759005

Lanier P, Jonson-Reid M (2014) Comparing primiparous and multiparous mothers in a nurse home visiting prevention program. Birth 41:344–352. https://doi.org/10.1111/birt.12120

Little TD (2013) Longitudinal structural equation modeling. Guilford Press, New York

Liu W, Mumford EA, Petras H (2015) Maternal patterns of postpartum alcohol consumption by age: a longitudinal analysis of adult urban mothers. Prev Sci 16:353–363. https://doi.org/10.1007/s11121-014-0522-y

Long JS, Freese J (2006) Regression models for categorical and limited dependent variables using Stata, 2nd edn. Stata Press, College Station, Texas

Manuel JI, Martinson ML, Bledsoe-Mansori SE, Bellamy JL (2012) The influence of stress and social support on depressive symptoms in mothers with young children. Soc Sci Med 75:2013–2020. https://doi.org/10.1016/j.socscimed.2012.07.034

Minkovitz C, Strobino D, Scharfstein D, Hou W, Miller T, Mistry KB, Swartz K (2005) Maternal depressive symptoms and children's receipt of health care in the first 3 years of life. Pediatrics 115:306–314. https://doi.org/10.1542/peds.2004-0341

Mistry KB, Minkovitz CS, Riley AW, Johnson SB, Grason HA, Dubay LC, Guyer B (2012) A new framework for childhood health promotion: the role of policies and programs in building capacity and foundations of early childhood health. Am J Public Health 102:1688–1696. https://doi.org/10.2105/AJPH.2012.300687

Muthén LK, Muthén BO (1998-2017) Mplus user's guide, 8th edn. Muthén & Muthén, Los Angeles, CA

Naerde A, Tambs K, Mathiesen KS et al (2000) Symptoms of anxiety and depression among mothers of pre-school children: effect of chronic strain related to children and child care-taking. J Affect Disord 58:181–199. https://doi.org/10.1016/S0165-0327(99)00119-6

Putnam K, Robertson-Blackmore E, Sharkey K et al (2015) Heterogeneity of postpartum depression: a latent class analysis. Lancet Psychiatry 2:59–67. https://doi.org/10.1016/S2215-0366(14)00055-8

Putnam KT, Wilcox M, Robertson-Blackmore E et al (2017) Clinical phenotypes of perinatal depression and time of symptom onset: analysis of data from an international consortium. Lancet Psychiatry 4(6):477–485

Reichman N, Teitler J, Garfinkel I, McLanahan S (2001) Fragile families: sample and design. Child Youth Serv Rev 23:303–326

Richmond JB, Health C (2009) Maternal depression can undermine the development of young children: Working Paper No. 8. Cent Dev Child Harvard Univ

Ross LE, McLean LM (2006) Anxiety disorders during pregnancy and the postpartum period. J Clin Psychiatry 67:1285–1298. https://doi.org/10.4088/JCP.v67n0818

Rowan P, Greisinger A, Brehm B, Smith F, McReynolds E (2012) Outcomes from implementing systematic antepartum depression screening in obstetrics. Arch Womens Ment Health 15:115–120. https://doi.org/10.1007/s00737-012-0262-6

Schafer JL, Graham JW (2002) Missing data: our view of the state of the art. Psychol Methods 7:147–177. https://doi.org/10.1037/1082-989X.7.2.147

Schofield CA, Battle CL, Howard M, Ortiz-Hernandez S (2014) Symptoms of the anxiety disorders in a perinatal psychiatric sample: a chart review. J Nerv Ment Dis 202:154–160. https://doi.org/10.1097/NMD.0000000000000086

Selix NW, Goyal D (2018) Recent policy changes in perinatal depression screening and treatment. J Nurse Pract 14:117–123. https://doi.org/10.1016/j.nurpra.2017.11.016

Smith VC, Wilson CR, Goodman SH et al (2016) Families affected by parental substance use. Clin Child Fam Psychol Rev 138:1–27. https://doi.org/10.1007/s10567-010-0080-1

Sontag-Padilla L, Schultz D, Reynolds KA, et al (2012) Maternal depression: implications for systems serving mother and child

StataCorp L. Stata/SE 14.2 (2015), College Station, TX

Turney K (2011a) Maternal depression and childhood health inequalities. J Health Soc Behav 52:314–332. https://doi.org/10.1177/002214651

Turney K (2012) Pathways of disadvantage: explaining the relationship between maternal depression and children's problem behaviors. Soc Sci Res 41:1546–1564. https://doi.org/10.1016/j.ssresearch.2012.06.003

Turney K (2011b) Chronic and proximate depression among mothers: implications for child well-being. J Marriage Fam 73:149–163. https://doi.org/10.1111/j.1741-3737.2010.00795.x

Turney K (2011c) Labored love: examining the link between maternal depression and parenting behaviors. Soc Sci Res 40:399–415. https://doi.org/10.1016/j.ssresearch.2010.09.009

Umberson D, Pudrovska T, Reczek C (2010) Parenthood, childlessness, and well-being: a life course perspective. J Marriage Fam 72:612–629

Vesga-Lopez O, Blanco C, Keyes K et al (2008) Psychiatric disorders in pregnant and postpartum women in the United States. Arch Gen Psychiatry 65:805–815. https://doi.org/10.1001/archpsyc.65.7.805

White IR, Royston P, Wood AM (2011) Multiple imputation using chained equations: issues and guidance for practice. Stat Med 30:377–399. https://doi.org/10.1002/sim.4067

Williams D, Cheadle J (2015) Economic hardship, parents' depression, and relationship distress among couples with young children. Soc Ment Health 6:73–89. https://doi.org/10.1177/2156869315616258

Witt WP, Keller A, Gottlieb C, Litzelman K, Hampton J, Maguire J, Hagen EW (2011) Access to adequate outpatient depression care for mothers in the USA: a nationally representative population-based study. J Behav Health Serv Res 38:191–204. https://doi.org/10.1007/s11414-009-9194-y

Wittchen HU (1994) Reliability and validity studies of the WHO—composite international diagnostic interview (CIDI): a critical review. J Psychiatr Res 28:57–84. https://doi.org/10.1016/0022-3956(94)90036-1

World Health Organization (2009) Mental health aspects of women's reproductive health: a global review of the literature. WHO Press 61:178. https://doi.org/10.1176/appi.ps.61.4.42
Funding
Dr. Weiss-Laxer was supported by the C. Sylvia and Eddie C. Brown Community Health Scholarship. Dr. Osborne's research was supported by the NIH 1K23 MH110607-01A1 and Doris Duke Early Clinician Investigator Award.
Ethics declarations
Conflict of interest
The authors declare that they have no conflict of interest.
Ethical approval
This article does not contain any studies with human participants performed by any of the authors.
Informed consent
Informed consent was obtained from all individual participants included in the study.
Additional information
Publisher's note
Springer Nature remains neutral with regard to jurisdictional claims in published maps and institutional affiliations.
Electronic supplementary material
About this article
Cite this article
Weiss-Laxer, N.S., Johnson, S.B., Ghazarian, S.R. et al. Maternal behavioral health symptom profiles in early family life: complexity and context. Arch Womens Ment Health 23, 429–439 (2020). https://doi.org/10.1007/s00737-019-00987-z
Received:

Accepted:

Published:

Issue Date:
Keywords
Maternal behavioral health

Latent class analysis

Fragile families

Early childhood