Abstract
We have defined a psychological intervention based on cognitive narrative therapy and the Ottawa decision framework to reduce adjustment problems following a termination of pregnancy (TOP) after a positive prenatal diagnosis (PND). The intervention is composed of four sessions: decision, subjectivation, metaphorization, and projecting. This study aims to assess the effectiveness of a cognitive narrative intervention to prevent depression and anxiety symptoms after TOP. The intervention was accepted by 24 participants. The outcome is compared with a control group of 67 women who also terminated a pregnancy after PND. Participants were from several Portuguese institutions; 64.4% had a genetic and 35.6% had ultrasound diagnosis; the mean age was 30.0 years and the mean gestational age was 19 weeks. There are two evaluations: a baseline at the 15th day and a sixth month follow-up after TOP, using Beck Depression Inventory, Zung Anxiety Scale, Perinatal Grief Scale, and an instrument capturing participant satisfaction. Six months after TOP, there is a lower mean of anxiety and depression (p < 0.05), between groups, with effect sizes on the follow-up of 0.54 for depression, 0.41 for anxiety, and 0.23 for perinatal grief. This intervention has very positive effects on women mental health, and we emphasize the importance of the meaning-making process in the context of terminating a wanted pregnancy.
This is a preview of subscription content, log in to check access.
Access options
Buy single article
Instant access to the full article PDF.
US$ 39.95
Price includes VAT for USA
Subscribe to journal
Immediate online access to all issues from 2019. Subscription will auto renew annually.
US$ 99
This is the net price. Taxes to be calculated in checkout.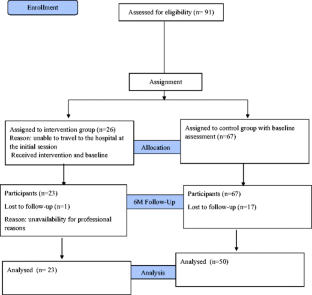 References
Andrade AS, Moreira M, Sá M, Pacheco D, Almeida V, Rocha JC (2017) Randomized controlled trial of a cognitive narrative crisis intervention for bereavement in primary healthcare. Behav Cogn Psychother 45(1):85–90

Barbosa V, Sá M, Rocha JC (2014) Randomised controlled trial of a cognitive narrative intervention for complicated grief in widowhood. Aging Ment Health 18(3):354–362

Beutler LE (2000) Empirically based decision making in clinical practice. Prevention & Treatment 3(1):27a

Chambless DL, Hollon SD (1998) Defining empirically supported therapies. J Consult Clin Psychol 66(1):7–18

Clover K, Carter GL, Mackinnon A, Adams C (2009) Is my patient suffering clinically significant emotional distress? Demonstration of a probabilities approach to evaluating algorithms for screening for distress. Support Care Cancer 17(12):1455–1462

Cohen J (1994) The earth is round (p < .05). Am Psychol 49:997–1003

Gonçalves O, Machado P (1999) Cognitive narrative psychotherapy: research foundations. J Clin Psychol 55(10):1179–1191

Hoffmann TC, Glasziou PP, Boutron I, Milne R, Perera R, Moher D et al (2014) Better reporting of interventions: template for intervention description and replication (TIDieR) checklist and guide. BMJ 348:g1687

Jane-Llopis E, Hosman C, Jenkins R, Anderson P (2003) Predictors of efficacy in depression prevention programmes meta-analysis. Br J Psychiatry 183(5):384–397

Kersting A, Dorsch M, Kreulich C, Baez E (2004) Psychological stress response after miscarriage and induced abortion. Psychosom Med 66(5):795–796

Korenromp MJ, Christiaens G, Van den Bout J, Mulder E, Hunfeld J, Bilardo CM et al (2005) Long-term psychological consequences of pregnancy termination for fetal abnormality: a cross-sectional study. Prenat Diagn 25(3):253–260

Lafarge C, Mitchell K, Fox P (2013) Women's experiences of coping with pregnancy termination for fetal abnormality. Qual Health Res 23(7):924–936

Lafarge C, Mitchell K, Fox P (2014) Termination of pregnancy for fetal abnormality: a meta-ethnography of women's experiences. Reproductive health matters 22(44):191–201

O'Connor AM, Jacobsen MJ, Stacey D (2002) An evidence-based approach to managing women's decisional conflict. J Obstet Gynecol Neonatal Nurs 31:570–581. https://doi.org/10.1111/j.1552-6909.2002.tb00083.x

Schulz KF, Altman DG, Moher D (2010) CONSORT 2010 statement: updated guidelines for reporting parallel group randomised trials. BMC Med 8(1):18

Serra ASV, Abreu JLP (1972) Aferição dos quadros clínicos depressivos. I - Ensaio de aplicação do "Inventário Depressivo de Beck" a uma amostra portuguesa de doentes deprimidos. Coimbra Médica 20:623–644

Serra ASV, Ponciano E, Relvas J (1982) Aferição da Escala de Auto Avaliação de Ansiedade de Zung numa amostra de população Portuguesa- II. Sua avaliação como instrumento de medida. Psiquiatria Clínica 4(3):203–213

Toedter LJ, Lasker JN, Alhadeff JM (1988) The perinatal grief scale: development and initial validation. Am J Orthopsychiatry 58(3):435–449

Wittouck C, Van Autreve S, De Jaegere E, Portzky G, Van Heeringen K (2011) The prevention and treatment of complicated grief: a meta-analysis. Clin Psychol Rev 31(1):69–78
Funding
This study was funded by CESPU, Portugal (02-UNIPSA/CICS-11n).
Ethics declarations
Conflict of interest
The authors declare that they have no conflict of interest.
Ethical approval
All procedures performed involving human participants were in accordance with the ethical standards of the institutional and with the 1964 Helsinki declaration and its later amendments or comparable ethical standards.
Informed consent
Informed consent was obtained from all individual participants included in the study.
About this article
Cite this article
Rocha, J., Nunes, C., Leonardo, A. et al. Women generating narratives after an unwanted prenatal diagnosis result: randomized controlled trial. Arch Womens Ment Health 21, 453–459 (2018). https://doi.org/10.1007/s00737-018-0822-5
Received:

Accepted:

Published:

Issue Date:
Keywords
Abortion

Termination of pregnancy

Prenatal diagnosis

Perinatal Grief

Depression

Anxiety

Decisions

Narratives

RCT