Abstract
Carbon stable isotope analysis can provide information about the origin and synthetic pathways that produce organic molecules, with applications in chemical, medical and (bio)geochemical sciences. The 13C/12C isotope ratios of organics such as amino acids are most commonly obtained as whole molecule averages. In this study, we apply proton nuclear magnetic resonance spectroscopy to conduct position-specific carbon isotope analyses of l-/d-alanine, l-threonine and l-histidine from different sources, in addition to molecule average stable isotope analyses obtained via mass spectrometry. Our results demonstrate that carbon isotope ratios can vary significantly between the individual carbon positions within an amino acid. For example, the β- and γ- carbons of l-threonine can differ in 13C/12C ratio by > 20 ‰. Comparisons of the position-specific and whole molecule average stable isotope abundances show that whole molecule analyses can mask the intramolecular isotope variation. These results provide the first experimentally measured position-specific isotope ratios for alpha and side chain carbons of alanine, threonine and histidine. Comparison with previous ab initio calculations of intramolecular equilibrium fractionation shows that the carbon isotope distributions are not at equilibrium, thus kinetic isotope effects play a significant role in amino acid synthesis. We hypothesize that position-specific 13C/12C isotope ratios provide an "isotopic fingerprint" that can give insight into the origin or synthesis pathway that formed an amino acid, and that this emerging analytical field will be a valuable addition to traditional stable isotope analysis.
This is a preview of subscription content, log in to check access.
Access options
Buy single article
Instant access to the full article PDF.
US$ 39.95
Price includes VAT for USA
Subscribe to journal
Immediate online access to all issues from 2019. Subscription will auto renew annually.
US$ 199
This is the net price. Taxes to be calculated in checkout.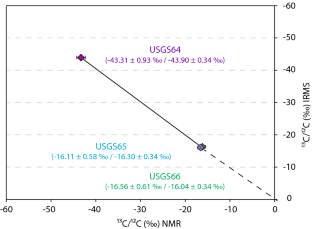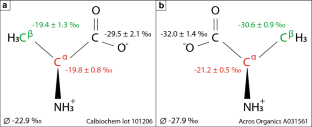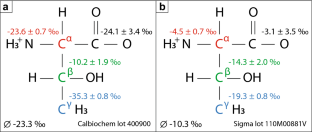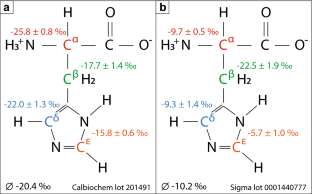 Abbreviations
(1H) NMR:

(Proton) Nuclear magnetic resonance spectroscopy

IRMS:

Isotope ratio mass spectrometry
References
Abaye DA, Morrison DJ, Preston T (2011) Strong anion exchange liquid chromatographic separation of protein amino acids for natural 13C-abundance determination by isotope ratio mass spectrometry. Rapid Commun Mass Spectrom 25:429–435

Abelson PH, Hoering TC (1961) Carbon isotope fractionation in formation of amino acids by photosynthetic organisms. Proc Natl Acad Sci USA 47:623–632

Brenna JT (2001) Natural intramolecular isotope measurements in physiololgy: elements of the case for an effort toward high-precision position-specific isotope analysis. Rapid Comm Mass Spectrom 15:1252–1262

Caytan E, Remaud GS, Tenailleau E, Akoka S (2007a) Precise and accurate quantitative 13C NMR with reduced experimental time. Talanta 71:1016–1021

Caytan E, Botosoa EP, Silvestre V, Robins RJ, Akoka S, Remaud GS (2007b) Accurate quantitative 13C NMR spectroscopy: Repeatability over time of site specific 13C isotope-ratio determination. Anal Chem 79:8266–8269

Dunn PJH, Honch NV, Evershed RP (2011) Comparison of liquid chromatography–isotope ratio mass spectrometry (LC/IRMS) and gas chromatography–combustion–isotope ratio mass spectrometry (GC/C/IRMS) for the determination of collagen amino acid δ13C values for palaeodietary and palaeoecological reconstruction. Rapid Commun Mass Spectrom 25:2995–3011

Fry B, Carter JF, Yamada K, Yoshida N, Juchelka D (2018) Position-specific 13C/12C analysis of amino acid carboxyl groups–automated flow-injection analysis based on reaction with ninhydrin. Rapid Commun Mass Spectrom 32:992–1000

Galimov EM (1985) The Biological Fractionation of Isotopes. Academic Press, New York, p 262

Gilbert A, Silvestre V, Robins RJ, Remaud GS (2009) Accurate Quantitative Isotopic 13C NMR spectroscopy for the determination of the intramolecular distribution of 13C in glucose at natural abundance. Anal Chem 81:8978–8985

Gilbert A, Silvestre V, Robins RJ, Tcherkez G, Remaud GS (2011) A 13C NMR spectrometric method for the determination of intramolecular δ13C values in fructose from plant sucrose samples. New Phytol 191:579–588

Guyader S, Thomas F, Jamin E, Grand M, Akoka S, Silvestre V, Remaud GS (2019) Combination of 13C and 2H SNIF-NMR isotopic fingerprints of vanillin to control its precursors. Flavour Fragrance J 34:133–144

Hobbie EA, Werner RA (2004) Intramolecular, compound-specific, and bulk carbon isotope patterns in C3 and C4 plants: a review and synthesis. New Phytol 161:371–385

Hoffman DW, Rasmussen C (2019) Position-specific carbon stable isotope ratios by proton nmr spectroscopy. Anal Chem 91:15661–15669

Holtvoeth J, Whiteside JH, Engels S, Freitas FS, Kliti G, Greenwood P, Johnson S, Kendall I, Lengger SK, Lucke A, Mayr C, Naafs BDA, Rohrssen M, Sepulveda J (2019) A paleolimnologist's guide to compound-specific stable isotope analysis: an introduction to principles and applications of CSIA for quaternary lake sediments. Quaternary Sci Rev 207:101–133

Ikeda M (2003) Amino acid production processes. Advan Biochem Eng Biotech 79:1–35

Jezequel T, Joubert V, Giraudeau P, Remaud GS, Akoka S (2017) The new face of isotopic NMR at natural abundance. Magn Reson Chem 55:77–90

Krishnan VV, Murali N (2013) Radiation damping in modern NMR experiments: progress and challenges. Prog Nucl Mag Reson Spectros 68:41–57

Lynch AH, McCullagh JS, Hedges RE (2011) Liquid chromatography/isotope ratio mass spectrometry measurement of δ13C of amino acids in plant proteins. Rapid Commun Mass Spectrom 25:2981–2988

Matthews DE, Hayes JM (1978) Isotope-ratio-monitoring gas chromatography-mass spectrometry. Anal Chem 50:1465–1473

McCullagh JS, Juchelka D, Hedges RE (2006) Analysis of amino acid 13C abundance from human and faunal bone collagen using liquid chromatography/isotope ratio mass spectrometry. Rapid Commun Mass Spectrom 20:2761–2768

McCullagh J, Gaye-Siessegger J, Focken U (2008) Determination of underivatized amino acid δ13C by liquid chromatography/isotope ratio mass spectrometry for nutritional studies: the effect of dietary non-essential amino acid profile on the isotopic signature of individual amino acids in fish. Rapid Commun Mass Spectrom 22:1817–1822

Murphey BF, Nier AO (1941) Variations in the relative abundance of the carbon isotopes. Phys Rev 59:771–772

Neubauer C, Sweredoski MJ, Moradian A, Newman DK, Robins RJ, Eiler JM (2018) Scanning the isotopic structure of molecules by tandem mass spectrometry. Int J Mass Spectrom 434:276–286

Nier AO, Gulbransen EA (1939) Variations in the relative abundance of the carbon isotopes. J Am Chem Soc 61:697–698

Raghavan M, McCullagh JS, Lynnerup N, Hedges RE (2010) Amino acid δ13C analysis of hair proteins and bone collagen using liquid chromatography/isotope ratio mass spectrometry: paleodietary implications from intra-individual comparisons. Rapid Commun Mass Spectrom 24:541–548

Rashaid AH, Harrington PDB, Jackson GP (2015) Profiling amino acids of Jordanian scalp hair as a tool for diabetes mellitus diagnosis: a pilot study. Anal Chem 87:7078–7084

Romek KM, Krzemińska A, Remaud GS, Julien M, Paneth P, Robins RJ (2017) Insights into the role of methionine synthase in the universal 13C depletion in O-and N-methyl groups of natural products. J Arch Biochem Biophys 635:60–65

Rustad JR (2009) Ab initio calculation of the carbon isotope signatures of amino acids. Org Geochem 40:720–723

Sacks GL, Brenna T (2003) High-precission position-specific isotope analysis of 13C/12C in leucine and methionine analogues. Anal Chem 75:5495–5503

Savidge WB, Blair NE (2004a) Seasonal and within-plant gradients in the intramolecular carbon isotopic composition of amino acids of Spartina alterniflora. J Exp Marine Biol Ecol 308:151–167

Savidge WB, Blair NE (2004b) Patterns of intramolecular carbon isotopic heterogeneity within amino acids of autotrophs and heterotrophs. Oecologia 139:178–189

Schidlowski M (2001) Carbon isotopes as biogeochemical recorders of life over 3.8 Ga of Earth history: evolution of a concept. Precambr Res 106:117–134

Schidlowski M, Hayes JM, Kaplan IR (1983) Isotopic inferences of ancient biochemistries: carbon, sulfur, hydrogen, and nitrogen. In: Schopf JW (ed) Earth's Earliest Biosphere. Princeton University Press, Princeton, pp 149–186

Schimmelmann A, Qi H, Coplen TB et al (2016) Organic reference materials for hydrogen, carbon, and nitrogen stable isotope-ratio measurements: caffeines, n-alkanes, fatty acid methyl esters, glycines, L-valines, polyethylenes, and oils. Anal Chem 88:4294–4302

Scott JH, O'Brien DM, Emerson D, Sun H, McDonald GD, Salgado A, Fogel ML (2006) An examination of the carbon isotope effects associated with amino acid biosynthesis. Astrobiology 6:867–880

Tea I, Tcherkez G (2017) Natural isotope abundance in metabolites: techniques and kinetic isotope effect measurement in plant, animal, and human tissues. Methods Enzymol 596:113–147

Tenailleau E, Lancelin P, Robins R, Akoka S (2004) NMR approach to the quantification of non-statistical 13C distribution in natural products: vanillin. Anal Chem 76:3818–3825

Urey HC (1947) The thermodynamic properties of isotopic substances. J Chem Soc 1:562–581

Werner RA, Brand WA (2001) Referencing strategies and techniques in stable isotope ratio analysis. Rapid Comm Mass Spectrom 15:501–519

Willcott MR (2009) MestRe Nova. J Am Chem Soc 131:13180–13180

Wu G (2009) Amino acids: metabolism, functions, and nutrition. Amino Acids 37:1–17
Acknowledgements
We thank Steven Sorey of the University of Texas at Austin NMR facility for his exceptional support and helpful advice during the NMR analyses and methods development. This research was supported by a Special Research Grant from the Office of the Vice President for Research at the University of Texas at Austin, a CNS Catalyst grant from the University of Texas at Austin, and a Petroleum Research Fund New Directions grant (PRF # 61080-ND2). This is UTIG contribution no. 3660. This is CPSH contribution no. 0007.
Funding
Petroleum Research Fund New Directions grant (PRF # 61080-ND2). College of Natural Sciences Catalyst grant, University of Texas at Austin.
Ethics declarations
Availability of data and material
Spectra included in the supplemental information.
Code availability
"R" code for data reduction supplied in supplemental information.
Conflict of interest
The authors declare that they have no conflict of interest.
Consent to participate
Not applicable.
Consent for publication
Both authors consent to publication.
Ethical approval
Not applicable.
Additional information
Publisher's Note
Springer Nature remains neutral with regard to jurisdictional claims in published maps and institutional affiliations.
Handling editor: D. Tsikas.
Electronic supplementary material
Below is the link to the electronic supplementary material.
About this article
Cite this article
Rasmussen, C., Hoffman, D.W. Intramolecular distribution of 13C/12C isotopes in amino acids of diverse origins. Amino Acids 52, 955–964 (2020). https://doi.org/10.1007/s00726-020-02863-y
Received:

Accepted:

Published:

Issue Date:
Keywords
1H NMR

Position specific

Isotope analysis

Amino acids