Abstract
Differentiated osteoblastic cell line, MC3T3-E1 expresses transglutaminase 2 (TG2) and Factor XIII (FXIII). In previous studies, we identified isozyme-specific and highly reactive glutamine-donor substrate peptides (pepF11KA and pepT26) for each isozyme. Using these peptides, we compared the reaction products with lysine-donor substrates for each isozyme in differentiating MC3T3-E1 cells. By this analysis, distinct substrates for the activated TG2 and FXIII were detected in cultured cellular extract. Possible substrates that incorporated biotin-labeled peptides were further purified using streptavidin-affinity chromatography. Several isozyme-specific substrates were identified by mass spectrometry analysis of the purified fractions. These analyses also indicate the benefit of the substrate peptides for obtaining distinct substrates in a reaction mixture where two isozymes co-exist.
Access options
Buy single article
Instant access to the full article PDF.
US$ 39.95
Tax calculation will be finalised during checkout.
Subscribe to journal
Immediate online access to all issues from 2019. Subscription will auto renew annually.
US$ 119
Tax calculation will be finalised during checkout.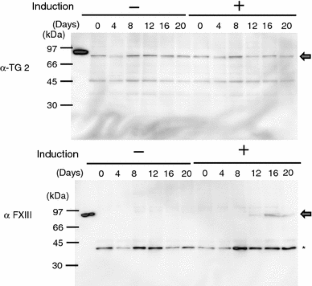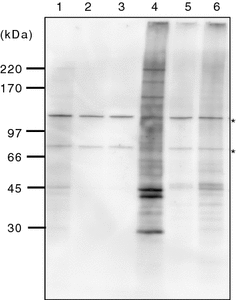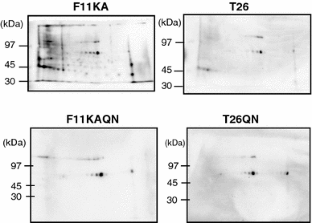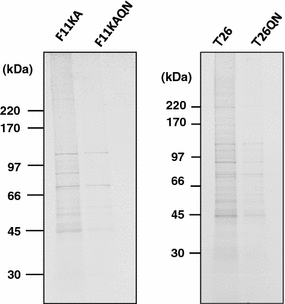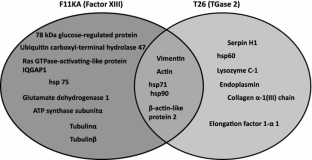 Abbreviations
Asc-P:

l-ascorbic acid 2-phosphate

CBB:

Coomassie Brilliant Blue

DTT:

Dithiothreitol

TG2:

Transglutaminase 2

FXIII:

Factor XIII
References
Al-Jallad HF, Nakano Y, Chen JL, McMillan E, Lefebvre C, Kaartinen MT (2006) Transglutaminase activity regulates osteoblast differentiation and matrix mineralization in MC3T3-E1 osteoblast cultures. Matrix Biol 25:135–148

Beninati S, Piacentini M (2004) The transglutaminase family: an overview. Amino Acids 26:367–372

Chen JSK, Mehta K (1999) Tissue transglutaminase: an enzyme with a split personality. Int J Biochem Cell Biol 31:817–836

Esposito C, Caputo I (2005) Mammalian transglutaminases: identification of substrates as a key to physiological function and physiological relevance. FEBS J 272:615–631

Fesus L, Piacentini M (2002) Transglutaminase 2: an enigmatic enzyme with diverstic functions. Trends Biochem Sci 27:534–539

Forsprecher J, Wang Z, Nelea V, Kaartinen MT (2009) Enhanced osteoblast adhesion on transglutaminase 2-crosslinked fibronectin. Amino Acids 36:747–753

Griffin M, Casadio R, Bergamini CM (2002) Transglutaminases: nature's biological glues. Biochem J 368:377–396

Hitomi K, Kitamura M, Sugimura Y (2009a) Preferred substrate sequences for transglutaminase 2: screening using a phage-display peptide library. Amino Acids 36:619–624

Hitomi K, Kitamura M, Perez-Alea M, Ceylan I, Thomas V, El-Alaoui S (2009b) A specific colorimetric assay for measuring transglutaminase 1 and factor XIII activities. Anal Biochem 394:281–283

Itoh M, Kawamoto T, Tatsukawa H, Kojima S, Yamanishi K, Hitomi K (2011) in situ detection of active transglutaminases for keratinocyte (TGase 1) and tissue type (TGase 2) using fluorescence-labeled highly reactive substrate peptides. J Histochem Cytochem 59:180–187

Johnson KA, Rose DM, Terkeltaub RA (2008) Factor XIIIA mobilizes transglutaminases 2 to induce chondrocyte hypertrophic differentiation. J Cell Sci 121:2256–2264

Kaartinen MT, El-Maadawy S, Rasanen NH, Mckee MD (2002) Tissue transglutaminase and its substrate in bone. J Bone Miner Res 17:2161–2173

Lorand L, Graham RM (2003) Transglutaminases: crosslinking enzymes with pleiotropic functions. Nat Rev Mol Cell Biol 4:140–156

Nakano Y, Al-Jallad HF, Mousa A, Kaartinen MT (2007) Expression and localization of plasma transglutaminase factor XIIIA in bone. J Histochem Cytochem 55:675–685

Nakano Y, Forsprecher J, Kaartinen MT (2010) Regulation of ATPase activity of transglutaminase 2 by MT1-MMP: implications for mineralization of MC3T3-E1 osteoblast cultures. J Cell Physiol 223:260–269

Nurminskaya M, Kaartinen MT (2006) Transglutaminase in mineralized tissues. Front Biosci 11:1591–1606

Perez-Alea M, Kitamura M, Martin G, Thomas V, Hitomi K, El Alaoui S (2009) Development of an isoenzyme-specific colorimetric assay for tissue transglutaminase 2 cross-linking activity. Anal Biochem 389:150–156

Quarles LD, Yohay DA, Lever LW, Caton R, Wenstrup RJ (1992) Distinct proliferative and differentiated stages of murine MC-3T3-E1 culture; an in vitro model of osteoblast development. J Bone Miner Res 7:683–692

Ruoppolo M, Orru S, D'Amato A, Francese S, Rovero P, Marino G, Esposito C (2003) Analysis of transglutaminase protein substrates by functional proteomics. Protein Sci 12:1290–1297

Sugimura Y, Hosono M, Wada F, Yoshimura T, Maki M, Hitomi K (2006) Screening for the preferred substrate sequence of transglutaminase using a phage-displayed peptide library: identification of peptide substrates for TGase 2 and Factor XIIIa. J Biol Chem 281:17699–17706
Acknowledgments
We greatly appreciate Dr. Masatoshi Maki and Dr. Hideki Shibata in our laboratory for providing valuable suggestions. This work was supported by a Grant-in-Aid for Scientific Research on Innovative Areas (No. 20200072) (to K. H.) from the Ministry of Education, Sports, Science and Technology (MEXT, Japan).
About this article
Cite this article
Watanabe, K., Tsunoda, K., Itoh, M. et al. Transglutaminase 2 and Factor XIII catalyze distinct substrates in differentiating osteoblastic cell line: utility of highly reactive substrate peptides. Amino Acids 44, 209–214 (2013). https://doi.org/10.1007/s00726-011-1131-8
Received:

Accepted:

Published:

Issue Date:
Keywords
Transglutaminase

Osteoblast

TG2

Factor XIII