Abstract
The discovery of new molecules with potential antitumor activity continues to be of great importance in cancer research. In this respect, natural antimicrobial peptides isolated from various animal species including humans and amphibians have been found to be of particular interest. Here, we report the presence of two anti-proliferative peptides active against cancer cells in the skin secretions of the South American tree frog, Phyllomedusa bicolor. The crude skin exudate was fractioned by size exclusion gel followed by reverse-phase HPLC chromatography. After these two purification steps, we identified two fractions that exhibited anti-proliferative activity. Sequence analysis indicated that this activity was due to two antimicrobial α-helical cationic peptides of the dermaseptin family (dermaseptins B2 and B3). This result was confirmed using synthetic dermaseptins. When tested in vitro, synthetic B2 and B3 dermaseptins inhibited the proliferation of the human prostatic adenocarcinoma PC-3 cell line by more than 90%, with an EC50 of around 2–3 μM. No effect was observed on the growth of the NIH-3T3 non-tumor mouse cell line with Drs B2, whereas a slight inhibiting effect was observed with Drs B3 at high dose. In addition, the two fractions obtained after size exclusion chromatography also inhibited PC-3 cell colony formation in soft agar. Interestingly, inhibition of the proliferation and differentiation of activated adult bovine aortic endothelial cells was observed in cells treated with these two fractions. Dermaseptins B2 and B3 could, therefore, represent interesting new pharmacological molecules with antitumor and angiostatic properties for the development of a new class of anticancer drugs.
Access options
Buy single article
Instant access to the full article PDF.
US$ 39.95
Tax calculation will be finalised during checkout.
Subscribe to journal
Immediate online access to all issues from 2019. Subscription will auto renew annually.
US$ 119
Tax calculation will be finalised during checkout.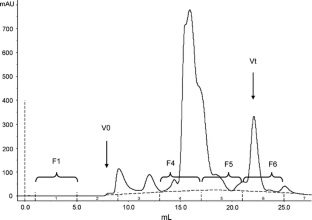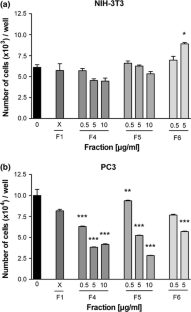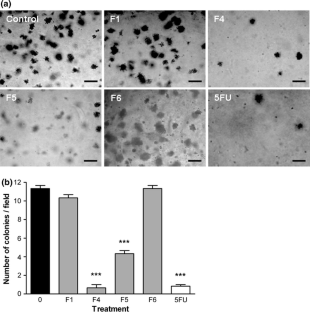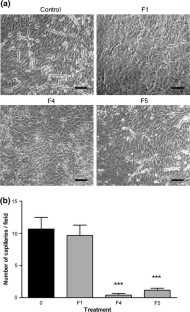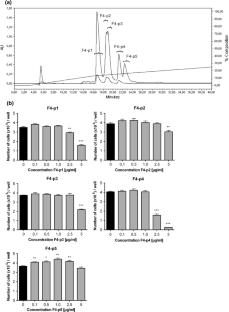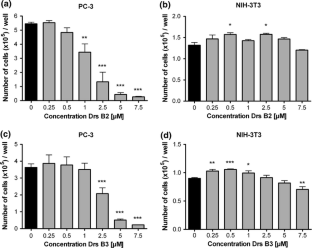 References
Amiche M, Ladram A, Nicolas P (2008) A consistent nomenclature of antimicrobial peptides isolated from frogs of the subfamily Phyllomedusinae. Peptides 29:2074–2082

Auvynet C, Seddiki N, Dunia I, Nicolas P, Amiche M, Lacombe C (2006) Post-translational amino acid racemization in the frog skin peptide deltorphin I in the secretion granules of cutaneous serous glands. Eur J Cell Biol 85:25–34

Bradford MM (1976) A rapid and sensitive method for the quantitation of microgram quantities of protein utilizing the principle of protein-dye binding. Anal Biochem 72:248–254

Charpentier S, Amiche M, Mester J, Vouille V, Le Caer JP, Nicolas P, Delfour A (1998) Structure, synthesis, and molecular cloning of dermaseptins B, a family of skin peptide antibiotics. J Biol Chem 273:14690–14697

Conlon JM, Woodhams DC, Raza H, Coquet L, Leprince J, Jouenne T, Vaudry H, Rollins-Smith LA (2007) Peptides with differential cytolytic activity from skin secretions of the lemur leaf frog Hylomantis lemur (Hylidae: Phyllomedusinae). Toxicon 50:498–506

Cruciani RA, Barker JL, Zasloff M, Chen HC, Colamonici O (1991) Antibiotic magainins exert cytolytic activity against transformed cell lines through channel formation. Proc Natl Acad Sci USA 88:3792–3796

Cruz-Chamorro L, Puertollano MA, Puertollano E, de Cienfuegos GA, de Pablo MA (2006) In vitro biological activities of magainin alone or in combination with nisin. Peptides 27:1201–1209

Dauchel MC, Courty J, Mereau A, Barritault D (1989) Modulation of mitogenic activity and cellular binding of basic fibroblast growth factor by basic proteins. J Cell Biochem 39:411–420

Folkman J (1971) Tumor angiogenesis: therapeutic implications. N Engl J Med 285:1182–1186

Galanth C, Abbassi F, Lequin O, Ayala-Sanmartin J, Ladram A, Nicolas P, Amiche M (2009) Mechanism of antibacterial action of dermaseptin B2: interplay between helix–hinge–helix structure and membrane curvature strain. Biochemistry 48:313–327

Gillies RJ, Didier N, Denton M (1986) Determination of cell number in monolayer cultures. Anal Biochem 159:109–113

Gospodarowicz D, Cheng J, Lirette M (1983) Bovine brain and pituitary fibroblast growth factors: comparison of their abilities to support the proliferation of human and bovine vascular endothelial cells. J Cell Biol 97:1677–1685

Hamma-Kourbali Y, Bernard-Pierrot I, Heroult M, Dalle S, Caruelle D, Milhiet PE, Fernig DG, Delbe J, Courty J (2008) Inhibition of the mitogenic, angiogenic and tumorigenic activities of pleiotrophin by a synthetic peptide corresponding to its C-thrombospondin repeat-I domain. J Cell Physiol 214:250–259

Hoskin DW, Ramamoorthy A (2008) Studies on anticancer activities of antimicrobial peptides. Biochim Biophys Acta 1778:357–375

Kim S, Kim SS, Bang YJ, Kim SJ, Lee BJ (2003) In vitro activities of native and designed peptide antibiotics against drug sensitive and resistant tumor cell lines. Peptides 24:945–953

Laaroubi K, Delbe J, Vacherot F, Desgranges P, Tardieu M, Jaye M, Barritault D, Courty J (1994) Mitogenic and in vitro angiogenic activity of human recombinant heparin affin regulatory peptide. Growth Factors 10:89–98

Lazarus LH, Attila M (1993) The toad, ugly and venomous, wears yet a precious jewel in his skin. Prog Neurobiol 41:473–507

Mader JS, Hoskin DW (2006) Cationic antimicrobial peptides as novel cytotoxic agents for cancer treatment. Expert Opin Investig Drugs 15:933–946

Mangoni ML (2009) Preface to amphibian antimicrobial peptides. Biochim Biophys Acta 1788:1535–1536

Matsuzaki K (1999) Why and how are peptide-lipid interactions utilized for self-defense? Magainins and tachyplesins as archetypes. Biochim Biophys Acta 1462:1–10

Mor A, Nicolas P (1994) Isolation and structure of novel defensive peptides from frog skin. Eur J Biochem 219:145–154

Mor A, Amiche M, Nicolas P (1994) Structure, synthesis, and activity of dermaseptin b, a novel vertebrate defensive peptide from frog skin: relationship with adenoregulin. Biochemistry 33:6642–6650

Nicolas P (2009) Multifunctional host defense peptides: intracellular-targeting antimicrobial peptides. Febs J 276:6483–6496

Nicolas P, El Amri C (2009) The dermaseptin superfamily: a gene-based combinatorial library of antimicrobial peptides. Biochim Biophys Acta 1788:1537–1550

Rozek T, Bowie JH, Wallace JC, Tyler MJ (2000) The antibiotic and anticancer active aurein peptides from the Australian Bell Frogs Litoria aurea and Litoria raniformis. Part 2. Sequence determination using electrospray mass spectrometry. Rapid Commun Mass Spectrom 14:2002–2011

Seon AA, Pierre TN, Redeker V, Lacombe C, Delfour A, Nicolas P, Amiche M (2000) Isolation, structure, synthesis, and activity of a new member of the calcitonin gene-related peptide family from frog skin and molecular cloning of its precursor. J Biol Chem 275:5934–5940

Shai Y (1999) Mechanism of the binding, insertion and destabilization of phospholipid bilayer membranes by alpha-helical antimicrobial and cell non-selective membrane-lytic peptides. Biochim Biophys Acta 1462:55–70

Won HS, Seo MD, Jung SJ, Lee SJ, Kang SJ, Son WS, Kim HJ, Park TK, Park SJ, Lee BJ (2006) Structural determinants for the membrane interaction of novel bioactive undecapeptides derived from gaegurin 5. J Med Chem 49:4886–4895

Yang L, Weiss TM, Lehrer RI, Huang HW (2000) Crystallization of antimicrobial pores in membranes: magainin and protegrin. Biophys J 79:2002–2009
Acknowledgments
Hanneke van Zoggel was funded by a Grant from the French Agence Nationale de la Recherche (ANR-06-RIB 016-02) and by the French Association pour la Recherche sur le Cancer. Cécile Galanth was funded by the French Ministère délégué à l'enseignement supérieur et à la recherche. This work was partly supported by a Grant from ANR (ANR-06-RIB 016-02) and a Grant from the French Institut national du cancer (INCA-PL06-093) from the Centre National de la Recherche Scientifique. We thank Dr. C. Piesse (Plate-forme Ingénierie des Protéines et Synthèse Peptidique, IFR 83, Université Pierre et Marie Curie, Paris, France) for the synthesis and purification of peptides.
About this article
Cite this article
van Zoggel, H., Hamma-Kourbali, Y., Galanth, C. et al. Antitumor and angiostatic peptides from frog skin secretions. Amino Acids 42, 385–395 (2012). https://doi.org/10.1007/s00726-010-0815-9
Received:

Accepted:

Published:

Issue Date:
Keywords
Antimicrobial peptide

Dermaseptin

Antitumor activity

Angiogenesis