Abstract
TdAnn6 is a gene encoding an annexin protein in durum wheat (Triticum durum). The function of TdAnn6 in plant response to stress is not yet clearly understood. Here, we isolated TdAnn6 and characterized it in genetically modified Arabidopsis thaliana. Expressing TdAnn6 in Arabidopsis coincided with an improvement in stress tolerance at germination and seedling stages. In addition, TdAnn6-expressing seedling antioxidant activities were improved with lower level of malondialdehyde, and enhanced transcript levels of six stress-related genes during salt/osmotic stresses. Under greenhouse conditions, the TdAnn6 plants exhibited increased tolerance to salt or drought stress. To deepen our understanding of TdAnn6 function, we isolated a 1515-bp genomic fragment upstream of its coding sequence, designated as PrTdAnn6. The PrTdAnn6 promoter was fused to the β-glucuronidase reporter gene and transferred to Arabidopsis. By histochemical GUS staining, GUS activity was detected in the roots, leaves, and floral organs, but no activity was detected in the seeds. Furthermore, we noticed a high stimulation of promoter activity when A. thaliana seedlings were exposed to NaCl, mannitol, ABA, GA, and cold conditions. This cross-talk between tissue-specific expression and exogenous stress stimulation may provide additional layers of regulation for salt and osmotic stress responses in crops.
Access options
Buy single article
Instant access to the full article PDF.
US$ 39.95
Tax calculation will be finalised during checkout.
Subscribe to journal
Immediate online access to all issues from 2019. Subscription will auto renew annually.
US$ 119
Tax calculation will be finalised during checkout.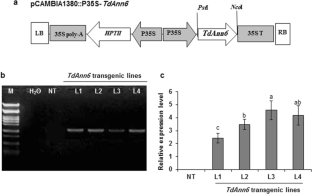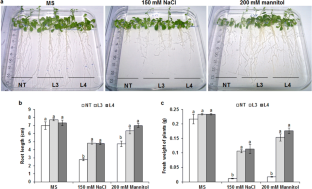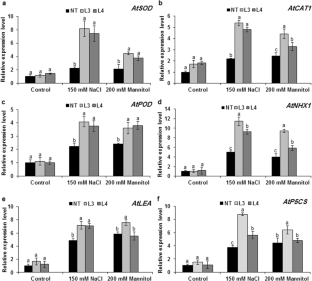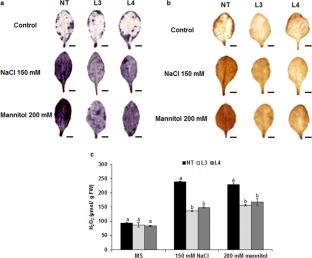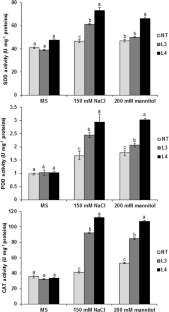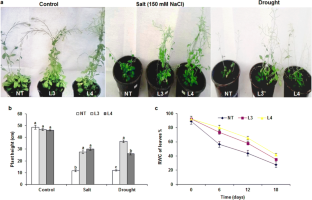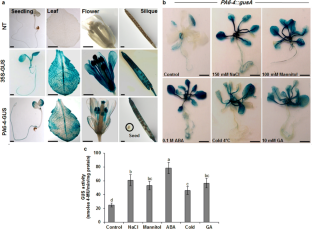 References
Abraham E, Hourton-Cabassa C, Erdei L, Szabados L (2010) Methods for determination of proline in plants. Methods Mol Biol (Clifton, NJ) 639:317–331

Aebi H (1984) Catalase in vitro. Methods Enzymol 105:121–126

Baek D, Jin Y, Jeong JC, Lee HJ, Moon H, Lee J, Shin D, Kang CH, Kim DH, Nam J, Lee SY, Yun DJ (2008) Suppression of reactive oxygen species by glyceraldehyde-3-phosphate dehydrogenase. Phytochemistry 69(2):333–338

Baucher M, Lowe YO, Vandeputte OM, Bopopi JM, Moussawi J, Vermeersch M, Mol A, El Jaziri M, Homble F, Perez-Morga D (2011) Ntann12 annexin expression is induced by auxin in tobacco roots. J Exp Bot 62(11):4055–4065

Ben Hsouna A, Ben Saad R, Trabelsi I, Ben Romdhane W, Brini F, Ben Salah R (2020a) A novel Triticum durum Annexin 12 protein: expression, purification and biological activities against Listeria monocytogenes growth in meat under refrigeration. Microb Pathog 143:104–143

Ben Hsouna A, Ghneim-Herrera T, Ben Romdhane W, Dabbous A, Ben Saad R, Brini F, Abdelly C, Ben Hamed K (2020b) Early effects of salt stress on the physiological and oxidative status of the halophyte Lobularia maritima. Funct Plant Biol 47(10):912–924

Ben Saad R, Ben Romdhane W, Ben Hsouna A, Mihoubi W, Harbaoui M, Brini F (2020a) Insights into plant annexins function in abiotic and biotic stress tolerance. Plant Signal Behav 15(1):1699264

Ben Saad R, Ben Romdhane W, Zouari N, Ben Hsouna A, Harbaoui M, Brini F, Ghneim-Herrera T (2020b) Characterization of a novel LmSAP gene promoter from Lobularia maritima: tissue specificity and environmental stress responsiveness. PLoS One 15(7):e0236943

Ben Saad R, Harbaoui M, Ben Romdhane W, Zouari N, Giang KN, Ben Hsouna A, Brini F (2019a) Overexpression of Triticum durumTdAnn12 gene confers stress tolerance through scavenging reactive oxygen species in transgenic tobacco. Funct Plant Biol 46(10):885–895

Ben Saad R, Safi H, Ben Hsouna A, Brini F, Ben Romdhane W (2019b) Functional domain analysis of LmSAP protein reveals the crucial role of the zinc-finger A20 domain in abiotic stress tolerance. Protoplasma 256(5):1333–1344

Breton G, Vazquez-Tello A, Danyluk J, Sarhan F (2000) Two novel intrinsic annexins accumulate in wheat membranes in response to low temperature. Plant Cell Physiol 41(2):177–184

Cantero A, Barthakur S, Bushart TJ, Chou S, Morgan RO, Fernandez MP, Clark GB, Roux SJ (2006) Expression profiling of the Arabidopsis annexin gene family during germination, de-etiolation and abiotic stress. Plant Physiol Biochem 44(1):13–24

Carroll AD, Moyen C, Van Kesteren P, Tooke F, Battey NH, Brownlee C (1998) Ca2+, annexins, and GTP modulate exocytosis from maize root cap protoplasts. Plant Cell 10(8):1267–1276

Chen J, Mao L, Mi H, Lu W, Ying T, Luo Z (2016) Involvement of three annexin genes in the ripening of strawberry fruit regulated by phytohormone and calcium signal transduction. Plant Cell Rep 35(4):733–743

Clark GB, Morgan RO, Fernandez MP, Roux SJ (2012) Evolutionary adaptation of plant annexins has diversified their molecular structures, interactions and functional roles. New Phytol 196(3):695–712

Clark GB, Roux SJ (1995) Annexins of plant cells. Plant Physiol 109(4):1133–1139

Dai S, Li L, Chen T, Chong K, Xue Y, Wang T (2006) Proteomic analyses of Oryza sativa mature pollen reveal novel proteins associated with pollen germination and tube growth. Proteomics 6(8):2504–2529

Divya K, Jami SK, Kirti PB (2010) Constitutive expression of mustard annexin, AnnBj1 enhances abiotic stress tolerance and fiber quality in cotton under stress. Plant Mol Biol 73(3):293–308

Gerke V, Moss SE (2002) Annexins: from structure to function. Physiol Rev 82(2):331–371

Gidrol X, Sabelli PA, Fern YS, Kush AK (1996) Annexin-like protein from Arabidopsis thaliana rescues delta oxyR mutant of Escherichia coli from H2O2 stress. Proc Natl Acad Sci U S A 93(20):11268–11273

Gorecka KM, Konopka-Postupolska D, Hennig J, Buchet R, Pikula S (2005) Peroxidase activity of annexin 1 from Arabidopsis thaliana. Biochem Biophys Res Commun 336(3):868–875

Gruber F, Falkner FG, Dorner F, Hammerle T (2001) Quantitation of viral DNA by real-time PCR applying duplex amplification, internal standardization, and two-color fluorescence detection. Appl Environ Microbiol 67(6):2837–2839

Harbaoui M, Ben Saad R, Ben Halima N, Choura M, Brini F (2018) Structural and functional characterisation of two novel durum wheat annexin genes in response to abiotic stress. Funct Plant Biol 45(5):542–552

Higo K, Ugawa Y, Iwamoto M, Higo H (1998) PLACE: a database of plant cis-acting regulatory DNA elements. Nucleic Acids Res 26(1):358–359

Huang GT, Ma SL, Bai LP, Zhang L, Ma H, Jia P, Liu J, Zhong M, Guo ZF (2012) Signal transduction during cold, salt, and drought stresses in plants. Mol Biol Rep 39(2):969–987

Huh SM, Noh EK, Kim HG, Jeon BW, Bae K, Hu HC, Kwak JM, Park OK (2010) Arabidopsis annexins AnnAt1 and AnnAt4 interact with each other and regulate drought and salt stress responses. Plant Cell Physiol 51(9):1499–1514

Ijaz R, Ejaz J, Gao SH, Liu TF, Imtiaz M, Ye ZB, Wang TT (2017) Overexpression of annexin gene AnnSp2, enhances drought and salt tolerance through modulation of ABA synthesis and scavenging ROS in tomato. Sci Rep-Uk 7(1):12087

Jami SK, Clark GB, Ayele BT, Roux SJ, Kirti PB (2012) Identification and characterization of annexin gene family in rice. Plant Cell Rep 31(5):813–825

Jami SK, Clark GB, Turlapati SA, Handley C, Roux SJ, Kirti PB (2008) Ectopic expression of an annexin from Brassica juncea confers tolerance to abiotic and biotic stress treatments in transgenic tobacco. Plant Physiol Biochem 46(12):1019–1030

Jefferson RA, Kavanagh TA, Bevan MW (1987) GUS fusions: beta-glucuronidase as a sensitive and versatile gene fusion marker in higher plants. EMBO J 6(13):3901–3907

Jiang C, Iu B, Singh J (1996) Requirement of a CCGAC cis-acting element for cold induction of the BN115 gene from winter Brassica napus. Plant Mol Biol 30(3):679–684

Jones MA, Raymond MJ, Smirnoff N (2006) Analysis of the root-hair morphogenesis transcriptome reveals the molecular identity of six genes with roles in root-hair development in Arabidopsis. Plant J 45(1):83–100

Koncz C, Schell J (1986) The promoter of T L-DNA gene 5 controls the tissue-specific expression of chimaeric genes carried by a novel type of Agrobacterium binary vector. MGG 204(3):383–396

Konopka-Postupolska D, Clark G, Goch G, Debski J, Floras K, Cantero A, Fijolek B, Roux S, Hennig J (2009) The role of annexin 1 in drought stress in Arabidopsis. Plant Physiol 150(3):1394–1410

Konopka-Postupolska D, Clark G, Hofmann A (2011) Structure, function and membrane interactions of plant annexins: an update. Plant Sci 181(3):230–241

Kovacs I, Ayaydin F, Oberschall A, Ipacs I, Bottka S, Pongor S, Dudits D, Toth EC (1998) Immunolocalization of a novel annexin-like protein encoded by a stress and abscisic acid responsive gene in alfalfa. Plant J 15(2):185–197

Kreps JA, Wu Y, Chang HS, Zhu T, Wang X, Harper JF (2002) Transcriptome changes for Arabidopsis in response to salt, osmotic, and cold stress. Plant Physiol 130(4):2129–2141

Kumari S, Ware D (2013) Genome-wide computational prediction and analysis of core promoter elements across plant monocots and dicots. PLoS One 8(10):e79011

Laohavisit A, Brown AT, Cicuta P, Davies JM (2010) Annexins: components of the calcium and reactive oxygen signaling network. Plant Physiol 152(4):1824–1829

Laohavisit A, Davies JM (2011) Annexins. New Phytol 189(1):40–53

Laohavisit A, Richards SL, Shabala L, Chen C, Colaco RD, Swarbreck SM, Shaw E, Dark A, Shabala S, Shang Z, Davies JM (2013) Salinity-induced calcium signaling and root adaptation in Arabidopsis require the calcium regulatory protein annexin1. Plant Physiol 163(1):253–262

Lee S, Lee EJ, Yang EJ, Lee JE, Park AR, Song WH, Park OK (2004) Proteomic identification of annexins, calcium-dependent membrane binding proteins that mediate osmotic stress and abscisic acid signal transduction in Arabidopsis. Plant Cell 16(6):1378–1391

Lichocka M, Rymaszewski W, Morgiewicz K, Barymow-Filoniuk I, Chlebowski A, Sobczak M, Samuel MA, Schmelzer E, Krzymowska M, Hennig J (2018) Nucleus- and plastid-targeted annexin 5 promotes reproductive development in Arabidopsis and is essential for pollen and embryo formation. BMC Plant Biol 18(1):183

Li XF, Zhang Q, Yang X, Han JB, Zhu ZG (2019) OsANN3, a calcium-dependent lipid binding annexin is a positive regulator of ABA-dependent stress tolerance in rice. Plant Sci 284:212–220

Liu YG, Chen Y (2007) High-efficiency thermal asymmetric interlaced PCR for amplification of unknown flanking sequences. Biotechniques 43(5):649–650

Livak KJ, Schmittgen TD (2001) Analysis of relative gene expression data using real-time quantitative PCR and the 2(-delta delta C(T)) method. Methods 25(4):402–408

Maehly AC, Chance B (1954) The assay of catalases and peroxidases. Methods Biochem Anal 1:357–424

Mortimer JC, Laohavisit A, Macpherson N, Webb A, Brownlee C, Battey NH, Davies JM (2008) Annexins: multifunctional components of growth and adaptation. J Exp Bot 59(3):533–544

Murashige T, Skoog F (1962) A revised medium for rapid growth and bio assays with tobacco tissue cultures. Physiol Plant 15(3):473–497

Qiao B, Zhang Q, Liu D, Wang H, Yin J, Wang R, He M, Cui M, Shang Z, Wang D, Zhu Z (2015) A calcium-binding protein, rice annexin OsANN1, enhances heat stress tolerance by modulating the production of H2O2. J Exp Bot 66(19):5853–5866

Riechmann JL (2002) Transcriptional regulation: a genomic overview. Arabidopsis Book 1:e0085

Rombauts S, Dehais P, Van Montagu M, Rouze P (1999) PlantCARE, a plant cis-acting regulatory element database. Nucleic Acids Res 27(1):295–296

Rozen S, Skaletsky H (2000) Primer3 on the WWW for general users and for biologist programmers. Bioinformatics methods and protocols. Springer, pp 365-386.

Shi J, Fu XZ, Peng T, Huang XS, Fan QJ, Liu JH (2010) Spermine pretreatment confers dehydration tolerance of citrus in vitro plants via modulation of antioxidative capacity and stomatal response. Tree Physiol 30(7):914–922

Shin H, Brown RM Jr (1999) GTPase activity and biochemical characterization of a recombinant cotton fiber annexin. Plant Physiol 119(3):925–934

Tang W, He Y, Tu L, Wang M, Li Y, Ruan Y, Zhang X (2014) Down-regulating annexin gene GhAnn2 inhibits cotton fiber elongation and decreases Ca2+ influx at the cell apex. Plant Mol Biol 85(6):613–625

Turner NC (1981) Techniques and experimental approaches for the measurement of plant water status. Plant Soil 58(1-3):339–366

Vandeputte O, Lowe YO, Burssens S, van Raemdonck D, Hutin D, Boniver D, Geelen D, El Jaziri M, Baucher M (2007) The tobacco Ntann12 gene, encoding an annexin, is induced upon Rhodoccocus fascians infection and during leafy gall development. Mol Plant Pathol 8(2):185–194

Velikova V, Yordanov I, Edreva A (2000) Oxidative stress and some antioxidant systems in acid rain-treated bean plants-protective role of exogenous polyamines. Plant Sci 151(1):59–66

Vij S, Tyagi AK (2007) Emerging trends in the functional genomics of the abiotic stress response in crop plants. Plant Biotechnol J 5(3):361–380

Wang RC, Huang CY, Pan TL, Chen WY, Ho CT, Liu TZ, Chang YJ (2015) Proteomic characterization of Annexin l (ANX1) and heat shock protein 27 (HSP27) as biomarkers for invasive hepatocellular carcinoma cells. PLoS One 10(10):e0139232

Xu L, Tang Y, Gao S, Su S, Hong L, Wang W, Fang Z, Li X, Ma J, Quan W, Sun H, Li X, Wang Y, Liao X, Gao J, Zhang F, Li L, Zhao C (2016) Comprehensive analyses of the annexin gene family in wheat. BMC Genomics 17:415

Yadav D, Ahmed I, Shukla P, Boyidi P, Kirti PB (2016) Overexpression of Arabidopsis AnnAt8 alleviates abiotic stress in transgenic Arabidopsis and tobacco. Plants (Basel) 5(2):18

Yamaguchi-Shinozaki K, Shinozaki K (2006) Transcriptional regulatory networks in cellular responses and tolerance to dehydration and cold stresses. Annu Rev Plant Biol 57:781–803

Zhang F, Jin X, Wang L, Li S, Wu S, Cheng C, Zhang T, Guo W (2016) A cotton annexin affects fiber elongation and secondary cell wall biosynthesis associated with Ca2+ influx, ROS homeostasis, and actin filament reorganization. Plant Physiol 171(3):1750–1770

Zhang X, Henriques R, Lin SS, Niu QW, Chua NH (2006) Agrobacterium-mediated transformation of Arabidopsis thaliana using the floral dip method. Nat Protoc 1(2):641–646

Zhu J, Yuan S, Wei G, Qian D, Wu X, Jia H, Gui M, Liu W, An L, Xiang Y (2014) Annexin 5 is essential for pollen development in Arabidopsis. Mol Plant 7(4):751–754
Acknowledgements
The authors express their gratitude to Dr. Thaura Ghneim-Herrera (Departamento de Ciencias Biológicas, Universidad Icesi, Cali, Colombia) for her critical review of the manuscript.
Funding
This study was supported by a grant from Ministry of Higher Education and Scientific Research of Tunisia (Contrat Programme 2019–2022).
Ethics declarations
Conflict of interest
The authors declare no conflict of interest.
Additional information
Publisher's note
Springer Nature remains neutral with regard to jurisdictional claims in published maps and institutional affiliations.
Handling Editor: Peter Nick
About this article
Cite this article
Harbaoui, M., Ben Romdhane, W., Ben Hsouna, A. et al. The durum wheat annexin, TdAnn6, improves salt and osmotic stress tolerance in Arabidopsis via modulation of antioxidant machinery. Protoplasma (2021). https://doi.org/10.1007/s00709-021-01622-4
Received:

Accepted:

Published:
Keywords
Abiotic stress

GUS activity

Wheat

PrTdAnn6 promoter

Water-deficit stress