Abstract
Root-knot nematodes are endoparasites whose mature females lodge and grow inside the root of some cultivated plants, leading to losses in productivity. Herein, we investigated if the infection of okra, Abelmoschus esculentus (Malvaceae), promoted by the root-knot nematode Meloidogyne incognita (Meloidogynidae) changes some agronomic traits of the host plant, as well as the cell wall composition of the root tissues. The okra Santa Cruz 47® cultivar was infected with a suspension of 5000 M. incognita juveniles. The inoculated and non-inoculated okra plants were then submitted to morphological analysis at the end of experiment, as well as histological (at 4, 11, 18, 39, ad 66 days after inoculation) and immunocytochemical analysis (control and 66 days after inoculation). Root-knot nematode infection reduced the dry weight of the stem system but, unexpectedly, the number and weight of fruits increased. At 11 days after inoculation, we detected the presence of giant cells that increased in number and size until the end of the experiment, at 66 days after inoculation. These cells came from the xylem parenchyma and showed intense and moderate labeling for epitopes recognized by JIM5 and JIM7. The presence of homogalacturonans (HGs) with different degrees of methyl esterification seems to be related to the injuries caused by the nematode feeding activity and to the processes of giant cell hypertrophy. In addition, the presence of HGs with high methyl-esterified groups can increase the cell wall porosity and facilitate the flux of nutrients for the root-knot nematode.
Access options
Buy single article
Instant access to the full article PDF.
US$ 39.95
Tax calculation will be finalised during checkout.
Subscribe to journal
Immediate online access to all issues from 2019. Subscription will auto renew annually.
US$ 119
Tax calculation will be finalised during checkout.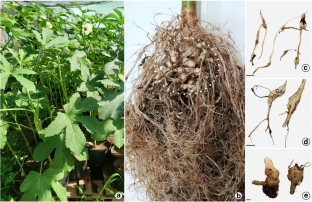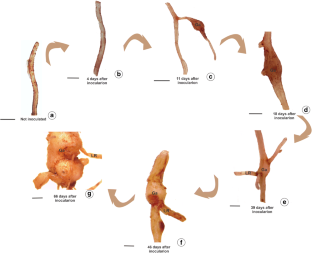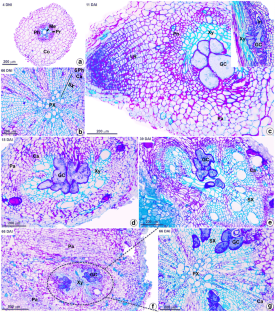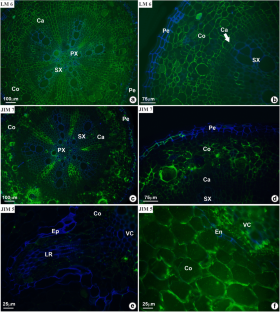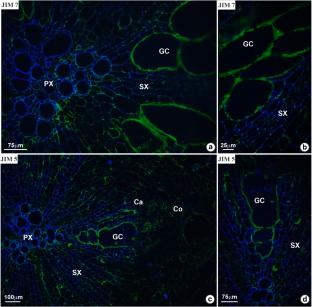 References
Abad P, Favery B, Rosso MN, Castagnone-Sereno P (2003) Root-knot nematode parasitism and host response: molecular basis of a sophisticated interaction. Mol Plant Pathol 4:217–224. https://doi.org/10.1046/j.1364-3703.2003.00170.x

Abad P, Castagnone-Sereno P, Rosso MN, Engler JA, Bo F (2009) Invasion, feeding and development. In: Perry RN, Moens M, Starr JL (eds) In Root-knot nematodes. CABI International Press, Cambridge, pp 163–181

Abrão MM, Mazzafera P (2001) Fitossanidade. Efeitos do nível de inoculo de Meloidogyne incognita em algodoeiro. Bragantia 60:19–26. https://doi.org/10.1590/S0006-87052001000100003

Albersheim P, Darvill A, Roberts K, Sederoff R, Staehelin A (2011) Plant cell walls. Garland Sci, New York 108(1):viii–ix. https://doi.org/10.1093/aob/mcr128

Ali MA, Azeem FLH, Bohlmann H (2017) Smart parasitic nematodes use multifaceted strategies to parasitize plants. Front Plant Sci 8:1699. https://doi.org/10.3389/fpls.2017.01699

Anwar SA, Javed N (2010) Meloidogyne incognita infecting Dahlia. Pakistan J Zool 42:348–350

Bellafiore S, Briggs SP (2010) Nematode effectors and plant responses to infection. Curr Opin Plant Biol 13:442–448. https://doi.org/10.1016/j.pbi.2010.05.006

Berg RH, Fester T, Taylor CG (2009) Development of the Root-Knot Nematode Feeding Cell. In: Berg RH, Taylor CG (eds) Cell Biology of Plant Nematode Parasitism. Plant Cell Monographs, vol 15. Springer, Berlin. 15: 115–152. https://doi.org/10.1007/978-3-540-85215-5_5

Bohlmann H, Sobczak M (2014) The plant cell wall in the feeding sites of cyst nematodes. Front Plant Sci Mar 19:89. https://doi.org/10.3389/fpls.2014.00089

Brass FEB, Veronezze NC, Pacheco E, Bosquê GG (2008) Aspectos biológicos do Meloidogyne spp. relevantes à cultura de café. Revista cientifica Eletrônica de Agronomia. Editora FAEF, São Paulo

Carneiro RG, Ferraz LCCB, Mazzafera P (1999) Carbon partitioning in soybean infected with Meloidogyne incognita and M. javanica. J. Nematol 31:348–355

Carneiro RGS, Pacheco P, Isaias RMS (2015) Could the extended phenotype extend to the cellular and subcellular levels in insect-induced galls? PLoS ONE 10:e0129331. https://doi.org/10.1371/journal.pone.0129331

Castañeda NEN (2015) Estudo da interação Musa acuminata- Meloidogyne incognita. Thesis, Universidade de Brasília.

Chomick G, Bidel LPR, Jay-Allemand C (2014) Exodermis structure controls fungal invasion in the leafless epiphytic orchid Dendrophylax lindenii (Lindl.) Benth. ex Rolfe. Flora 209:88–94. https://doi.org/10.1016/j.flora.2014.01.001

Cofcewicz ET, Carneiro RMDG, Cordeiro CMT, Quénéhervé P, Faria JJC (2004) Reação de cultivares de bananeira a diferentes espécies de nematóides das galhas. Nematol Bras 28:11–22

Coolen WA, D'Herde CJ (1972) A method for the quantitative extraction of nematodes from plant tissue. State Agricultural Research Centre, Ghent

Davies LJ, Lilley CJ, Knox JP, Urwin PE (2012) Syncytia formed by adult female Heterodera schachtii in Arabidopsis thaliana roots have a distinct cell wall molecular architecture. New Phytol 196:238–246. https://doi.org/10.1111/j.1469-8137.2012.04238.x

Davis EL, Hussey RS, Baum TJ (2004) Getting to the roots of parasitism by nematodes. Trends Parasitol 20:134–141. https://doi.org/10.1016/j.pt.2004.01.005

Dorhout R, Gommers FJ, Kollöffel C (1991) Water transport through tomato roots infected with Meloidogyne incognita. Phytopathology 81:379–385. https://doi.org/10.1094/Phyto-81-379

Escobar C, Barcala M, Cabrera J, Fenoll C (2015) Plant Nematode interactions - A view on compatible interrelationships. In: Escobar C, Fenoll C (eds) Advances in Botanical Research. Elsevier, Oxford, pp 1–32

Ferraz LCCB, Brown DJF (2016) Nematologia de plantas: fundamentos e importância. Norma editora, Manaus

Ferraz LCCB, Monteiro AR (2011) Nematoides. In: Amorim L, Rezende JAM, Bergamin Filho A (eds) Manual de fitopatologia: princípios e conceitos. Agronômica Ceres, Piracicaba, pp 277–305

Ferreira DF (2010) SISVAR - Sistema de análise de variância. Versão 5.3. UFLA, Lavras

Filgueira FAR (2008) Novo manual de olericultura: agrotecnologia moderna na produção e comercialização de hortaliças. UFV, Viçosa

Galbieri R, Belot JL (2016) Nematoides fitoparasitas do algodoeiro nos Cerrados brasileiros: biologia e medidas de controle. IMAmt, Cuiabá

Gheysen G, Mitchum MG (2011) How nematodes manipulate plant development pathways for infection. Curr Opin Plant Biol 14:415–421. https://doi.org/10.1016/j.pbi.2011.03.012

Golinowski W, Grundler FMW, Sobczak M (1996) Changes in the structure of Arabidopsis thaliana during female development of the plant-parasitic nematode Heterodera schachtii. Protoplasma 194:103–116. https://doi.org/10.1007/BF01273172

Hongo S, Sato K, Yokoyama R, Nishitani K (2012) Demethylesterification of the primary wall by pectin methylesterase 35 provides mechanical support to the Arabidopsis stem. Plant Cell 24:2624–2634. https://doi.org/10.1105/tpc.112.099325

Hussey RS, Grundler FMW (1998) Nematode parasitism of plants. In: Perry RN, Wright DJ (eds) Physiology and biochemistry of free-living and plant parasitic nematodes. CAB International Press, England, pp 213–243

Joca TAC, Oliveira DC, Zotz G, Cardoso JCF, Moreira ASFP (2019) Chemical composition of cell walls in velamentous roots of epiphytic Orchidaceae. Protoplasma 257:103–118

Jones JT, Haegeman A, Danchin EGJ, Hari SG, Helder J, Jones MGK, Kikuchi T, Manzanilla-López R, Palomares-Rius JE, Wesemael WM, Perry RN (2013) Top 10 plant-parasitic nematodes in molecular plant pathology. Mol Plant Pathol 14:946–961. https://doi.org/10.1111/mpp.12057

Juvale PS, Baum TJ (2018) 'Cyst-ained' research into Heterodera parasitism. PLoS Pathog 14:e1006791. https://doi.org/10.1371/journal.ppat.1006791

Knox JP (1992) Cell adhesion, cell separation and plant morphogenesis. Plant J 2:137–141. https://doi.org/10.1111/j.1365-313X.1992.00137.x

Kyndt T, Vieira P, Gheysen G, de Almeida-Engler J (2013) Nematode feeding sites: unique organs in plant roots. Planta 238:807–818. https://doi.org/10.1007/s00425-013-1923-z

Liu L, ShangGuan K, Zhang B, Liu X, Yan M, Zhang L, Shi Y, Zhang M, Qian Q, Li J, Zhou Y (2013) Brittle Culm1, a COBRA-Like Protein, Functions in Cellulose Assembly through Binding Cellulose Microfibrils. PLoS Genet 9:e1003704. https://doi.org/10.1371/journal.pgen.1003704

Martin FW (1982) Okra, potential multiple-purpose crop for the temperate zones and tropics. Econ Bot 36:340–345. https://doi.org/10.1007/BF02858558

Martini VC, Moreira ASFP, Kuster VC, Oliveira DC (2019) Galling insects as phenotype manipulators of cell wall composition during the development of galls induced on leaves of Aspidosperma tomentosum (Apocynaceae). S Afr J Bot 127:226–233. https://doi.org/10.1016/j.sajb.2019.09.006

Mitkowski NA, Abawi GS (2003) Nematoide de galhas. The Plant Health Instructor, EUA

Moens M, Perry RN, Starr JL (2009) Meloidogyne species - a diverse group of novel and important plant parasites. In: Perry RN, Starr JL, Moens M (eds) Nemátodos das galhas. CABI International, Wallingford

Mota WF, Finger FL, Casali UWD (2000) Olericultura: melhoramento genético do quiabeiro. UFV, Viçosa

Nguyen PV, Bellafiore S, Petitot AS, Haidar R, Bak A, Fernandez D (2014) Meloidogyne incognita - rice (Oryza sativa) interaction: a new model system to study plant-root-knot nematode interactions in monocotyledons. Rice 7:23. https://doi.org/10.1186/s12284-014-0023-4

O'Brien TP, Feder N, McCully ME (1964) Polychromatic staining of plant cell walls by toluidine blue O. Protoplasma 59:368–373. https://doi.org/10.1007/BF01248568

Oliveira AS, Silva RA (2013) Ocorrência e patogenicidade de Meloidogyne javanica sobre plantas de teca (Tectona grandis Linn. F.). Ciênc Florest 23:563–569. https://doi.org/10.5902/1980509812340

Oliveira RDL, Silva MB, Aguiar NDC, Bergamo FLK, Costa ASV, Prezotti L (2007) Nematofauna associada à cultura do quiabo na região leste de Minas Gerais. Hortic Bras 25:88–93. https://doi.org/10.1590/S0102-05362007000100017

Oliveira DC, Magalhães TA, Ferreira BG, Teixeira CT, Formiga AT, Fernandes GW, Isaias RMS (2014) Variation in the degree of pectin methylesterification during the development of Baccharis dracunculifolia kidney-shaped gall. PLoS One 9:e94588. https://doi.org/10.1371/journal.pone.0094588

Oliveira DC, Isaias RMS, Fernandes GW, Ferreira BG, Carneiro RGS (2016) Manipulation of host plant cells and tissues by gall-inducing insects and adaptive strategies used by different feeding guilds. J Insect Physiol 84:103–113. https://doi.org/10.1016/j.jinsphys.2015.11.012

Pinheiro JB (2017) Nematoides em hortaliças Brasília. Embrapa, Embrapa

Pinheiro JB, Pereira RB, Carvalho ADF, Rodrigues CS (2013) Manejo de nematoides na cultura do quiabeiro. https://www.embrapa.br/busca-de-publicacoes/-/publicacao/960522/manejo-de-nematoides-na-cultura-do-quiabeiro Accessed 20 March 2020.

Premachandra DWTS, Gowen SR (2015) Influence of pre-plant densities of Meloidogyne incognita on growth and root infestation of spinach (Spinacia oleracea L.) (Amaranthaceae) – an important dimension towards enhancing crop production. Future of Food: Journal on Food. Agric Soc 3:18–26

Reddigari SR, Sundermann CA, Hussey RS (1985) Isolation of subcellular granules from second-stage juveniles of Meloidogyne incognita. J Nematol 17:482–488

Ridley BL, O'Neill MA, Mohnen D (2001) Pectins: structure, biosynthesis, and oligogalacturonide-related signaling. Phytochemistry 57:929–967. https://doi.org/10.1016/S0031-9422(01)00113-3

Ritzinger CHSP, Ritzinger R (2003) Acerola, Ataque às raízes. Rev Cult Hort Frut 19:36–38

Roland JC, Vian B (1991) General preparation and staining of thin sections. In: Hall JL, Hawes C (eds) Electron microspcopy of plant cells. Academic Press, London, pp 1–66

Sharma RD, Valéria IA, Calvante MJB, Gomes AC (2005) Reação de genótipos de pimenta-longa aos nematóides Meloidogyne javanica, M. incognita raça 1 e Rotylenchulus reniformes. Nematol Bras 29:83–86

Siddique S, Grundler FMW (2015) Metabolism in Nematode Feeding Sites. In: Escobar C, Fenoll C (eds) Plant Nematode Interactions: A View on Compatible Interrelationships, vol 73. Elsevier, Nova Iorque, pp 119–138. https://doi.org/10.1016/bs.abr.2015.02.001

Sikora RA, Fernandez E (2005) Nematodes parasites of vegetables. In: Luc M, Sikora RA, Bridge J (eds) Plant-parasitic nematodes in subtropical and tropical agriculture. Cabi, Wallingford, pp 319–392

Silva JBC, Giordano LB, Furumoto O, Boiteux LS, França FH, Bôas GLV, Branco MC, Medeiros MA, Marouelli W, Silva WLC, Lopes CA, Ávila AC, Nascimento WM, Pereira W (2006) Cultivo de tomate para industrialização. https://sistemasdeproducao.cnptia.embrapa.br/FontesHTML/Tomate/TomateIndustrial_2ed/autores.htm Accessed: 15 march 2020.

Silva MCL, Santos CDG, Silva GS (2016) Espécies de Meloidogyne associada a vegetais em microrregiões do estado do Ceará. Rev Ciênc Agron 47:710–719. https://doi.org/10.5935/1806-6690.20160085

Smant G, Helder J, Goverse A (2018) Parallel adaptations and common host cell responses enabling feeding of obligate and facultative plant parasitic nematodes. Plant J 93:686–702. https://doi.org/10.1111/tpj.13811

Taylor AL, Sasser JN (1978) Biology, identification and control of root-knot nematodes (Meloidogyne species). NCSU & USAID Coop Publ, Raleigh

Teixeira CT, Oliveira DC, Kuster VC, Isaias RMS (2018) Immunocytochemical demonstration of cell wall components related to tissue compartments in the globoid galls induced by Clinodiplosis sp. (Cecidomyiidae) on Croton floribundus Spreng. (Euphorbiaceae). Botany 96:9–18. https://doi.org/10.1139/cjb-2017-0123

Vieira P, Escudero C, Rodiuc N, Boruc J, Russinova E, Glab N et al (2013) Ectopic expression of Kip-related proteins restrains root-knot nematode-feeding site expansion. New Phytol 199:505–5019. https://doi.org/10.1111/nph.12255

Vilela RMIF, Martini VC, Gonçalves L d A, Kuster VC, Oliveira DC (2019) Structure and development of root gall induced by Meloidogyne javanica in Glycine max L. Semina: Série botânica 40:1033–1048. https://doi.org/10.5433/1679-0359.2019v40n3p1033

Wieczorek K (2015) Cell wall alterations in nematode-infected roots. Adv Bot Res 73:61–90. https://doi.org/10.1016/bs.abr.2014.12.002

Willats WGT, LimBerg G, Bucholt HC, Van Alebeek GJ, Benen J, Christensen TMIE et al (2000) Analysis of pectic epitopes recognised by hybridoma and phage display monoclonal antibodies using defined oligosaccharides, polysaccharides, and enzymatic degradation.charides e degradação enzimática. Carbohydr Res 327:309–320. https://doi.org/10.1016/S0008-6215(00)00039-2

Willats WGT, McCartney L, Mackie W (2001) Pectin: Cell biology and prospects for functional analysis. Plant Mol Biol 47:9–27. https://doi.org/10.1023/A:1010662911148

Williamson VM, Gleason CA (2003) Plant-nematode interactions. Curr Opin Plant Biol 6:327–333. https://doi.org/10.1016/S1369-5266(03)00059-1

Wolf S, Greiner S (2012) Growth control by cell wall pectins. Protoplasma 249:169–175. https://doi.org/10.1007/s00709-011-0371-5

Zhang R, Feng YLH, Yuan HX, Dai JL, Cao AZ, Xing LP, Li HL (2016) Cereal cyst nematode resistance gene CreV effective against Heterodera filipjevi transferred from chromosome of 6VL Dasypyrum villosum to bread wheat. Mol Breed 36:122. https://doi.org/10.1007/s11032-016-0549-9
Availability of data and material
All data generated or analyzed during this study are included in this published article.
Funding
This study was financed in part Fundação de Amparo à Pesquisa do Estado de Minas Gerais (FAPEMIG). The authors also thank Conselho Nacional de Desenvolvimento Científico e Tecnológico (CNPq) for a DCO fellowship.
Ethics declarations
Competing interests
The authors declare that they have no competing interests.
Consent to participate
All authors agree with the participation.
Consent to publication
All authors agree with the publication.
Additional information
Publisher's note
Springer Nature remains neutral with regard to jurisdictional claims in published maps and institutional affiliations.
Handling Editor: Handling Editor: David McCurdy
Supplementary Information
About this article
Cite this article
Vilela, R.M.I.F., Kuster, V.C., Magalhães, T.A. et al. Impact of Meloidogyne incognita (nematode) infection on root tissues and cell wall composition of okra (Abelmoschus esculentus L. Moench, Malvaceae). Protoplasma (2021). https://doi.org/10.1007/s00709-021-01618-0
Received:

Accepted:

Published:
Keywords
Cultivated plants

Giant cells

Pectin

Root-knot nematode