Abstract
New triazolium Schiff bases (TSBs) were synthesised via a simple and high throughput process. The new salts were successfully characterised. When reacted with Cu(CH3CN)4PF6, the TSB salts formed mononuclear triazole Schiff base copper(I) complexes and dinuclear complexes that were also characterised. The copper complexes were generated in situ (mixtures of TSB salts with Cu(CH3CN)4PF6) and applied as homogeneous catalysts for the C–C coupling of a variety of aryl ketones with aryl alcohols, from which significant reactivity was observed. Reaction conditions were optimised, and the results indicate that the catalyst systems are very robust. A catalyst concentration of 10 mol% efficiently and selectively catalysed the α-alkylation of methyl phenyl ketone and its derivatives to afford up to 94% yield of 1,3-diphenylpropan-1-one and its analogues. The process is adaptable with analogues of acetophenone and benzyl alcohol bearing various regulating substituents tolerated.
Graphic abstract

Access options
Buy single article
Instant access to the full article PDF.
US$ 39.95
Tax calculation will be finalised during checkout.
Subscribe to journal
Immediate online access to all issues from 2019. Subscription will auto renew annually.
US$ 119
Tax calculation will be finalised during checkout.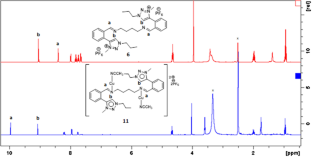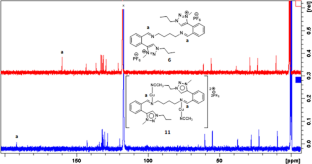 References
1.

Trost BM, Fleming I (1991). In: Schreiber SL (ed) Selectivity, strategy and efficiency in modem organic chemistry. Pergamon Press, Oxford

2.

Obora Y (2014) ACS Catal 4:3972

3.

Shen D, Poole DL, Shotton CC, Kornahrens AF, Healy MP, Donohoe TJ (2015) Angew Chem Int Ed 54:1642

4.

Rueping M, Phapale VB (2012) Green Chem 14:55

5.

Taguchi K, Nakagawa H, Hirabayashi T, Sakaguchi S, Ishii Y (2004) J Am Chem Soc 126:72

6.

Yan F, Zhang M, Wang X, Xie F, Chen M, Jiang H (2014) Tetrahedron 70:1193

7.

Cho CS, Kim BT, Kim T, Shim SC (2002) Tetrahedron Lett 43:7987

8.

Kovalenko, OO, Lundberg H, Hübner D, Adolfsson H (2014) Eur J Org Chem 6639. https://doi.org/10.1002/ejoc.201403032

9.

Kuwahara T, Fukuyama T, Ryu I (2012) Org Lett 14:4703

10.

Martınez R, Brand GJ, Ramon DJ, Yus M (2005) Tetrahedron Lett 46:3683

11.

Martınez R, Ramon DJ, Yus M (2006) Tetrahedron 62:8988

12.

Chan LK, Poole DL, Shen D, Healy MP, Donohoe TJ (2014) Angew Chem Int Ed 53:761

13.

Cho CS, Seok HJ, Shim SC (2005) J Heterocycl Chem 42:1219

14.

Satyanarayana P, Reddy GM, Maheswaran H, Kantam ML (2013) Adv Synth Catal 355:1859

15.

Wang R, Huang L, Du Z, Feng H (2017) J Organomet Chem 846:40

16.

Elangovan S, Sortais JB, Beller M, Darcel C (2015) Angew Chem Int Ed 54:14483

17.

Pan X, Li M, Gu Y (2014) Chem Asian J 9:268

18.

Peria-Lopez M, Piehl P, Elangovan S, Neumann H, Beller M (2016) Angew Chem Int Ed 55:14967

19.

Zhang G, Wu J, Zeng H, Zhang S, Yin Z, Zheng S (2017) Org Lett 19:1080

20.

Dixit M, Mishra M, Joshi PA, Shah DO (2013) Catal Commun 33:80

21.

Alonso F, Riente P, Yus M (2008) Eur J Org Chem 4908. https://doi.org/10.1002/ejoc.200800729

22.

Cui X, Zhang Y, Shi F, Deng Y (2011) Chem Eur J 17:1021

23.

Tan DW, Li HX, Zhu DL, Li HY, Young DJ, Yao JL, Lang JP (2018) Org Lett 20:608

24.

Lawal NS, Bala MD (2020) J Mol Struct 1200:127124

25.

Kadwa E, Friedrich HB, Bala MD (2017) Inorg Chim Acta 463:112

26.

Mathew P, Neels A, Albrecht M (2008) J Am Chem Soc 130:13534

27.

Mncube SG, Bala MD (2016) J Mol Liq 215:396

28.

Dhimba G, Lawal NS, Bala MD (2019) J Mol Struct 1179:100

29.

Abubakar S, Ibrahim H, Bala MD (2019) Inorg Chim Acta 484:276

30.

Lake BRM, Willans CE (2014) Organometallics 33:2027

31.

Mncube SG, Bala MD (2019) Trans Met Chem 44:145

32.

Ihaumeer-Laulloo BS, Bhowon MG (2003) Indian J Chem 42A:2536

33.

Bagihalli GB, Patil SA, Badami PS (2009) J Iran Chem Soc 6:259

34.

Singh K, Singh DP, Barwa MS, Tyagi P, Mirza Y (2006) J Enzyme Inhib Med Chem 21:749

35.

Singh K, Kumar Y, Puri P, Sharma C, Aneja KR (2017) Arab J Chem 10:S978

36.

Grusenmeyer TA, King AW, Mague JT, Rack JJ, Schmehl RH (2014) Dalton Trans 43:17754

37.

Hauwert P, Boerleider R, Warsink S, Weigand JJ, Elsevier CJ (2010) J Am Chem Soc 132:16900

38.

Ibrahim H, Bala MD (2016) New J Chem 40:6986

39.

Chen J, Yuan T, Hao W, Cai M (2011) Tetrahedron Lett 52:3710

40.

Dudev T, Lim C (1998) J Am Chem Soc 120:4450

41.

Aihara J (1992) Sci Am 266:62

42.

Lal S, Diez-Gonzalez S (2011) J Org Chem 76:2367

43.

Cozzi PG (2004) Chem Soc Rev 33:410
Acknowledgements
We acknowledge financial support from the University of KwaZulu-Natal, ESKOM (TESP 2019) and the NRF. NSL thanks Ahmadu Bello University for a paid study fellowship.
Additional information
Publisher's Note
Springer Nature remains neutral with regard to jurisdictional claims in published maps and institutional affiliations.
Supplementary Information
Below is the link to the electronic supplementary material.
About this article
Cite this article
Lawal, N.S., Ibrahim, H. & Bala, M.D. Cu(I) mediated hydrogen borrowing strategy for the α-alkylation of aryl ketones with aryl alcohols. Monatsh Chem (2021). https://doi.org/10.1007/s00706-021-02735-5
Received:

Accepted:

Published:
Keywords
C–C coupling

α-Alkylation

Copper complex

Schiff base

1,2,3-Triazolium salt