Abstract
Enzootic bovine leukosis (EBL) is a malignant B-cell lymphoma of cattle caused by infection with bovine leukemia virus (BLV). It is defined by clonal and neoplastic expansion of BLV-infected B cells. Currently, multiple examinations are able to comprehensively diagnose this condition. Inverse polymerase chain reaction (PCR) is a useful method to determine retrovirus integration sites. Here, we established a simplified inverse PCR method, involving the evaluation of clonality and similarity of BLV integration sites, to clinically diagnose EBL, and we also assessed its reliability. We found that the novel BLV inverse PCR could detect clonal expansion of infected cells even if they constituted only 5% of the total number of cells, while not amplifying any fragments from BLV-uninfected cells, thus confirming its sufficient sensitivity and specificity for use in EBL diagnosis. Furthermore, 50 clinical cases of bovine leukemia were analyzed using BLV inverse PCR and other PCR-based methods, wherein our method most efficiently determined virus-dependent bovine leukemia, including unidentified clinical cases observed in a previous report. Following further clinical investigations to enhance its reliability, the proposed BLV inverse PCR method has the potential to be applied to EBL diagnosis.
Access options
Buy single article
Instant access to the full article PDF.
US$ 39.95
Tax calculation will be finalised during checkout.
Subscribe to journal
Immediate online access to all issues from 2019. Subscription will auto renew annually.
US$ 119
Tax calculation will be finalised during checkout.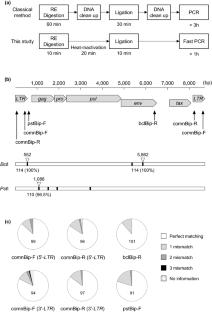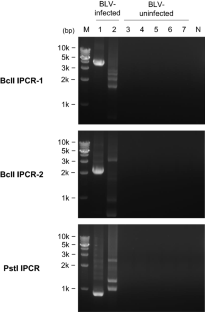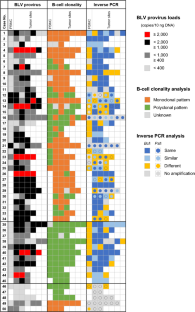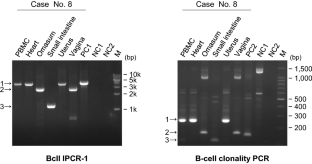 References
1.

OIE World Organization for Animal Health (2019) Manual of diagnostic tests and vaccines for terrestrial animals 2019, chapter 3.4.9. Enzootic Bovine Leukosis. https://www.oie.int/standard-setting/terrestrial-manual/access-online/

2.

Gutiérrez G, Rodríguez SM, de Brogniez A, Gillet N, Golime R, Burny A, Jaworski JP, Alvarez I, Vagnoni L, Trono K, Willems L (2014) Vaccination against δ-retroviruses: the bovine leukemia virus paradigm. Viruses 6(6):2416–2427. https://doi.org/10.3390/v6062416

3.

WAHIS Interface (2020) OIE disease distribution maps. https://www.oie.int/wahis_2/public/wahid.php/Diseaseinformation/Diseasedistributionmap. Accessed 5 Jun 2020

4.

Rhodes JK, Pelzer KD, Johnson YJ (2003) Economic implications of bovine leukemia virus infection in mid-Atlantic dairy herds. J Am Vet Med Assoc 223(3):346–352. https://doi.org/10.2460/javma.2003.223.346

5.

Somura Y, Sugiyama E, Fujikawa H, Murakami K (2014) Comparison of the copy numbers of bovine leukemia virus in the lymph nodes of cattle with enzootic bovine leukosis and cattle with latent infection. Arch Virol 159(10):2693–2697. https://doi.org/10.1007/s00705-014-2137-9

6.

Nishimori A, Konnai S, Okagawa T, Maekawa N, Goto S, Ikebuchi R, Nakahara A, Chiba Y, Ikeda M, Murata S, Ohashi K (2017) Identification of an atypical enzootic bovine leukosis in Japan by using a novel classification of bovine leukemia based on immunophenotypic analysis. Clin Vaccine Immunol 24(9):e00067-e117. https://doi.org/10.1128/CVI.00067-17

7.

Frie MC, Coussens PM (2015) Bovine leukemia virus: a major silent threat to proper immune responses in cattle. Vet Immunol Immunopathol 163(3–4):103–114. https://doi.org/10.1016/j.vetimm.2014.11.014

8.

Asahina M, Kimura K, Murakami K, Ajito T, Wu D, Goryo M, Aida Y, Davis WC, Okada K (1995) Phenotypic analysis of neoplastic cells from calf, thymic, and intermediate forms of bovine leukosis. Vet Pathol 32(6):683–691. https://doi.org/10.1177/030098589503200610

9.

Grünberg W, Eisenberg SWF (2013) Atypical form of sporadic bovine leukosis (SBL) in the Netherlands. Vet Rec 173(16):398. https://doi.org/10.1136/vr.101885

10.

Ochman H, Gerber AS, Hartl DL (1988) Genetic applications of an inverse polymerase chain reaction. Genetics 120(3):621–623

11.

Murakami H, Yamada T, Suzuki M, Nakahara Y, Suzuki K, Sentsui H (2011) Bovine leukemia virus integration site selection in cattle that develop leukemia. Virus Res 156(1–2):107–112. https://doi.org/10.1016/j.virusres.2011.01.004

12.

Miyasaka T, Oguma K, Sentsui H (2015) Distribution and characteristics of bovine leukemia virus integration sites in the host genome at three different clinical stages of infection. Arch Virol 160(1):39–46. https://doi.org/10.1007/s00705-014-2224-y

13.

Itohara S, Sekikawa K, Mizuno Y, Kono Y, Nakajima H (1987) Establishment of bovine leukemia virus-producing and -nonproducing B-lymphoid cell lines and their proviral genomes. Leuk Res 11(5):407–414. https://doi.org/10.1016/0145-2126(87)90071-3

14.

Lindsey NJ, Chow TL (1969) Preservation of primary bovine embryonic kidney cells with dimethyl sulfoxide. Appl Microbiol 17(3):484–485

15.

Shimizu M, Satou K (1987) Frequency of persistent infection of cattle with bovine viral diarrhea-mucosal disease virus in epidemic areas. Nihon Juigaku Zasshi 6:1045–1051. https://doi.org/10.1292/jvms1939.49.1045

16.

Fechner H, Blankenstein P, Looman AC, Elwert J, Geue L, Albrecht C, Kurg A, Beier D, Marquardt O, Ebner D (1997) Provirus variants of the bovine leukemia virus and their relation to the serological status of naturally infected cattle. Virology 237(2):261–269. https://doi.org/10.1006/viro.1997.8784

17.

Rosewick N, Durkin K, Artesi M, Marçais A, Hahaut V, Griebel P, Arsic N, Avettand-Fenoel V, Burny A, Charlier C, Hermine O, Georges M, van den Broeke A (2017) Cis-perturbation of cancer drivers by the HTLV-1/BLV proviruses is an early determinant of leukemogenesis. Nat Commun 8:15264. https://doi.org/10.1038/ncomms15264

18.

Gillet NA, Malani N, Melamed A, Gormley N, Carter R, Bentley D, Berry C, Bushman FD, Taylor GP, Bangham CRM (2011) The host genomic environment of the provirus determines the abundance of HTLV-1-infected T-cell clones. Blood 117(11):3113–3122. https://doi.org/10.1182/blood-2010-10-312926

19.

Artesi M, Hahaut V, Ashrafi F, Marçais A, Hermine O, Griebel P, Arsic N, Van der Meer F, Burny A, Bron D, Charlier C, Georges M, van den Broeke A, Durkin K (2019) Pooled CRISPR inverse PCR sequencing (PCIP-seq): simultaneous sequencing of retroviral insertion points and the associated provirus in thousands of cells with long reads. bioRxiv. https://doi.org/10.1101/558130

20.

Okayama A, Stuver S, Matsuoka M, Ishizaki J, Tanaka G, Kubuki Y, Mueller N, Hsieh C, Tachibana N, Tsubouchi H (2004) Role of HTLV-1 proviral DNA load and clonality in the development of adult T-cell leukemia/lymphoma in asymptomatic carriers. Int J Cancer 110(4):621–625. https://doi.org/10.1002/ijc.20144

21.

Kobayashi S, Yamamoto T, Hayama Y, Murai K, Tsutsui T (2016) Descriptive epidemiology of bovine leukemia in Japan. J Vet Epidemiol 20(1):17–18. https://doi.org/10.2743/jve.20.13

22.

Kondo S, Kotani T, Tsumori S, Narahara S, Aratake Y, Kobayashi M, Takahashi M, Inoue S, Ohtaki S (1995) Identification of biclonal (duplex) leukaemic cells expressing either CD4+/CD8- or CD4-/CD8+ from a patient with adult T-cell leukaemia/lymphoma. Br J Haematol 89(3):669–671. https://doi.org/10.1111/j.1365-2141.1995.tb08387.x

23.

Kato N, Sugawara H, Aoyagi S, Mayuzumi M (2001) Lymphoma-type adult T-cell leukaemia-lymphoma with a bulky cutaneous tumour showing multiple human T-lymphotropic virus-1 DNA integration. Br J Dermatol 144(6):1244–1248. https://doi.org/10.1046/j.1365-2133.2001.04242.x
Acknowledgements
We are grateful to the staff at Ibaraki Kenpoku Livestock Hygiene Service Center, Ibaraki Kensei Meat Inspection Office, Himeji Meat Hygiene Inspection Center, Hyogo Meat Hygiene Inspection Center, Awaji Meat Inspection Office, Nishiharima Meat Inspection Office, and Tajima Meat Inspection Office for kindly providing clinical EBL samples. Expert technical advice was provided by Yuto Suda (National Institute of Animal Health, NARO) and Tomohiro Okagawa (Faculty of Veterinary Medicine, Hokkaido University). We would like to thank Editage (www.editage.com) for English language editing.
Funding
This work was supported by a subsidy from the National Agriculture and Food Research Organization.
Ethics declarations
Conflict of interest
The authors have no conflicts of interest to disclose.
Additional information
Publisher's Note
Springer Nature remains neutral with regard to jurisdictional claims in published maps and institutional affiliations.
Handling Editor: Zhongjie Shi.
Supplementary Information
Below is the link to the electronic supplementary material.
About this article
Cite this article
Nishimori, A., Andoh, K., Matsuura, Y. et al. Establishment of a simplified inverse polymerase chain reaction method for diagnosis of enzootic bovine leukosis. Arch Virol 166, 841–851 (2021). https://doi.org/10.1007/s00705-020-04945-4
Received:

Accepted:

Published:

Issue Date: