Abstract
A novel myovirus, vB_PagM_AAM22 (AAM22), was isolated in Lithuania using Pantoea agglomerans as the host for phage propagation. The 49,744-bp genome of AAM22 has a G + C content of 48.4% and contains 96 probable protein-encoding genes and no genes for tRNA. In total, 34 ORFs were given a putative functional annotation, including genes associated with virion morphogenesis, DNA metabolism, and phage-host interactions. Based on comparative phylogenetic analysis, AAM22 cannot be assigned to any genus currently recognized by the ICTV and is a potential candidate to form a new genus within the family Myoviridae.
This is a preview of subscription content, log in to check access.
Access options
Buy single article
Instant access to the full article PDF.
US$ 39.95
Price includes VAT for USA
Subscribe to journal
Immediate online access to all issues from 2019. Subscription will auto renew annually.
US$ 199
This is the net price. Taxes to be calculated in checkout.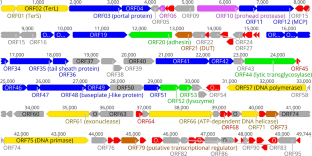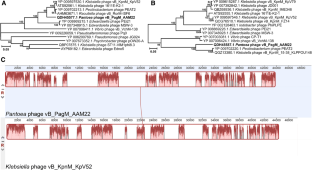 References
1.

Walterson AM, Stavrinides J (2015) Pantoea: insights into a highly versatile and diverse genus within the Enterobacteriaceae. FEMS Microbiol Rev 39:968–984. https://doi.org/10.1093/femsre/fuv027

2.

Dutkiewicz J, Mackiewicz B, Lemieszek MK, Golec M, Milanowski J (2016) Pantoea agglomerans: a mysterious bacterium of evil and good. Part III. Deleterious effects: infections of humans, animals and plants. Ann Agric Environ Med 23:197–205. https://doi.org/10.5604/12321966.1203878

3.

Adriaenssens EM, Ceyssens PJ, Dunon V, Ackermann HW, Van Vaerenbergh J, Maes M, De Proft M, Lavigne R (2011) Bacteriophages LIME-light and LIMEzero of Pantoea agglomerans, belonging to the "phiKMV-like viruses". Appl Environ Microbiol 77:3443–3450. https://doi.org/10.1128/AEM.00128-11

4.

Šimoliūnas E, Šimoliūnienė M, Kaliniene L, Zajančkauskaitė A, Skapas M, Meškys R, Kaupinis A, Valius M, Truncaitė L (2018) Pantoea bacteriophage vB_PagS_Vid5: a low-temperature siphovirus that harbors a cluster of genes involved in the biosynthesis of archaeosin. Viruses 10(11):583. https://doi.org/10.3390/v10110583

5.

Thompson DW, Casjens SR, Sharma R, Grose JH (2019) Genomic comparison of 60 completely sequenced bacteriophages that infect Erwinia and/or Pantoea bacteria. Virology 535:59–73. https://doi.org/10.1016/j.virol.2019.06.005

6.

Šimoliūnas E, Kaliniene L, Truncaitė L, Zajančkauskaitė A, Staniulis J, Kaupinis J, Ger M, Valius M, Meškys R (2013) Klebsiella phage vB_KleM-RaK2—a giant singleton virus of the family Myoviridae. PLoS One 8:e60717. https://doi.org/10.1371/journal.pone.0060717

7.

Carlson K, Miller E (1994) Experiments in T4 genetics. In: Karam JD (ed) Bacteriophage T4. ASM Press, Washington, pp 419–483

8.

Martin M (2011) Cutadapt removes adapter sequences from high-throughput sequencing reads. EMBnet J 17:10–12. https://doi.org/10.14806/ej.17.1.200

9.

Bankevich A, Nurk S, Antipov D, Gurevich AA, Dvorkin M, Kulikov AS, Lesin VM, Nikolenko SI, Pham S, Prjibelski AD et al (2012) SPAdes: a new genome assembly algorithm and its applications to single-cell sequencing. J Comput Biol 19:455–477. https://doi.org/10.1089/cmb.2012.0021

10.

Merrill BD, Ward AT, Grose JH, Hope S (2016) Software-based analysis of bacteriophage genomes, physical ends, and packaging strategies. BMC Genomics 17:679. https://doi.org/10.1186/s12864-016-3018-2

11.

Madeira F, Ymi P, Lee J, Buso N, Gur T, Madhusoodanan N, Basutkar P, Tivey ARN, Potter SC, Finn RD et al (2019) The EMBL-EBI search and sequence analysis tools APIs in 2019. Nucleic Acids Res 47:W636–W641. https://doi.org/10.1093/nar/gkz268

12.

Alva V, Nam SZ, Söding J, Lupas AN (2016) The MPI bioinformatics toolkit as an integrative platform for advanced protein sequence and structure analysis. Nucleic Acids Res 44(W1):W410–W415. https://doi.org/10.1093/nar/gkw348

13.

Zimmermann L, Stephens A, Nam SZ, Rau D, Kubler J, Lozajic M, Gabler F, Söding J, Lupas AN, Alva V (2018) A completely reimplemented mpi bioinformatics toolkit with a new HHpred server at its core. J Mol Biol 430:2237–2243. https://doi.org/10.1016/j.jmb.2017.12.007

14.

Lowe TM, Chan PP (2016) tRNAscan-SE on-line: search and contextual analysis of transfer RNA genes. Nucl Acids Res 44:W54–57. https://doi.org/10.1093/nar/gkw413

15.

Kumar S, Stecher G, Tamura K (2016) MEGA7: molecular evolutionary genetics analysis version 7.0 for bigger datasets. Mol Biol Evol 33:1870–1874. https://doi.org/10.1093/molbev/msw054

16.

Bao Y, Chetvernin V, Tatusova T (2014) Improvements to pairwise sequence comparison (PASC): a genome-based web tool for virus classification. Arch Virol 159:3293–3304. https://doi.org/10.1007/s00705-014-2197-x

17.

Darling AC, Mau B, Blattner FR, Perna NT (2004) Mauve: Multiple alignment of conserved genomic sequence with rearrangements. Genome Res 14(7):1394–1403. https://doi.org/10.1101/gr.2289704

18.

Adriaenssens EM, Brister JR (2017) How to name and classify your phage: an informal guide. Viruses 9(4):70. https://doi.org/10.3390/v9040070
Acknowledgements
This research was funded by Grants (no. 09.3.3.-LMT-K-712-15-0109 and no. 09.3.3.-LMT-K-712-16-0087) from the Research Council of Lithuania.
Ethics declarations
Conflict of interest
There are no conflicts of interest.
Ethical approval
This article does not contain any studies with human participants or animals performed by any of the authors.
Additional information
Publisher's Note
Springer Nature remains neutral with regard to jurisdictional claims in published maps and institutional affiliations.
Handling Editor: Johannes Wittmann.
Electronic supplementary material
Below is the link to the electronic supplementary material.
About this article
Cite this article
Truncaitė, L., Šimoliūnienė, M., Alijošius, L. et al. Complete genome analysis of Pantoea agglomerans-infecting bacteriophage vB_PagM_AAM22. Arch Virol (2020). https://doi.org/10.1007/s00705-020-04705-4
Received:

Accepted:

Published: