Abstract
We investigated the first and last frost dates using meteorological observation data from Japan. First, we identified long-term trends of retardation (mean: +0.224 day/year) in the first frost date in fall and advancement (−0.228 day/year) in the last frost date in spring using historical frost observation data from 1951 to 2010. Trends determined over 20-year subperiods were distinct from long-term trends and were sensitive to decadal changes in daily minimum air temperature. Second, we proposed a scheme to infer the first and last frost dates from the time series of daily minimum air temperature. After optimization, the first (last) cold date when the daily minimum temperature fell below a temperature criterion of ca. 2 °C yielded the best estimate of the first (last) frost date with an error of 2 days in most cases. However, the overall root mean square errors were 13–16 days because some cases with significant misfits deteriorated the values. Both wind speed and humidity shifted the criterion. Sites with strong winds contributed to a decrease in the temperature criterion. Because this scheme only requires the daily minimum air temperature, it is widely applicable to the quantitative evaluation of the first and last frost dates from given meteorological or climate projection data.
This is a preview of subscription content,
to check access.
Access this article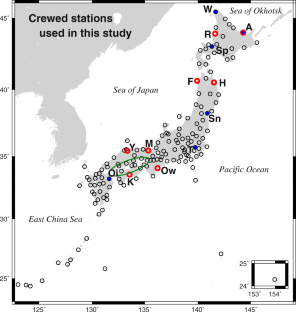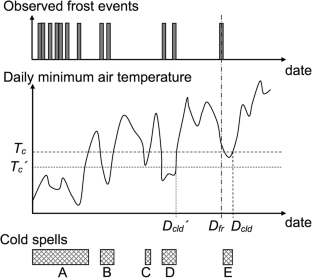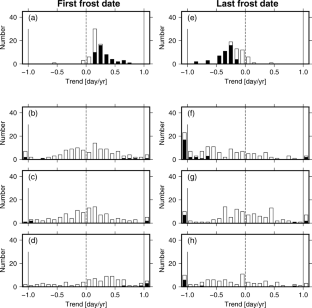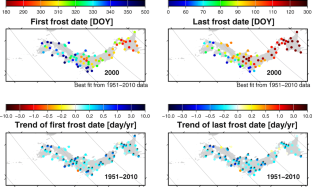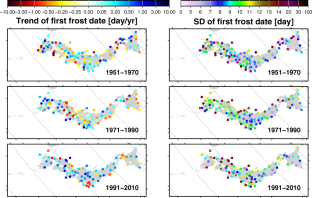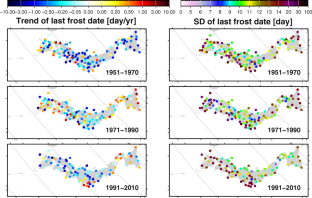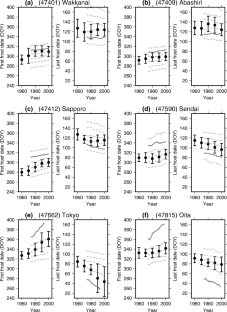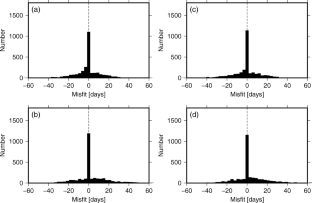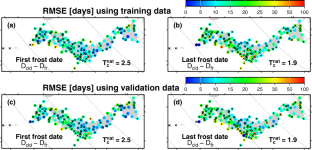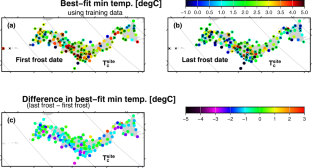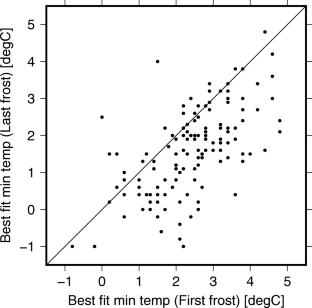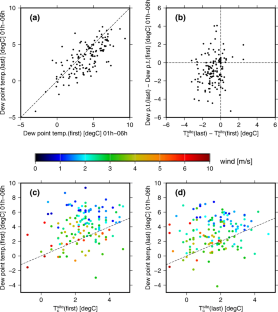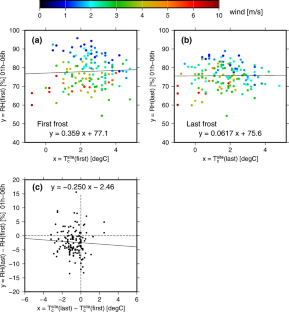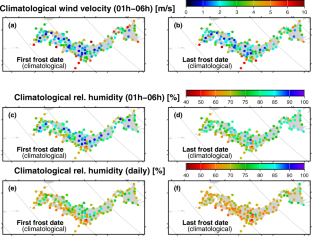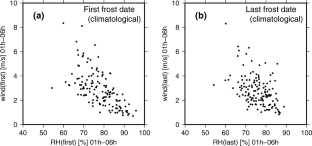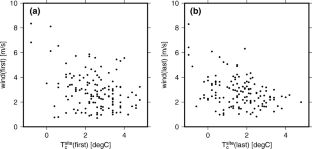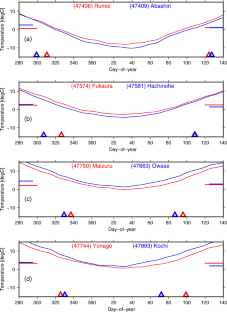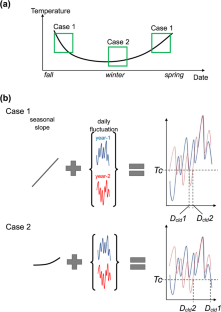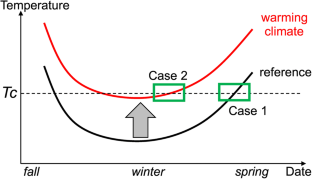 Data Availability
JMA observation data are distributed via Japan Meteorological Business Support Center.
References
Cutforth H, O'Brien EG, Tuchelt J, Rickwood R (2004) Long-term changes in the frost-free season on the Canadian prairies. Can J Plant Sci 84:1085–1091

Easterling DR (2002) Recent changes in frost days and the frost-free season in the United States. Bull Am Meteorol Soc 83:1327–1332

Fujibe F (1999) Time of observation bias in the climatological data of daily minimum and maximum temperature in Japan. Tenki 46:819–830 (in Japanese with English abstract)

Funahashi Y (1966) Some characters of frost days at Chikugo. Kyushu Nogyo Kenkyu 28:201–203 (in Japanese)

Hanyu J, Matuoka N, Kon H, Nakayama K (1986) Relation of the environmental conditions to the frost injury Part 2 Freezing temperature influenced by the wet or dry conditions on the leaf surface of soybean seedlings. J Agr Meteorol 41:331–335 (in Japanese)

Hokkaido Research Organization (2011) Report on research program for evaluating the impact of global warming on the changes in agricultural productivity in Hokkaido for the decades 2030s. Miscellaneous Publication of Hokkaido Research Organization Agricultural Experiment Stations No. 39, pp.96.

Hoppe PE, Arny DC, Martens JW (1964) Frost susceptibility in corn increased by leaf blight infections. Plant Dis Rep 48:815–816

Horel JD, Wallace JM (1981) Planetary-scale atmospheric phenomena associated with the southern oscillation. Mon Weather Rev 109:813–829

Jönsson AM, Bärring L (2011) Ensemble analysis of frost damage on vegetation caused by spring backlashes in a warmer Europe. Nat Hazards Earth Syst Sci 11:401–418. https://doi.org/10.5194/nhess-11-401-2011

Kuwagata T, Kondo J (1990) Estimation of aerodynamic roughness at the regional meteorological stations (AMeDAS) in the central part of Japan. Tenki 37:197–201 (in Japanese)

Kuwagata T, Kondo J (1991) Estimation of aerodynamic roughness at the regional meteorological stations (AMeDAS) in western Japan. Tenki 38:491–494 (in Japanese)

Mantua NJ, Hare SR, Zhang Y, Wallace JM, Francis RC (1997) A Pacific interdecadal climate oscillation with impacts on salmon production. Bull Am Meteorol Soc 78:1069–1079

Masaki Y (2020) Future risk of frost on apple trees in Japan. Clim Chang 159:407–422. https://doi.org/10.1007/s10584-019-02610-7

Masaki Y (2021) Probability of frost occurrence based on meteorological observation in Japan. Meteorol Atmos Phys. https://doi.org/10.1007/s00703-020-00775-w

Ministry of Agriculture, Forestry and Fisheries (2019) Nosakubutsu saigai syuruibetsu Higai Toukei (in Japanese). http://www.maff.go.jp/j/tokei/kouhyou/sakumotu/higai/ Accessed 19 June 2019.

Minobe S (1997) A 50–70 year climatic oscillation over the North Pacific and North America. Geophys Res Lett 24:683–686

Mizuta R, Uchiyama T, Kamiguchi K, Kitoh A, Noda A (2005) Changes in extremes indices over Japan due to global warming projected by a global 20-km-mesh atmospheric model. SOLA 1:153–156. https://doi.org/10.2151/sola.2005-040

Moonen AC, Ercoli L, Mariotti M, Masoni A (2002) Climate change in Italy indicated by agrometeorological indices over 122 years. Agric For Meteorol 111:13–27

Sameshima R, Hirota T, Hamasaki T (2007) Mapping of first-frost days and risk of frost damage to soybeans. J Agric Meteorol 63:25–32

Scheifinger H, Menzel A, Koch E, Peter C (2003) Trends of spring time frost events and phenological dates in Central Europe. Theor Appl Clim 74:41–51

Stewart TR, Katz RW, Murphy AH (1984) Value of weather information: a descriptive study of the fruit-frost problem. Bull Am Meteorol Soc 65:126–137

Trenberth KE (1990) Recent observed interdecadal climate changes in the Northern Hemisphere. Bull Am Meteorol Soc 71:988–993

Zhong S, Yu L, Winkler JA, Tang Y, Heilman WE, Bian X (2017) The impact of climate change on the characteristics of the frost-free season over the contiguous USA as projected by the NARCCAP model ensembles. Clim Res 72:53–72
Acknowledgements
Meteorological observation data (including frost observation) used in this study were collected by JMA. We acknowledge an anonymous reviewer for improving the manuscript.
Code availability
Custom code.
Ethics declarations
Conflict of interest
The authors declare no competing interests
Additional information
Publisher's note
Springer Nature remains neutral with regard to jurisdictional claims in published maps and institutional affiliations.
Supplementary Information
About this article
Cite this article
Masaki, Y. First and last frost date determinations based on meteorological observations in Japan: trend analysis and estimation scheme construction. Theor Appl Climatol 145, 411–426 (2021). https://doi.org/10.1007/s00704-021-03637-6
Received:

Accepted:

Published:

Issue Date:

DOI: https://doi.org/10.1007/s00704-021-03637-6