Abstract
With the rising trends in elderly populations around the world, there is a growing interest in understanding how climate variability is related to the health of this population group. Therefore, we analyzed the associations between mortality in the elderly due to cardiovascular (CVD) and respiratory diseases (RD) and meteorological variables, for three cities in the State of São Paulo, Brazil: Campos do Jordão, Ribeirão Preto, and Santos, all in different subtropical regions, from 1996 to 2017. The main objective was to verify how these distinct subtropical climates impact elderly mortality differently. We applied the autoregressive model integrated with moving average (ARIMA) and the principal component analysis (PCA), in order to evaluate statistical associations. Results showed CVD as a major cause of mortality, particularly in the cold period, when a high mortality rate is also observed due to RD. The mortality rate was higher in Campos do Jordão and lower in Santos. In Campos do Jordão, results indicate an increased probability of mortality from CVD and RD due to lower temperatures. In Ribeirão Preto, the lower relative humidity may be related to the increase in CVD and RD deaths. This study emphasizes that, even among subtropical climates, there are significant differences on how climate impacts human health, which can assist decision-makers in the implementation of mitigating and adaptive measures.
Access options
Buy single article
Instant access to the full article PDF.
US$ 39.95
Tax calculation will be finalised during checkout.
Subscribe to journal
Immediate online access to all issues from 2019. Subscription will auto renew annually.
US$ 119
Tax calculation will be finalised during checkout.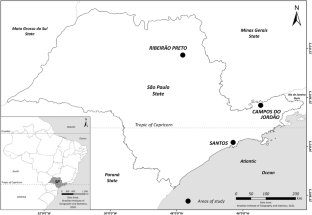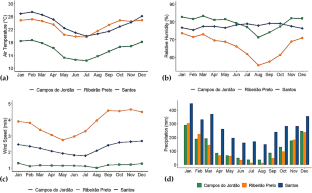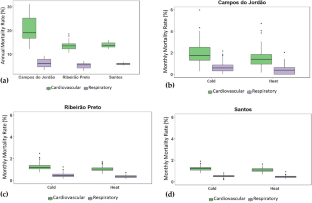 Notes
1.

Center of Meteorological and Climate Research Applied to Agriculture; climate of the cities of São Paulo (CPA 2018)
References
Alberdi JC, Diaz J, Montero JC, Mirn I (1998) Daily mortality in Madrid community 1986-1992: relationship with meteorological variables. Eur J Epidemiol 14:571–578

Alvares CA, Stape JL, Sentelhas PC, de Moraes Gonçalves JL, Sparovek G (2013) Köppen's climate classification map for Brazil. Meteorol Z 22:711–728. https://doi.org/10.1127/0941-2948/2013/0507

Arundel AV, Sterling EM, Biggin JH, Sterling TD (1986) Indirect health effects of relative humidity in indoor environments. Environ Health Perspect 65:351–361

Barreca AI (2012) Climate change, humidity, and mortality in the United States. J Environ Econ Manag 63:19–34. https://doi.org/10.1016/j.jeem.2011.07.004

Batista R, Camponogara G, Gonçalves F (2010) Caracterização da variabilidade anual de índices de conforto térmico humano e comparação entre estes, para o Estado de São Paulo. Congresso Brasileiro de Meteorologia:1–5

Baughman AV, Arens EA (1996) Indoor humidity and human health - part I: literature review of health effects of humidity-influenced indoor pollutants. ASHRAE Trans 102:193–211

Bell ML, O'Neill MS, Ranjit N, Borja-Aburto VH, Cifuentes LA, Gouveia NC (2008) Vulnerability to heat-related mortality in Latin America: a case-crossover study in São Paulo, Brazil, Santiago, Chile and Mexico City, Mexico. Int J Epidemiol 37:796–804. https://doi.org/10.1093/ije/dyn094

Box G, Jenkins G (1976) Time series analysis: forecasting and control. San Fr. Holden-Day

Braga ALF, Zanobetti A, Schwartz J (2002) The effect of weather on respiratory and cardiovascular deaths in 12 U.S. cities. Environ Health Perspect 110:859–863

Brunekreef B, Forsberg B (2005) Epidemiological evidence of effects of coarse airborne particles on health. Eur Respir J 26:309–318. https://doi.org/10.1183/09031936.05.00001805

Chen R, Yin P, Wang L, Liu C, Niu Y, Wang W, Jiang Y, Liu Y, Liu J, Qi J, You J, Kan H, Zhou M (2018) Association between ambient temperature and mortality risk and burden: time series study in 272 main Chinese cities. BMJ (Online):k4306. https://doi.org/10.1136/bmj.k4306

Cheng Y, Kan H (2012) Effect of the interaction between outdoor air pollution and extreme temperature on daily mortality in Shanghai, China. J Epidemiol 22:28–36. https://doi.org/10.2188/jea.JE20110049

Cheshire WP (2016) Thermoregulatory disorders and illness related to heat and cold stress. Auton Neurosci 196:91–104. https://doi.org/10.1016/j.autneu.2016.01.001

Coelho M de SZS (2007) Uma análise estatística com vistas a previsibilidade de internação por doenças respiratórias em função das condições meteorotrópicas na cidade de São Paulo 195.

Conlon KC, Rajkovich NB, White-newsome JL et al (2011) Maturitas preventing cold-related morbidity and mortality in a changing climate. Maturitas 69:197–202. https://doi.org/10.1016/j.maturitas.2011.04.004

Costa ERG (2015) A Desidratação no Idoso. Universidade de Coimbra

CPA Clima dos municípios paulista. In: Cepagri Meteorologia Unicamp. https://www.cpa.unicamp.br/outras-informacoes/clima-dos-municipios-paulistas.html. Accessed 10 Aug 2018

DAEE Portal do Departamento de Águas e Energia Elétrica. http://www.hidrologia.daee.sp.gov.br/. Accessed 30 Dec 2020

DATASUS Department of Informatics of the Brazilian Unified Health System. www.datasus.gov.br. Accessed 20 Sep 2018

Díaz J, García R, Velázquez De Castro F et al (2002a) Effects of extremely hot days on people older than 65 years in Seville (Spain) from 1986 to 1997. Int J Biometeorol 46:145–149. https://doi.org/10.1007/s00484-002-0129-z

Díaz J, Jordán A, García R, López C, Alberdi J, Hernández E, Otero A (2002b) Heat waves in Madrid 1986-1997: effects on the health of the elderly. Int Arch Occup Environ Health 75:163–170. https://doi.org/10.1007/s00420-001-0290-4

Díaz J, García R, López C et al (2005) Mortality impact of extreme winter temperatures. Int J Biometeorol 49:179–183. https://doi.org/10.1007/s00484-004-0224-4

dos Santos JB, Amorim RFC, Cavalcante LPA (2014) Análise do conforto térmico humano no município de Arapiraca - Alagoas, utilizando software Matlab. Revista Brasileira de Geografia Física 07:939–948

Dubreuil V, Fante KP, Planchon O, Neto JLS (2018) Climate change evidence in Brazil from Köppen's climate annual types frequency. Int J Climatol 1–12. doi: https://doi.org/10.1002/joc.5893

Dufek AS, Ambrizzi T (2008) Precipitation variability in São Paulo State, Brazil. Theor Appl Climatol 93:167–178. https://doi.org/10.1007/s00704-007-0348-7

Eurowinter G (1997) Cold exposure and winter mortality from ischaemic heart disease, cerebrovascular disease, respiratory disease, and all causes in warm and cold regions of Europe. Eurowinter Group Lancet 349:1341–1346

Gabriel AFB, Abe KC, Guimarães M d P, Miraglia SGEK (2018) Avaliação de impacto à saúde da incidência de dengue associada à pluviosidade no município de Ribeirão Preto, São Paulo. Cadernos Saúde Coletiva 26:446–452. https://doi.org/10.1590/1414-462x201800040119

Gobo JP d A, Alves RR, Silveira TS et al (2017) A influência do vento regional na sensação térmica de pedestres em espaços urbanos abertos: Estudo de caso do vento norte em Santa Maria-RS. Raega - O Espaço Geográfico em Análise 1:111–129. https://doi.org/10.5380/raega

Gobo JP d A, Galvani E, Wollmann CA (2018) Influência da faixa etária e do índice de massa corporal na sensação térmica e no conforto térmico da população em Santa Maria-RS , Brasil. Climatologia Aplicada II 1:135–142

Gobo A, Faria MR, Galvani E et al (2019) Empirical model of thermal comfort for medium-sized cities in subtropical climate. Atmosphere 10:1–18. https://doi.org/10.3390/atmos10100576

Goncalves FLT, Coelho M d SZS (2010) Variação Da Morbidade De Doenças Respiratórias Em Função Da Variação Da Temperatura Entre Os Meses De Abril E Maio Em São Paulo. Ciência e Natura 32:103–118. https://doi.org/10.5902/2179460X9500

Gonçalves FLT, Braun S, Silva Dias PL, Sharovsky R (2007) Influences of the weather and air pollutants on cardiovascular disease in the metropolitan area of São Paulo. Environ Res 104:275–281. https://doi.org/10.1016/j.envres.2007.01.004

Gorjanc ML, Flanders WD, VanDerslice J, Hersh J, Malilay J (1999) Effects of temperature and snowfall on mortality in Pennsylvania. Am J Epidemiol 149:1152–1160. https://doi.org/10.1093/oxfordjournals.aje.a009770

Gouveia N, Hajat S, Armstrong B (2003) Socioeconomic differentials in the temperature-mortality relationship in São Paulo, Brazil. Int J Epidemiol 32:390–397. https://doi.org/10.1093/ije/dyg077

Guest CS, Willson K, Woodward AJ, Hennessy K, Kalkstein LS, Skinner C, McMichael A (1999) Climate and mortality in Australia: retrospective study, 1979-1990, and predicted impacts in five major cities in 2030. Clim Res 13:1–15. https://doi.org/10.3354/cr013001

Hajat S, Armstrong BG, Gouveia N, Wilkinson P (2005) Mortality displacement of heat-related deaths: a comparison of Delhi, São Paulo, and London. Epidemiology 16:613–620. https://doi.org/10.1097/01.ede.0000164559.41092.2a

Hyndman RJ, Shahid Ullah M (2007) Robust forecasting of mortality and fertility rates: a functional data approach. Comput Stats Data Anal 51:4942–4956. https://doi.org/10.1016/j.csda.2006.07.028

IBGE Instituto Brasileiro de Geografia e Estatística. https://cidades.ibge.gov.br/. Accessed 1 Aug 2019

IDB (2012) Indicadores e Dados Básicos - Brasil - 2012. http://tabnet.datasus.gov.br/cgi/idb2012/matriz.htm. Accessed 2 May 2019

Ikefuti PV (2017) Associação entre variáveis meteorológicas, índice climático, fatores socioeconômicos e mortalidade por doenças do aparelho circulatório (acidente vascular cerebral e embolia pulmonar) no município de São Paulo - SP. doi: 10.11606/T.8.2017.tde-13022017-114517

Ikefuti PV, Barrozo LV, Braga ALF (2018) Mean air temperature as a risk factor for stroke mortality in São Paulo. Int J Biometeorol 62:1535–1542. https://doi.org/10.1007/s00484-018-1554-y

IPVS (2010) Governo do Estado de São Paulo. http://ipvs.seade.gov.br/view/index.php. Accessed 30 Dec 2020

Jendritzky G, Staiger H, Bucher K, et al (2000) The perceived temperature: the method of the Deutscher Wetterdienst for the assessment of cold stress and heat load for the human body. Environ Sci 1–10. doi: https://doi.org/10.1007/s00484-011-0409-6

Kaiser HF (1958) The varimax criterion for analytic rotation in factor analysis. Psychometrika 23:187–200

Kalkstein LS (1991) A new approach to evaluate the impact of climate on human mortality. Environ Health Perspect 96:145–150

Kalkstein LS, Greene JS (1997) An evaluation of climate/mortality relationships in large U.S. cities and the possible impacts of a climate change. Environ Health Perspect 105:84–93. https://doi.org/10.1289/ehp.9710584

Kurz A (2008) Physiology of thermoregulation. Best Pract Res Clin Anaesthesiol 22:627–644. https://doi.org/10.1016/j.bpa.2008.06.004

Laschewski G, Jendritzky G (2002) Effects of the thermal environment on human health: an investigation of 30 years of daily mortality data from SW Germany. Clim Res 21:91–103. https://doi.org/10.3354/cr021091

Leung YK, Yip KM, Yeung KH (2008) Relationship between thermal index and mortality in Hong Kong. Meteorol Appl 409:399–409. https://doi.org/10.1002/met

Liebmann B, Jones C, de Carvalho LMV (2001) Interannual variability of daily extreme precipitation events in the state of Saõ Paulo, Brazil. J Clim 14:208–218. https://doi.org/10.1175/1520-0442(2001)014<0208:IVODEP>2.0.CO;2

Lin S, Luo M, Walker RJ, et al (2009) Extreme high temperatures and hospital admissions for respiratory and cardiovascular diseases. doi: https://doi.org/10.1097/EDE.0b013e3181ad5522

Lotufo PA, de Lolio CA (1993) Tendência da mortalidade por doença isquêmica do coraçäo no estado de Säo Paulo: 1970 a 1989/mortality trends in ischemic heart disease in Säo Paulo State: 1970-1989. Arq Bras Cardiol 61:149–153

Lyra W d S, Da Silva EC, MCU DA, Fragoso WD (2010) Classificação periódica: Um exemplo didático para ensinar análise de componentes principais. Quim Nova 33:1594–1597

Lyra A, Tavares P, Chou SC, Sueiro G, Dereczynski C, Sondermann M, Silva A, Marengo J, Giarolla A (2018) Climate change projections over three metropolitan regions in Southeast Brazil using the non-hydrostatic Eta regional climate model at 5-km resolution. Theor Appl Climatol 132:663–682. https://doi.org/10.1007/s00704-017-2067-z

Martens WJM (1998) Climate change, thermal stress and mortality changes. Soc Sci Med 46:331–344. https://doi.org/10.1016/S0277-9536(97)00162-7

McGeehin MA, Mirabelli M (2001) The potential impacts of climate variability and change on temperature-related morbidity and mortality in the United States. Environ Health Perspect 109:185–189

McMichael AJ, Woodruff RE, Hales S (2006) Climate change and human health: present and future risks. Lancet 367:859–869. https://doi.org/10.1016/S0140-6736(06)68079-3

Miranda D, Morais G, Mendes G et al (2016) O envelhecimento populacional brasileiro: desafios e consequências sociais atuais e futuras. Revista Brasileira de Geriatria e Gerontologia 19:507–519. https://doi.org/10.1590/1809-98232016019.150140

Moreira F de A, Nunes LH, Paterson S, Pelling M (2017) Contested development working paper series. Adaptive capacity index: part II. Santos, Brazil. Department of Geography King's College London 77:1–70.

Pallotta M, Herdies DL, De Gonçalves LGG (2015) Estudo das condições de tempo e conforto térmico no desempenho esportivo aplicado à Maratona da cidade do Rio De Janeiro. Revista Brasileira de Meteorologia 30:223–240. https://doi.org/10.1590/0102-778620140052

Peña JC, Aran M, Raso JM, Pérez-Zanón N (2015) Principal sequence pattern analysis of episodes of excess mortality due to heat in the Barcelona metropolitan area. Int J Biometeorol 59:435–446. https://doi.org/10.1007/s00484-014-0857-x

Pinto RS da C (2016) O contributo dos SIG para a compreensão da sobremorbilidade por Enfarte Agudo do Miocárdio , nos idosos durante eventos extremos de calor e de frio Raquel Sofia da Costa Pinto. Universidade do Porto

Prince AE (2017) O Clima de Campos do Jordão e a Tuberculose no século XIX. Acta Geográfica 11:57–74

República P da (2003) Law no 10741/2003: Brazilian elderly status. In: Planalto. http://www.planalto.gov.br/ccivil_03/leis/2003/l10.741.htm#:~:text=LEI No 10.741%2C DE 1o DE OUTUBRO DE 2003.&text=Dispõe sobre o Estatuto do Idoso e dá outras providências.&text=Art.,a 60 (sessenta) anos. Accessed 7 Jul 2020

Rolim G de S, Camargo MBP de, Lania DG, De Moraes JFL (2007) Classificação climática de Köppen e de Thornthwaite e sua aplicabilidade na determinação de zonas agroclimáticas para o estado de São Paulo. Bragantia, Campinas 66:711–720.

Schwartz J, Samet JM, Patz JA (2004) Hospital admissions for heart disease: the effects of temperature and humidity. Epidemiology 15:755–761. https://doi.org/10.1097/01.ede.0000134875.15919.0f

Sette DM, Ribeiro H (2011) Interações entre o clima, o tempo e a saúde humana. Revista de Saúde Meio Ambiente e Sociedade 6:37–51

Shaw Stewart PD (2016) Seasonality and selective trends in viral acute respiratory tract infections. Med Hypotheses 86:104–119. https://doi.org/10.1016/j.mehy.2015.11.005

Smoyer KE, Rainham DG, Hewko JN (2000) Heat-stress-related mortality in five cities in Southern Ontario: 1980-1996. Int J Biometeorol 44:190–197. https://doi.org/10.1007/s004840000070

Soares FV (2012) Relação entre alterações climáticas e fatores determinantes da mortalidade de idosos no município de São Carlos ( SP ) em um período de dez anos Relationship between climate change and determinant factors of mortality among the elderly in the municipality. Ciência & Saúde Coletiva 17:135–146

Souza D, Santos S, Aparecida D (2014) Hospitalizações por infecção respiratória associada a fatores ambientais. Revista Brasileira em Promoção da Saúde 27:312–318

Tseng CM, Chen YT, Ou SM, Hsiao YH, Li SY, Wang SJ, Yang AC, Chen TJ, Perng DW (2013) The effect of cold temperature on increased exacerbation of chronic obstructive pulmonary disease: a nationwide study. PLoS One 8:1–7. https://doi.org/10.1371/journal.pone.0057066

Vogelaere P, Pereira C (2005) Termoregulação e Envelhecimento. Rev Port Cardiol:747–761

WHO (2017) Cardiovascular diseases (CVDs). https://www.who.int/news-room/fact-sheets/detail/cardiovascular-diseases-(cvds)#:~:text=CVDs are the number 1,to heart attack and stroke. Accessed 21 May 2020

Wold S, Esbensen K, Geladi P (1987) Principal component analysis. Chemom Intell Lab Syst 2:37–52. https://doi.org/10.1016/0169-7439(87)80084-9

Wood JM, Tataryn DJ, Gorsuch RL (1996) Effects of under- and overextraction on principal axis factor analysis with varimax rotation. Psychol Methods 1:354–365. https://doi.org/10.1037/1082-989X.1.4.354

Zhang H, Yoshino H (2010) Analysis of indoor humidity environment in Chinese residential buildings. Build Environ 45:2132–2140. https://doi.org/10.1016/j.buildenv.2010.03.011
Acknowledgements
The authors thank the Integrated Center for Agrometeorological Information (CIIAGRO) and Air Space Control Institute (ICEA) for providing the meteorological data.
Funding
This research was funded by Coordenação de Aperfeiçoamento de Pessoal de Nível Superior - Brazil (CAPES).
Ethics declarations
Conflict of interest
The authors declare no competing interests.
Additional information
Publisher's note
Springer Nature remains neutral with regard to jurisdictional claims in published maps and institutional affiliations.
About this article
Cite this article
de Barros, F.S., Gonçalves, F.L.T., Gobo, J.P.A. et al. Analysis of the association between meteorological variables and mortality in the elderly applied to different climatic characteristics of the State of São Paulo, Brazil. Theor Appl Climatol (2021). https://doi.org/10.1007/s00704-021-03555-7
Received:

Accepted:

Published: