Abstract
Many ecological studies show that diversity of vegetation is generally sensitive to hydrometeorological variables such as temperature, precipitation, and evaporation. Furthermore, it is also known that there have been changes in the precipitation regimes due to climate change and/or land use (such as urbanization). This study investigates the temporal diversity of the precipitation along with the Holdridge life zones (HLZ) using the biodiversity indices of true Hill numbers and Rényi entropy. The results show that there are no statistically significant changes in the "biodiversity" with respect to the HLZ. However, it was found that, although the biodiversity has remained more or less stable through 45 years, the HLZ classes have widened toward much warmer and drier vegetation cover. One can propose that the water regime of the rivers of the country has also changed due to the early melting of snow and an increase in evapotranspiration as a result of warming. Furthermore, using the Gini-Simpson diversity index for daily rainfall types recorded in a spatially homogeneous manner over Turkey, one can show that there are no significant changes in rainfall diversity in the coastal regions, but significant changes are observed in the internal and relatively high-altitude areas of the country.
Access options
Buy single article
Instant access to the full article PDF.
US$ 39.95
Tax calculation will be finalised during checkout.
Subscribe to journal
Immediate online access to all issues from 2019. Subscription will auto renew annually.
US$ 119
Tax calculation will be finalised during checkout.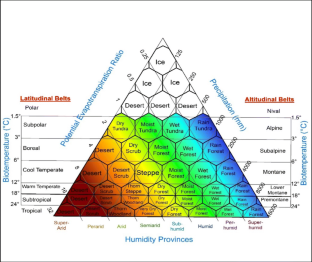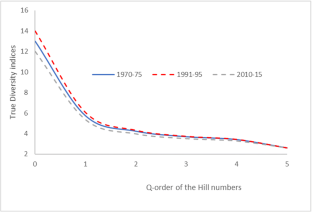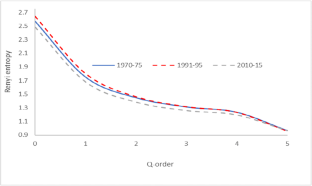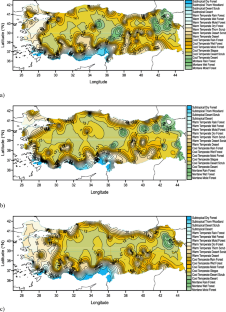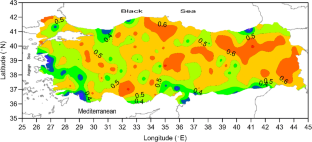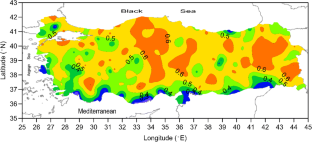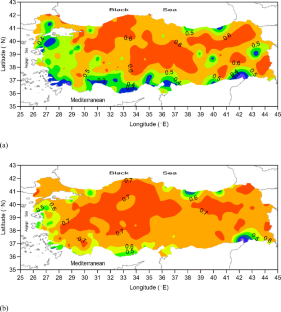 References
Barrios A, Trincado G, Garreaud R (2018) Alternative approaches for estimating missing climate data: application to monthly precipitation records in South-Central Chile. Forest Ecosystems 5(1):28

Byrne MP, Schneider T (2016) Narrowing of the ITCZ in a warming climate: physical mechanisms. Geophys Res Lett 43:11–350

Clements FE (1916) Plant succession: an analysis of the development of vegetation, No. 242. Carnegie Institution of Washington.

Cox CB, Moore PD, Ladle R (2016) Biogeography: an ecological and evolutionary approach. John Wiley and Sons.

Cramer WP, Leemans R (1993) Assessing impacts of climate change on vegetation using climate classification systems. In: Vegetation dynamics and global change. Springer, Boston, MA, pp 190–217

Djuric D (1994) Weather Analysis, vol 304. Prentice Hall, New Jersey

Emanuel WR, Shugart HH, Stevenson MP (1985) Climatic change and the broad-scale distribution of terrestrial ecosystem complexes. Clim Change 7(1):29–43

Foehn A, Hernández JG, Schaefli B, De Cesare G (2018) Spatial interpolation of precipitation from multiple rain gauge networks and weather radar data for operational applications in Alpine catchments. J Hydrol 563:1092–1110

Grisebach A (1872) Die Vegetation Der Erde Nach Ihrer Klimatischen Anordnung (The Earth's vegetation after its climatic arrangement), 1872 (1st Edition), 1884 (2nd Edition).

Hanski I, von Hertzen L, Fyhrquist N, Koskinen K, Torppa K, Laatikainen T, Karisola P, Auvinen P, Paulin L, Makela MJ, Vartiainen E, Kosunen TU, Alenius H, Haahtela T (2012) Environmental biodiversity, human microbiota, and allergy are interrelated. Proc Natl Acad Sci USA. 109:8334–8339

Hawksworth DL (Ed.) (1995) Biodiversity: measurement and estimation, vol. 345. Springer Science and Business Media.

Hill MO (1973) Diversity and evenness: a unifying notation and its consequences. Ecology 54:427–432. https://doi.org/10.2307/1934352

Holdridge LR (1967) Life zone ecology. Tropical Science Center, San Jose, Costa Rica

Holdridge LR, Grenke WC, Hatheway WH, Liang T, Tosi JAJR (1971) Forest environments in tropical life zones: a pilot study. Pergamon Press, Oxford

Hubbell SP (2001) The unified neutral theory of biodiversity and biogeography. Princeton University Press.

Huffman GJ, Adler RF, Bolvin DT, Gu G (2009) Improving the global precipitation record: GPCP version 2.1. Geophys Res Lett, 36: L17808, 10.1029/2009GL040000.

Jost L (2006) Entropy and diversity. Oikos 113(2):363–375

Köppen W, Geiger G (1930) Handbuch der Klimatologie. Gebrüder Borntraeger, Berlin

Lande R (1996) Statistics and partitioning of species diversity, and similarity among multiple communities. Oikos 76:5–13

Leemans R (1990) Holdridge life zones of the world. Global data sets collected and compiled by the Biosphere Project. Working Paper, IIASA-Laxenburg, Austria.

Lomolino MV, Riddle BR, Brown JH, Brown JH (2006) Biogeography. Sinauer Associates, Sunderland, MA

Mazon J, Pino D (2017) Meteodiversity: a new concept for quantifying meteorological diversity. Weather 72(5):143–145

McCann KS (2000) The diversity–stability debate. Nature. 405:228–233

Nazarov Y (2011) Flows of Rényi entropies. Phys Rev B 84 (10), 205437. arXiv:1108.3537.

Ostertag R, Scatena FN, Silver WL (2003) Forest floor decomposition following hurricane litter inputs in several Puerto Rican forests. Ecosystems 6:261–273. https://doi.org/10.1007/s10021-002-0203-8

Penman HL (1948) Natural evaporation from open water, bare soil and grass. Proc-R Soc Lond Math Phys Sci 193(1032):120–145

Pimm SL, Brown JH (2004) Domains of diversity. Science 304(5672):831–833

Rényi A (1961) On measures of information and entropy. Proceedings of the Fourth Berkeley Symposium on Mathematics, Statistics and Probability, pp 547–561

Schneider T, Bischoff T, Haug GH (2014) Migrations and dynamics of the intertropical convergence zone. Nature 513(7516):45–53

Schouw JF (1823) Pflanzengeographie Atlas Zur Erlaüterung von Schouws Grundzüge Einer Allgemeinen Pflanzengeographie. Reimer, Berlin, Germany. Cited from Camerini 1993b:487.

Shannon CE (1948) A mathematical theory of communication. Bell Syst Tech J 27:79–423

Simpson EH (1949) Measurement of diversity. Nature 163:688. https://doi.org/10.1038/163688a0

Tatli H, Dalfes HN (2016) Defining Holdridge's life zones over Turkey. Int J Climatol 36(11):3864–3872

Tatli H, Dalfes HN (2020) Long-time memory in drought via detrended fluctuation analysis. Water Resour Manage 34:1199–1212

Tatli H, Türkeş M (2011) Empirical orthogonal function analysis of the Palmer drought indices. Agric For Meteorol 151:981–991

Thornthwaite CW (1931) The climates of North America: according to a new classification. Geogr Rev 21(4):633–655

Thornthwaite CW (1948) An approach toward a rational classification of climate. Geogr Rev 38(1):55–94

Tuomisto H (2010a) A diversity of beta diversities: straightening up a concept gone awry. Part 1. Defining beta diversity as a function of alpha and gamma diversity. Ecography 33(1):2–22

Tuomisto H (2010b) A diversity of beta diversities: straightening up a concept gone awry. Part 2. Quantifying beta diversity and related phenomena. Ecography 33(1):23–45

Turkes M (2020) Climate and drought in Turkey. In Water Resources of Turkey. Springer, Cham, pp. 85-125.

Von Humboldt A, Bonpland A (1807) Essai sur la géographie des plantes, accompagné d'un tableau physique des région séquin oxiales. Levrault and Schoell, Paris

Yue TX, Haber W, Grossmann WD, Kasperidus HD (1998) Towards the satisfying models for biological diversity. Ekologia 17(Suppl 1):129–141

Yue T, Liu J, Jørgensen SE, Gao Z, Zhang S, Deng X (2001) Changes of Holdridge life zone diversity in all of China over half a century. Ecol Modell 144(2-3):153–162

Zhang G, Kang Y, Han G, Sakurai K (2011) Effect of climate change over the past half century on the distribution, extent and NPP of ecosystems of Inner Mongolia. Glob Change Biol 17(1):377–389
Acknowledgements
We appreciate anonymous reviewers for their valuable suggestions and constructive comments. We would also like to thank the Turkish State Meteorological Service for providing us monthly and daily meteorological records.
Ethics declarations
Conflict of interest
The authors declare no competing interests.
Additional information
Publisher's note
Springer Nature remains neutral with regard to jurisdictional claims in published maps and institutional affiliations.
About this article
Cite this article
Tatli, H., Dalfes, H.N. Analysis of temporal diversity of precipitation along with biodiversity of Holdridge life zones. Theor Appl Climatol (2021). https://doi.org/10.1007/s00704-021-03551-x
Received:

Accepted:

Published: