Abstract
The spatial structure of the variance related to hydroclimatic datasets over multi-decadal timescales was studied for Mexico. The changes of variance at different spatial scales were investigated for precipitation and temperature normals by variographic analysis. The objective of the study was to determine the proper spatial scales for studying key climatic elements. Isotropy, anisotropy, 12 different models, and 50 distances from 0.1 to 100% of the study area diameter were tested for raw temperature and precipitation normals, as well as for the residuals resulting from polynomial detrending. Each variogram was tested, and the suitable ones were used to describe and understand the spatial variation of the phenomena. The variance structure in the data of each climatological element varies as a function of the scale, relief, and the application of detrending because the spatial evolution of the phenomena is complex. The active lag distances related to structures that best fit the data belong to meso-β scale and are shorter than the study area radius. Moreover, various mesoscale distances highlight different structures that have physical meanings.
Access options
Buy single article
Instant access to the full article PDF.
US$ 39.95
Tax calculation will be finalised during checkout.
Subscribe to journal
Immediate online access to all issues from 2019. Subscription will auto renew annually.
US$ 119
Tax calculation will be finalised during checkout.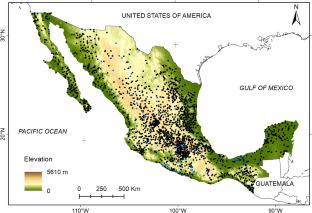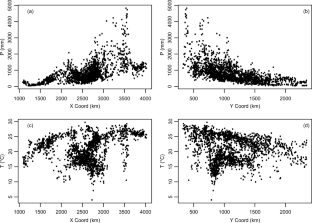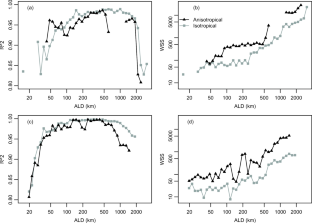 Data availability
All the data used in this work are available at Servicio Meteorológico Nacional and are free of charge.
References
Aalto J, Pirinen P, Heikkinen J, Venäläinen A (2012) Spatial interpolation of monthly climate data for Finland: comparing the performance of kriging and generalized additive models. Theor Appl Climatol 112:99–111. https://doi.org/10.1007/s00704-012-0716-9

Ai-hua LI, Yan-chen BO (2012) Spatial interpolation of mean yearly precipitation in Gansu Province based on Bayesian maximum entropy. J Desert Res 32:1408–1416

Akaike H (1974) A new look at the statistical model identification. IEEE Trans Autom Control 19:716–723. https://doi.org/10.1109/TAC.1974.1100705

Anselin L (1996) The Moran scatterplot as an ESDA tool to assess local instability in spatial association. Spatial Anal Perspect GIS 111:111–125

Arguez A, Vose RS (2011) The definition of the standard WMO climate normal: the key to deriving alternative climate normals. Bull Amer Meteor Soc 92:699–704. https://doi.org/10.1175/2010BAMS2955.1

Arnaud M, Emery X (2000) Estimation et interpolation spatiale : methodes deterministes et methodes geostatistiques. Hermes, Paris

Arsenault R, Brissette F (2013) Determining the optimal spatial distribution of weather station networks for hydrological modeling purposes using RCM datasets: an experimental approach. J Hydrometeorol 15:517–526. https://doi.org/10.1175/JHM-D-13-088.1

Baccour H, Slimani M, Cudennec C (2012) Structures spatiales de l'évapotranspiration de référence et des variables climatiques corrélées en Tunisie. Hydrol Sci J 57:818–829. https://doi.org/10.1080/02626667.2012.672986

Bajat B, Pejović M, Luković J, Manojlović P, Ducić V, Mustafić S (2012) Mapping average annual precipitation in Serbia (1961–1990) by using regression kriging. Theor Appl Climatol 112:1–13. https://doi.org/10.1007/s00704-012-0702-2

Barger G, Thom H (1949) Evaluation of drought hazard. Agron J 41:519–526

Berndt C, Haberlandt U (2018) Spatial interpolation of climate variables in Northern Germany—influence of temporal resolution and network density. J Hydrol: Regional Stud 15:184–202. https://doi.org/10.1016/j.ejrh.2018.02.002

Bivand R, Hauke J, Kossowski T (2013a) Computing the Jacobian in Gaussian spatial autoregressive models: an illustrated comparison of available methods. Geogr Anal 45:150–179. https://doi.org/10.1111/gean.12008

Bivand R, Keitt T, Rowlingson B (2015) rgdal: Bindings for the Geospatial Data Abstraction Library. http://CRAN.R-project.org/package=rgdal

Bivand R, Piras G (2015) Comparing implementations of estimation methods for spatial econometrics. J Stat Softw 63:1–36

Bivand RS, Pebesma E, Gómez-Rubio V (2013b) Applied spatial data analysis with R. Springer, New York

Boer EPJ, de Beurs KM, Hartkamp AD (2001) Kriging and thin plate splines for mapping climate variables. Int J Appl Earth Obs Geoinf 3:146–154. https://doi.org/10.1016/S0303-2434(01)85006-6

Brunt D (1933) The adiabatic lapse-rate for dry and saturated air. QJR Meteorol Soc 59:351–360. https://doi.org/10.1002/qj.49705925204

Christakos G (2005) Random field models in earth sciences, 2nd edn. Dover Publications, Mineola

Claeskens G, Hjort NL (2008) Model selection and model averaging. Cambridge University Press, Cambridge

Cressie N (1985) Fitting variogram models by weighted least squares. Math Geol 17:563–586. https://doi.org/10.1007/BF01032109

Cressie N (1991) Statistics for Spatial Data. John Wiley & Sons, Chichester

Cuervo-Robayo AP, Téllez-Valdés O, Gómez-Albores MA, Venegas-Barrera CS, Manjarrez J, Martínez-Meyer E (2014) An update of high-resolution monthly climate surfaces for Mexico. Int J Climatol 34:2427–2437. https://doi.org/10.1002/joc.3848

Daly C, Halbleib M, Smith JI, Gibson WP, Doggett MK, Taylor GH, Curtis J, Pasteris PP (2008) Physiographically sensitive mapping of climatological temperature and precipitation across the conterminous United States. Int J Climatol 28:2031–2064. https://doi.org/10.1002/joc.1688

Delfiner P (1976) Linear estimation of non-stationary spatial phenomena. In: Guarascio M, David M, Huijbregts C (eds) Advanced geostatistics in the mining industry. Springer, Netherlands, pp 49–68

Deutsch CV, Journel AG (1997) GSLIB: geostatistical software library and user's guide, 2nd edn. Oxford University Press, New York

Diem JE (2003) A critical examination of ozone mapping from a spatial-scale perspective. Environ Pollut 125:369–383. https://doi.org/10.1016/S0269-7491(03)00110-6

Diggle P, Ribeiro PJ Jr (2007) Model-based geostatistics. Springer, New York

Dimri AP (2009) Impact of subgrid scale scheme on topography and landuse for better regional scale simulation of meteorological variables over the western Himalayas. Clim Dyn 32:565–574. https://doi.org/10.1007/s00382-008-0453-z

Draper NR, Smith H (1998) Applied Regression Analysis, 3rd Edition (Vol. 326). John Wiley & Sons

Esbensen KH, Friis-Petersen HH, Petersen L, Holm-Nielsen JB, Mortensen PP (2007) Representative process sampling — in practice: variographic analysis and estimation of total sampling errors (TSE). Chemom Intell Lab Syst 88:41–59. https://doi.org/10.1016/j.chemolab.2006.09.011

Feidas H, Karagiannidis A, Keppas S, Vaitis M, Kontos T, Zanis P, Melas D, Anadranistakis E (2013) Modeling and mapping temperature and precipitation climate data in Greece using topographical and geographical parameters. Theor Appl Climatol 118:133–146. https://doi.org/10.1007/s00704-013-1052-4

Florio EN, Lele SR, Chang YC et al (2004) Integrating AVHRR satellite data and NOAA ground observations to predict surface air temperature: a statistical approach. Int J Remote Sens 25:2979–2994. https://doi.org/10.1080/01431160310001624593

Fowler HJ, Ekström M (2009) Multi-model ensemble estimates of climate change impacts on UK seasonal precipitation extremes. Int J Climatol 29:385–416. https://doi.org/10.1002/joc.1827

Gneiting T (1999) Correlation functions for atmospheric data analysis. QJR Meteorol Soc 125:2449–2464. https://doi.org/10.1002/qj.49712555906

Gómez JD, Etchevers JD, Monterroso AI et al (2008) Spatial estimation of mean temperature and precipitation in areas of scarce meteorological information. Atmósfera 21:35–56

Goovaerts P (2000) Geostatistical approaches for incorporating elevation into the spatial interpolation of rainfall. J Hydrol 228:113–129. https://doi.org/10.1016/S0022-1694(00)00144-X

Goovaerts P (1997) Geostatistics for natural resources evaluation. Oxford University Press on demand, New York, NY

Grimes DIF, Pardo-Igúzquiza E (2010) Geostatistical analysis of rainfall. Geogr Anal 42:136–160. https://doi.org/10.1111/j.1538-4632.2010.00787.x

Grose MR, Syktus J, Thatcher M, Evans JP, Ji F, Rafter T, Remenyi T (2019) The role of topography on projected rainfall change in mid-latitude mountain regions. Clim Dyn 53:3675–3690. https://doi.org/10.1007/s00382-019-04736-x

Hong Y, Nix HA, Hutchinson MF, Booth TH (2005) Spatial interpolation of monthly mean climate data for China. Int J Climatol 25:1369–1379. https://doi.org/10.1002/joc.1187

Hong-chao ZUO, Shi-hua LÜ, Yin-qiao HU (2004) Variations trend of yearly mean air temperature and precipitation in China in the last 50 years. Plateau Meteorol 23:238–244

Hulme M, Conway D, Jones PD, Jiang T, Barrow EM, Turney C (1995) Construction of a 1961–1990 European climatology for climate change modelling and impact applications. Int J Climatol 15:1333–1363. https://doi.org/10.1002/joc.3370151204

Isaaks EH, Srivastava RM (1989) Applied geostatistics. Oxford University Press, Oxford

Journel AG, Huijbregts CJ (2004) Mining geostatistics. The Blackburn Press, Caldwell

Kilibarda M, Tadić MP, Hengl T, Luković J, Bajat B (2015) Global geographic and feature space coverage of temperature data in the context of spatio-temporal interpolation. Spatial Stat 14:22–38. https://doi.org/10.1016/j.spasta.2015.04.005

King AW (1997) Hierarchy theory: a guide to system structure for wildlife biologists. In: Bissonette JA (ed) Wildlife and Landscape Ecology. Springer, New York, pp 185–212

Kottek M, Rubel F (2007) Global daily precipitation fields from bias-corrected rain gauge and satellite observations. Part I: design and development. Meteorol Z 16:525–539. https://doi.org/10.1127/0941-2948/2007/0214

Krivoruchko K, Gribov A (2020) Distance metrics for data interpolation over large areas on Earth's surface. Spatial Stat 35:27. https://doi.org/10.1016/j.spasta.2019.100396

Laurent T, Ruiz-Gazen A, Thomas-Agnan C (2012) GeoXp: an R package for exploratory spatial data analysis. J Stat Softw 47:1–23

Legendre P, Legendre L (1998) Numerical ecology: developments in environmental modelling. Developments in Environmental Modelling, 20

Millán MM, Estrela MJ, Miró J (2005) Rainfall components: variability and spatial distribution in a Mediterranean Area (Valencia Region). J Clim 18:2682–2705. https://doi.org/10.1175/JCLI3426.1

Moran PAP (1950) Notes on continuous stochastic phenomena. Biometrika 37:17–23

Mudelsee M (2014) Climate time series analysis, second edn. Springer International Publishing, Cham

Murtaugh PA (2014) In defense of P values. Ecology 95:611–617. https://doi.org/10.1890/13-0590.1

Oke TR (1987) Boundary layer climates, 2nd edn. Routledge, London, New York

Olea RA (2006) A six-step practical approach to semivariogram modeling. Stoch Environ Res Ris Assess 20:307–318. https://doi.org/10.1007/s00477-005-0026-1

Oliver MA, Webster R (2015) Basic steps in geostatistics: the variogram and kriging. Springer International Publishing, Cham

Orlanski I (1975) A rational subdivision of scales for atmospheric processes. Bull Am Meteorol Soc 56:527–530

Pech D, Ardisson P-L, Bourget E, Condal AR (2007) Abundance variability of benthic intertidal species: effects of changing scale on patterns perception. Ecography 30:637–648. https://doi.org/10.1111/j.2007.0906-7590.04935.x

Pereira GM (2002) A typology of spatial and temporal scale relations. Geogr Anal 34:21–33. https://doi.org/10.1353/geo.2002.0005

Perica S, Foufoula-Georgiou E (1996) Model for multiscale disaggregation of spatial rainfall based on coupling meteorological and scaling descriptions. J Geophys Res 101:26347–26361. https://doi.org/10.1029/96JD01870

Poggio L, Gimona A (2015) Downscaling and correction of regional climate models outputs with a hybrid geostatistical approach. Spatial Stat 14:4–21. https://doi.org/10.1016/j.spasta.2015.04.006

R Core Team (2018) R: A language and environment for statistical computing. R Foundation for Statistical Computing, Vienna

Ribeiro PJ Jr, Diggle PJ (2015) geoR: Analysis of Geostatistical Data. http://CRAN.R-project.org/package=geoR

Sáenz-Romero C, Rehfeldt GE, Crookston NL, Duval P, St-Amant R, Beaulieu J, Richardson BA (2009) Spline models of contemporary, 2030, 2060 and 2090 climates for Mexico and their use in understanding climate-change impacts on the vegetation. Clim Chang 102:595–623. https://doi.org/10.1007/s10584-009-9753-5

Sarangi A, Cox CA, Madramootoo CA (2005) Geostatistical methods for prediction of spatial variability of rainfall in a mountainous region. Transact ASAE 48:943–954

Sun W, Zhu Y, Huang S, Guo C (2014) Mapping the mean annual precipitation of China using local interpolation techniques. Theor Appl Climatol 119:171–180. https://doi.org/10.1007/s00704-014-1105-3

Sun X, Manton MJ, Ebert EE (2003) Regional rainfall estimation using double-kriging of raingauge and satellite observations. Bureau of Meteorology, Melbourne

Tait A, Henderson R, Turner R, Zheng X (2006) Thin plate smoothing spline interpolation of daily rainfall for New Zealand using a climatological rainfall surface. Int J Climatol 26:2097–2115. https://doi.org/10.1002/joc.1350

Téllez-Valdés O, Hutchinson MA, Nix HA, Jones P (2011) Desarrollo de coberturas digitales climáticas para México. In: Sánchez-Rojas G, Ballesteros BC, Pavon N (eds) Cambio Climático. Universidad Autónoma del Estado de Hidalgo, Aproximaciones para el estudio de su efecto en la biodiversidad, pp 67–70

Tiefelsdorf M, Griffith DA, Boots B (1999) A variance-stabilizing coding scheme for spatial link matrices. Environ Plan A 31:165–180. https://doi.org/10.1068/a310165

Varouchakis EA, Corzo GA, Karatzas GP, Kotsopoulou A (2018) Spatio-temporal analysis of annual rainfall in Crete, Greece. Acta Geophys 66:319–328. https://doi.org/10.1007/s11600-018-0128-z

Vidal R (2005) Las Regiones Climáticas de México. Instituto de Geografía UNAM, México

Wackernagel H (2003) Multivariate geostatistics. Springer, Berlin

Webb MA, Hall A, Kidd D, Minansy B (2016) Local-scale spatial modelling for interpolating climatic temperature variables to predict agricultural plant suitability. Theor Appl Climatol 124:1–21. https://doi.org/10.1007/s00704-015-1461-7

Webster R, Oliver MA (1993) How large a sample is needed to estimate the regional variogram adequately? In: Soares A (ed) Geostatistics Tróia '92. Springer, Netherlands, pp 155–166

Wiens JA (1989) Spatial scaling in ecology. Funct Ecol 3:385–397. https://doi.org/10.2307/2389612

Wilson AM, Silander JA (2014) Estimating uncertainty in daily weather interpolations: a Bayesian framework for developing climate surfaces. Int J Climatol 34:2573–2584. https://doi.org/10.1002/joc.3859

World Meteorological Organization (2009) Handbook on CLIMAT and CLIMAT TEMP Reporting. World Meteorological Organization

Wotling G, Bouvier C, Danloux J, Fritsch J-M (2000) Regionalization of extreme precipitation distribution using the principal components of the topographical environment. J Hydrol 233:86–101. https://doi.org/10.1016/S0022-1694(00)00232-8

Wu T, Li Y (2013) Spatial interpolation of temperature in the United States using residual kriging. Appl Geogr 44:112–120. https://doi.org/10.1016/j.apgeog.2013.07.012

Wu W, Xu A-D, Liu H-B (2015) High-resolution spatial databases of monthly climate variables (1961–2010) over a complex terrain region in southwestern China. Theor Appl Climatol 119:353–362. https://doi.org/10.1007/s00704-014-1123-1

Yang Z, Dominguez F, Zeng X (2019) Large and local-scale features associated with heat waves in the United States in reanalysis products and the NARCCAP model ensemble. Clim Dyn 52:1883–1901. https://doi.org/10.1007/s00382-018-4414-x

Yiou P, Baert E, Loutre MF (1996) Spectral analysis of climate data. Surv Geophys 17:619–663. https://doi.org/10.1007/BF01931784
Acknowledgments
The authors thank Servicio Meteorologico Nacional for providing data. DR thanks the "Programa de Apoyo a Proyectos de Investigación e Innovación Tecnológica (PAPIIT)" of the UNAM, grant number IA302220. The authors also acknowledge Dr. Alfonso Condal from Université Laval and Pedro-Luis Ardisson from Cinvestav-Mérida for providing writing assistance, and Erik Granados for language editing.
Funding
This work was supported by the "Programa de Apoyo a Proyectos de Investigación e Innovación Tecnológica (PAPIIT)" of the Universidad Nacional Autónoma de México (grant number IA302220).
Ethics declarations
Conflict of interest
The authors declare that they have no conflict of interest.
Code availability
Software used for the work is opensource R: A Language and Environment for Statistical Computing.
Additional information
Publisher's note
Springer Nature remains neutral with regard to jurisdictional claims in published maps and institutional affiliations.
Supplementary Information
About this article
Cite this article
Romero, D., Orellana, R. & Hernández-Cerda, M.E. Multiscale spatial variographic analysis of hydroclimatic data. Theor Appl Climatol (2021). https://doi.org/10.1007/s00704-020-03513-9
Received:

Accepted:

Published: