Abstract
Zagros forest, the second most important renewable source of cellulose for Iran, is one of the best known oak forest reserves worldwide. These vital ecosystems hold great environmental and ecological importance in protecting water resources in the climatic dry conditions of the country. In recent years, however, oak dieback has decimated these forests. The purpose of our work is to evaluate and analyze the relationship of climate variables and the dieback of the Zagros oak forest in Lorestan Province, Iran. Dieback is defined by dieback indices, such as DVI, GEMI, IPVI, MSAVI2, NDVI, EVI, OSAVI, Sarvi2, SR, and VHI, which were obtained for 110 locations in the study area in the period between 2001 and 2017. On the other hand, daily climate variables influencing oak tree dieback were extracted in the same time period. As a first step, the most important climate variables affecting oak tree dieback were detected using the factor analysis method. Next, the so-called G* spatial correlation index was used to compute the covariance of dieback indices with climate variables as well as the spatial patterns of the changes of these covariances. The results of factor analysis showed that three factors, namely, humidity, temperature, and precipitation, were the most significant variables affecting dieback indices. Spatial autocorrelation patterns indicated that humidity played a major role regarding the widespread dieback in the study area. The mismatch of areas of low humidity and dieback indices, however, prompts that other factors, such as fungal diseases, affected the dieback alongside climatic variables. A similar investigation relating temperature with dieback indices indicated that changes in the match of spatial autocorrelation patterns of temperature and other dieback indices were less than 30% in terms of matching area except for NDVI and EVI. The effect of temperature on dieback indices was more limited to the southeast part of the study area. However, the covariance change pattern relating precipitation with dieback indices was related to northwest areas. Among all studied dieback indices, the NDVI was most correlated with all three factors of humidity, temperature, and precipitation, and temperature along humidity was found to play the most important role concerning the dieback of the Zagros oak forest.
This is a preview of subscription content,
to check access.
Access this article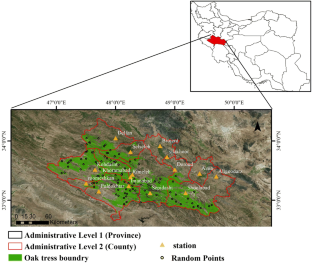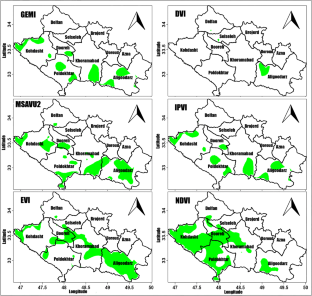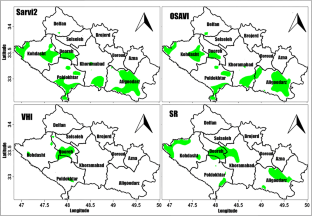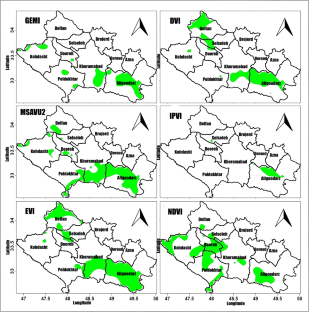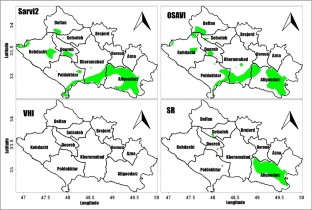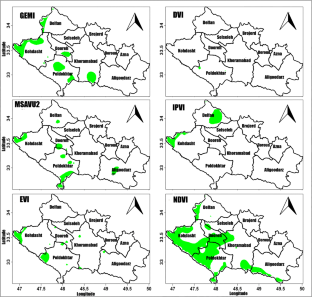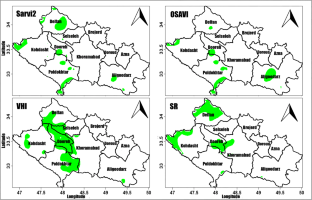 Similar content being viewed by others
References
Alijanpour A, Banj Shafiei A, Eshaghi Rad J (2012) Investigation of natural regeneration characteristics in west oak forests within different levels of site factors (case study: Piranshahr region). Iranian Journal of Forest 2(3):209–219

Amir Ahmadi B, Zolfaghari R, Mirzaei Ghare Lor MR (2015) Relation between dieback of Quercus brantii Lindl. Trees with ecological and Sylvicultural factors, (study area: Dena protected area). Iran Forest Ecol J 3(6):19–27

Attarod P, Kheirkhah F, Khalighi Sigaroodi S, Sadeghi SMM (2015) Sensitivity of reference evapotranspiration to global warming in the Caspian region, North of Iran. J Agric Sci Technol 17:869–883

Barazmand S, Shataee Joybari S, Abdi O (2012) Recognition possibility of trees canopy die back using high resolution satellite image of quick bird case study: Shastkolate forest, Gorgan. Iran J Forest Poplar Res 19(4):466–477

Brasier CM (1996) Phytophthora cinnamomi and oak decline in Southern Europe. Environmental contraints including climate change. Ann For Sci 53:347–358

Cobos JM, Montoya R, Tuset JJ (1993) New damage to Quercus woodlands in Spain. Preliminary evaluation of the possible implication of Phytophthora cinnamomi. In: N Luisi, A Vannini (eds) Recent Advances in Studies on Oak Decline, Universita degli Studi, Dipt. di Patologia Vegetale, Bari, Italy, pp 163–170

Cotler H, Ortega MP (2006) Effects of land use on soil erosion in a tropical dry forest ecosystem, Chamela watershed. Mexico Catena 65:107–117

Darand M, Doostkamian M, Rehmani MIA (2017) Spatial autocorrelation analysis of extreme precipitation in Iran. Russ Meteorol Hydrol 42(6):415–424

Darvishzade R, Matkan AA, Hosseini ASL, A. and Ebrahimi Khosfi, M. (2012) Estimation of vegetation fraction in the central arid region of Iran using satellite images (case study: Sheitoor basin, Bafgh). Arid Biome Sci Res J 2(1):25–38

Darvishzadeh R, Skidmore A, Atzberger C, Wieren S (2008) Estimation of vegetation LAI from hyperspectral reflectance data: effects of soil type and plant architecture. Int J Appl Earth Obs Geoinf 10:358–373

Espadafor M, Lorite IJ, Gavilan P, Berengena J (2011) An analysis of the tendency of reference evapotranspiration estimates and other climate variables during the last 45 years in southern Spain. Agric Water Manag 98:1045–1061

Farshadfar E (2011) Principles and methods of multivariate analysis. Kermanshah. M A. Thesis. Razi University, Iran

Fatahi M (1994) The study of Zagros' oak forests and the most important factors of its destruction. Research Institute of Forests and Rangelands. Research Report. Tehran, Iran

Getis A, Ord J K (1992) The analysis of spatial association by use of distance statistics, geogr. Analysis 24(3):189–206

Gol Mohammadi F, Hassanzad Navroodi I, Bonyad AE, Mirzaei J (2017) Effects of some environmental factors on dieback severity of trees in middle Zagros forests of Iran (case study: strait Daalaab, Ilam Province). J Plant Res 30(3):633–643

Hassanzade J, Hashemi M (2015) An investigation on the relationship between crown indices and the severity of oak forests decline in Ilam. Iran J Forest 7(1):57–66

Heshmati M, Gheituri M, Parvizi Y, Ahmadi M, Sheikhveisi M, Arabekhdari M, Hosseini M, Shademani A (2017) The role of drowned crested contour trenching in maintaining soil moisture to cope with decline of Zagros forest. J. Rainwater Catch Syst 5(1):1–10

Hosseini A and Asgari Sh (2012) Investigating the relationship between climate parameters and dieback phenomena in Iranian oak trees, presented at the 3rd National Conference on Combating Desertification and Sustainable Development of Iran Desert Wetlands (relying on Meighan Desert wetland), Islamic Azad University of Arak, 15th–16th September, Arak, Iran

Hosseini A, Moayeri MH, Heidari HA (2008) Effect of site elevation on natural regeneration and other characters of oak in the Hyanan forest. J Agric Sci Nat Resour 15(1):1–11

Hosseini A, Rahimi M, Katooli Nejad D and Jafari M. (2014) A review of climatic factors influencing forest dieback, presented at the First National Conference on Geography, Tourism, Natural Resources and Sustainable Development, University of Tehran, Tehran, 19th February, Tehran, Iran

Huete H (1988) A soil-adjusted vegetation index (SAVI). Remote Sens Environ 25:295–309

Ismail R (2009) Remote sensing of forest health: the detection and mapping of Pinus patula trees infested by Sirex noctilio. Ph.D. Thesis, School of Environmental Sciences, University of KwaZulu-Natal, Pietermaritzburg, South Africa, 161p

Jalali G, Ersali Hagi-agha B, Pour Majidian MR, Hosseini SM (2003) Effect of elevation and soil changes on natural regeneration and other characteristics of oak tree in Galandrood forest Noshahr, J. Res and Const 16(1): 89–96

Jazirei MH, Ebrahimi Rastaghi M (2003) Silviculture of. In: Zagros forest. Tehran University Press, Tehran. Iran

Khosropour N, Mirzaee J and Doostkami S (2014a) Factors affecting oak forest dieback Zagros. National Conference of Iranian natural resources with a focus on forest science, pp 1–10,

Khosropour N, Mirzaei J, Doostkami S (2014b) Investigating the factors affecting dieback of Zagros oak forest, presented at the 2nd Iranian Conference on Natural Resources Research with the Emphasis on Forest Science, University of Kurdistan. Department of natural resources, Kurdistan, Iran

Kiaei Ziabari M, Jafari M (2014) Investigation and consideration of forest tree reaction to climate and environmental changes (case study: Lavizan forest park). J Plant Res 27(1):130–141

Koeing WD, Mumme RL, Carmen WJ, Stanback MT (1994) Acorn production by oaks in central coastal California: variation within and among years. J Ecol 75:99–109

Kooh Soltani S, Ali Asghar A, Ghermezcheshmeh B, Mehri S (2018) An evaluation of potential oak decline forest of the Zagros using GIS, RS, FAHP methods. Iran J Ecohydrology 5(2):713–725

Manion PD (1991) Tree disease concepts. 2nded. Englewood Cliffs, New Jersey, Prentice-Hall. The USA. 402 P

Meddens AJH, Hicke JA, Vierling LA, Hudak AT (2013) Evaluating methods to detect bark beetle-caused tree mortality using single-date and multi-date Landsat imagery. Remote Sens Environ 132:49–58

Nakashizuka T, Takahashi Y, Kawaguchi H (1997) Production-dependent reproductive allocation of the tall tree species Quercus serrate. J Plant Res 110:7–13

Nazaripour H, Doostkamian M, Asadi A, Bayat A (2014) Regionalization of the climate of south and southwest of Iran with an approach to regional planning. J Regional Planning 4(15):119–132

Negahdar MR, Mortazavi Jahromi SM, Ale Mansour H, Nejabat M (2003) Investigation on weakness and mortality of some soft-wood species planted in a park of Fars Province of Iran. Iran J Forest Poplar Res 11(3):391–410

Pilehvar B, Kakavand M, Akbari H, Ismaili A, Soosani J, Mirazadi Z (2012) Growth and morphological responses of manna oak (Quercus brantii) seedlings to different light levels at nursery in the first growing year. Iran J Forest Poplar Res 20(1):74–83

Rondeaux G, Steven M, Baret F (1996) Optimization of soil-adjusted vegetation indices. Remote Sens Environ 55(22):95–107

Saqib Talib KH, Pourreza M, Khan Hosni M (2012) Check oak forest habitat in Kerman province. Scientific – research Iran's natural ecosystems 2:54–57

Shakeri Z, Marvi Mohajer MR, Namiranian M, Etemad V (2009) Comparison of seedling and coppice regeneration in pruned and undisturbed oak forests of northern Zagros (case study: Baneh, Kurdistan province. Iran J Forest Poplar Res 17(1):73–84

Sims DA, Gamon JA (2002) Relationships between leaf pigment content and spectral reflectance across a wide range of species, leaf structures, and developmental stages. Remote Sens Environ 81(2–3):337–354

Tucker R and MacCallum RC (1997) Exploratory factor analysis Emeritus of psychology at ad university of Illinois and Ohio State University

Waser LT, Küchler M, Jütte K, Stampfer T (2014) Evaluating the potential of WorldView-2 data to classify tree species and different levels of ash mortality. Remote Sensing 6(5):4515–4545

Zakeri S, Fallah Shamsi SR (2014) An investigation on Persian oak (Quercus brantii Lindl) single tree defoliation mapping, using rapid eye and ster-L1B satellite imageries. Iran J Forest 5(4):443–456

Zhao Fei F, Kabrick JM, Spetich MA, Shifley SR, Jensen RG (2008) Oak mortality associated with crown dieback and oak borer attack in the Ozark highlands. For Ecol Manag 255(7):2297–2305
Acknowledgments
The authors of the present paper are grateful to the Iran Meteorological Organization and the Agricultural Research Center of Lorestan for providing the data needed to conduct this research. Also the authors wish to thank Dr. Tamas Bodai of IBS Center for Climate Physics, National University of Pusan, South Korea.
Additional information
Publisher's note
Springer Nature remains neutral with regard to jurisdictional claims in published maps and institutional affiliations.
About this article
Cite this article
Shiravand, H., Hosseini, S.A. A new evaluation of the influence of climate change on Zagros oak forest dieback in Iran. Theor Appl Climatol 141, 685–697 (2020). https://doi.org/10.1007/s00704-020-03226-z
Received:

Accepted:

Published:

Issue Date:

DOI: https://doi.org/10.1007/s00704-020-03226-z