Abstract
Investigating how climate affects multiple consecutive crop growth stages is helpful to provide guidance for adopting appropriate agronomic practices. Based on the observed data from 51 agro-meteorological stations across China during 1981–2010, we qualified the spatio-temporal variability of eight consecutive phenological stages of rice [sowing (SD), emergence (ED), transplanting (TPD), tillering (TD), booting (BD), heading (HD), milk ripe (MRD), and maturity date (MD)] and the durations of three growth phases [vegetative growth phase (VGP), reproductive growth phase (RGP), and whole growth phase (WGP)]. We also explored the correlation and sensitivity of each of the growth phases to three climatic factors [i.e., mean temperature (Tmean), precipitation (PRE), and sunshine hours (SSH)]. We found that SD, ED, and TPD of single rice advanced by 0.22, 0.15, and 1.15 days 10a−1, while TD, BD, HD, MRD, and MD delayed by 0.26, 1.14, 0.66, 2.47, and 1.50 days 10a−1, respectively. For early rice, the dates of all the phenological stages advanced to different extents, except MRD. For late rice, SD, ED, BD, and MRD delayed, while dates of the other phenological stages advanced. The durations of VGP, RGP, and WGP prolonged for both single rice and early rice, but these shortened for late rice. Overall, the durations of three growth phases were negatively correlated with Tmean, but positively correlated with PRE and SSH during corresponding growth phase across rice cultivation region. Sensitivity analysis indicated that increases in temperature tended to reduce duration of single-rice and double-rice VGP. Increases in PRE tended to increase duration of late-rice RGP, and increases in SSH tended to increase duration of single-rice RGP. The results indicated that climate change during the past three decades had a negative impact on rice growth and development. However, the observed phenological changes indicated that agronomic practice with long seasonal cultivar has mitigated these adverse effects.
This is a preview of subscription content,
to check access.
Access this article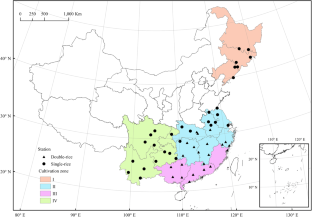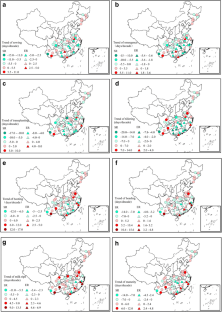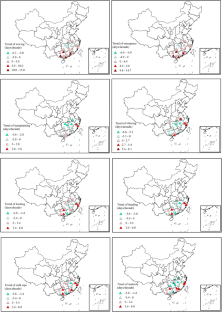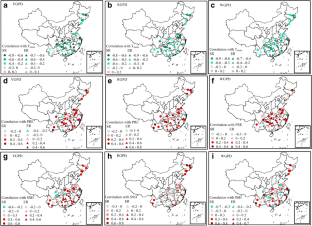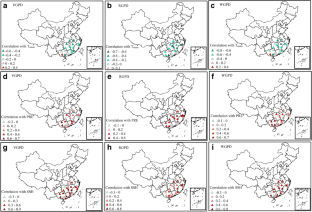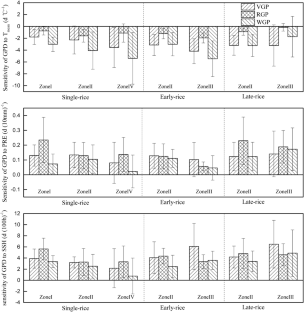 Similar content being viewed by others
References
Anwar MR, Liu DL, Farquharson R, Macadam I, Abadi A, Finlayson J, Wang B, Ramilan T (2015) Climate change impacts on phenology and yields of five broadacre crops at four climatologically distinct locations in Australia. Agric Syst 132:133–144

Bai H, Xiao D, He Z, Tao F, Hu Y (2019) Impact of warming climate, sowing date, and cultivar shift on rice phenology across China during 1981-2010. Int J Biometeorol 63(8):1077–1089

Dias AS, Lidon FC (2009) Evaluation of grain filling rate and duration in bread and durum wheat, under heat stress after anthesis. Journal of Agronomy & Crop Science 195:137–147

Estrella N, Sparks T, Menzel A (2007) Trends and temperature response in the phenology of crops in Germany. Glob Chang Biol 13:1737–1747

Estrella N, Sparks TH, Menzel A (2009) Effects of temperature, phase type and timing, location, and human density on plant phenological responses in Europe. Clim Res 39(3):235–248

Fang X, Chen F (2015) Plant phenology and climate change. Science China Earth Sciences 58:1043–1044

Ferris R, Ellis RH, Wheeler TR, Hadley P (1998) Effect of high temperature stress at anthesis on grain yield and biomass of field-grown crops of wheat. Ann Bot 82:631–639

Haefele SM, Kato Y, Singh S (2016) Climate ready rice: augmenting drought tolerance with best management practices. Field Crop Res 190:60–69

He L, Asseng S, Zhao G, Wu D, Yang X, Zhuang W, Jin N, Yu Q (2015) Impacts of recent climate warming, cultivar changes, and crop management on winter wheat phenology across the Loess Plateau of China. Agric For Meteorol 200:35–143

Hu X, Huang Y, Sun W, Yu L (2017) Shifts in cultivar and planting date have regulated rice growth duration under climate warming in China since the early 1980s. Agric For Meteorol 247:34–41

IPCC (2014) Climate Change 2014: Synthesis Report. Contribution of Working Groups I, II and III to the Fifth Assessment Report of the Intergovernmental Panel on Climate Change [Core Writing Team Pachauri RK and Meyer LA (eds.)]. IPCC, Geneva, Switzerland, 151 pp

Jing Q, Bam B, Hengsdijk H, Van Keulen H, Cao W (2007) Exploring options to combine high yields with high nitrogen use efficiencies in irrigated rice in China. Eur J Agron 26:166–177

Kim J, Shon J, Lee CK, Yang W, Yoon Y, Yang WH, Kim YG, Lee BW (2011) Relationship between grain filling duration and leaf senescence of temperate rice under high temperature. Field Crop Res 122:207–213

Li Z, Yang P, Tang H, Wu W, Yin H, Liu Z, Li Z (2014) Response of maize phenology to climate warming in Northeast China between 1990 and 2012. Reg Environ Chang 14(1):39–48

Liu T, Song F, Liu S, Zhu X (2011) Canopy structure, light interception, and photosynthetic characteristics under different narrow-wide planting patterns in maize at silking stage. Span J Agric Res 9(4):1249–1261

Liu Y, Chen Q, Ge Q, Dai J (2018a) Spatiotemporal differentiation of changes in wheat phenology in China under climate change from 1981 to 2010. Science China(Earth Sciences) 61:1088–1097

Liu Y, Chen Q, Ge Q, Dai J, Qin Y, Dai L, Zou X, Chen J (2018b) Modelling the impacts of climate change and crop management on phenological trends of spring and winter wheat in China. Agric For Meteorol 248:518–526

Liu Y, Zhou W, Ge Q (2019) Spatiotemporal changes of rice phenology in China under climate change from 1981 to 2010. Clim Chang 157:261–277

Lobell DB, Sibley A, OrtizMonasterio JI (2012) Extreme heat effects on wheat senescence in India. Nat Clim Chang 2:186–189

Lobell DB, Hammer G, Chenu K, Zheng B, McLean G, Chapman S (2015) The shifting influence of drought and heat stress for crops in Northeast Australia. Glob Chang Biol 21(11):4115–4127

Menzel A, Sparks T, Estrella N, Koch E, Aasa A, Aha R, Alm-Kubler K, Bissolli P, Braslavska O, Briede A (2006) European phenological response to climate change matches the warming pattern. Glob Chang Biol 12:1969–1976

Mo F, Sun M, Liu XY et al (2016) Phenological responses of spring wheat and maize to changes in crop management and rising temperatures from 1992 to 2013 across the loess plateau. Field Crop Res 196:337–347

Oteros J, García-Mozo H, Botey R, Mestre A, Galán C (2015) Variations in cereal crop phenology in Spain over the last twenty- six years (1986-2012). Clim Chang 130(4):545–558

Peñuelas J, Filella I (2001) Responses to a warming world. Science 294:793–795

Rezaei EE, Siebert S, Ewert F (2017) Climate and management interaction cause diverse crop phenology trends. Agric For Meteorol 233:55–70

Rosenzweig C, Tubiello FN, Goldberg R, Mills E, Bloomfield J (2004) Increased crop damage in the US from excess precipitation under climate change. Glob Environ Chang 12(3):197–202

Sakamoto T, Nguyen NV, Ohno H, Ishitsuka N, Yokozawa M (2006) Spatio–temporal distribution of rice phenology and cropping systems in the Mekong Delta with special reference to the seasonal water flow of the Mekong and Bassac rivers. Remote Sens Environ 100:1–16

Sánchez B, Rasmussen A, Porter JR (2014) Temperatures and the growth and development of maize and rice: a review. Glob Chang Biol 20:408–417

Sheehy JE, Mitchell P, Ferrer AB (2006) Decline in rice grain yields with temperature: models and correlations can give different estimates. Field Crop Research 98:151–156

Shi P, Tang L, Lin C, Liu L, Wang H, Cao W, Zhu Y (2015) Modeling the effects of post-anthesis heat stress on rice phenology. Field Crop Res 177:26–36

Shi X, Qiu S, Shi Z, Xie F, Gao W, Song L (2017) Effect of sowing date and sowing amount on population traits and yield of winter wheat cultivar Yaomai 16. Journal of Triticeae Crops 37(3):357–365

Tao F, Zhang S, Zhang Z (2012) Spatiotemporal changes of wheat phenology in China under the effects of temperature, day length and cultivar thermal characteristics. Eur J Agron 43:201–212

Tao F, Zhang Z, Shi W, Liu Y, Xiao D, Zhang S, Zhu Z, Wang M, Liu F (2013) Single rice growth period was prolonged by cultivars shifts, but yield was damaged by climate change during 1981-2009 in China, and late rice was just opposite. Glob Chang Biol 19:3200–3209

Tao F, Zhang Z, Xiao D, Zhang S, Rötter RP, Shi W, Liu Y, Wang M, Liu F, Zhang H (2014a) Responses of wheat growth and yield to climate change in different climate zones of China, 1981–2009. Agric For Meteorol 189-190:91–104

Tao F, Zhang S, Zhang Z, Rötter RP (2014b) Maize growing duration was prolonged across China in the past three decades under the combined effects of temperature, agronomic management, and cultivar shift. Glob Chang Biol 20:3686–3699

Wang J, Wang E, Feng L, Yin H, Yu W (2013) Phenological trends of winter wheat in response to varietal and temperature changes in the North China Plain. Field Crop Res 144:135–154

Wang Z, Chen J, Li Y, Li C, Zhang L, Chen F (2016) Effects of climate change and cultivar on summer maize phenology. International Journal of Plant Production 10(4):509–526

Xiao D, Tao F, Liu Y, Shi W, Zhu Z (2013) Observed changes in winter wheat phenology in the North China Plain for 1981-2009. Int J Biometeorol 57:275–285

Xiao D, Moiwo JP, Tao F, Yang Y, Shen Y, Xu Q, Liu J, Zhang H, Liu F (2015) Spatiotemporal variability of winter wheat phenology in response to weather and climate variability in China. Mitigation & Adaptation Strategies for Global Change 20:1191–1202

Xiao D, Qi Y, Shen Y, Tao F, Moiwo JP, Liu J, Wang R, Zhang H, Liu F (2016) Impact of warming climate and cultivar change on maize phenology in the last three decades in North China Plain. Theoretical & Applied Climatology 124:653–661

Xiao L, Liu L, Asseng S, Xia Y, Tang L, Liu B, Cao W, Zhu Y (2018) Estimating spring frost and its impact on yield across winter wheat in China. Agric For Meteorol 260:154–164

Zhang T, Huang Y, Yang X (2013) Climate warming over the past three decades has shortened rice growth duration in China and cultivar shifts have further accelerated the process for late rice. Glob Chang Biol 19:563–570

Zhang S, Tao F, Zhang Z (2014) Rice reproductive growth duration increased despite of negative impacts of climate warming across China during 1981–2009. Eur J Agron 54:70–83

Zhang L, Zhu L, Yu M, Zhong M (2016) Warming decreases photosynthates and yield of soybean [Glycine max(L.) Merrill] in the North China. Plain Crop Journal 4:139–146

Zhao H, Fu Y, Wang X, Zhao C, Zeng Z, Piao S (2016) Timing of rice maturity in China is affected more by transplanting date than by climate change. Agric For Meteorol 216:215–220
Acknowledgments
This study was supported by the Natural Science Foundation of Hebei Province (D2018302012), the Natural Science Foundation of China (41901128), and the Excellent Going Abroad Experts' Training Program in Hebei Province.
Additional information
Publisher's note
Springer Nature remains neutral with regard to jurisdictional claims in published maps and institutional affiliations.
About this article
Cite this article
Bai, H., Xiao, D. Spatiotemporal changes of rice phenology in China during 1981–2010. Theor Appl Climatol 140, 1483–1494 (2020). https://doi.org/10.1007/s00704-020-03182-8
Received:

Accepted:

Published:

Issue Date:

DOI: https://doi.org/10.1007/s00704-020-03182-8