Abstract
Few studies regarding the assessment of the growing season's trends and the associated agro-climatic risks are focused on agro-ecosystems around forest reserve although adaptive extensive agriculture poses severe threats due to climate variability and change. This study aims at analyzing the evolution of agro-climatic characteristics to identify the associated risks. It firstly consisted in analyzing the temperatures within the period from 1960 to 2016 in the forest reserve of "Trois Rivières." Secondly, the characteristics of the growing season and their distribution were analyzed. Statistic-based tests were further performed to identify major trends and breaks as well as the associated agro-climatic risks. Thus, the period from 2000 to 2016 generally presents wet conditions (increasing trends of Standardized Precipitation Index and rainy days) similar to the period of 1960 to 1975; which are separated by a relatively dry period (increasing trends of dry spells) from 1975 to 2000. Those facts reveals an apparent return to wet conditions after the 2000s which is coupled with the acceleration of warming resulting in the increase of minimum temperatures by 1.5 °C and the maximum by 1 °C. We also noticed a great variability of the dry spells within the growing season which has accentuated especially the risk of sowing failure (false start) by 56 to 74% and the yields failure risks by 52%. Our findings showed the degree to which farmers are affected by the realities of climate variability and change in "Trois Rivières" forest agro-ecosystems. That led farmers, mostly poor, to resort to extensive agriculture which unfortunately is the main cause of deforestation.
This is a preview of subscription content,
to check access.
Access this article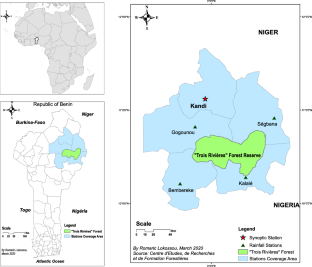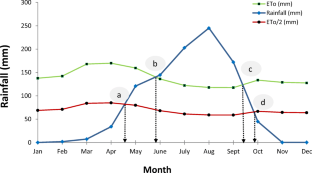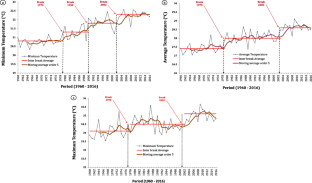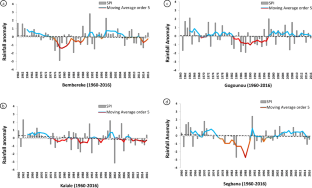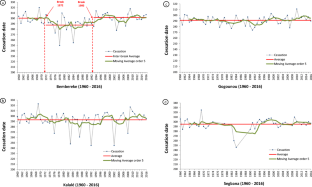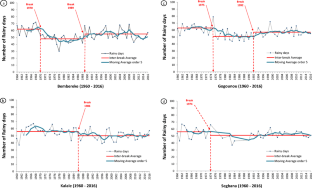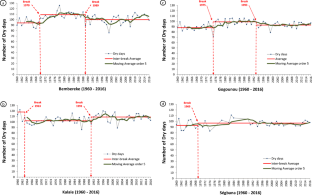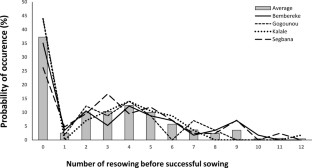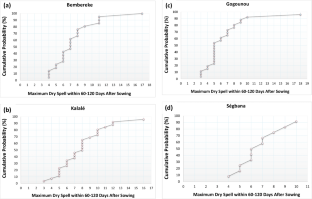 References
Adewi E, Badameli KMS, Dubreuil V (2010) Evolution des saisons des pluies potentiellement utiles au Togo de 1950 à 2000. Climatologie 7(2010):80–107p

Afouda F, Salako PMA, Yabi I (2014) Instabilité intra-saisonnière des pluies de la grande saison agricole dans la commune de kétou au bénin. Revue de géographie du laboratoire Leïdi – ISSN 0851–2515– N°12, décembre 2014. 26-47p

Akinsanola AA, Ogunjobi KO (2017) Recent homogeneity analysis and long-term spatio-temporal rainfall trends in Nigeria. Theor Appl Climatol 128(2017):275–289. https://doi.org/10.1007/s00704-015-1701-x

Alhassane A, Salack S, Ly M, Lona I, Traore SB, Sarr B (2013) Evolution des risques agro-climatiques associés aux tendances récentes du régime pluviométrique en Afrique de l'Ouest soudano-sahélienne. Sècheresse 24:282–293. https://doi.org/10.1684/sec.2013.0400

Ali A, Lebel T, Amani A (2008) Signification et usage de l'indice pluviométrique au Sahel. Sécheresse 19(4):227–235. https://doi.org/10.1684/sec.2008.0148

Amadou ML (2007) Impact de la variabilité climatique sur les systèmes de production agricole à BANA (Gaya - Niger). Mémoire de fin d'études, Faculté d'Agronomie, Université Abdou Moumouni de Niamey, 64

Azontondé HA (1991) Propriétés physiques et hydrauliques des sols au Bénin. Centre National d'Agro-Pédologie, BP 988, Cotonou, pp 249–258p

Dugué MJ, Delille H, Malgrange S (2012) Perspectives de l'environnement de l'OCDE à l'horizon 2030 – isbn 978-92-64-04049-6 – © ocde 2008

ECOWAS-SWAC/OECD, FAO, CILSS (2008) Climate and Climate Change. The Atlas on Regional Integration in West Africa. Environment Series. January 2008. Available at : www.atlas westafrica.org

Goula BTA, Srohourou B, Brida AB, N'Zué KA, Goroza G (2010) Determination and variability of growing seasons in Côte d'Ivoire. International Journal of Engineering Science and Technology. ISSN: 0975-5462 2(11):5993–6003

Houndénou C (1999) Variabilité pluviométrique et maïsiculture en milieu tropical humide : l'exemple du Bénin, diagnostique et modélisation. Thèse de Doctorat de Géographie. UMR 5080, CNRS « Climatologie de l'Espace Tropical », Université de Bourgogne, Centre de Recherche de Climatologie. 390 p

Houndénou C (2002) Variabilité climatique et maïsiculture en milieu tropical humide : l'exemple du Bénin - diagnostic et modélisation (Afrique de l'Ouest). Science et changements planétaires / Sécheresse. 2002;12(4):267–8.

Hubert P (2000) The segmentation procedure as a tool for discrete modeling of hydrometeorological regimes, stochastic environmental research and risk assessment, 14, pp 297-304. (abstract)

Hubert P, Carbonnel JP, Chaouche A (1989) Segmentation des séries hydrométéorologiques — application à des séries de précipitations et de débits de l'afrique de l'ouest. Journal of Hydrology 110(3–4):349–367. https://doi.org/10.1016/0022-1694(89)90197-2

IPCC (2007) Climate Change 2007: impacts, adaptation and vulnerability. Contribution of working Group II to the Fourth Assessment Report of the Intergovernmental Panel on Climate Change. In: Parry ML, Canziani OF, Palutikof JP, van der Linden PJ, Hanson CE (eds) . Cambridge University Press, Cambridge

Kouassi AM, Kouamé KF, Goula BTA, Lasm T, Paturel JE, Biémi J (2008) Influence de la variabilité climatique et de la modification de l'occupation du sol sur la relation pluie-débit à partir d'une modélisation globale du bassin versant du N'zi (Bandama) en Côte d'Ivoire, Revue Ivoirienne des Sciences et Technologie, vol. 11:207–229.

Kouassi AM, Yao KA, Ahoussi KE, Seki LC, Yao NA, Biémi J (2010) Caractérisation hydro-chimique des aquifères fissurés de la région du N'zi-Comoé (Centre-Est de la Côte d'Ivoire). International Journal of Biological and Chemical Sciences 4(5):1816–1838

Lahuec JP (1991) Convergence intertropicale : intensité de la convection de mars à mai 1991. Veille Climatique Satellitaire 37:26–43

Lebel T, Ali A (2009) Recent trends in the Central and Western Sahel rainfall regime (1990-2007). J Hydrol 375:52–64. https://doi.org/10.1016/j.jhydrol.2008.11.030

Lee ASF, Heghinian SM (1977) A shift of the mean level in a sequence of independent normal random variables: a Bayesian approach. Technometrics 19:503–506. https://doi.org/10.2307/1267892

Lokossou R, Akouèhou G, Lohahouede H, Idohou R, Glèlè Kakai R, Ganglo J, Sinsin B (2017) Endogenous strategies to face climate change and maintains ecosystem resilience in forest of three rivers in the North of Benin. International Journal of Agriculture Innovations and Research 6(1, ISSN (Online)):2319–1473.

Mahaman K, Barrage M, Balla A, Adam T, Yamba B (2011) Influence des fluctuations pluviométriques sur la saison agricole dans la zone géographique de Mayahi et Aguié au Niger. Rev. CAMES - Série A, 12 (2) : 170–175, 2011

Muluneh GT (2015) Analysis of Past and Future Intra-Seasonal Rainfall Variability and its Implications for Crop Production in the North Eastern Amhara Region, Ethiopia. Master of Science Thesis in Agro-Meteorology and Natural Risk Management, Haramaya University, School of Natural Resource Management and Environmental Sciences. 108p

Ogouwalé E (2001) Vulnérabilité / Adaptation de l'agriculture aux changements climatiques dans le département du zou. Mémoire de Maîtrise de Géographie .UAC/FLASH, 119p.

Ozer P, Erpicum M, Demaree G, Vandiepen-beeck M (2003) The Sahelian drought may have ended during the 1990. Journal of Hydrologic Science 48:489–492

Paturel JE, Servat E, Kouamé B, Boyer JF (1995) Manifestation de la sécheresse en Afrique de l'Ouest non Sahélienne; cas de la Côte d'Ivoire, du Togo et du Bénin. Sécheresse 6(1):95–102p.

Pettitt AN (1979) A non‐parametric approach to the change‐point problem. Journal of the Royal Statistical Society: Series C (Applied Statistics) 28(2):126–135

Roudier P, Sultan B, Quirion P, Baron C, Alhassane A, Traore SB, Muller B (2011) An ex-ante evaluation of the use of seasonal climate forecasts for millet growers in SW Niger. International Journal of Climatology 32:759–771. https://doi.org/10.1002/joc.2308

Salack S, Muller B, Gaye AT, Hourdin F, Cisse N (2012). Analyses multi-echelles des pauses pluviometriques au Niger et au Senegal. Secheresse 23:3–13. doi: https://doi.org/10.1684/sec.2012.0335.

Salack S, Giannini A, Diakhat M, Gaye AT, Muller B (2013). Oceanic influence on the sub-seasonal to inter annual timing and frequency of extreme dry spells over the West African Sahel. Climate Dynamics. doi: https://doi.org/10.1007/s00382-013r-r1673-4.

Sivakumar MVK, Maidoukia A, Stern RD (1993) Agroclimatologie de l'Afrique de l'Ouest: le Niger. Deuxième édition. (En. Fr. Résumés en En. Fr.) Bulletin d'information no. 5. Patancheru, A. P. 502 324, Inde : Institut international de recherche sur les cultures des zones tropicales semi-arides, et Niamey-Niger : Direction de la météorologie nationale du Niger. 116p

Somorowska U (2016) Changes in drought conditions in Poland over the past 60 years evaluated by the standardized precipitation-evapotranspiration index. Acta Geophys 64:2530–2549. https://doi.org/10.1515/acgeo-2016-0110

Tesfaye K, Zaidi PH, Gbegbelegbe S, Boeber C, Rahut BD, Getaneh F, Seetharam K, Erenstein O, Stirling C (2016) Climate change impacts and potential benefits of heat-tolerant maize in South Asia. Theor Appl Climatol 130(2017):959–970. https://doi.org/10.1007/s00704-016-1931-6

Stern RD, Rijks D, Dale I, Knock J (2006) Instat Climatic Guide. 322p

Stern RD, Dennett MD, Garbutt DJ (1981) The start of the rains in West-Africa. J Climatol:59–68p

Sultan B, Janicot S, Baron C, Dingkuhn M, Muller B, Traore S, Sarr B (2008) Les impacts agronomiques du climat en Afrique de l'Ouest: une illustration des problèmes majeurs. Sécheresse 19(n°1):29–37

Sultan B (2012) Global warming threatens agricultural productivity in Africa and South Asia. Environmental Research Letter 7:041001

Tchiadeu G, Tsalefac M, Mbayi R (1999) Délimitation de la saison des pluies dans le Nord-Cameroun (6-11°Nord). Association internationale de climatologie, 1999, Vol 12, pp 150–158; ISSN1140-0307.

WMO (2011) Guide to Climatological Practices. ISBN 978-92-63-20100-3; OMM-No 100; Edition 2011, Geneva. 141P

WMO (2017) WMO guidelines for the calculation of climatic normals. ISBN 978–92–63-21203-0; WMO-No. 1203, 2017 Edition, Geneva. 20p

Winkel T, Do F (1992a) Caracteristiques morphologiques et physiologiques de resistance du mil (P. glaucum) a la secheresse. Agronomie Tropicale 46:339–351

Winkel T, Do F (1992b) Caractéristiques morphologiques et physiologiques de résistance du mil (P.glaucum) a la secheresse. Agronomie Tropicale 46:339–351

Yabi I, Afouda F (2012) Extreme rainfall years in Benin (West Africa). Quat Int 262(7):39–43
Acknowledgments
We dedicate this work in memory of the late Dr. Gaston Akouèhou, the third co-author who passed away shortly after the acceptance of this paper for publication. We acknowledge the national meteorological service (Meteo Benin) for having provided the climatic database. We, also, acknowledge the "Centre d'Etudes, de Recherches et de Formation Forestières (CERF)" of the Ministry of Environment and Sustainable Development of Benin for having facilitated biophysical data collection and for financially supporting the first author.
Additional information
Publisher's note
Springer Nature remains neutral with regard to jurisdictional claims in published maps and institutional affiliations.
About this article
Cite this article
Lokossou, R.S., Akponikpè, P.B.I., Akouèhou, G.S. et al. Trend analysis of growing season characteristics and agro-climatic risks in the "Trois Rivières" forest reserve agro-ecosystems in North Benin. Theor Appl Climatol 141, 645–656 (2020). https://doi.org/10.1007/s00704-020-03179-3
Received:

Accepted:

Published:

Issue Date:

DOI: https://doi.org/10.1007/s00704-020-03179-3
Keywords