Abstract
Against the background of global warming, the climatic suitability for growing usual crops has been changing in certain regions. In this study, we focused on the Ningxia Plain in China, an important wine grape (Vitis vinifera L.) growing region. Based on the daily average air temperature data from 1981 to 2017, we investigated changes in the planting boundaries of different climate zones for wine grape before and after 1997 (when an abrupt change in regional air temperature occurred). The goal of this study is to provide scientific evidence for local agricultural authorities to make long-term climate change adaptation plans. We used the effective accumulated temperature as an indicator to evaluate the inter-decadal changes in the climate zones for wine grape. We concluded as follows: (1) since the abrupt change in regional air temperature in 1997, the subtotal area of climate zone I for wine grape was reduced by 31%, while the subtotal area of climate zone II (moved southward) and III (part of climate zone II in the northern part of the region turned into climate zone III) for wine grape was expanded by 7% and 24%, respectively; (2) during the 1990s, climate zone III for wine grape emerged in the study region; during the 2000s, the planting boundaries of climate zone II and III moved southward; during the period of 2011–2017, climate zone I (suitable) for wine grape mostly vanished in the Ningxia Plain; and (3) since the abrupt change in regional air temperature in 1997, most of the area in the Eastern Foothills of the Helan Mountains turned from climate zone II to climate zone III for wine grape, with the exceptions of Hongsipu district and the relatively high altitude area. During the 37 study years, most of the area in the study region remained as climate zone II for wine grape with a probability of 80%. Overall, the climate zones for wine grape in Ningxia, China have changed against the background of global warming. In particular, the wine grape varieties and wine types are expected to be changed in the Helan Mountains area in order to adapt to the ongoing climate change.
This is a preview of subscription content,
to check access.
Access this article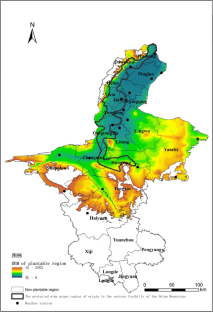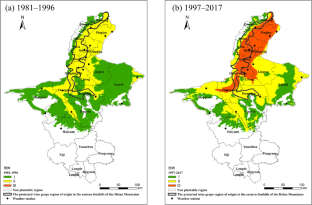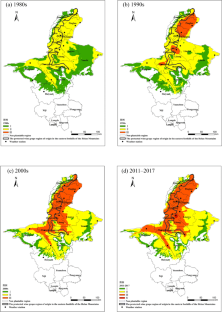 References
Amerine MA, Winkler AJ (1944) Composition and quality of musts and wines of California grapes. Hilgardia 15:493–675

Butterfield RE, Harrison PA, Orr JL, Gawith MJ, Lonsdale KG (2000) Modelling climate change impacts on wheat, potato and grapevine in Great Britain. In: Downing TE, Harrison PA, Butterfield RE, Lonsdale KG (eds) Climate change, climatic variability and agriculture in Europe: an integrated assessment. research report No. 21. Environmental change institute, University of Oxford, pp 265–288

Fang F, Bai HZ, Zhao HY, Yang SH (2007) The urbanization effect in northwestern China and its contribution to temperature warming. Plateau Meteorol 26(3):579–585 (in Chinese with English abstract)

Foster G, Rahmstorf S (2011) Global temperature evolution 1979-2010. Environ Res Lett 6(4):044022

Hall A, Mathews AJ, Holzapfel BP (2016) Potential effect of atmospheric warming on grapevine phenology and post-harvest heat accumulation across a range of climates. Int J Biometeorol 60(9):1–18

Han SJ, Tang QH, Xu D, Yang ZY (2018) Impacts of urbanization and agricultural development on observed changes in surface air temperature over mainland China from 1961 to 2006. Theor Appl Climatol 1-4:1–13. https://doi.org/10.1007/s00704-018-2461-1

IPCC (2013a) Warming of the climate system is unequivocal. Report on Climate Change 2013: The Physical Science Basis – Summary for Policymakers, Observed Changes in the Climate System

IPCC (2013b) Working group Contribution to the IPCC fifth assessment report, climate change: the physical science basis: summary for policymakers[R/OL]. [2013-10-28]. http://www.Climatechange2013.org/images/report/WG1AR5_ALL_FINAL.pdf

Jones GV (2005) Climate change in the western United States grape growing regions. Acta Hortic 689:41–60

Jones, GV (2006) Climate and terrroir: impacts of climate variability and change on wine Geoscience Canada Reprint Series

Jones GV, White MA, Cooper OR, Storchmann K (2005) Climate change and global wine quality. Clim Chang 73(3):319–343

Li Q, Zhang H, Liu X, Huang J (2004) Urban heat island effect on annual mean temperature during the last 50 years in China. Theor Appl Climatol 79(3-4):165–174. https://doi.org/10.1007/s00704-004-0065-4

Liang LT, Ma L, Liu TX, Sun BL, Zhou Y, Liu Y (2018) The seasonal spatiotemporal variation of the temperature mutation and warming Hiatus over northern China during 1951-2014. J Natl Resour 33(12):2149–2166 (in Chinese with English abstract)

Mira DOR (2010) Climate change associated effects on grape and wine quality and production. Food Res Int 43(7):1844–1855

Mocell MR, Thach L (2014) The impact of climate change on the global wine industry: challenges & solutions. Wine Econ Policy 3:81–89. https://doi.org/10.1016/j.wep.2014.08.001

Ollat N, Leeuwen CV, Atauri IGDC, Touzard JM (2017) The challenging issue of climate change for sustainable grape and wine production. Int J Vine Wine Sci 51:59–60

Qu ML (1991) Agro-climatic internship guide. Beijing Agricultural University Press, Beijing (in Chinese)

Shang SS, Liang LS, Ma T, Zhang K, Han T (2018) Spatiotemporal variation of temperature and precipitation in Northwest China in recent 54 years. Arid Zone Res 35(1):68–76 (in Chinese with English abstract)

Tate AB (2001) Global Warming's impact on wine. J Wine Res 12(2):95–109

Van Leeuwen C, Darriet P (2016) The impact of climate change on viticulture and wine quality. J Wine Econ 11(1):150–167

Van Leeuwen C, Friant P, Chone X, Tregoat O, Koundouras S, Dubourdieu D (2004) The influence of climate, soil and cultivar on terroir. Am J Enol Vitic 55(3):207–217

Wang SY, Zheng GF, Li X, Yang JL, Zhang XY, Li JP, Ma LW (2017) Impact of climate warming on heat resources and freezing injuries in wine grapes at the east foot of the Helan Mountains of Ningxia. Acta Ecol Sin 37(11):3776–3786 (in Chinese with English abstract)

Wang Y, Zhao XY, Li Y, Wang YW, Zhu TT (2018) Influence of dynamic evolution of wetland area on local climate effect in Ningxia Plain. Ecol Environ Sci 27(7):1251–1259 (in Chinese with English abstract)

White MA, Diffenbaugh NS, Jones GV, Pal JS, Giorgi F (2006) Extreme heat reduces and shifts United States premium wine production in the 21st century. Proc Natl Acad Sci U S A 103(30):11217–11222

Winkler AJ, Cook JA, Kliever WM, Lider LA (1974) General viticulture. University of California Press, Berkley, pp 58–70

Yang XG, Dai SW, Liu ZJ, Wang WF (2011) Changes of China agricultural climate resources under the back ground of climate change: IX. Spatiotemporal change characteristics of China agricultural climate resources. Chin J Appl Ecol 22(12):3177–3188 (in Chinese with English abstract)

Yang XG, Chen F, Lin XM, Liu ZJ, Zhang HL, Zhao J, Li KN, Ye Q, Li Y, Lv S, Yang P, Wu WB, Li ZG, Lal R, Tang HJ (2015) Potential benefits of climate change for crop productivity in China. Agric For Meteorol 208:76–84. https://doi.org/10.1016/j.agrformet.2015.04.024

Ye Q, Yang XG, Dai SW, Chen GS, Li Y, Zh CX (2015) Effects of climate change on suitable rice cropping areas, cropping systems and crop water requirements in southern China. Agric Water Manag 159:35–44. https://doi.org/10.1016/j.agwat.2015.05.022

Yin YH, Wu SH, Chen G (2009) Regional difference of climate trend and abrupt climate change in China during 1961-2006. J Natl Resour 24(12):2147–2157 (in Chinese with English abstract)

Zhang XY, Li HY, Chen WP, Zhang L, Su L, Wang J (2014) Ecological regionalization of wine grape varieties in Ningxia Chinese. J Ecol 33(11):3112–3119 (in Chinese with English abstract)
Conflict of interest
The authors declare that they have no conflict of interest.
Funding
This study is funded by National Natural Science Foundation of China (Grant no. 41675114), Climate Change Special Fund of China Meteorological Administration (Grant no. CCSF201511), Key Research and Development Program of Ningxia Hui autonomous region (Grant no. 2018 BFH03012), and Natural Science Foundation of Ningxia (Grant no. NZ16202).
Additional information
Publisher's note
Springer Nature remains neutral with regard to jurisdictional claims in published maps and institutional affiliations.
About this article
Cite this article
Wang, J., Zhang, X., Su, L. et al. Global warming effects on climate zones for wine grape in Ningxia region, China. Theor Appl Climatol 140, 1527–1536 (2020). https://doi.org/10.1007/s00704-020-03170-y
Received:

Accepted:

Published:

Issue Date:

DOI: https://doi.org/10.1007/s00704-020-03170-y